Fish Catching Travel
Are you a bass fisherman?  Would you like to travel and catch fish using the very knowledge that has made you successful.  Then redfishing is for you.  Redfish are the bass of the sea, only bigger and meaner.
About 20 years ago I made a trip to Sanibel Island in Florida with my wife and daughter.  On that trip I caught my first redfish.  When that first redfish screamed out of the mangroves and smashed a topwater I was hooked.  Later I would make several trips to Texas to fish for them and I have been chasing them ever since.
While not telling you it is like shooting fish in a barrel, taking our skills from the lake to the bay and marsh is a natural transition.  Like to travel and fish new places?  Like a fish that will attack a spinner bait, crankbait, or topwater, then the redfish is a fish for you.  Your bass fishing techniques easily make the transition to saltwater and if you have never tried redfishing you are missing out.
What to take in the tackle box?  It is really very simple.  Three baits and a bass fisherman is ready to go.
Spinnerbaits
While there are many spinner baits available by far the best for me has been the Redfish Magic by Strike King.  A single blade, with a variety of paddle tail colors, it is strong enough to survive multiple fights with fish often weighing 10 pounds.  My favorite colors are the #860 electric chicken and the #849 pumpkin chartreuse tail with a red head.
Though they will chase a fast bait, for me a medium retrieve usually works best.  If there is a slight stain in the water I tend to run it just out of sight.  And it never hurts to pause it halfway back in case one is following it.  And the Redfish Magic really shines when the wind blows, a not uncommon situation where redfish live.  And as a bonus you might catch the occasional trout and the flounder love it.
There is absolutely no mistaking a strike, the best analogy I can make for you worm fishermen is it feels like a good one thumping a jig.  And you miss very few, and lose even less.  When the hit it, they eat it!  So here is a couple for your viewing pleasure.

Topwaters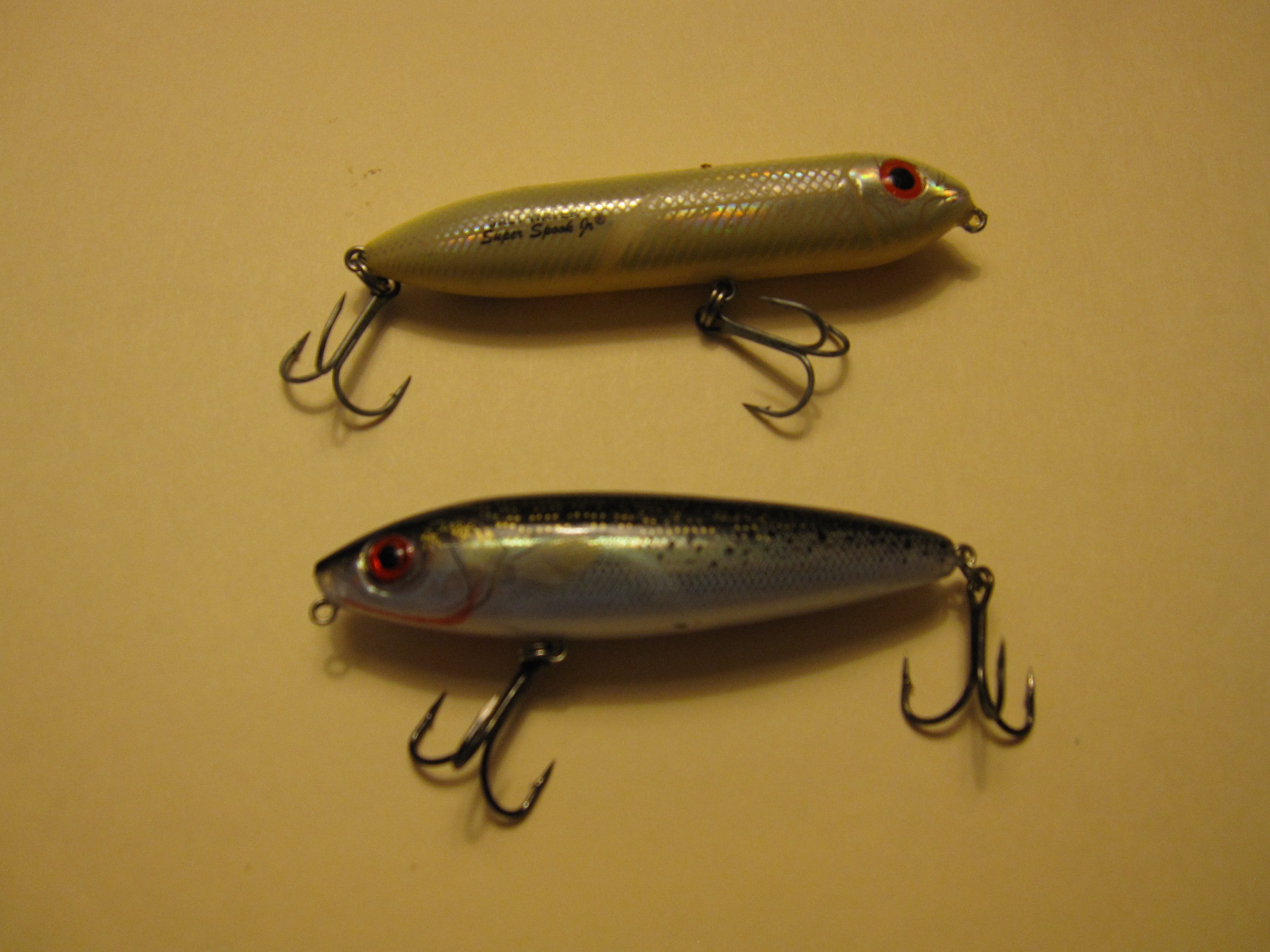 Reds love topwaters.  In fact, just yesterday I caught 6 while wading in knee deep water.  The choices in topwaters is as varied as opinions.  And while it is a personal choice, I have narrowed it down to 3 different baits.  If I think there may be trout in the same area the first one out of the box is the Skitter Walk by Rapala.  It comes in a saltwater version and you can not go wrong with the Silver Mullet (SMU).  That color is also our favorite for trout fishing so it does double duty.
Often early in the season, and stretching into summer, the fish prefer a smaller one.  Then, like yesterday, I switch to the smaller Skitter Walk in the 3 1/8 inch version in the Speckled Trout.  It also comes in a variety of colors but that is my favorite.  The hooks are not saltwater safe, but I just change them to light red hooks without destroying the action.
My third choice is the Super Spook Junior (X9236) in the saltwater version.  The Bone and Flitter Shad are great color choices.  A little heavier than the small Skitter Walk, it is filled with large rattles and casts a long way.  It will not only catch reds the trout love it.
Generally redfish do not like it to fast, a nice steady motion does it.  They will hit it at rest at times but generally they like it swimming nice and steady.  It is simply the standard walk the dog retrieve.  It has always amazed me when a redfish, who has his mouth on the bottom of his head, inhales that thing so far in you can only see your line sticking out.  There is nothing like a wake following your bait as the sun peeks over the horizon.
Crankbaits – It is not a no wake zone.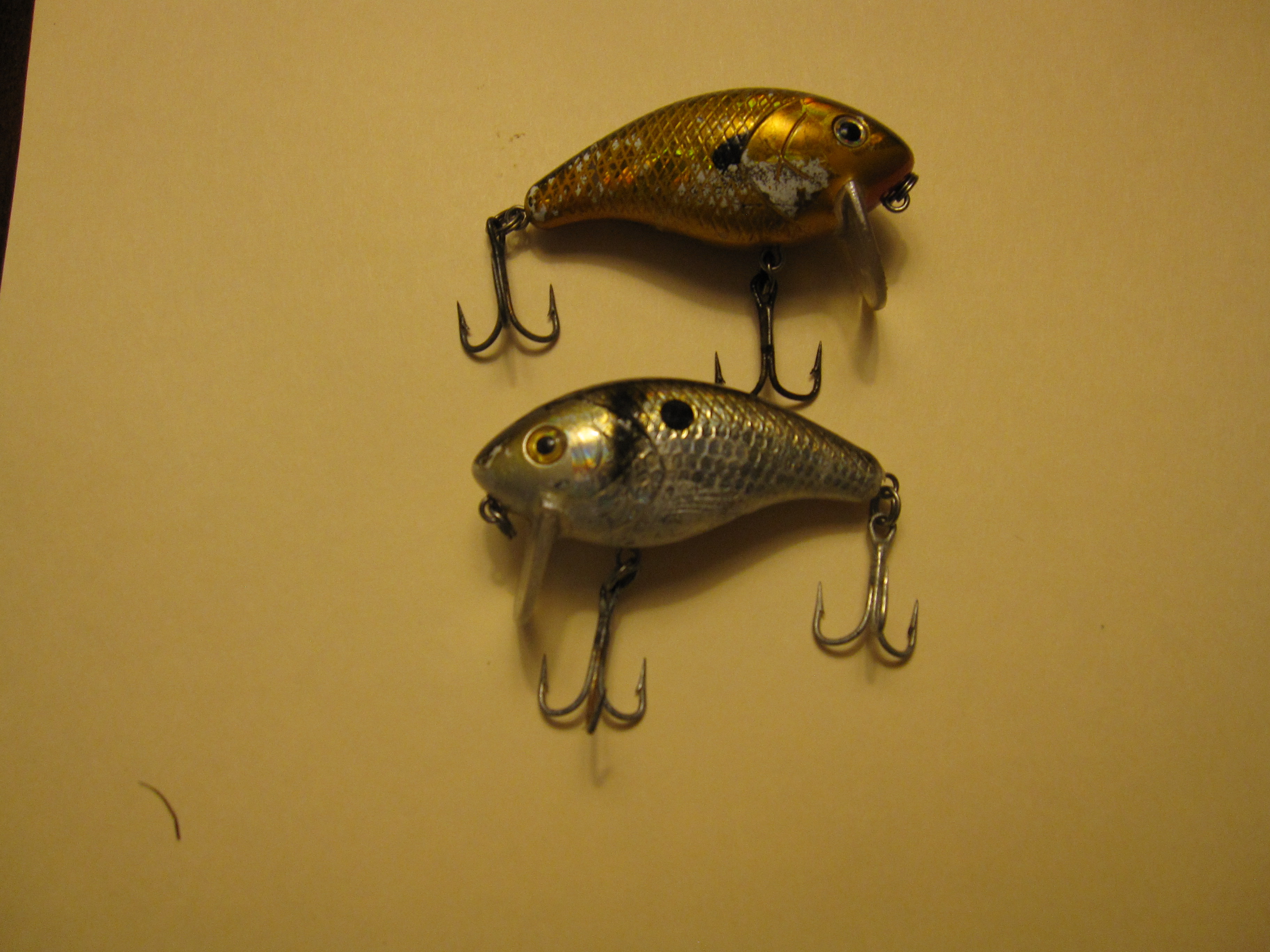 I have left my personal favorite for last.  The Waker by The Mann's Bait Company has become my new favorite over the last 3 years.  A bulky shallow running crankbait, it is almost idiot proof, I guess the reason I am so enamored with it.
It comes in multiple colors but the redfish love the gold one.  It runs about 2 – 3 inches deep no matter what the retrieve.  It casts like a bullet even into the wind.  While I have not had particularly good luck in real off colored water, it is dynamite for clear to slightly stained.  Simply cast it and reel.  Though it will run at quick speeds, redfish tend to like it steady, just keep reeling at a moderate speed.  Full of rattles, it leaves a big fish calling bulge in it's wake.  You will often see them tracking it, and when you do just keep it coming.  While you will occasionally catch one with a stop and go retrieve, steady as she goes is the usual.
One of the things I find interesting is the various ways they strike it.  Often they just blow up on it, easy enough.  Other times they actually slurp it under with hardly a ripple.  One thing that is common though is that for some reason they tend to come at you when they hit it.  When you are in water only 1 foot deep, and a huge one explodes on it, it is easy to forget to really set the hook.  Be sure to drive it home as the hooks on the Waker are stout.   It does have a tendency to catch front and back hooks, or the front hook on the bill.  If is not running right, just jerk it out of the water, it will often times free itself.  And remember not to give up on it.  While you often see them tracking it, it is nothing unusual to have one blow up on it from a little deeper water about the time you decide to burn it in and make another cast.
The Waker is a fish catching fool when the time is right, which begins when the water warms in the spring, and continues into the fall as they bunch up.  Generally the gold is the way to go, but if there are trout around I have had success with the gold back, silver belly, model.  Additionally, it does tend to catch the better than average trout.
A friend of mine also put me on the Bandit Lures Footloose crankbait.  He smoked them one day in Louisiana fishing with me.  It is definitely a good bait that allows you to present them a little smaller size if that is what they want.  The 2″ Footloose runs 0 – 1′ and anything in a gold or chartreuse seems to work.
For a bass fisherman who likes to crank and reel, redfish offer a real treat.
General Information
Line weight is a matter of preference.  I generally use 15 pound Trilene Big Game.  The reason I like it so much is that it is relatively inexpensive and I am a big fan of re-spooling.  Obviously I like clear, but the green does not seem to matter much to the fish.  When throwing the smaller Skitter Walk, I use 10 pound as it lets that little bait work better.  I have used the braid, and they work fine, mono is just a personal preference for me.
Of course soft plastics work well, and most bass fishermen have a few Bass Assassins in the box.  Tailing redfish will hit most any plastic if you get it in front of them.
It is also easier to use  a Boga Grip than a net, a thrashing redfish will knot a net in a minute, and you can remove the baits easier with them dangling from it.  As with any fish, care in handling will not result in a trip to the emergency room.  A Waker hook buried in your thumb is a hard thing to get out.
Where?
One thing a bass fisherman will appreciate about the redfish is where they like to hangout.  Like a bass, you can find them in the grass, next to structure, and off points and humps.  Of course tide plays a big role in where, and just thinking about whether the water is up, down, or moving will get you in the game.
When the tide is rising a good place to start is a flat next to deep water.  A grass edge that will soon be flooded makes it even better.  When the water is rising stay off the edge of the drop.  Start with the Waker or a topwater.  As the water rises move in closer until the water stops moving.  If there is grass, you will see them in there moving around and chasing bait.  The spinner bait then takes over.  It will slide through the grass.  And just like a good bass hanging out on structure, watch for slots in the grass, small points, or anything unusual.  And the Waker also does well as the water reaches the grass.  It will come out of it amazingly well.
Of course redfish love oyster bars.  When the water begins to cover it, and when it begins to fall, oyster bars are a redfish magnet.  A quick primer on bars, if the water is rising redfish tend to be on the up current side.  If the water is falling, they position on the down current side.  They are simply waiting for the food riding the tide.  Shallow running baits and topwaters are the best option in that situation.  Whether it is a point, a big bar, or simply a small oyster patch, if you see a dark spot it is probably oysters, so be sure to make a few casts.
Always watch the water, sometimes you are lucky enough to actually see them tailing.  Of course do not throw it on their head.  Heave it past them and drag it in front of their nose and hold on.  Be alert for jumping bait, just like in freshwater, find the bait and you will find the fish.  Mullet are one of their favorite foods.  No matter what trust your eyes, think you saw a fish, you probably did.  See an area with a bunch of mud, it did not get that way all by itself.
Conclusion
For those of us "Yankees" who did not grow up redfishing it usually only takes one.  Choose a place that is easy to navigate for your first trip.  Grand Isle Louisiana is my favorite.  With no prior knowledge I was able to go there and catch them.  Just using the knowledge gained in a lifetime of bass fishing will cut the learning curve the first time you go.  Trolling motor down and go to flinging.  There is no better fish for a traveling bass fisherman who wants to take the basics he has learned, load up the boat, and go get his arm  broke!
Good Luck!
(As I always appreciate comments and suggestions please let me know if you have any.  And if you want a little help just let me know and if I can help you make that first trip I will be happy to do so.)