Fish Catching Travel
2 Days on the Lavaca River – Tuesday 12/6/11
As you all know we have had a real cold front the last few days.  Of course that did not stop me from going fishing.  I decided to return to the Lavaca River due to the high winds from the north keeping me from messing with a bigger area like POC.
Tuesday it was cold, cloudy and windy.  I got to the river about 11 and started catching fish right away.  It was not as fast as it has been, and I was not getting the number of bites, so I decided to switch to a smaller heavier paddle tail.  I went with an 1/8 oz. jig head in a brown with a chartreuse paddle tail made by Mirror Lure.  That particular brand is a little tougher plastic and it is a bit more compact and heavy.  The seemed to want a quicker fall and I am still double hopping it and then letting it hit bottom.
One thing that surprised me was the number of fish still very shallow.  Man of the strikes came on the first or second drop.  And one bonus was that the redfish seemed to like it and I ended up catching 3 including this one.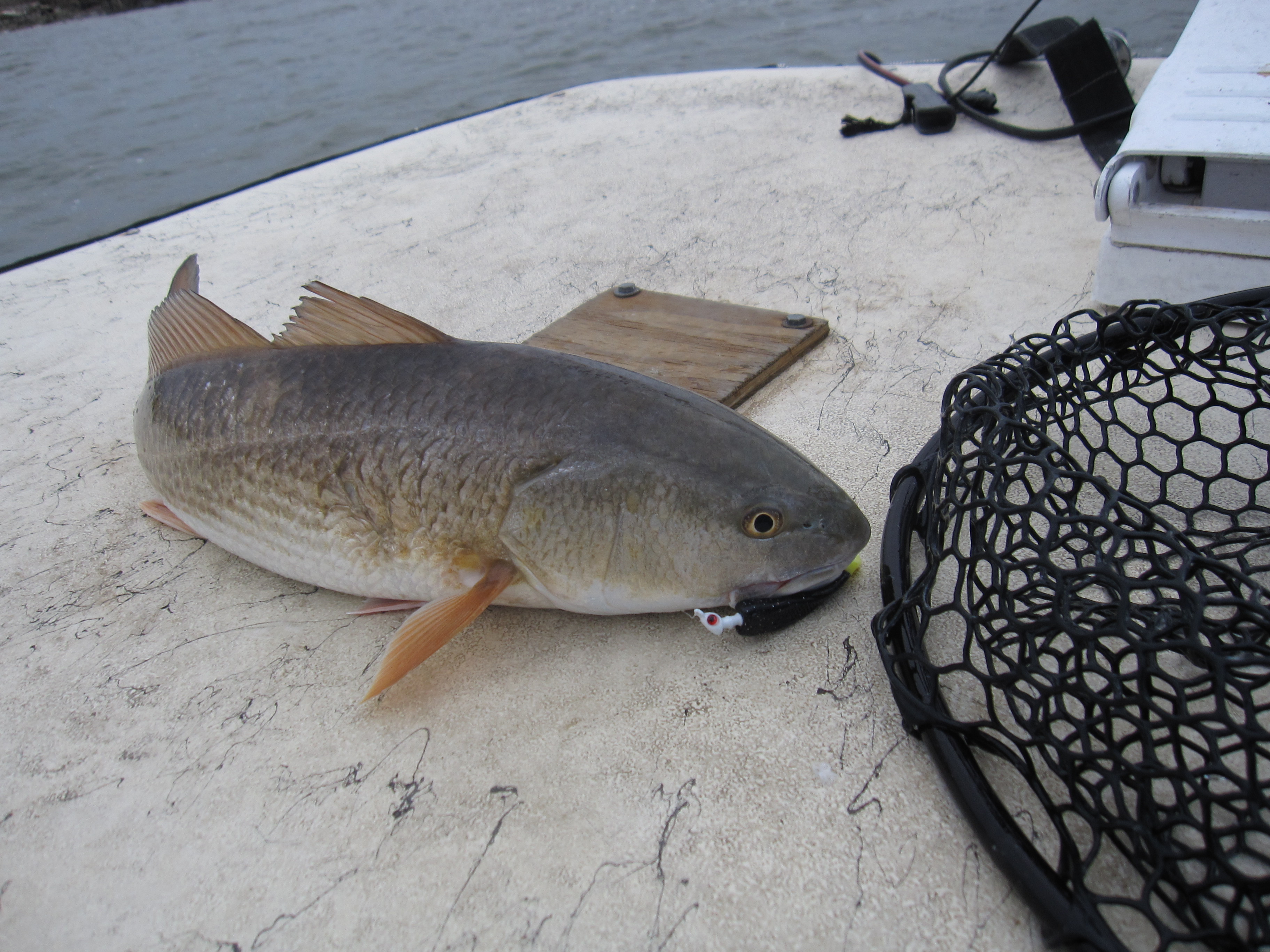 A nice red so you can see the bait that was the preference of the day.
So Tuesday I caught trout consistently, but not fast by any means.  Most were still in the keeper category, many 17 – 20″.  The wind did not help as it whipped me down the river.  One thing I did learn was that there happened to be a bank with lots of timber on it and the reds came from around large dead falls.  I imagine if I had been actually trying to catch them with a spinnerbait out of the logs it might have been good.  But I just could not stop catching the trout.  Here is a couple that I kept for fresh filet's on the broiler – both the before and after pictures.
Right before a ramp side cleaning.
And right before table side eating. 
All in all it was a nice steady day of fishing, the kind that keeps me fishing when it is cold.  Whether fresh or salt, some of the finest fishing of the year is during the winter.
And if you go, remember the rule, you can take  clothes off if you have them on, but it is real hard to put them on when you get cold if you did not take them with you.  And one last word about winter fishing.  We should all wear our life jackets all the time, but practically many of us slough it off to often.  But this is winter fishing, the water is much colder and their are far fewer people out there to help us if something goes wrong.  So put on your life jacket, if not for you for your loved ones.
Wednesday  12/7/11
So spurred on by the fairly good fishing the day before, I decided to take one more run at it before I start fishing the POC area back lakes and barge canal.
It was clear, cool and windy.  I started in an area that was successful the day before and much to my chagrin no bites.  It was the type of bank I was catching them before, 7 foot deep at the boat and a nice flat area.  So I continued on down the bank, which turned into a channel side with a steep bank.  As I headed down river it stayed slow, and I mean real slow.  I would get a bite and then nothing.  Before it had been get one bite catch a few, but not today.
I think the combination of a blue bird sky, the second day following a cold front, and a fairly calm cold night, had them off their feed.  So up the river I went, trying some new places as I had not been above the bridges.  It defintiely dropped the water temperature on those flatter banks.  Also, I went to a quarter ounce jig head as the wind was steady right down the river.  Lighter colors resulted in exactly no strikes all day.  The dark Mirror Lure and the purple Gobie by Zoom accounted for all the bites.  It was a little better up river as I ended up catching about 10 trout there, about half of those measured, and one good flounder.  Sorry no pictures, the battery died on the camera.  But realistically there was nothing much to photograph anyway.
Coming Up.
So now is the time to move on to the POC area.  I have been getting great reports from some of the back lakes and South Pass.  The barge canal is starting to heat up and I have heard from several folks that caught  good strings up to 24″ that the fish are moving to it.  There was a disappointing report from Mission Lake.  2 years ago when conditions were similar it was loaded with trout, so it may just be getting ready to wind up.
So get ready for potentially some of the best trout fishing of the year.  We are slated to stay cool with some potential for cooler rain.  If it stays this way, and then a nice 2 day warm up with sunny calm days the fishing should really heat up again.  And I am getting excited about the possibility of catching a monster blue cat and will definitely spend some time doing that in the days to come.
Stop in next week.  I had a reader tip me off to another river situation that is similar to the Lavaca River.  I will be headed that way next week and I am very excited about a new place to try.  My thanks to him, it is nice to know that there are others who do not mind sharing information with me, knowing that it will end up here.
An Invitation To All You Readers Out There.
And one last thing.  This is a place for fishing stories, places to catch them, and a little how-to.  I have been thinking for awhile about adding a new section, one for you all.  If you have a good fishing story, maybe about a trip you took where you caught some good fish, or traveled to a new place, let me know.  I would like nothing better than to post your stories.   And you do not have to be Ernest Hemingway, just tell it like it is.  There is a real need out there for actual information for people who want to try new things and places.  So if you have a story just send a comment on this article telling me you have a story to tell. I will answer you via email and we will get your story online.  I am serious.  Have you ever thought about writing a story?  Then tell it to Fish Catching Travel, and we will share it with others.
Good Luck and Tight Lines!