When I started my blog I said I would be writing about places for Fish Catching Travel,  places I have been, and places I want to travel to.  One of my best friends has been going to Muskie Bay Resort in Ontario yearly, and sometimes twice, for over 10 years and it is the real deal.  If you have ever considered a trip to Canada, Muskie Bay Resort is the place.  Not only has my friend Clyde been going there for years, many of my other friends have gone with him, and none of them has ever had anything but a great trip.
My fishing bucket list includes marlin, done, tarpon, done, big tuna, still on the list though hope to accomplish that in South Africa this July, and a muskie.  Clyde has been after me for years to come with him and it just has not worked out.  Well this year looks to be the year I make a serious run at catching a muskie.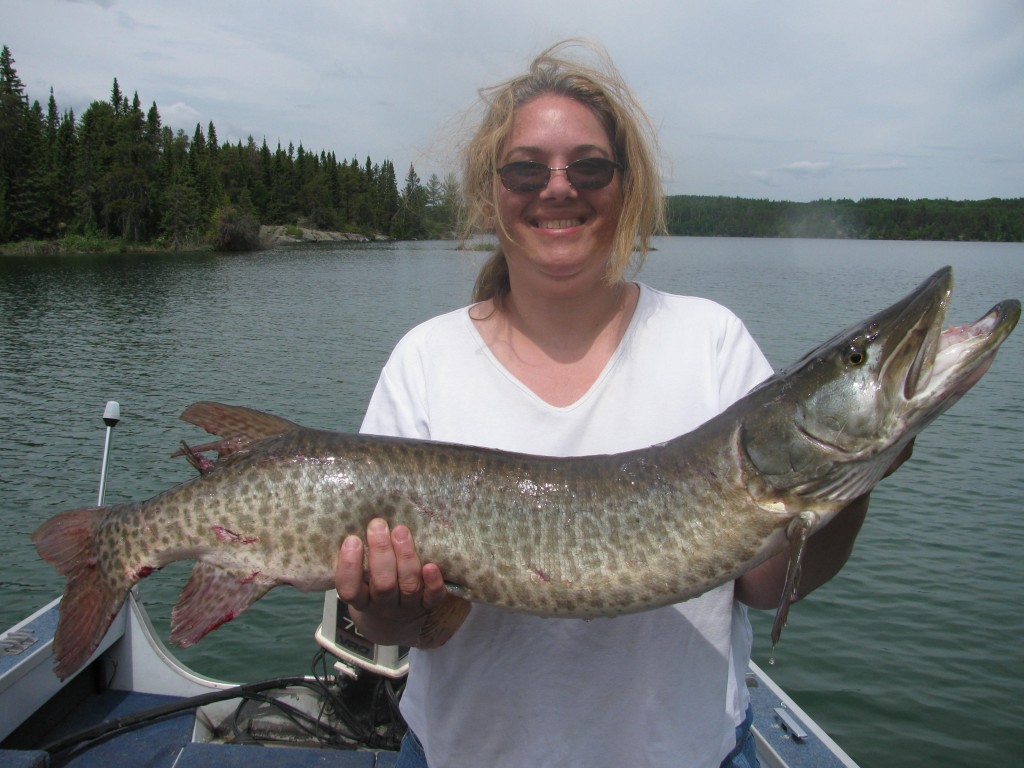 The lovely Maria with a great Canadian Muskie.
Muskie Bay has it all for the traveling fisherman.  Want to catch a muskie?  This is the place.  But it is not just muskie, smallmouth bass can be caught until your arm hurts.  Northern Pike are plentiful, some up to 20 lbs.  Like crappie for supper, they got them.   Walleye are plentiful, and if you want to add lake trout to your catch it is no problem.
Muskie Bay Resort is a complete resort.  From  a simple motel room for those who pull the boat, which my friends have done on several occasions, to a complete vacation with meal, boat, and guide provided, they can accommodate any need.  And water, there is all the water you could fish in a lifetime.  Clyde has been going for years and has barely made a dent in it.  Each year he learns something new, sees something new, and catches fish to beat the band.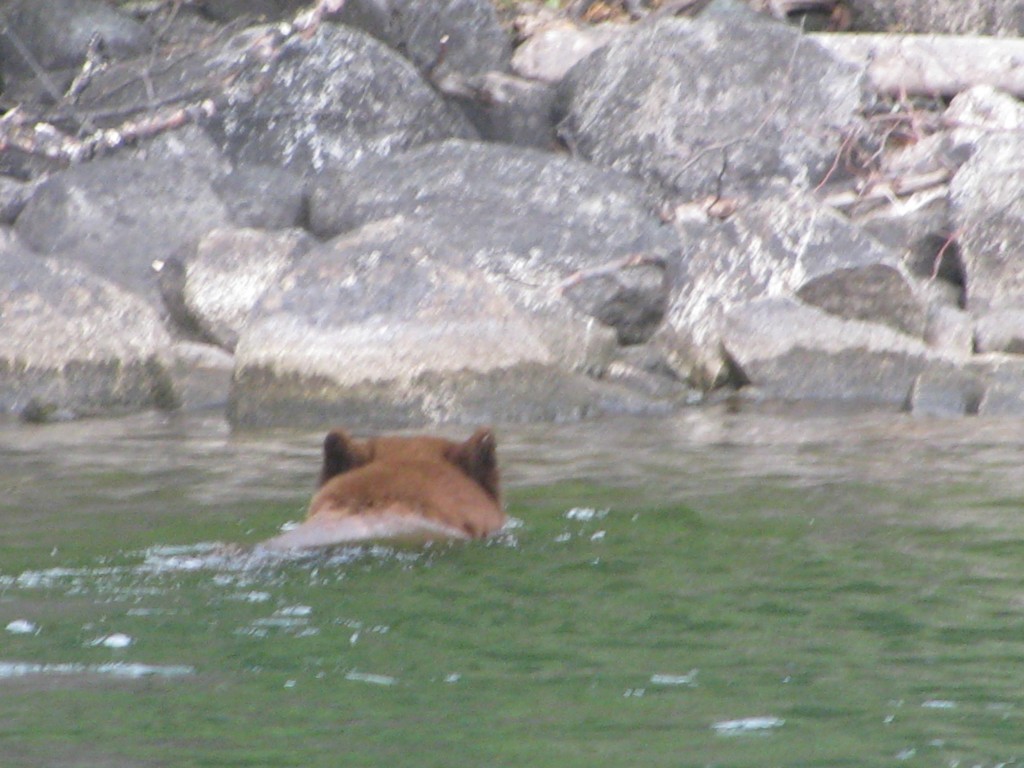 There are some big things swimming in the lakes around Muskie Bay Resort!
And speaking of bears, see above, there is hunting available and the success rate on bear hunting is very high and extremely affordable.  It is very easy to organize a trip where you can catch multiple species of fish in the morning, and bag that bear rug for the den in the afternoon.  They also offer deer, waterfowl, and even wolf hunts.  Muskie Bay Resort is truly a great destination for the outdoorsman.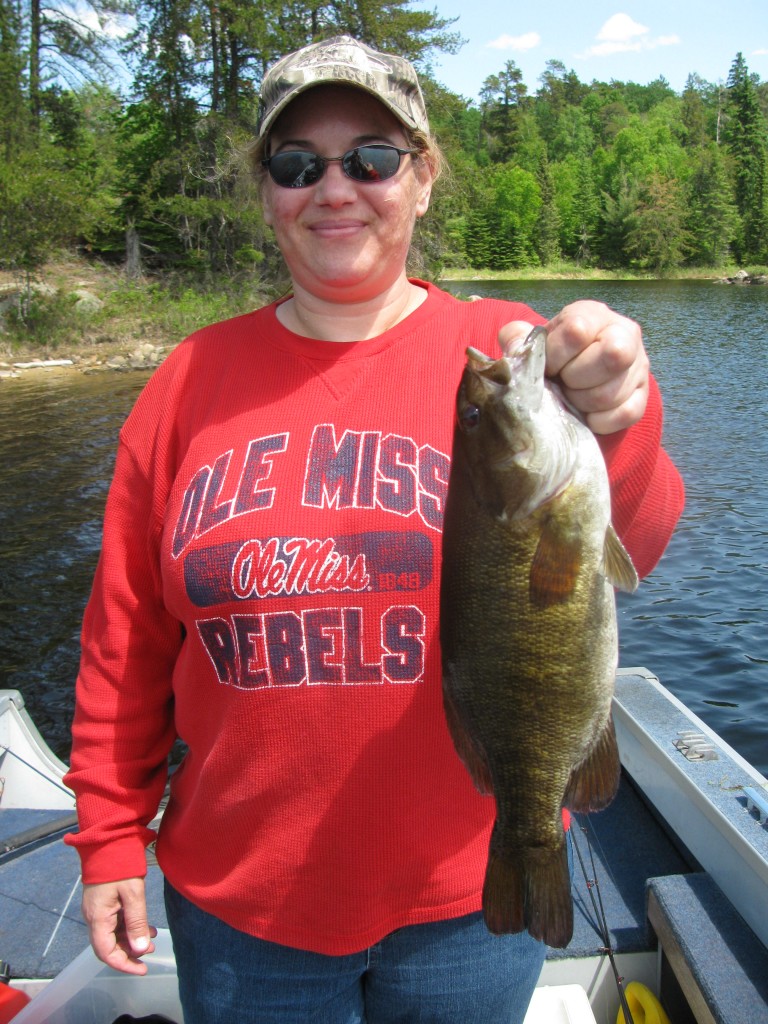 How about smallmouth on topwater until you are sick of it!
Do you like to topwater fish?  Just hold on.  Spinnerbait your thing?  Hungry smallmouth, pike, and muskie will oblige.  Want to live bait fish?  Crappies and walleye are always happy to gobble them up.  And if you like to troll, troll till you drop.
Clyde with one of the 3 muskies caught on the week.  They average 3 -4 every trip not even concentrating on them.
Muskie Bay Resort is on Crow Lake with over 30,000 acres and near the mighty Lake of the Woods, which has over 65,000 miles of shoreline.  That sounds almost ridiculous, 65,000 miles?  You can actually get away from the crowds and Clyde has days where he sees few other fishermen.  They have fished 4 or 5 different lakes in the area, and put in at several different ramps on Lake of the Woods.
A nice walleye ….. looks like supper to me.
The owners of Muskie Bay Resort, Paul and Chris, are great folks.  They are very accommodating and do everything in their power to help you catch fish and have a great stay.  Everyone I know who has gone there has been impressed with the hospitality.  So if Canada has ever been on your bucket list, or you just want to go to a great place and catch fish, Muskie Bay Resort is the place to go.
If you decide to go, you will cross the border at International Falls in Minnesota.  The resort is a 1 1/2 hours north of the border and you can stock up at the town of Nester Falls.  If you ever wanted a trip to Canada this is it.  I can't wait!
Check out their website…and tell em Clyde and Fish Catching Travel sent ya!        http://www.muskiebayresort.com/
Ontario Fish and Wildlife
http://www.mnr.gov.on.ca/en/STEL02_168294.html
Information on entering Canada with great links   http://travel.state.gov/travel/cis_pa_tw/cis/cis_1082.html
(Note:  These are just a few of the pictures from this year.  They are an example of how it goes every year.  What a place!)