Fish Catching Travel
My love affair with largemouth bass began pond fishing in Iowa during the 60's. It grew during the 70's – 90's when I was guiding and tournament fishing on Norfork and Bull Shoals Lakes in Arkansas. That love affair continues today. Over the last 50 years I have learned many new techniques, but none have compared with fishing the Strike King Swimming Jig.
I was fortunate enough to meet Aaron Fite, a long time tournament fisherman and all around good guy, who as taught me a lot about bass fishing. On a trip to Coleto Creek last year he introduced me to fishing the Swimming Jig, and it has been in my arsenal ever since.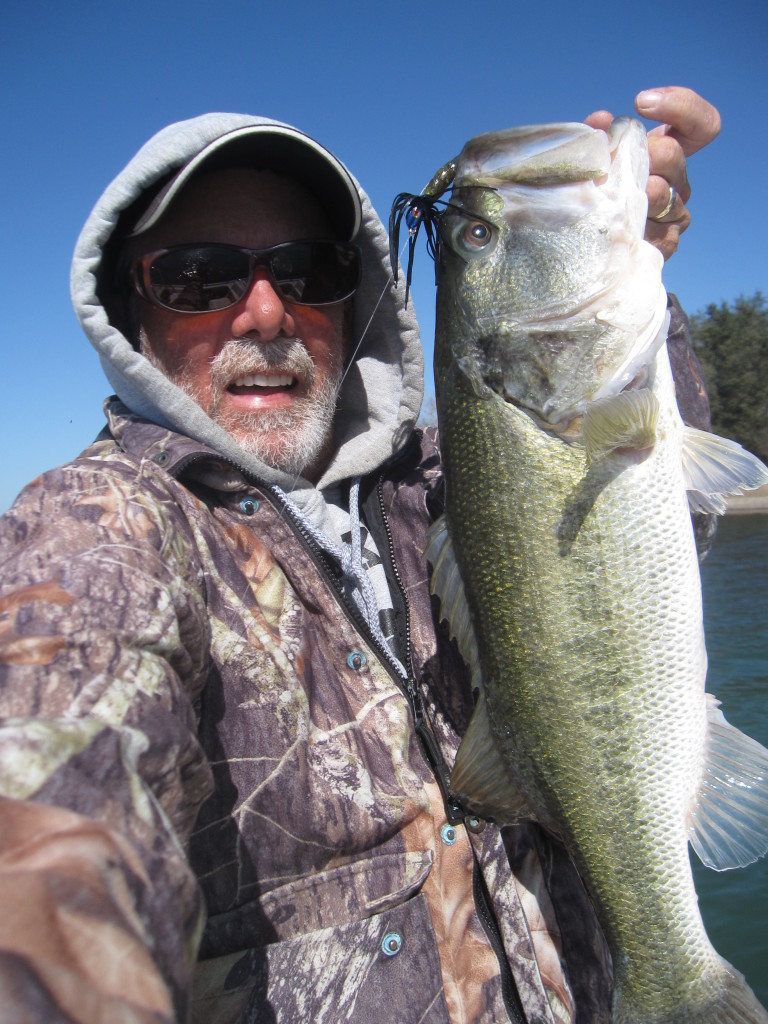 The Swim Jig strikes again. It works great on big pre-spawn bass.
Made by Strike King, the Swimming Jig was designed with input from their pro staff, which has some of the best bass fishermen on the planet. When combined with the Strike King Rage Craw, it is one of the deadliest, most versatile, baits made. Anytime the fish are shallow, and especially if related to grass or other vegetation, the Swim Jig should be on your list of baits to throw.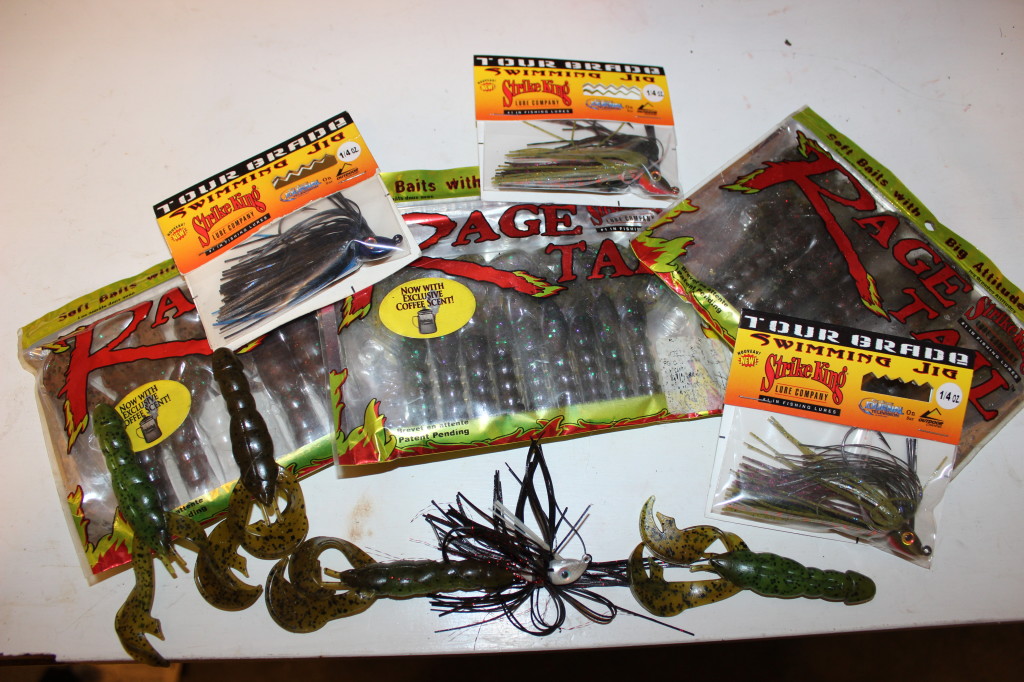 The Swimming Jig itself comes in 3 sizes, a 1/4, 5/16, and 3/8th ounces. With a streamlined swimming head, they are painted to work perfectly with the color coordinated skirt. They are available in 10 colors to meet any seasonal pattern or primary forage on any lake. One of the best features is the wire keeper on the head that allows you to stab your trailer to keep it in position.
Strike King's Rage series plastics have a specially designed flange on the tail of the Rage Craw that creates unbelievable action and vibration. When combined with the Swim Jig it creates one irresistible bait. They come in the Baby Craw, Craw, and big Rage Lobster in a wide range of colors.
So lets get to the basics. This is not an attempt to turn you into KVD, it is to get you started throwing one of the most effective bass lures around. To start simply get a 1/4 ounce black/blue and a 1/4 ounce bluegill. Now that we have our jig, lets select our trailer. For starters the 4″ Rage Craw is perfect. Get a package in black/blue and then one in a more natural color to fish behind the 1/4 ounce bluegill.
Now that you have your baits you need some equipment to throw it on. A medium heavy rod with a fast tip, a bait casting reel, and you are set. Fish it on mono, fluro, or braid, in the 15lb range will do, it is your choice. Again, we are not trying to make you a pro, just to get started fishing it. You can refine your equipment as you learn, but this is a start.
The best thing about using it is how simple it is, just reel it. It really is simple as that. Probably the best advice I can give you is start out with a medium retrieve, and then work faster or slower from there. One of the hardest things for many of us is duplicating a retrieve right after we catch one. Listen to the fish and they will let you know how fast to reel it.
For me the best way to hold the rod is by pointing it directly at the bait. Now it is great when one knocks the crap out of it, but they can be a lot trickier than that. Often times the fish swim right up to it and eat it, continuing on right at you. The good thing about pointing the rod right at it is you can often feel one of two things, either it gets heavy, or the line goes slack. So set the hook. You have to constantly be alert, if you are lucky they will hit it with authority, but often you will actually see your line move sideways. Actually that is the very thing I love about the Swim Jig, once you get the feel for it you will find yourself setting the hook before your mind even registers you have a bite. It is a beautiful thing when you set the hook like that and there she is. Remember, there is no additional penalty for setting the hook.
A short video on how to use it – it is that simple!
Of course how fast you reel it is often dictated by the cover you are fishing. The Swim Jig is most effective around vegetation, be it grass, reeds, or pads. The real goal is to literally swim it through and around the cover. The best case scenario is shallow vegetation leading into deeper water. Swimming it down the face of the cover, letting it occasionally tick the tops of the cover results in some awesome bites. And when the cover has a sharp deep edge, after hitting the edge slow it down, letting it fall down the face of the cover. Another successful way is to parallel the edge of the deeper cover if the fish are not shallow. And of course when the water temperature is high and the fish are active you can reel it as fast as you need to. But no matter how you use it, just think about how it is swimming along, tail vibrating, as it works the cover.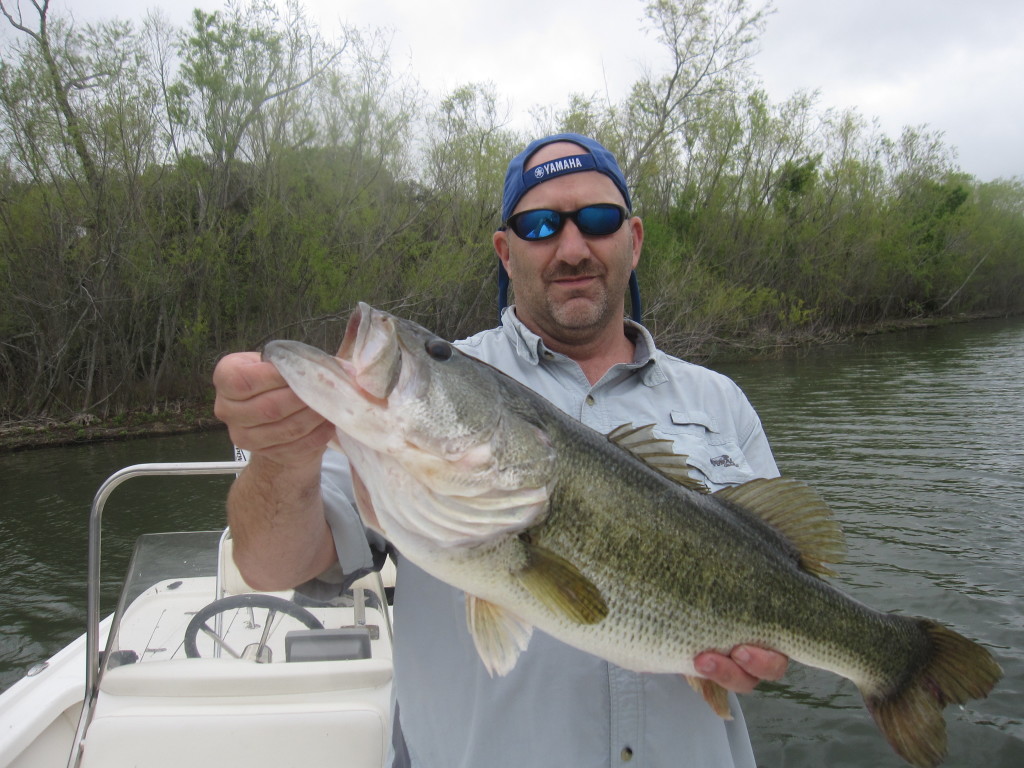 The master, Aaron Fite. Aaron is a big guy, and this fish was a hoss. Winter or summer, the Strike King Swimming Jig is effective anytime fish are in shallow cover.
As far as when you throw it, I throw it year round. Sunny and warm, or cold and cloudy, all you need is cover and shallow fish. The Swimming Jig is as versatile as you make it. The color combinations and size variations are limited only by your imagination and the fishes preferences. So grab a couple at your local tackle store, you will be glad you did.
Take a look at their catalog for the complete line of Strike King products:
http://www.strikeking.com/catalog/2014/SK_2014_catalog.pdf
Good Luck and Tight Lines