Fish Catching Travel
The Redfish Magic
I am often asked what is my favorite bait for redfish.  Folks if I had to pick up one bait to catch redfish it would be the Redfish Magic.  No matter the weather, time of day, or where I am, if there are redfish they can be caught on the Strike King Redfish Magic.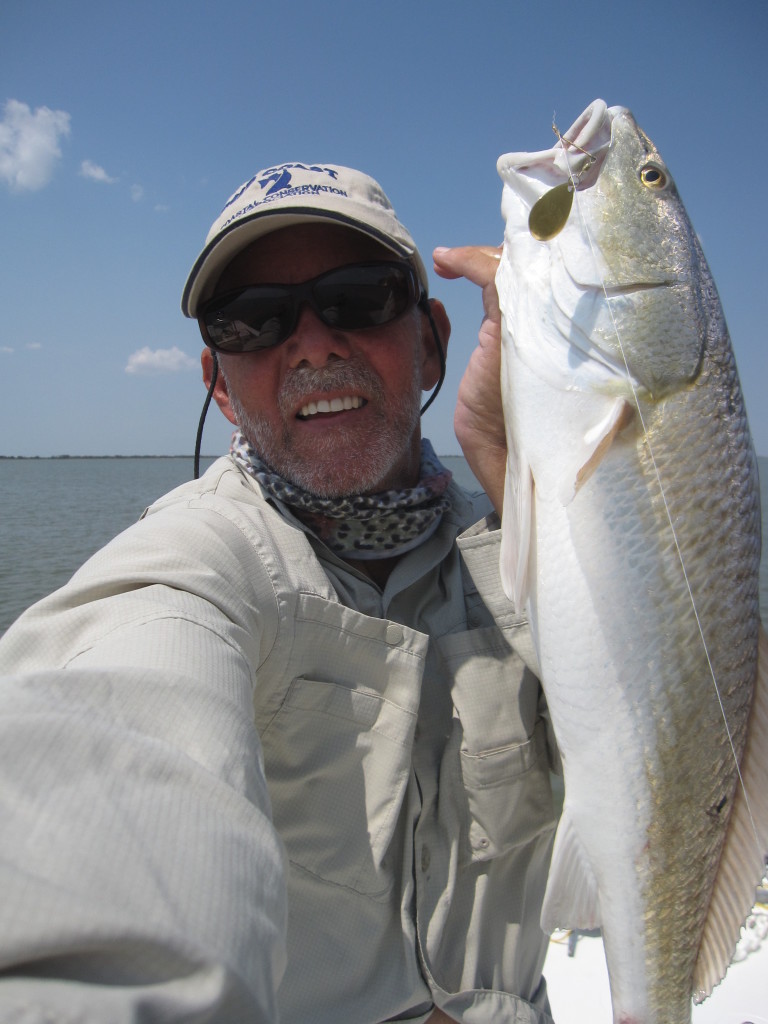 Just the blade sticking out of her mouth.  They eat the Redfish Magic.
The Redfish Magic comes in 2 sizes, a 1/8th and 1/4 ounce.  Both have a #4 gold plated Colorado blade and black saltwater needle sharp hook.  You buy them with pre-rigged Glass Minnow tear resistant paddle tail bodies.  The bodies come in 10 different colors that drive redfish crazy.  And there are around 14 different colors in the replacement Glass Minnow Bodies for any water condition.  And if you want to the minnow to stay on better just use a couple of drops of Super Glue where it joins the head.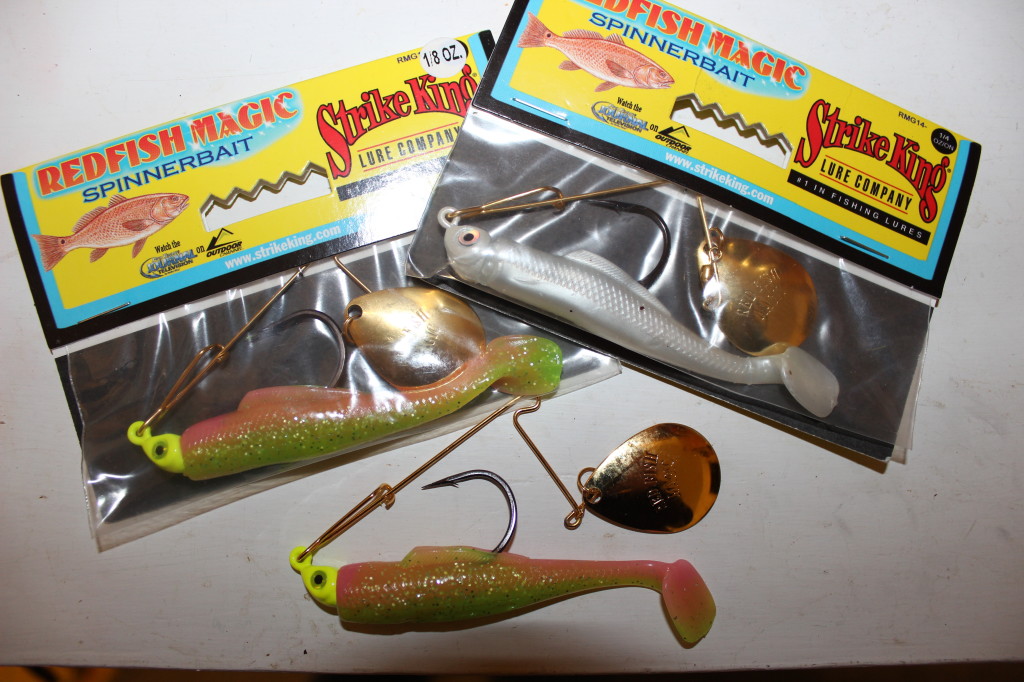 I prefer the 860 Electric Chicken with the chartreuse head and the 866 Blue Crab with a red head.  The thing I really like about the Blue Crab is it has a cool blue tail, which reminds me of a redfish's tail when he is feeding and his tail is lit up with that cool irredescent blue.
Being a spinnerbait, it can be fished anyway the fish want it.  Slow roll it, rip it along, hop it, or jig it, just put it in front of a redfish and he will eat it.  And with the strong wire Strike King uses you can catch fish after fish on it, and the bodies can be changed to any color you need.  I was speaking with a "guide" at the Houston Fishing Show and he told me that the Redfish Magic was not strong enough for redfish.  Huh?  He must not be real experienced or was just dissing the bait.  Either way he was so wrong!  Of course he also told me Lew's was his sponsor and gave him over 20 of their top of the line reels every year, but he only liked their bottom of the line.  Just another huh?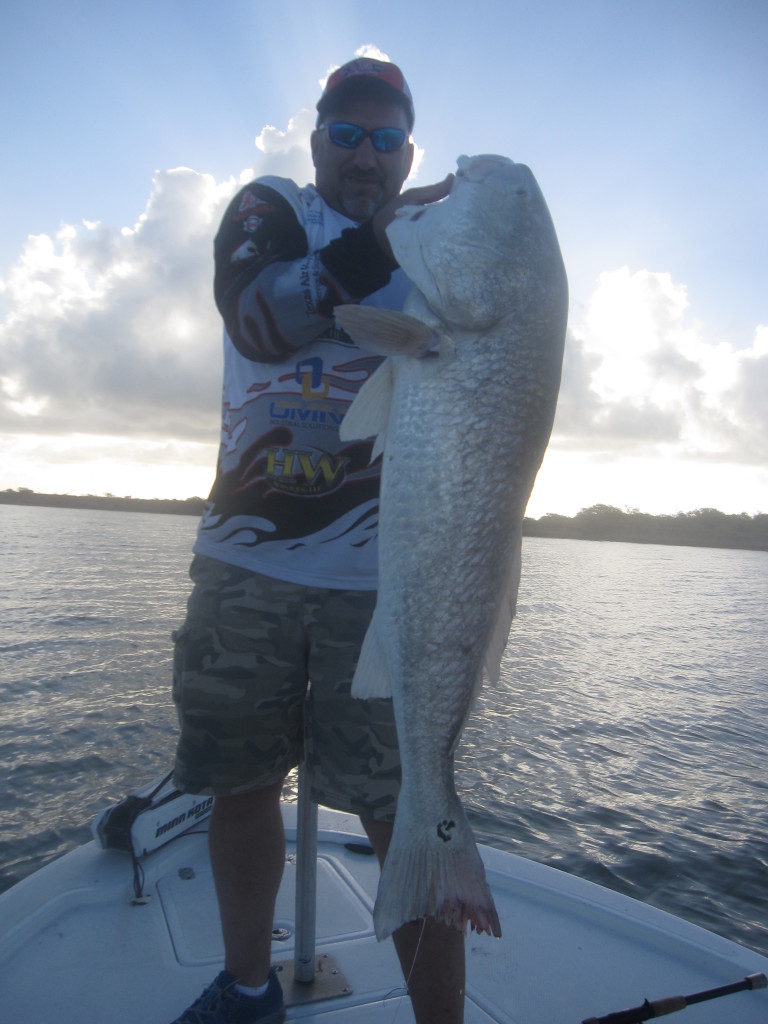 I guess this giant did not get the Strike King Redfish Magic is not tough enough for redfish memo.
Redfish can be caught in shallow marshes, canals, jetties, and the mangroves.  In all those situations the Redfish Magic preforms beautifully.  Probably it's most effective use is in areas of grass.  It is a matter of simply tossing the bait into the grass, it comes though about anything, and then reeling it out.  It is awesome when you see the grass move as your spinnerbait hits the edge of the grass, and then you see the big boil as he thumps it.  It is enough to get any fisherman's blood boiling.
I prefer to keep the bait close to the bottom with a nice steady retrieve.  But as with all baits, let the fish tell you how fast they want it.  From that point on just reel and hold on.  Redfish love to "thump" it when they hit it, and it is not something you will miss.  Occasionally they will swim with you, or your line will move off to the side, so if you feel anything set the hook.  And one of the things I love about the Redfish Magic is as long as you get a good hook set they stay on.  I lose less fish on that bait than any other I have ever fished.
And as long was are talking about cover, redfish also like other cover.  They will hang out around obstructions, stumps, rubble sea walls, oyster bars, any cover that provides dinner.  They are so like bass in that regard.  And for you bass fisherman, just fish the grass with the spinnerbait like you would for bass.  See a point, a big oyster pile, a dock?  These are the sweet spots for redfish and the spinnerbait. The bait is also a great search bait, you can cover a ton of water.  That is a real advantage when fishing a new area the first day.   And if you see a cruising red be sure to lead him and roll it in front of him.  It is so awesome when a plan comes together and they wolf it in a big boil.
The equipment needed to fish a Redfish Magic is pretty standard bass type fair.  A casting reel and a medium to medium heavy rod is perfect, though nothing is wrong with spinning equipment in the same category.  Line is a matter of preference.  For me it is 20lb. mono, no leader necessary.  Lots of folks like a 30lb. braid with a 20lb. fluro leader.  Either will work well.  Of course tie the line directly to the spinnerbait wire.
Folks this is not rocket science.  Just start in an area and go to throwing.  Whether it is a sea wall, oyster bed, or grass line, cover water until you find them.   Fish it fast or slow, just reel it along and hold on.   Of all saltwater baits for redfish nothing will produce redfish like the Strike King Magic.  And of course there are certain side benefits like flounder, trout, black drum and other assorted saltwater creatures.  So if you have not ever given it a try, do, it can become one of your favorite redfish baits too.
And while you are at it check out the Strike King Catalog for a full selection of the Redfish Magic.
http://www.strikeking.com/catalog/2014/SK_2014_catalog.pdf
Good Luck and Tight Lines