Fish Catching Travel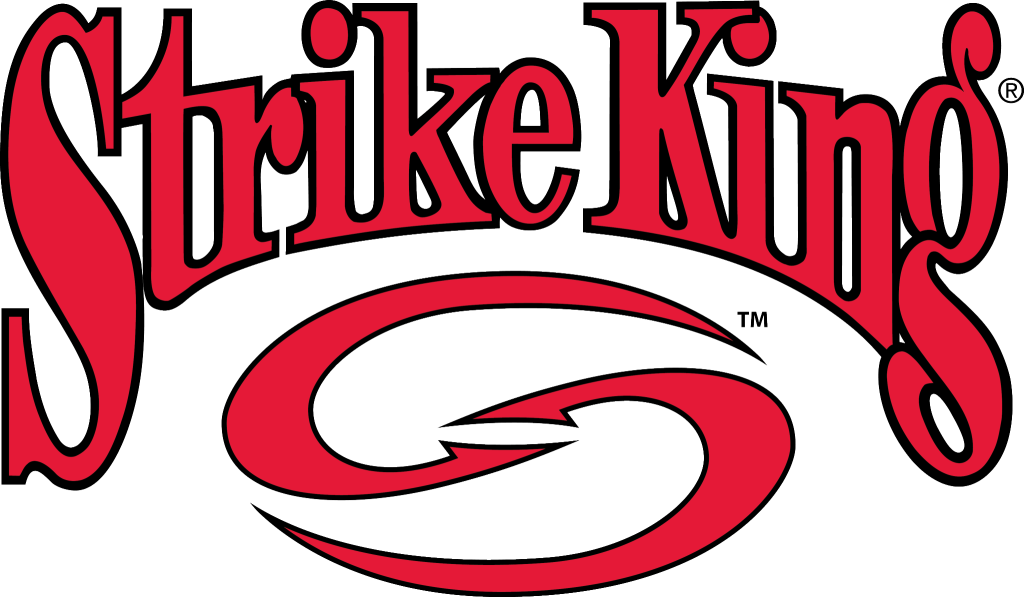 Redfish Magic or a Rage Tail Shrimp, Strike King has the bait for you!
The Question:
I am a novice coast fisherman. Usually we wade fish with live shrimp on popping corks.
You always talk about baits you use but being a rook don't know what they are. Could you please include some pictures of these lures. Thanks
Ok Glen, here you go, saltwater lure fishing 101.  This is not the be all end all list, that would take a book, but hopefully it helps you get a feel for saltwater lure fishing and the terms I use when I write my reports.  There are many other baits and styles of hard and soft baits, jerk baits, crankbaits, in fact you can spend money until you drop and still not buy it all.  Keep it simple and learn to use a small assortment of baits and you will be successful.  If you are experienced this may not be for you, but remember, we all started somewhere.  (The following pictures are lures right out of my tackle bag.)
Plastics
Basically I use the following terms for plastics – Straight Tail, Paddle Tail, Flapper Tail, and Shrimp Tail.  Generic lengths for saltwater plastics are 3″ to 5″.  They come in as many colors as you can imagine, but basically it seems to boil down to the following question:  Are they hitting dark or light colors?  So lets look at a few of each style and talk about the differences.
Paddle Tails
The important point about paddle tails is how easily does it paddle?  When I look at a paddle tail I am looking to see how narrow the tail is where it meets the paddle.  That is the one factor affecting how well it vibrates, narrow = good vibration.  Some thump, some vibrate, it just depends on how they are designed.  A good rule of thumb, the warmer the water the faster the vibration.  And softness is another factor when picking plastics, especially if you fish in the winter.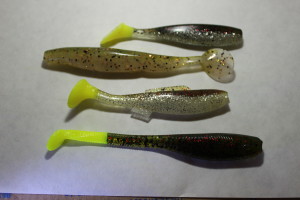 D.O.A. C.A.L. – Strike King Caffeine Shad – H&H Cocahooe Minnow – Down South
Straight Tails.
When I use the term straight tail it covers a variety of baits that many folks call bass assassin style baits.  The action is basically imparted by the user.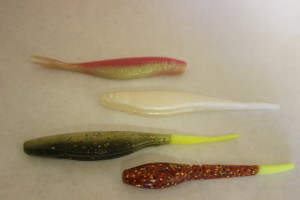 MirrOlure Soft Minnow Split Tail – Strike King Zulu – SaltWater Assassin – Sand Eel
Flapper Tails.
Basically they have big flat beaver type tails.  Of course while they work year round, I prefer them in the winter when the water temperature is down.  They clearly have a different beat and can be highly effective on bigger trout.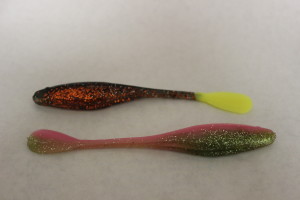 Gambler Flapp'n Shad
Shrimp Tails
Like everything we are talking about here, there are tons of variations.  From cheap to the Gulp Shrimp, they all catch fish.  If I am going to fish a popping cork there is only one shrimp tail I use, the Strike King Rage Shrimp.  Not only does it catch fish, it last forever.  It is tough and often the same one stays on my rod for months.  Again, the joys of super glue.
Salt Striker Shrimp Tails  –  Strike King Rage Shrimp
Lead Heads
To get our plastics to the fish, or the bottom, or anywhere else they need to be, plastics are generally used on lead heads.  While there are tons of sizes and colors, there are really only a couple of important factors, hook size and overall weight.  Those factors are then combined with the depth you are fishing, the speed you are fishing, and the size of the plastics.  Color is basically irrelevant, so do not get caught up in that, unpainted is fine with the fish. It is really all about the fall rate when you combine the bait with line size.  Basically plastics should be fished on as light as line as possible, usually 8 – 12 lb test for me.  Remember, the lighter the line the finer the wire hook to make it easier to set the hook.  And the punch line: Super Glue the plastic to the jig head.  You will use less than a third of the plastics you would normally use, I carry it in my wading box.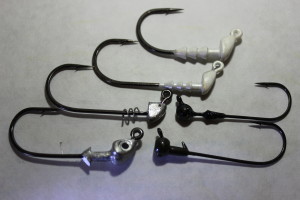 White – stand up heads – Lead Screw Lock – Strike King Flats Jig Head – 2 on right are Bass Shakey Head Jig Heads
Topwaters
Hoppin', poppin', skippin' and floppin', there are as many topwaters out there as there are folks making baits.  And while those of us who fish hard have a box or two full, just a few will meet most of our needs for inshore saltwater fishing.  My basic styles I throw are the walk the dog style like the Skitter Walk and the Spook Jr. and the popper style like the Chug Bug or the Skitter Pop.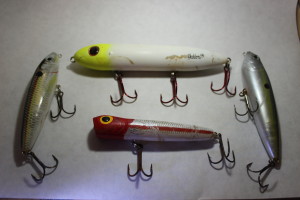 Zara Spook (top) – Rapala Skitter Walk  (left) – Strike King Sexy Dawg (right)  – Storm Chug Bug (bottom)
                                                        Jerk or Twitch Baits
Like all the baits we have talked about previously, there are tons of different baits, but a few will get the job done.  Hard plastic and soft, basically they are designed to be jerked and then suspend or sink very slowly.  Primarily a colder water bait, they work year round.  And the original Paul Brown Corky, and it's family of baits, are probably responsible for more really big trout than any other bait on the Texas coast.  I have had great success in Florida on a regular bass minnow jerk bait.  The corky style plug is the bait that probably requires the most skill of the lot.  Practice makes perfect.
Soft
Paul Brown original Corky (top) – Tsunami Fat Boy (bottom)  –  Tsunami corky (right) – MirrOdine soft jerk  bait (left)
Hard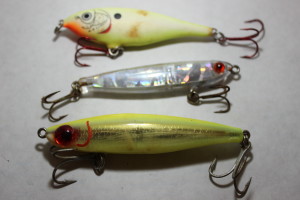 Rapala – MirrOlure twitch bait – Catch 2000
Spinnerbaits
There are several companies that make a saltwater spinnerbait, but as they said in the movie, The Highlander – There can be only one!  And that is the Strike King Redfish Magic.  End of story.  Of course I use many companies baits but when it comes to spinnerbaiting for redfish there is really is only one, and in the words of Forest Gump – "That is all I have to say about that."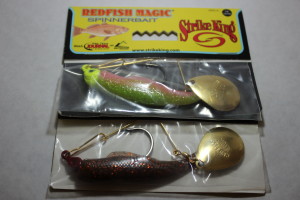 The Redfish Magic  –  there is not reason to show you any other spinnerbait!
Getting Started
Almost every fisherman who ever lived likes baits, the more the merrier.  But not everyone has a budget to accomplish it.  But with a little planning you can cover all the bases and not break the bank.  So if you are wading with a popping cork here is the list of lures that will cover your needs fishing the same depths.  This list is specifically designed for wading depths and about tells it all about what I throw on a daily basis.
Shopping List
4 bags of plastics – Down South watermelon red + Strike King Rage Shrimp white/chartreuse tail +  Saltwater Assassin SW Shad electric chicken + D.O.A. C.A.L. Shad in a dark color
2 packs of jig heads  –  1/16th + 1/8th (Strike King Flats jig head)
2 topwaters – Zara Spook Jr. in bone color + Rapala Skitter Walk Bl/Silver
2 twitch baits – Black Back Silver MirrOdine + Bone or White Tsunami or Paul Brown Corky
2 spinnerbaits – 1/8 + 1/4 Strike King Redfish Magic
This list will do it.  Of course I have tons of baits, more than any sane person could possibly need, but they are not really necessary.  If you have this short list in your pocket when you wade you can cover every set of conditions, no matter the time of year, no matter where you are on the Texas coast.  It is important to note:  THERE IS NO SUCH THING AS A MAGIC BAIT!  They are just tools, nothing more.  They have a time and place, it is up to you to figure out the rest.
So I hope this answers your questions.  And the rest of you, if I am spouting off about anything else like I am want to do and you are not sure what the hell I am talking about, let me know.  I love your questions and comments.  So keep stopping in and thanks for reading my stuff.  Now go our there and catch some fish!
Good Luck and Tight Lines