FISH CATCHING TRAVEL
Brought to you by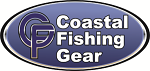 ** For a super deal on your Wade Right use promo code FCT15 and get 15% off on your online  order!**
After 3 days of manual labor, no really, I did some, I was not sure whether I would be working Friday or fishing until my buddy Jeffish texted me and told me "He did not need my sorry ass."  What kind of friend is that?  The kind that takes into account my fishing disease so I was free to have at it.
Weather
92/71.  Sunny and windy.  SSE 20 -30.  0% chance of rain.
Solunar Times
Best   1:14P – 3:14P
Good  6:59A – 8:59A  (Should have been out earlier.)
Lake Levels
Today   97.37 msl     18 days ago  97.56 msl
The wind was projected to blow 20 – 30mph today and it was every bit of that.  I got a late start and was fishing by 9:30.  It should be buzzbait time on Coleto so I pretty much committed to fishing it most of the 5 hours I was on the lake.  The thing that made it tough was it was one of those fish where you can and not always where you want days, especially with a buzzbait.  A chop is ok, but not white caps, at least in my experience.

The first place not a bite, but from there on it was one here and one there.  There are still a few stragglers in the back ends of some of the covers, but remember I could only fish in the ones without the wind blowing in.  I caught a couple when I went by a great piece of gnarly piece of wood and made 3 casts at it from different angles, and then a big girl pulled it under.
That is a freakin' good one!
That said a lot about the way they were all biting it, just pulling it under and not blowing up on it.  That was probably a bi-product of them being post spawn, they wanted a slow easy meal.  When I quit counting bites I was 5 for 8.  Of course the most important factor today was cover.  Wood being first, and one or two came out of stumps just under the surface.  I did try the white swim jig and of course caught one on my second cast, and then only one more.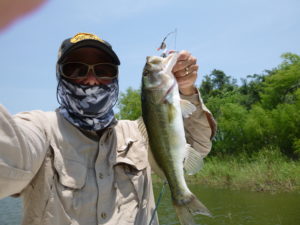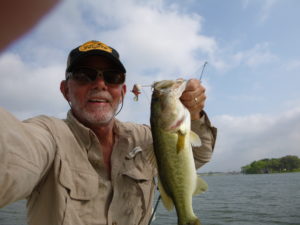 Definitely spawned out females trying to recover.
The water up lake is still off color but the rest of the lake is clearing fast.  It has obviously fallen some, and of the 11 I caught today, all were somehow related to at least some water depth.  It might have been a little bit better up lake but the wind was howling right down the pike, making it tough to fish properly.  But any time you can catch a big fish is a good trip.  So many of the better fish are looking pretty post spawn thin, but the good one today was solid and heavy, the biggest one I have caught in a while.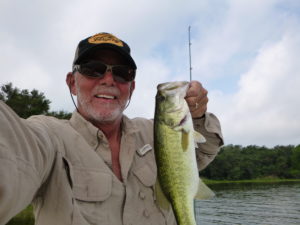 Best I could do on the swim jig.
Now  I will be watching for that cloudy, rain, drizzle day, with light wind, and it will be a buzzbait extravaganza.  Coleto is a good buzzbait lake and now is the time.  I like to catch fish all ways, any fish, but having a big one eat a buzzbait is right up at the top of my list.  When it happens, and you see it like today, there is an instant where your mind goes, did I just see that?   Nothing more to say about that!
*********************
Congrats to Miles Davis from Texas A&M as the first pick in the NFL draft.  I hope it all goes well for him, he seems like a good guy, but he has a tough row to hoe.  Cleveland has toiled in less than mediocrity for decades, so good luck with  that.  Dallas took a defensive end, which was surprising and not quite what they need.  But after last years draft success we have to give them the benefit of the doubt and see how that works out.
*********************
I actually participated in a little manual labor this week.  Hadn't done much of that in while but it was good to help my buddy out, and will be doing so occasionally for the next little bit.  But it really drives home the old saying; "A bad day of fishing beats a good day at work!"
*******************
Time to renew your CCA membership and Star Tournament.  Not only is it good for conservation of our coastal resources, but who knows, if you saltwater fish even a few times you need to send in your bucks.  I know a guy who a few years ago was the only guy in the boat without his membership and he caught a tagged red.  Nothing like knowing you could have won a boat and truck if you would have just taken care of it.  There are tagged redfish released in our area every year and you never know.
*******************
So today was all good considering.  Having Coleto is a great fall back position if the wind really howls like it did today.  Hopefully we are about to get out of that pattern and into the summer, minus the heat.  When I went to put the boat on the trailer I had the truck parked in the shade, and it was 91 degrees.  So like it or not summer is on the way.  And hopefully some serious bay fishing.  So keep stopping in and thanks for reading my stuff.
Good Luck and Tight Lines