FISH CATCHING TRAVEL
Brought to you by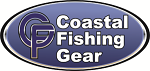 ** For a super deal on your Wade Right use promo code FCT15 and get 15% off on your online  order!**
(Sorry for no reports this week, the Boss and I have been in New Mexico for a few days.  We love that place and as usual had a great trip.  I even fished a minute.  I am getting at that report next, but I wanted to share a report from Jay, one of my long time readers.  I hope you enjoy it, I did.  We all love hearing a great fishing story.)
Doug,
My old Army Brother Ted called me a couple months ago about a fishing trip on Calcasieu (Big Lake as the cajuns call it) a few months ago. We were both at White Sands Missile Range (our 1st duty assignment) as Privates back in the early '90s where we did a lot of CRAZY stuff together. WAY over trained at that stage of our careers! We kind of met up at a lot of the same places here and there over the years; Germany, Korea, Iraq, Ft. Bliss just to name a few.

His plan was a guide trip with Jeremy Waltrip from Waltrips Saltwater Guide Service and some general hanging out together as we had already covered all the debauchery over the last 25+ years!
Pre-trip I decided to take my old Lund but had to do some work, My throttle remote bound up, disassembly revealed a broken wave/spring washer which resulted in a 3-4 county drive locating one in a boat junkyard. Wheel bearing R&R which revealed one a little more noisy than I would have liked, but cleaned, repacked and as they say "patted on the butt" & hoping for on down the road. I forget to caliper the spindle for a spare hub, so held my breath for 1200 mile round trip. Got lucky……
I arrived on a Saturday to DeRidder, Louisiana. Wanted cajun groceries so we headed out for that, Catfish Oppolousas for me, can't remember what him and his missus had as I was too busy shoveling what is one of my favorite dishes the world over. They later attended a comedy show, I relaxed.
Sunday is his range day. It'd been 5+ years since I've spent any quality range time, VERY BAD IDEA. He had entertainment, my skills were UGLY! A perishable skill and I knew that. Since return here to the farm there's a new firing lane built and in use. THAT will NOT happen again!
We were lazy Monday or rather ran around to gun shops as he wanted one I have. Had to order.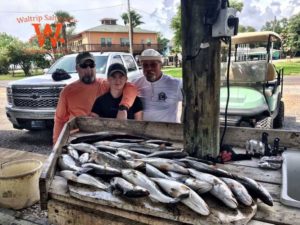 Looks like you all had a couple of bites!
Tuesday was a oh dark thirty wakeup as we Army call it. Drive to Calcasieu for a day of fishing. It was tough. We tried a reef, even though Big lake is only about 7-9′ deep. Ended up chasing birds most of the day for trout, 38 keepers in the boat. Way too many hardhead catfish. I landed a 6lb red. And broke off one over 40″. Got it to the boat 3 times and on the last run I got impatient, palmed the spool and yuup, you guessed it, broke off. I just sat down.  Wind ended up blowing 25-30. We were fishing 1/8th oz jig heads with mirrorlure little johns in copper w/chartreuse tail and watermelon. Jeremy Waltrip is an exceptional guide, we were moving every 15-20 minutes to different spots when no bites. He was a huge pleasure to fish with and has been fishing Big Lake since his youth. I highly recommend Waltrips Saltwater Guide Service if anyone is headed that way. He books thru FB. But said he doesn't guide July 3&4, Memorial or Labor day as it's just too crazy.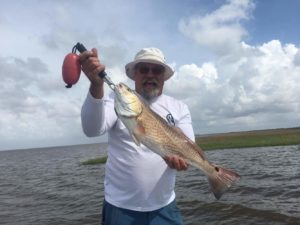 A great red!
We went to catfish Lake Vernon on Wednesday. I had done research, loaded Navionics. Everything I read said underfished, boat lanes horribly marked and full of stumps. We spent most of the time breaking off of snags. My 998csi hd showed a veritable forest in all depths. After sliding the boat off several tree trunks they call stumps in the boat lane at 20-30 FOW we gave it up. Water temp at 76* told me catfish were more than likely in the spawn. Plan was to fish Toledo Bend Thursday. An early rise revealed Ted had been up all night scratching his hide off as office boy was beyond lobstered. So we hung out and caught up on years past as what had happened over the years to most of our 21 man team from a quarter century before. I have to say I'm extremely blessed as most are still working the grind while I'm retired doing as I like fishing, cattling, gardening, throwing hay bales  and able to travel at my own pace.
Were planning a Lake Ponchartrain trip in a few months. Looking forward to that.
So, back to the farm, grass needs cut, shooting lane built and operational, going easy on the catfishing as water temp is in mid 70s which 72-80* is prime for spawn.
Appreciate your interest in others trips and reports! And always enjoy reading your stuff!!
A few pictures enclosed.
Always enjoy your blog!
Jay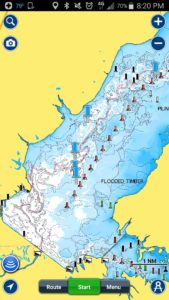 If you go to Lake Vernon Louisiana that boat lane on Navionics is non existent! Supposed to be phenomenal bass fishing too!! Better idle around though!
********************
I really appreciate you taking the time to send me your great trip!  And I love that you fished multi-species, my favorite.  But the best – to get to spend time with a buddy, what could be better than that.  So I love reading it and seeing your pictures, and you are welcome to comment any time.  Fishing is fishing, successful or not, but spending time with a good buddy like this as they say in the commercials, priceless!  And who doesn't ,ike to take a little time and blow some stuff up at the range.  And you may not hear it often enough, thanks to you and your buddy for your service and keeping us safe!  Always good to hear from you.
Now I am going to sit down and finish the report on my trip to New Mexico.  It should be up soon.  I can not thank all of you enough for sticking with me.  We hit 6 years soon, and for the half a million of you who have visited, I am humbled.  And I so love it when folks like Jay take a minute out of their life to send us a report.  The rest of you – comment anytime, we love it.  So keep stopping in and thanks for reading my stuff.
Good Luck and Tight Lines