FISH CATCHING TRAVEL
Brought to you by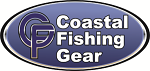 ** For a super deal on your Wade Right use promo code FCT15 and get 15% off on your online  order!**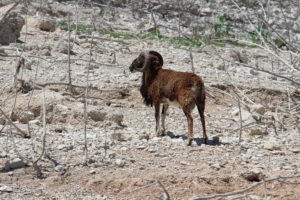 I have  to admit that I have a case of the wind depression.  It was not helped by spending the day yesterday on North Padre and Corpus on a shopping trip.  We ate water side and it was flat blowing, and once I got home the forecast was for high winds, with gusts in the 30 range, and it was to stay that way all week.  I finally could not take it so when I got home I looked up several places, and Lake Amistad won.

I have not been here for 7 or 8 years, and I am happy to report the fishing is clearly on the upstroke.  I left at 6 and was in the water and fishing by 12:00.  I put in at Rough Canyon, my favorite ramp as I like fishing the river.  The water is way down, and the wind was barely blowing.
Reading some reports there were bass being caught on most styles of baits, so I threw the book at them in an effort to narrow it down for tomorrow.  I started out with a jerk bait and they basically hit that all afternoon.  Most were small, in fact in 6 hours it was an easy 15+ so on it, at least they were biting.  But they were not all small, and as the afternoon wore the wind picked up and so did the little better fish.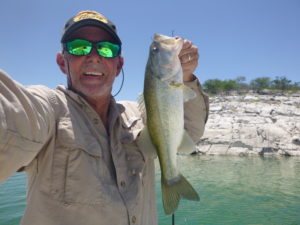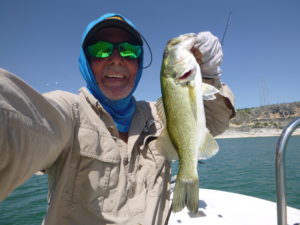 The better jerk bait fish.
They wanted the jerk bait fairly fast and erratic.  They were hard to feel as they were not slamming it.  As it got later, and the wind started to blow some, I switched to a spinnerbait, buzzing it right on the surface, and the bites from the better ones were cool, you could see them in that super clear water coming with a full head of steam and they smoked it.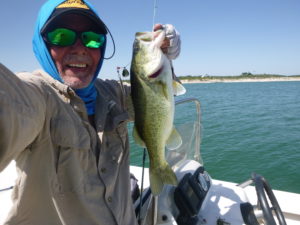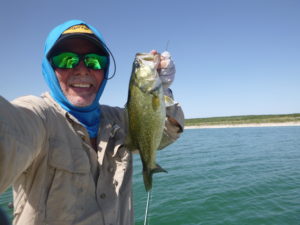 They are nice solid fish, none of that long and skinny thing.
The better banks were rubble rock, not deep, and not shallow.  And points definitely had fish on them.  As it got a little later I got out the Bang O Lure and caught 4 or 5, including the one smallmouth I boated today.  Right before I quit a really big smallmouth hit the Bang O Lure and I just did not get a hook in her.  Hopefully I will boat a couple of better ones the next couple of days.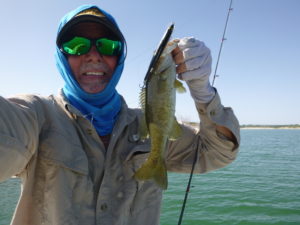 Small, but it is a smallmouth.
As I was tired I called it a day at 6, and headed to the motel to check in.  I got done what I wanted today, and have a couple of pretty good patterns to start with tomorrow.  The weather is supposed to be cloudy with a chance of rain tomorrow, and the day has real possibility.  It was good to be back on the lake, this is one cool place and I always like fishing here, reminds me of the lakes in Arkansas.  And there is always something cool to see on Amistad.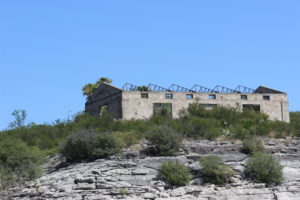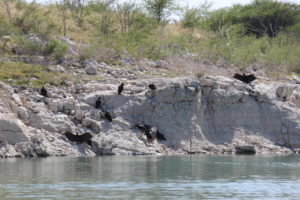 Cool ruins, always wanted to go in there.  Buzzards.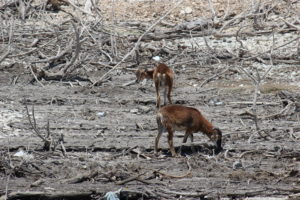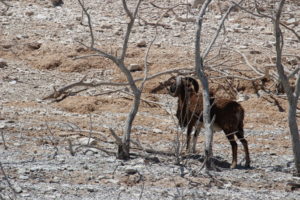 Mouflon, Audad, and goats everywhere.  Always something cool to see.
It was good to be back on the water, and I have always enjoyed fishing here.  Except for the occasional boat, and I mean occasional, it was beautiful, and quiet.  A really different experience from most places.  And while it had a slow period a couple of years ago, today's results are a great sign that Amistad is back.  Who knows, might even  stick a big one tomorrow!
*********************
Every once in a while my rants, this time access, result in a comment that highlights a problem that I had not even considered, and when we get to my response you will see why.  So a big thanks to James for filling us in.
The Froggies dock is the only public ramp in POC to my knowledge. It was originally owned and maintained by the State of Texas and then leased or given to the County to maintain for a period of time. I believe next year the County might give back to the State since major work needs to be done on the ramp as the water is undercutting some of the structure.
I wrote a letter to Carter Smith, Executive Director of TPWD and cc'd Gov. Abott about the need to provide access under the ADA once this ramp is upgraded.

I got a favorable response and that was back in Aug 2015.  I worked on this project for over a year and talked to people with the TPWD and the County Commissioner for POC and found them to be willing to help put the needed funds for an upgrade and to provide accessibility under the American Disability Act requirement.  I am still waiting for this to take place but believe it will, but I do know, or was told, that a study has been done to do this work.

We have many people who need the ADA accessibility including the wonderful yearly event for the Wounded Warriors hosted in POC.  I hope they add new access not only for the fisherman and boaters but also for the handicap that love to fish.

If you or any of you readers want to push forward on this, here are the addresses of the people to write too:
Mr. Carter Smith
Executive Director
TPWD
4200 Smith School Road
Austin, TX 78744

and
Governor Greg Abbot
Office of the Governor
P.O. Box 12428
Austin, Texas 78711-2428
You are absolutely right about Froggie's being the only public ramp.  It needs upgrading badly, with additional parking, but it never crossed my mind about making it ADA compliant.  Why I am kicking myself for not seeing that is because I have a brother who has been in wheelchair for decades as the result of an accident, and he constantly fights access issues in his daily life.  My bitchin' having to walk a couple of blocks to park is insignificant compared to folks who can not even go there.  Access is even more critical for folks with disabilities.  ADA compliance opens up places, ramps, buildings, parks, etc. to folks with disabilities.  Accessibility is a major struggle is some folks ability to get out and participate with the rest of us.
I salute you for your efforts, and will pen my letter and get it off tomorrow.  And the rest of you, take a minute and add your 2 cents worth, it takes public participation to make change.  And if you only do it for selfish reasons, better parking and easier loading and unloading, the side effect will help untold people in the future who would not have access to what we have, the great outdoors.  I appreciate your comment and your efforts, a reminder that there is never a single factor in any issue.  It is time to upgrade the ramp and I can not think of a better reason.  Disabled folks want nothing more than what the rest of us have, access.
*******************
So there is a quick report, I am tired, it has been a long day so it will be an early sack and up early.  It will be interesting to see how it goes, but I am feeling pretty good about it.  So keep stopping in and thanks for reading my stuff.
Good Luck and Tight Lines