FISH CATCHING TRAVEL
Brought to you by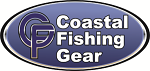 ** For a super deal on your Wade Right use promo code FCT15 and get 15% off on your online  order!**
Time for some Saltwater Fishing
We just got back in town from a quick trip to Port Aransas.  We love staying at the Tarpon Inn, the history and pictures from the tarpon heyday are amazing.  But it is pretty easy to see why the tarpon just quit stopping there in mass for decades.  Most of the tarpon taken were an easy 100lbs plus, mature breeding fish.  They were taken by the thousands over the years and the effects were devastating, but fortunately they are now back every year on their migratation and becoming more prevalent.
One of the (my) reasons for going was to stop at Roy's Bait and Tackle, one of my favorite tackle stores.  But guess what?  They were closed.  Must have been on vacation.  Fortunately the store on Port Aransas was open and I was happy to find the new Rapala Skitter V walking the dog bait.  The shape has a keel/v like a boat, and according to the package will switch directions on a dime and then glide much further than a regular Spook or Skitterwalk.  So we shall see what all the hype is about.  (Report:  It caught fish just fine.  It walked the dog basically like every other bait of that style.  So no complaints but unless you just want one save your money.  I did not find anything special or different about it.)  After a big absence from the salt I will get a chance to use it in the morning when I am waist deep in the bay.
*****************

Get Inhaled!
*******************

Weather

78/71  Partly cloudy in the a.m. with possible scattered thunderstorms in the afternoon.  Chance of rain 40%  Wind out of the SE 10 – 20.  (An easy 20 most of the day.)
Tides
Low   5:58 am  +0.3     High  4:53  +0.9
Solunar Times
Best   5:40 – 7:40 am      Good   11:29 am – 1:29 pm  (Yep)
It All Worked Together
Sometimes things work out, and today it did.  Not by the number or size of the fish but how it went.  A topwater, a Controlled Descent, my Wade Right Wading belt, and a pair of Cocoons.  All were equally important today and it actually made for an interesting day of wading.
I got to one of my favorite cuts on the island and jumped over the side.  The wind was coming over the island, and it was windy most of the day.  The water was clear and as I worked my way to the cut I could not buy a bite.  The water was a big up-low, and it was trying to work it's way into the cut, and the wind was blowing it out the other way.
Wanting to try the new Rapala Skitter V I kept after it and finally caught one.  The fish were right in the middle of the cut, and were cooperating.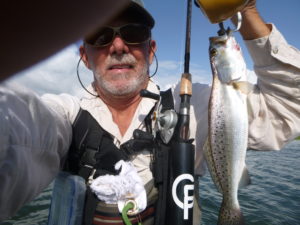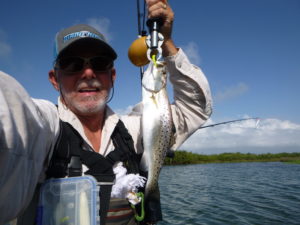 The Controlled Descent put them on the Boga today.
Here is the punch line and why it all was necessary.  First the Wade Right wading belt let me carry 2 rods, one for plastics and one for topwater for the bait and switch.  The topwater was getting bites, but only a couple in a place and then nothing.  So time for the Controlled Descent Lure.  A black/goldlimetruese rigged on a 4/o hook with a 1/8th belling weight on the hook.  I was fishing it just like I have been for bass, just jerking it right along.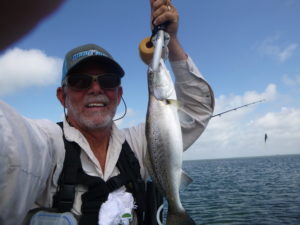 The best of the day smoked that topwater.
So having the extra rod, with a topwater and the Controlled Descent, I was able to double up on them.  As they moved around in the cut, probably chasing bait, I would catch a couple on topwater, maybe miss one, and they would quit.  By following with the jerk shad I was able to put it right in their face and catch one or two more.  The Cocoons were critical because I was making long casts and it was hard to see the jerk shad, but you could see the trout materialize out of nowhere from 5 foot of water and eat it.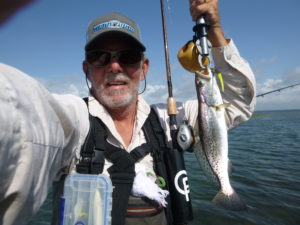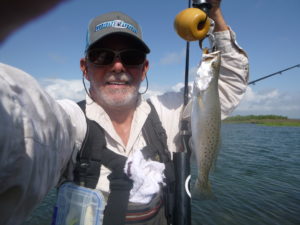 Nothing real big but they were willing for a while.
They were hard to hook and I confess I missed more than a few.  But I tricked some and as soon as they would quit I would move 20 feet and do it again.  They bit from the time I got there at 9:00 until I moved at 1:00.  I could have stayed catching them in the cut but the outside flat in front of the cut is one of my favorite flats, with a great mix of grass and sand.  There are usually some great reds there, but I have just not hooked up on any the last couple of trips.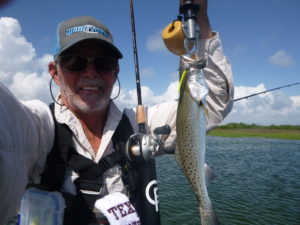 It all worked together today.
So after I finished a wade around the outside grass and potholes without a bite, I noticed the wind had laid some, and then I made a bad decision.  I headed to Barroom thinking there would be a light wind on it and I could catch some reds, but no, by time I got there the wind was back up and it was white capping.  I was hoping to catch a red, and I did give it a go, but not a bite on top or on the jerk shad.  So one last stop was in order.
It was a cut in Big Bayou where I caught a bunch of trout last trip, whenever the hell that was.  It only produced one small trout and 3 small reds, all on plastics.  So at 3:30 I called it a day.  The wind was blowing hard enough that I just did not feel like driving back out to the island.
It really did all have to work together today.  Giving them a one two punch worked great, reminded me of throwing back in with something different when you miss one bass fishing.  It really was cool to see them roll over on the jerk shad, and I should have caught some more, but it is just part of the learning curve with the Controlled Descent Lure.  It really is something different for me in the plastic line.  It fishes different, and one thing I have really learned is having a variety of weighted hooks with screw locks is really important.  Wind, tide, depth, water color all play a part of fishing it visually, which is the way I like to get em!
******************
Over the years I have commented that I believe that guides should pay more for the privilege of making a living with a public resource.  If you have not read me before understand one thing, I guided for almost 20 years, been there done that one.  When I started I was getting $45 a day when I provided the boat and $30 when guiding for a trout dock.  Basically I was barely scraping by.  So it would have been tough to pay more, I understand that.  I just felt, and still feel, that it is fair for guides to pay more. It always struck me as unfair that I was only paying for my guide license and the state was providing me with a free resource to make a buck.  If you reduce it to its base, making money as a guide involves taking a pubic resource that we have all paid to bring back and manage and selling it to customers.   I am not anti-guide, hell I occasionally get the itch, good thing I am old enough to know better.  But to go along with that, to bad we can not trust our government to use any increase in license fees or other taxing methods and place it back on the resource, that would be way to much to ask.  So here is why I brought this up right now.
The April 14th issue of the Lonestar Outdoors News has an article on the front page entitled Taxing Guides.  First, if you are a guide you need to pick up a copy immediately.  Calhoun County will start taxing the value of the goods you use in your guiding business, rods, reels, boat, etc.  And that applies to any guide, full or part time, that operate in Calhoun County.  As an example if you were operating in POC or Seadrift on January 1 this year no matter where you live you should have assessed with the county by April 15th.  If you are guiding you will be taxed just like any other business, so get ready.  And according to the article they are cross referencing those people who bought a Texas Parks and Wildlife guiding license.  I feel your pain but it is coming whether you stick your head in the sand and try to slide by, or you suck it up and do the right thing.  I represented lots of clients over the years who thought if they just did nothing, nothing would happen.   Thanks to Lonestar Outdoors News, pick up a copy today, always a great read.
*****************
And speaking of Port A, we always hit Roy's and then drive on the island over to Port A.  On the way, just outside of town on the right, there is one of the fancy golf resorts with the ridiculously priced houses.  In fact, it is where the golf cart bridge crosses over the road.  At the resort, Palmilla Beach Golf Club, is The Black Marlin Bar & Grill.  Passing by it many times I wanted to stop but thought it might be a little high falutin for my tastes.  Well I could not have been more wrong.  Happy hour was 3 – 7 with delicious apps half off and drinks were reasonable.  The food was great and with 2 drinks was well within my comfort zone.  And the help was great.  So if you are looking for a place to eat on the island give them a go, it was good.
******************
I really had a good time today.  They moved, I moved.  They missed, and I tricked them.  It was way cool to see them roll up, I love that.  There was lots of bits and the action was consistent.  So there will be lots more salt in my future, starting to get my mojo back.  As our winds start to subside the topwater bite could last all day with the right clouds.  It will be watch the weather, then go.  There are lots of other places that should be loaded right now.  And I am still waiting for a couple of days on the Laguna.  And I appreciate all of you who take time out of your life to read my stuff.  Keep stopping in.
Good Luck and Tight Lines