FISH CATCHING TRAVEL
Brought to you by
Check them out – the only way to wade!
**For a super deal on your Wade Right use promo code FCT15 and get 15% off on your online order!**
Here are a few posts and comments from readers.  I love getting them and really do appreciate your shares so keep them coming.  (Excuse the funny look to this today, I can not figure out how to fix it.  I may know how to talk but as far as the mechanics of blogging I am often clueless.
************************
First up is this great Coleto report from Katy Joe.
Funny you should mention using shad imitators and not having any luck.  While not included in my last couple of reports I have actually thrown a couple of different shad crankbaits the last 2 trips without success.  And what you found is exactly what I am hearing.  I know I should slow down even more and go with some smaller plastics but I expect them to get going any day now, especially if the weather does what they say it will by weeks end.  Good luck Saturday, it has real potential  and with the cloud cover hopefully the topwater bite will last in to the day.  And I will get at least one, or possibly 2, chances to go this week so keep checking in.  I will definitely be out there Sunday with a couple of kids so if you find anything particular let me know.  I can use all the help I can get.  Thanks for the report.
**********************
And this report is from Lee on his recent work trip to POC.
Hey Doug,

Just wanted to report back. Thanks for the recommended spots. My work schedule changed so I was only able to fish Thursday morning. I settled on Keller Bay and was there by first light. I tried to make it to the kayak launch but the road was underwater. So I went to the main boat ramp. I hit the opening to the back bay that is right by the ramp just thinking it might be a good spot. Started at the outside and had a few hits on top from small trout. I worked my way into the neck and found trout and some really nice slot reds. I fished there until the dolphins showed up and headed over towards the houses that looked abandoned.. Started fishing there all the way to the marsh. I caught another red and a trout. Did some wading in front of the marsh in waist deep water to no avail. There was a boat set up in front of that main marsh drain that probably would have been good. Anyway, no luck on the Wade but needed to stretch the legs. Heard fish blowing up in the marsh which marsh fishing is my sweet spot but didnt have enough time. Anyway fun day and I got to scope out Port O for the future. Checked out the back of Powderhorn and definitely want to fish there in the future. Did some some driving around Port O and it is straight up a fishing town. Boats everywhere. Cool place and hope to get back.. Thank you very much for the recommendations. Oh, and I used a paddle tail with chartreuse tail and a white/chart walk the dog top.
Glad you got a chance to at least give one place a go and even boat a few.  There are so many places, so little time.  And yes POC is a fishing town, and the boat traffic this weekend was something.  It will slowly slack off some but the days of having it to yourself in the winter is over, but at least the traffic is down.  So keep in touch and let us know when you make it back again.
***********************
And I got this great picture from James R.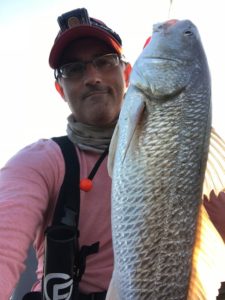 That is one nice redfish.  James said it gave him a great ride in his kayak.  Congrats and as usual love your reports and comments, good to hear from you again.
*************************
And last but not least I got this from my buddy Clyde concerning my slight mishap this weekend.
It really was funny, even when it was happening.  Gonna have to find a better way to attach the pliers.  And I appreciate being included with those guys and their trips, maybe a comment on their good sense, but hey we do have some fun.  Hope you get a couple of days on the water before that Northern Iowa winter comes roaring in.  And hey, our rivers are about to turn on, so the offer is open.  Good to hear from you.
*********************
This was just a catch up post.  Today it is a ride through Rockport, Corpus, and Port A.  Of course that will include stops at Roy's, Tackle Town, and maybe a little window shopping for boats.  I am definitely not in the market for a boat, but looking at boats and cars is one of our little entertainments.  Tomorrow it will be off to the lake again, with clouds moving in pre-front I expect the bite to improve daily this week.  So keep stopping in and thanks for reading my stuff.
Good Luck and Tight Lines