FISH CATCHING TRAVEL
Brought to you by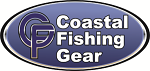 ** For a super deal on your Wade Right use promo code FCT15 and get 15% off on your online  order!**
I am watching some guy in India catching a giant catfish called a gooch.  Cracks me up when they try to turn freshwater fish into man eaters, sorry but I ain't buying it.  Tomorrow it is off to the bay.  The weather looks good, the tide is ok, and the active period is perfect, especially if you do not like getting up early.  I will still try to be there at daylight throwing that topwater.  Hopefully I will catch a couple of good redfish tomorrow.  So where I am starting is up in the air, it will just be across the bay and out on the island somewhere.  It is pretty apparent if I want to catch a good red I need to fish some new stuff.  It is looking good, can't wait to see how it works out.  (After I got this done my buddy Jeffish called needing help tomorrow but I was able to weasel out for the day.)
Weather
78/71  Sunny.  Ne wind shifting to SE 10 – 15mph.  0% chance rain.
Tides  (Lots of water.)
High   5:53 AM     0.7
Low  11:37 AM      0.5
High   2:58 PM     0.6
Low  10:47 PM     0.4
Solunar Times
Best  9:30am – 11:30am   (Notice the relationship with the falling tide?)
*********************

The bay was completely flat when I stopped on a drain on the island and the water was super clear.  The tide was slowly going out, more of a subtle drop in the water level than moving water.  And the best thing was my buddy was needing help with his business and when he called last night wanting me to work Monday I whined and he agreed to start the project on Tuesday.  Unfortunately that takes away the last chance to fish Travis with SAJoe a day this week.  But back to the fishing.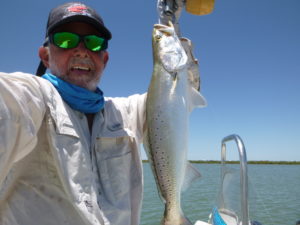 This one went 4lbs+ on the boga, then a quick CPR.  A good fish.
I waded right to the drain and they were there.  I started with a Bagley Knocker B, and they were cooperating just fine.  I missed as many as I caught, but nothing beats trout knocking it a foot in the air, and then smoking it.  Nothing real big, but it was consistent for a couple of hours.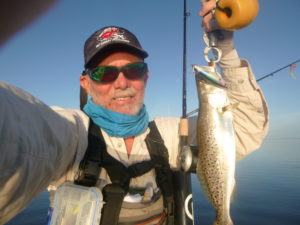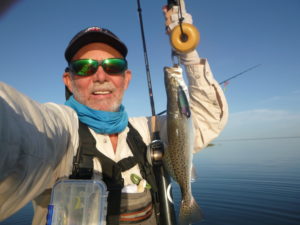 They were eating the Bagley Knocker B.
I caught an easy small limit on topwater and some shorts, so time to toss the Controlled Descent Lure.  Today I went with the Pink Limeaid jerk shad.  The did not seem to like it quite as much as the darker ones, but it was just like the other day, get a couple of bites on the topwater, then toss back in with the plastic and it was usually an instant bite.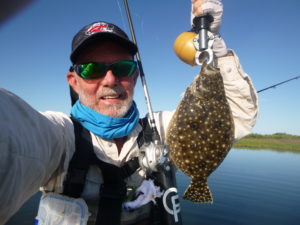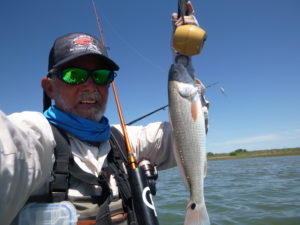 Best I could manage as far as these guys went.
Basically I stayed with the topwater way to long, but hard to put it down when they are biting.  After fishing that area it slowed down so I moved farther down the island to an area we call Bikini Cut, nothing.   I made 1 more stop on the island, and just could not get it going.  The wind was still down, but the tide was dead low and the water wasn't moving all that well.  Time for Barroom.
Once there the wind had the water with a slight chop, just perfect, but the water was definitely off color.  I threw the book at them, both in a foot and out to 4 foot on the Barroom shoreline, and other than the red above and another smaller rat, not another bite.  And both of them came after a long wade, right next to the boat.  Of course.
So time for old school.  For the first couple of years here most of my fishing was out of the boat using the trolling motor.  Into Big Bayou I went, which I have not fished in months, and I catch a small one on my second cast.  With the water barely moving I downsized to the 1/32 jig head and a small 3″ paddle tail in pearl/red flake.  Basically fishing the banks, the little deeper ones, the bite was not fast, but it was one or two here and there.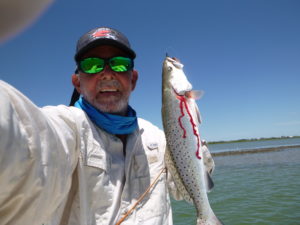 The afternoon bite out of the boat was slow but steady and some were good ones, including the one at the top of the blog.
I have no clue why the one above bleed so much.  It was hooked in the mouth and it swam away one happy fish.  If I were guessing, and I am, it was 7 or 8 on that small plastic and light jig head.  It has a place when the water is like that, clear and not really moving.  The fall rate is really slow, and today they wanted it jerked fairly quickly and stopped, most were there when I lifted up.  They seemed to be on the outside of any off color water, and most came out of 3 foot or more.
Once I started boat fishing there really wasn't a rhyme or reason to where I caught them, it was just here and there.  Now normally I catch a red or two in there but not today.  So the day was a success.  I fished 7:30 to 3:30, and other than that one stretch around noon, it was good enough fishing for me.  And any time I catch one 4lbs is ok by me.  Before the day was over I caught them on 2 different small paddle tails, the Controlled Descent, and the Bagley Knocker B.  But I am still not "on them."  Time to take a long day and head all the way down hitting Panther, Twin Lakes, Cottonwood, and Ayers.  Also time to take a look back at this month for the last 6 years, just might learn something.
*******************
Sorry things have been a little slow around here, but that is about to change.  I will be fishing more now that we are slowly getting out of our yearly stretch of wind.  From what I am seeing on the net right now, taking much of it with a grain of salt, there are some good trout being caught right now.  After catching that big one in December it has been a while.  So if anybody is due it is probably me.  But no matter what you can't catch them sitting on the couch, unless you have one on the front end of the boat.
*******************
And I want to thank donf for his suggestion after my bout of vertigo.  I fit the profile and it did happen when I jumped out of bed, apparently not uncommon.  I have saved the site but hope I won't get the chance to try it.  And of course I will have the Boss read it and get her 2 cents.  Thanks for the suggestion and good to hear from you.
********************
I really enjoyed the day.  The weather was good, the wind was perfect, and it wasn't to freakin' hot.  And it helped the fish cooperated.  I need a few more days to start figuring it out a little better, and will try to get after that as soon as I am done helping my buddy.  So keep stopping in and thanks for reading my stuff.
Good Luck and Tight Lines