Fish Catching Travel
Brought to you by:
** For a super deal on your Wade Right use promo code FCT15 and get 15% off on your online order!**
After a tour of the Midwest; Fort Worth to Fayetteville, Fayetteville to Kansas City (with one motel move there), Kansas City to Oklahoma City, then Oklahoma City back to Victoria, it is finally back to the fishing.  We saw the family and grandkids, and went to the U2 concert.  I have been to quite a few shows in the last 50 years but this one was special.  They are not only one of the great super groups of all time, but they are good folks who care about people and expressed their heartfelt thanks to America for letting them be a part of our country.  Musically and visually it was beyond fantastic and if they were playing close I would go again tomorrow.  What a band.
Weather
86/76  Sun with a few passing clouds.  Wind SSE  10 – 15.  10% chance rain.
Tides
High  7:33 AM     1.2      
Low   8:31 PM     0.3   

Solunar Times
Best Time  7:13 am  to  9:13  am (No other relevant times.)
As usual preparing this the day before it gives us a chance to make a guess, in fishing occasionally it is actually an educated guess, on how it might be.  I love fishing a falling tide, and tomorrow it will be falling most of the day, and there should be great water movement.  The wind is fine and it has the makings of a good day.  So with that said, we shall see.
********************

*******************
It was absolutely perfect when I got to Froggie's about a half hour before daylight.  The wind was light out of the SE and the water temp was 82 degrees.  The water has cleared substantially and things  appear to be back to normal.  So as soon as I could see I headed across to the island.  After catching there last time it seemed as good a place to start as anywhere.  (Note:  There were boats anchored all down the Pringle shoreline as far as I could see as the day wore on.)   So I anchored out side of a drain and hopped over with high expectations.  And I did not leave that spot for almost 7 hours.
First up was topwater, and try as I might I only raised 3 or 4,  boating  2 small ones.  Several reds followed it and one of them blew up about 10 foot from me but did not hook up.  So I switched to plastics and it was game on.  I started with the Controlled Descent Lures and went through several colors, using both the Paddle Shad and the Jerk Shad.  But something just was not right, lots of bumps and nips, and while I boated a few, there was something off.  I noticed a lot of the bait, and there is tons, most were really small so it was back to one of my favorite ways to catch them, a small 3″ watermelon red/pearl paddle tail on a 1/32 ounce jig head on my spinning rod and 8lb fluorocarbon, which last year produced some of my biggest fish.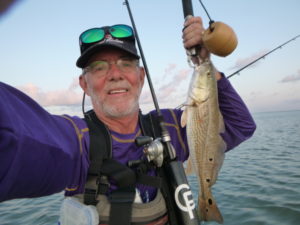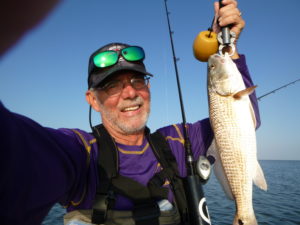 There was no shortage of redfish today.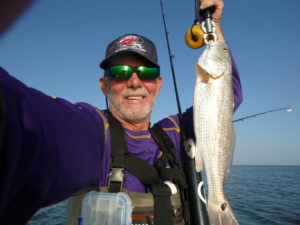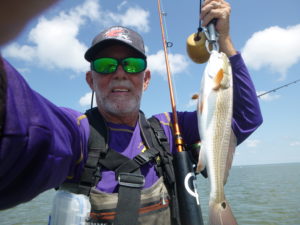 This is what most of them looked like, and if I had to guess it was a good dozen for the day.
The whole time I kept catching trout.  Unfortunately almost all were 13 – 15″ but they sure were willing.  One interesting thing was the drain did not have any fish in it.  And the bottom is much softer, looks like the hurricane flushed some soft bottom out of the back lake, and like every time it happens things have changed.
I waded from knee deep on the shoreline out to waist deep, and the fish were on all of it.  It was simply a matter of watching for the rafts of bait and it was usually an immediate bite.  The water started falling about 11:00 and cleared up really nice.  So I kept after it, wading through a ton of small ones.  It was an easy 30+ as the bite was on and stayed that way until I quit at 1:30.  Then I got the bite I was hoping for.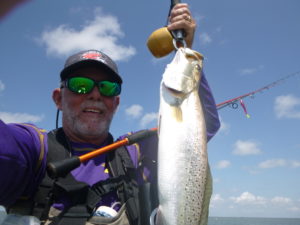 This girl pulled the Boga Grip to 5 1/2 lbs.
She slammed it and the fight was on.  She was one of those that jumped several times, and on the light line I played it easy and on the Boga she went.  Obviously not fishing all summer it sure was nice to catch a big girl and it has my juices flowing for what is to come.  Though I only caught a couple of other trout that were keepers, it was one of those days where I was not willing to leave fish to find fish.  Plus when you are catching them continuously it is hard to stop.
I was surprised that they were not all that interested in topwater, again maybe a size issue, though I probably should have tossed it later in the morning.  And the only thing that made sense with the plastics was the size of the bait.  Using the super light jig head it falls a lot slower and I finally figured out to slow it down, and though I was in 2 -3 feet of water it still needed time to sink, and they were hitting it close to the bottom, they definitely did not want it fast.
As I was quitting there was a boat on the point down from me and as I eased of he whistled at me, and I met Frank.  We had chatted a little at Froggie's before I left and of all things he was headed to the same bank, and I made it a second before him, so he started on the other point.  We chatted a while, great guy with decades of experience at POC.  Retired like me, he has a trailer and comes down and spends a couple of weeks whenever it moves him.  He was catching them also, and actually lost a trout he estimated at 7lbs that he initially thought was a red.  We have all been there.  As I always say here please if you see me be sure to say hi.  I have met some great folks that way, and I am sure I will be seeing him in the future.
*******************
I got this comment and question from Dustin concerning my couple of trips to Belize.
Unfortunately I did not get to do any offshore fishing, but there is some.  Our last trip it was really windy, which ended up being to bad.  3 of us split a boat so everyday one of us stayed at the resort.  I headed to the Lazy Lizard for a cold one and ended up meeting a commercial fisherman who caught for the local restaurants and learned a lot from him.  He fishes at night, outside of the reef out of his panga, with hand lines sometimes in a couple of hundred feet of water.  He showed me his hands, which were trashed.  When the kings are there he cuts pieces of tire for each finger but you could tell he pays a price.  If the wind had not been blowing, he was not going that night, I would have gone with him.  So I guess in answer to your question the reef is very close to the island and there are lots of fish, and I know there are boats that do trips like that.  If you think about going contact Sea Dreams by email and tell them what you are thinking.  Definitely use the same inshore guide, he is a real pro and at a little over $300 a day worth every penny and helped me knock he permit off my bucket list.
Now if I was thinking about a trip that was offshore centered it would definitely be Costa Rica.  Check out that post and the guide service we used.  Definitely the best deal money wise in all the offshore fishing I have done.  If memory serves me we ended up boating 9 sails and probably 10 mahi over 25lbs in 2 days.  The weather is great, the sea is usually calm, and it costs about the same to fly there.  So whatever you decide let us know, we will all be waiting to hear what you decide.  Thanks for reading.
*********************
And Rusty sent us this update on Fayette for you bass fishermen.
Sounds about right.  I imagine fish do have to adjust to any raise like that, whether fresh or salt.  Historically it seems the fishing always comes back stronger than before, which on Fayette would be scary.  I checked Coleto Creek and according to their website it will reopen on Monday the 18th.  So South Texas is slowly returning to normal.  Good to hear from you.
********************
As far as keepers I give the day a C, but as far as numbers I give it an A.  They bit and bit, and when I quit they were still biting.  And catching a good one made the whole day perfect.  Wind was perfect, tide was perfect, and the water was beautiful, what more could you ask.  I have lots of making up to do after being on the shelf the last 3 months, and if the fishing stays like this you can find me on the bay.
Next it will be watching the weather, I hope to spend 3 days at Baffin as soon as the right conditions rear their ugly head.  But if there is no great stretch I will just keep watching and fishing POC.  Catching a big trout just screams Baffin.  And of course the lake is opening up on Monday and I have a friend who's boys are just itching to catch some fish. If they are biting I will get them on the water the next weekend or two.  Nothing is better than putting some kids on fish.  So keep stopping in and thanks for reading my stuff.  It is gonna be a hella of a fall!  And you Austin Boys, I can't wait to see you guys.
Good Luck and Tight Lines