FISH CATCHING TRAVEL
 Home of the all time great Bang O Lure!
I spent yesterday working on boating issues trying to get both boats squared away.  One thing about having 2, there is always something that needs doing.  I have seriously considered becoming a one boat operation, and it just might happen.  Will just have to wait and see.  And to add to things I hit something with the lawn mower and busted a part, and it took a couple of days to get that resolved, or at least maybe in a few weeks!  So then it was trying to find someone to mow my lawn.  There is supposed to be someone coming tomorrow, I hope so, the Code Cops may put a sign in my yard soon.  The reason they could not come today was the same reason I chose to go to Coleto today, somewhere between a 50 – 70% chance of rain.
So with a real chance of rain, which of course we have not had any today, I dropped the boat in the water.  The lake is still up and there is plenty of cover in the water.  Buzzbait on a couple of down lake banks resulted in exactly zero bits.  So since it has been a while it was time to play it safe and head up lake and pitch plastics.
Once you go past the bridge it starts to cloud up some, and when you make the big turn it is really off color.  The first couple of places resulted in nada, so I headed further up.  Though it was really off color I finally had a few bites.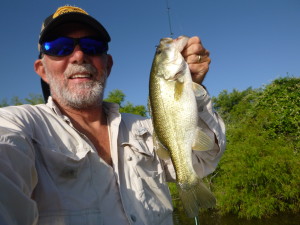 Finally caught a keeper on the 4th fish.  But it wasn't much.
One thing I will give them today is that when they  bit that lizard they held on.  I put 3 or 4 in the boat on one bank way up lake.  Basically the rest came off little points here and there and if there was some rock it helped.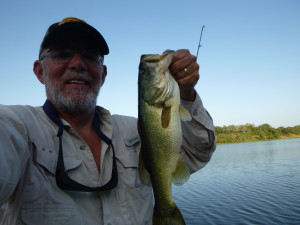 But they never got any bigger.
I kept after the plastics but only caught one here and there.  The watermelon lizard was by far the better bait.  The senko style got several bites but they did not hold on to it near as well as the lizard.  Both baits I was pitching to shallow cover and grass.  I thought that the swim jig might work some in the cover but it did not result in a bite.  So after a couple of hours I went back down lake to try a couple of other places.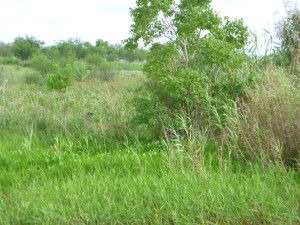 Nice when you can bed down and eat your shade.
I tried a popper like they were hitting last month, and other than one blow up, not another bite.  I fished a couple of small deep coves and the end of a channel bank, all without success.  It might have had something to do with it was approaching noon, smoking hot, and not a breath of wind.  If I had known it was not going to rain even a drop I would have gone to the Gulf.  Oh well.  So finally at 11:30 after catching 8 I called it a hot day.
One thing that happened, and it is the second consecutive trip I have seen this, the fish came up chasing shad.  Neither time could I get to them in time, but bait and fish were frothing the water.  The fish are clearly on a shad diet right now, so there must be a better way to go as far as catching them.
It is hot folks, and whether the lake or the bay, go early, drink lots of water, and cover up.  And there has been another case of vibro.  We are off to another fast start this summer.  So take what precautions you can.  My wife is a PA in the ER and after seeing how it was last year she laid down the law, no wet wading.  There are other things you can do, no immersing cuts or wounds in saltwater.  Your chances of getting vibro are probably astronomical, but it never hurts to keep your risk factors to a minimum.
********************** 
After fishing the Powderhorn Ranch shoreline the other day I got this great comment from Jason on catching fish in the Powderhorn.
Hello. Name is Jason. Emailed you once before. Grew up fishing out of indianola. Family has lost 2 fishing cabins over the years and we have not rebuilt since Little Claudette took the last. Still fish there from time to time. Enjoy reading your trips. Was there a couple of weeks ago and the trout were there and easy to catch. Recognize some of the places you fish. One thing about powder horn is that the best fishing is usually within a few hundred yards of the marina. And we have fished all over west Matty and powder horn. Right before a tide change trout get stacked up in the cut. Bouncing soft plastics and big sassy shads on the bottom with the tide. Fish the last hr of a incoming and hang on. Mr Bell showed that to my grandpa a long time ago. But still works.
First I remember your prior comments on Indianola.  Folks I do not know how he could be any clearer.  This is a bona fide piece of information.  Funny all the times I have fished there I have never tried that.  Especially since I do a similar thing in Kellar Bay in front of the park where it narrows down, making a funnel or a drain.   And as much as I like fishing drains around POC it is clearly case of blinders on my part.  When I dropped him a note making sure he did not mind me posting this, my usual course of action on "places", I got this answer.
Enjoy your blog.  Doesn't matter to me. 95 percent of the people fishing that area usually get frustrated and leave. That's why my family has loved it for so long. Hope the powder horn ranch park deal doesn't bring too many people in.    Just to let u know I lived on garcitas after deer season for a few yrs camping out with big mullet free lined all night. Didn't get my state record trout that I thought I lost one time there trolling, but tried. lol. Those big gators would swim by every once and awhile while sleeping on a sand bar. Yikes. Young and dumb. I thought one big trout might be in there. Lots of decent ones   Then I moved to north padre and fished 4-5 days a week.   I slept in my boat in Baffin weekly.   East kleberg.  Cat head etc.  with big live baits.  Caught some nice fish. But not the one. Best was 10.75 lb  33 in just didn't have it.  I have 2 yr old twins now and enjoying life but I gave it my all.  Good  luck.  But I will say for some reason the best trout I have ever caught in indianola was 28 inches.  That was the norm down south per day.  Don't know why that was. Nobody in my family caught any bigger.  Heard of a 32 gigged one night and a few 30 out front.   I caught a 30 at the jetties.  I use to help lee richter the inventor of the green lights at the big jetties at night.  Lots of stories there.  Good luck.
Love your response and stories.  I am sure it is so different now from what it was just a few short years ago.  Reminds me of when I was young and hard after it in Arkansas.  Sleep was optional.  And as far as good trout, as I have said all along I am not the best trout fisherman, but more over 25″ have ended up on my line in the last year than the 6 years prior.  I know there are definitely better fish, so it is probably a combination of better fish and getting to be a little bit better fisherman.   I can not thank you enough for your tip and continued readership. Your comment about fishermen getting frustrated and leaving is one of the things I have said about sharing info, most fishermen want info, want to know how and where someone catches fish, but rarely actually act on it.  We are creatures of habit, most bad.  Feel free to comment anytime.
*********************
Sorry about the dearth of reports but the weather combined with other stuff has kept me busy.  But I should get everything back in order shortly.  I do not have a clue what is next.  Tomorrow I have to find someone to cut this grass.  Then it will be trout fishing next.  It is  supposed to stay real hot so it will be up at 4:00 to be on the water at daylight.  The tide is still not quite right for the perfect morning, though that will not keep me from fishing, but it should come around in the next 2 weeks.  So keep stopping in and thanks for reading my stuff.
Good Luck and Tight Lines