FISH CATCHING TRAVEL
 Home of the all time great Bang O Lure!
It seems like it has been a coon's age since I fished Keller.  With an order for tonight's fish fry the pressure was on.  In fact, the order was specific, trout.  Since I had not been in a while I had no current clue what to do, so it was off to the big pasture on the east bank of Keller.  It is a good consistent bank most of the year.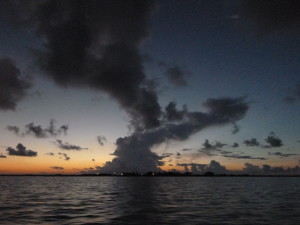 What a sunrise.  A great day to be alive.
Weather
75/98 degree  Wind ESE 10- 15 mph  0 chance of rain  (The wind did not get there before I quit)
Tides
22      Low   1:39 AM    -0.2
22     High  11:48 AM    0.4
(Always remember, the high and low are fairly irrelevant to catching fish.  The important thing is when does the water move.  High and low are usually  when you can drink a beer and sit on the deck cause this is usually when the bite is slowest.)
Solunar Times
Best    1:04A – 3:04A   1:30 P – 3:30P
Good  7:17A – 9:17A  (About right on today)
There was 4 trucks at the ramp when I got there at the crack of daylight.  In fact, there were waders in the water as I headed to my first bank.   The wind was blowing lightly down the pasture down the bank towards Olivia.  The initial plan was to wade, but the wind was right so I set up for a drift.  I often start that way on that bank and then get in when I catch a couple of good ones in one area.  The tide was up and lightly rising, but the water was not really moving.  The nice thing about that bank is if you get in a couple of feet of water you can cast shallow or out into about 5 feet of water.
First up was topwater and I ended up catching 3 small ones, but as soon as the sun got out that was over, end of story.  So next it was assorted different plastics in assorted colors and I caught several, and I mean in the 10 range but there was one problem, see below.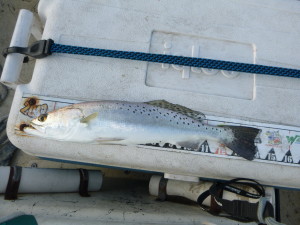 Thought I would show you what was all over that bank.
Now that bank is several hundred yards long and there were mullet all over it.  Big rafts of mullet with the occasional blow up had me thinking this was the place.  Though I was getting bit they just did not measure up.  So time for a change.
Dick's Sporting Goods had a 2 for 1 sale on Mirro O Lures and I picked up a few so thought I would give them a try.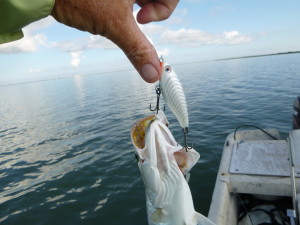 They liked this one a lot.  Wish I had thrown it earlier.
Basically it was just twitching it along and they would whack it.  The speed was moderate with constant short erratic jerks, and even though the bite was tapering off I had a bunch of bites and put several in the boat, including supper.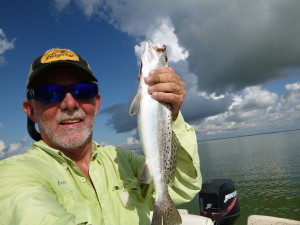 At least we will be frying fish tonight.
So the Boss did not jinx me, I caught around 15 or more, to bad it took all morning to find something the little better ones liked.   I did lose a really big red while I was trying to get the Boga Grip out of the bag, real smooth move.  One did fall for a plastic.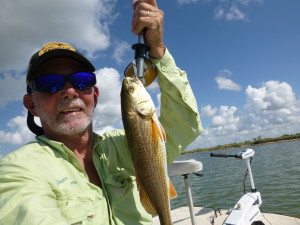 He will be dinner in another inch.
It was around 10 when the bite really slowed.  So it was time to run across the bay and hit the right bank coming in to Keller.  Over the years I have caught lots of really nice reds off it.  Unfortunately the tide was totally slack and there was little wind, the kiss of death.  It was definitely dead water so it was time for another change.  With no bait working the area it was time for one more stop before quitting.
What little wind was blowing was down the bay back towards the ramp so I did a drift in front of the ramp and point.  There is a big flat on the opposite bank from the park with a good drop in to the channel, which is covered with oysters.  Without even a bite in that area it was time to call it a day.
So not a bad day considering I did not have a clue.  Supper came in spite of the jinx, and though most were small I did some catching.  It was one of those days where I was unwilling to leave fish to find fish.  In that heat, and with no tide movement until mid afternoon, I made a stand and once the bite was over moving did not help a lick. Hard to tell if all the fish there were small, or whether fishing the jerk bait earlier would have made a difference.  I really do think that if I had started with the jerk bait earlier it would have made a big difference.
I just may go back in the next day or two and wade first thing with the twitch bait, it should improve the size some.  One final point, the water color was good in the bay and was actually better back in the big bay than near the mouth.  The question was just whether it was a function of slack tide when I fished the outer bank, or if that off color water came out of Lavaca Bay.  No matter what it was good to be back on the Gulf.
*****************
My buddy Chris and a couple of his friends spent a few days at Port Mansfield fishing last week.  One of the reasons for the trip was catching a redfish on a fly rod.  He has been trying to catch a redfish on a fly rod, but it has not been happening for him.  But that is definitely a keep after it thing.   What will probably happen is when he does catch one it will be 3 or 4.  I told him we should get that done this fall.  Once the schooled up last year we were often standing in them, I can't wait for that again.  They did catch a few trout and reds fishing conventionally, but had to work for them.
***************
Zerust
On my stop at Cabela's the other I picked up a bunch of new plastic boxes for tackle, including some of those fancy ones designed for crank and stick baits.  Time to reorganize some more, like that ever stops when you have 2 separate complete sets of tackle.  To go along with that I have been using a product made by Flambeau, Zerust.  They come in 10 packs of plastic strips which you put in your tackle boxes, along with anywhere else that needs protection from moisture.  They also make plastic boxes with it in them.  I put a strip in each separate box and it really has made a difference in keeping rust and corrosion off of treble hooks.  I have no idea when I first put it in my boxes, but it has done it's job for over a year.   If you read this stuff you know I only endorse or tell you about stuff that works, and for $6 Zerust is worth every penny.
******************
Before I close a get well quick to my brother Kelly.  He fell out of his wheelchair and broke his leg this week.  He has fought back from major injuries before and will do so again.  So get well quick.  With my mother-in-law breaking her hip this week we now have plenty of folks in the hospital.  Ever notice how when it rains it pours?
Not sure where is next but it looks like we have a constant chance of rain and clouds coming this week, and I can guarantee you I will take advantage of that.   Hopefully I will get the flats boat back from the shop Monday, San Antonio Bay is calling my name.  Today there will be highs of a easy 100 degrees over much of the country, welcome to our world, it is August.  So keep stopping in and thanks for reading my stuff.
Good Luck and Tight Lines