FISH CATCHING TRAVEL
Fresh or saltwater the Knocker B catches fish.
Weather
55/83  Wind SW  6 – 10  clear  0% chance of rain
Tides
High   7:59 AM     0.9
Low  11:05 PM     0.2
(Note: Weird occurrence today – The tide slacked some and then about 4 it started running out of the blue.  And as you will read we caught some.)
Solunar Times
Best Times   9:58A – 11:58A  (Good bite at Old Coast Guard Station.)
                       10:27P – 12:27A
 Good Time   3:44A – 5:44A
 We had good weather with the tide going the right way, out after an early high.  The tide was way up when we got there at daylight and unlike yesterday there were several trucks at the ramp.  I forgot to tell you yesterday I got the first parking space at Froggie's, at 7, amazing for this time of year.  Today there were quite a few more fishermen and more coming for their long weekend.
First up was the Barroom shoreline.  There was a little ripple and we both headed to the grass to catch a few reds on top.  I do not even think I made it to the bank before Shoedog caught a nice one on top.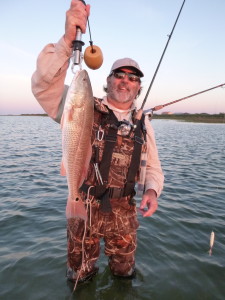 Great way to start a beautiful morning.
So he headed one way and I went the other.  I caught a small one on the Knocker B, and then missed one.  I grabbed the spinning rod in the holder on my back, reeled the plastic buy him and he bit.  Though they were small, I caught 4 and was moving down the bank when I saw something I have never seen in Barroom.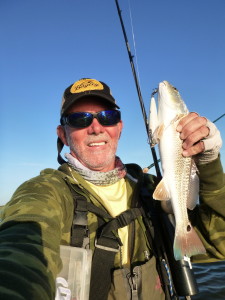 Maybe the thrashing of 4 in a row got his attention?
I don't know if the thrashing attracted him, or he was just headed down the bank, but no matter what here came a 7 foot gator. I have great respect for them, quite a bit more when I am in the water with them.  I have seen the occasional gator in the salt, just not one that close to POC.  So I eased back toward the boat and tried the trout deeper.  I caught a couple of small ones, then the best of the day.
This one is about an hour away from being the guest of honor at dinner.
By then, around 9, the wind was blowing 10 right on the bank and we could not get bit on top or much with plastic.  I think we caught 7, and kept 2 trout, before it was time to hit the old Coast Guard Station.  It was right around a good fishing time, and they bit.  To bad they were all small.
We waded out near the point to about waist deep, and Shoedog figured out they wanted it fairly fast.  Just tossing it as far as we could, we just jerked it and then reeled a little, then jerked it.  We stayed there about 2 hours and caught the snot out of them, over 25 easy, and only one made the grade.  While they were small, we were catching fish and did not leave until they eased up.
From there it was the flat by the Army Hole.  I like the potholes there and Shoedog likes the cut.  I headed out and he headed in.  I lost a red and caught another small one on top.  As I worked my way to the cut he hollered and right after we got there the water just started running out of the cut.  He caught a dozen or so on top and plastics, including a keeper flounder.  I put a couple of more keeper trout on the stringer on paddle tail with the 1/32 oz jig head.  Working it directly across current and hoping it down the drop was the ticket.  Matching that plastic with the 8lb fluorocarbon catches fish.  And on a light spinning rod you can throw it a mile.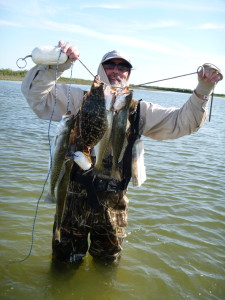 Shoedog with a few.
For the day we kept 7 nice trout and 1 flounder.  Not bad, we had to work through a few, but if that is what it takes I will suffer through it.  In fact, working through 40 – 50 to catch supper is just dandy.  Can't wait to get back out and do it again.  Looks like there will be some rain and clouds this week and I hope to catch the right day, cloudy, drizzling, and with light wind will do just fine.
********************
I got a great report from Joe.  Hadn't heard from him in a while, but this is a great report on Coleto.
So I was out there Sunday the 1st. After reading your reports I have been itching to get down there.
Arrived about 630 and was on the water by 7. I went straight to the same cove I was at last time where we caught them deep. The morning started off slow. I threw spinner baits, square bill, traps, and plastics with little success. By 9 I had 2 small ones.
About 1030 everything picked up. I started fishing the original bank lines with a Strike King 3XD crank. It was hit or miss. Pull into a spot and fan cast the deeper water. When you found them there was usually a few with it. I only fished 3 areas and never went past the big S headed up lake. I ended the day at 2. I had caught 17 in all and lost a few. My biggest was about 4 – 4 1/2 and I had 7 that were between 14-16″. Not too shabby but definitely not my best day out there.
Thanks for that detailed report.  Kind of reminds me of when we would occasionally get a big rise at the perfect wrong time on Norfork and the fish never really came with it.  But nice job of adapting and then refining, and 17 works anytime.  I appreciate your reports, feel free to comment anytime.
*********************
I have another report that I will get to tomorrow.  The weather is finally straightened up, heck it is almost summer out there.  And there is a little more information coming from Colby on the trailer for your topwaters and I will try to get to that tomorrow.  So keep stopping in and thanks for reading my stuff.
Good Luck and Tight Lines