FISH CATCHING TRAVEL
*********************
The Best Balsa Bait on the Planet.  And that ain't all!  Check out their website.
*********************
The weather this morning was rough, but it is not near as bad as the Houston area, where the rain has pounded down.  We had a pretty good rain this morning but it seems to have calmed down a little bit.  Unfortunately the forecast this week gets wetter and wetter but I am going to try to get out at least for a few hours tomorrow on Coleto, at least if it gets ugly it is close to the house.
This morning was chores around town and it actually went well.  When your duties involve the city and some of the departments you never know how it will go.  But after making the rounds it was all accomplished.
********************
I took the time this morning to tie some feathers on the back of several of the topwaters in the box.  The first time I saw a topwater with feathers on the back hook out fish a regular topwater was the Spook Jr. in the bone.  Over the last year it really has shown how those feathers on the back hook really do help.  And the last 2 days at POC confirmed what a difference it can make.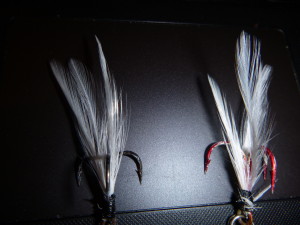 Easy does it with the feathers!
We have learned a couple of things that are important should you either tie your rear hooks like I do or add a commercially produced hook.  It is real important not to put to many feathers on the hook.  If it is to heavy, or some of the nylon prepared hooks, it will flatten out the bait and reduce the movement when you walk the dog.  If when you use it the first time it deadens the action some just trim a little off.  It is ok to use a little longer feathers, but the bulk has to be reduced.  That is where real feathers come in,  It does not take much, a couple of feathers to make a difference.
I think the biggest benefit is when the fish are willing to hit it on a more stop and go retrieve.  As the bait sits there and bobs the feathers wave, and the trout eat.  So if you have not added that to your arsenal give it a go.  I always say it is the little things, and if those feathers add just a fish or two every trip why would you not do it.
********************
Good to hear from Ed with a couple of comments and questions.
Hi there, good to see you made it back to the salt. The trout from the last two days were nice to see. I also would like to know if when catching the reds in Big Bayou, are you using the red fish magic spinner? or something else?
Can you tell me what type of wading box you use, it looks like the right size to hold about 8-10 lures. I cant wait to get into the water, hoping to get there in May, due to some other commitments. Is water still cool? noticed yall still in waders?
Thanks, I enjoy reading your stuff.
Ed
As far as the Redfish Magic it is always the bait of choice in Big Bayou, especially if the wind is blowing like it was the other afternoon.  It is great for rough water and very effective if the water is a little more off-color than we would like.  And like any area with grass not matter where it is on the coast, when the tide is up and then beginning to fall it is time to throw that thing.
The wading box I use is part of the best wading system I have found.  Both the Shoedog and I use the Wade Right Fishing Belt system from Coastal Fishing Gear.  And several other folks have bought them since we started talking about them and everyone is happy.  I love the box as it stays out of the water on a wade unless you really wade deep.  I really recommend getting the whole nine yards.  It is great to have the front rod holder to retie or hold your rod while you unhook and string a fish, and they even have a back support for folks who may need it.
And having the extra rod on your back serves 2 very important functions.  First you are a half mile from the boat and with your superior skill you manage to backlash, get spooled, get the line under the spool of your spinning reel, or a host of other screw ups which force us to wade back to the boat.  It is as simple as trading rods and keep on fishing.  But to me the real advantage is by letting me carry 2 rods as I carry my spinning rod with plastics and my baitcaster with a topwater or Redfish Magic.
And last they are good folks and will help you when they can.  When the Shoedog lost a buckle they shipped it to him pronto and he was not out of action.  So if you buy one let them know we sent you.  Great product and we have had ours 3 years and it is still good as new.
http://www.coastalfishinggear.com/osfm_wade_right.php
*******************
And one last note.  I got a mailer from BoatU.S. today that is a real deal.  I am not sure if this offer is open to all but it would be worth your call to find out.  I was able to get unlimited towing and unlimited trailer assistance for $113 for the year, a real deal.  Getting stuck out there can be a real hassle and this is worth every penny.
********************
That is all I have today.  I hope those of you who got that massive amount of rain weathered it ok.  Remember – TURN AROUND DON'T DROWN!  And if any of you have any questions or comments please chime in.  If it turns out the way the weatherman says I will be home bored out of my mind.  So keep stopping in and thanks for reading my stuff.
Good Luck and Tight Lines