FISH CATCHING TRAVEL
 Pick up a Knocker B topwater next time you are at the tackle store.
Will history repeat itself?
I am preparing this intro on Sunday so when I get back from the Gulf Monday it won't be such a chore.  After Thursday's fishing success looking at tomorrow's tides, weather report, and the Solunar Times, gives me a case of the can't wait.  Cloudy, falling tide in the morning with a 2 hour best time Solunar bite, what more could a bay fisherman want?  In fact I am pretty sure it would be a good day of fishing wherever you are.  So with that in mind let us see if another fishing plan comes together tomorrow.
Weather
88/72  Partly mostly cloudy chance thunderstorms 40%  Wind ENE 10 – 15 mph  (No thunderstorms but it blew on the high side of 15 all morning.)
Tides
29     High   9:36 AM     0.9  (Never did see a drop all morning.)
29      Low  10:46 PM     0.
Solunar Times
Best Times      8:51A – 10:51A     9:18P – 11:18P  (Notice no real bite related to the times today.)
Good Time      2:38A – 4:38A
What a difference a day can make.  With the forecast, tides, and times similar to Thrusday I was pretty excited to get on the water.  When I hit the ramp at Froggie's it was barely cracking light in the east.  There was lightning flashes as I headed down to POC and I almost turned around and went to the lake.  When I got to the ramp it was cloudy and the wind was blowing straight line almost out of the north at a good 15 mph+.  The water was almost to the top of the fingers at the ramp, and was high and slightly off color.  And the weather definitely held down the traffic as I was truck number 3 in the parking lot.
Since it was a get some filets trip I headed for my favorite drain where I had been catching them.  Only there were 2 problems, first the wind was blowing right in it, and second, it is by one of the cabins in Big Bayou and there was someone staying there.  Amazing as I have never seen anyone staying in that cabin.  They had lights set up and were fishing when I got there at daylight so I left them to it.
The wind was basically blowing right down Big Bayou and I started by alternating between topwater and plastics.  Initially I could not buy a bite on topwater so I just kept working the area with plastics.  Unfotrtunately the wind was blowing in all of the drains there and it ended working against the tide. And it was blowing hard enough that I just whipped down the banks, making it tough to fish effectively. I still managed to catch one here and there before I finally caught a keeper.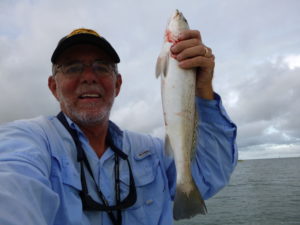 The first one in the box for the fish fry on the Knocker B.
Bascially the wind blew in from the NE and kept the tide up.  In fact, it never did start falling before I quit at 1.  I think that wind kept pushing the water back in.  One of the results of that was water did not flow out of the drain, the wind kept pushing against the tide. I did hit one point in a drain where I put at least a dozen in the boat, but they were all small.  It really was turning into a grind it out day in spite of the great forecast.
One thing that can often save the day is spinnerbaiting for reds.   So with the water a mile up in the grass, and somewhat off-color, I threw the spinnerbait and unlike the last trip I caught several reds, including one that made the box.
At this point though I was catching fish here but I just could not get it going on the good ones.  Though I did have that one run of small ones, basically it was just one here and one there.  Unlike the other day today the wind was blowing with the tide and it was tough fishing.  Some of the drains in Big Bayou are real big, but there is always a small channel on one side or the other.  I was working one when I saw bait move in the center, which is really nothing more than a shallow muddy bottom, so I tossed a topwater over and wham, a keeper trout and red back to back.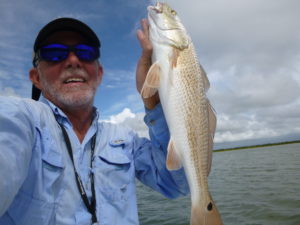 He ate it.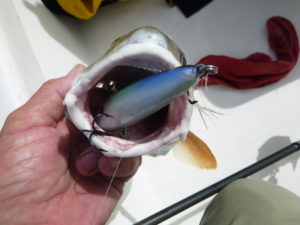 Kind of hard to talk with your mouth full.  He had that Knocker B wedged in sideways.
So even though the forecast should have signaled a great day, the conditions were tough.  It turned into a real grind but I kept after it until I had a fish fry.  No technique was better than any other, no place any better than any other.  If you discount the small ones, of which I boated an easy 20 shorts, no particular bait, plastics, topwater, or spinnerbait enticed any bigger fish.  Of the 4 I kept 2 came on topwater, one on plastics, and one on spinnerbait, making it a little tough to establish a real pattern.
At 1:30 I had 4 nice ones in the box, plenty for what we need for a fish fry on Lake Travis this weekend with the kids.  It was interesting how wind direction and speed delayed the falling tide, it was just blowing the water back in and it never did start falling today.  So not a bad day by any means, just not the gang busters I thought might happen.  That is what keeps fishing interesting, every day is a new day.   But in spite of todays tough conditions the fishing is still good as you can tell from a few of the latest reports, and if you can get to the surf it is lights out.
Not sure what is next, but I am fishing Thursday come hell or high water.  Hopefully I will be done with the remodel from hell in the next couple of days.  What started out as simply extending a wall to make a big closet has turned into a major remodel. Oh the joys of home ownership.  We are still in this rain pattern but it looks like it will be getting out of here as the weekend approaches.  The weather is shaping up to be a great holiday weekend.  So keep stopping in and thanks for reading my stuff.
Good Luck and Tight Lines