FISH CATCHING TRAVEL
Brought to you by
Check them out, the only way to wade.
**For a super deal on your Wade Right use promo code FCT15 and get 15% off on your online order!**
I must be a glutton for punishment as I type this.  It is about 8:00 am and I am headed to the lake.  It is kind of becoming a little obsessive on my part, but the weather is just to good not to give the bass another go.  So with that out the door I go.
Weather
69/54  Cloudy  0% chance of rain.  Wind NE 10 – 15 mph.
Lake Levels
Today  97.39 msl   Yesterday  97.41 msl
Solunar Times
Good  10:17 am to 12:17 pm    Best  4:31 pm to 6:31 pm
This is my happy face!
The Bang O Lure strikes!
Now why would a man have a happy face holding 3 small bass?  Here is why.  Because around noon the fish seemed to materialize out of nowhere.  I started fishing about 9:00 am and it was just like it has been.  A couple here, one there, but no real pattern.  And then they turned on.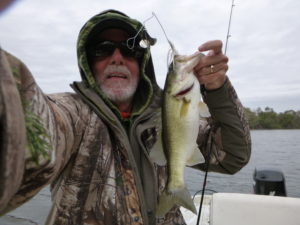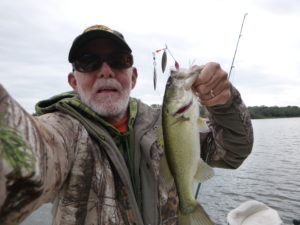 A few on buzzbait and spinnerbait.
It was cloudy and the wind was blowing right out of the north at 15 mph as I headed up lake.  I did the usual buzzbait/spinnerbait run, and like it has been I boated maybe 6 or 8.  As the morning wore on it started warming some, the clouds receded for just a second, and I started seeing shad flipping on the bank.  So I made a decision  (The right one.)  to head down lake to clearer water to fish the Bang O Lure.  The first cove 4 fish, the next 3, then another cove and another 4.  All at once the small ones were back shallow and on the chew, something I have not experienced the last few trips.  My day went from the 8 or so I have been catching to 20+ in nothing flat.
If the wind was blowing I would toss a spinnerbait and buzz it right on top, on the calm side it was the Bang O Lure.  Like I said last report, the Bang O Lure is about to come into its own, and this was just a taste of that.  While the fish were small they were plentiful.  Most hit it right on the bank, some the minute it hit the water, around stumps or grass, anywhere they could find bait.  Others did the usual grab it after I jerked it under, love that bite.  And if you saw a shad flip a quick cast with the Bang O Lure resulted in an immediate bite.  Were they big? No.  Did I give a rats ass?  No.  After the last month it was nice to see them back and biting.  It is an indication of what is coming, it and the bigger fish are coming.  And I often wonder when it gets like it was just where in the heck did they go?
While I did not catch, miss, or see a big fish, no worries.  It should only get better from here on and pre-spawn is right around the corner.  Bundling up on those cold mornings, running across the lake as mist rises, fingers freezing, maybe even ice in the guides, are some of my favorite memories.  That is when the real big fish roam, and often when you get on them it holds for a couple of months.  That is something to look forward to every year no matter where I have lived.  And I really have enjoyed the solitude of the last few trips, whether river or lake.
*********************

********************
It was good to hear from Billy my favorite head banger (Who knew?), and he always has something astute to say.
What the hizzell?
You mean you didn't know that if you wear the fancy clothes and have the big fancy boat, that makes you a better fisherman…….sheesh!!!
Of course all of that means squat if you don't have the high end polarized glasses…….lol.
Dang it, that is where I have been messing up.  I need better clothes and another boat, could you call the Boss and let her know?  And instead of an easy $50 smackers for Cocoons, maybe if I spent $500 I might catch more fish.  And then maybe then the guys in the bass boat will wave back at me when I am in the skiff, like 2 different bass pros did not do today.  What is up with that?  But all kidding aside, I am just befuddled at where fishing is heading.  One of the biggest participation sport in America, somehow along the line fishing has been hijacked.  Oh well, I can piss into the wind on this subject, and I will, but I guess I am the minority.  And an answer to your PM is on the way.  Good to hear from you.
********************
And this from Joe on the same subject.
So if you end this blog, i will find and kick your ass !!! I enjoy the reports, the rants, the information. So use that braid and go strangle that guy !!!!

So you liked the Omaha steaks. Me and my 2 boys will be right over to fish !!! Hahaha. How about people that take credit for other people doing good things !!!!

Whats the story behind Clyde's steering going out?

When do they start spawning on Coleto? Fayette lake is around feb/mar…
First thanks for the comment on my occasional mini depression concerning the state of fishing.  The purpose of my complaint was not to get someone to tell me nice things, I actually thought about that before I posted.  Sometimes I am just overcome with the postings on fishing websites, and worry I am just as much part of the problem as the solution.  But I will keep ranting on occasion, it just dumbfounds me where our sport has gotten.  What ever happened to just enjoying the outdoors?  How did lying and misdirection become the norm?  Why do most posts of fish pictures really turn into "Look at me." with no information on how, where, etc?   Hey I get it, you don't have to take folks by the hand and lead them to the fish, but come on guys, it is just fish.
The story behind Clyde's steering is one that could happen to any of us.  He and 2 others headed behind a big island on Lake of the Woods at 30 mph when all of a sudden the boat slammed to the left and almost threw them out before he was able to shut it down, thank God.  No life jackets or kill switch in use.  Lucky for them the Lund was a high sided boat, it kept them in.  Somehow the nut on the steering cable had become loose on a Lund boat only a year old.  How did the nut come loose?  He does not have a clue.  It was a wake up call for me.  The more time you spend on the water the more likely something like this will happen.  So for me it is life jacket and kill switch whenever the boat is on plane.  Fishing by myself as often as I do it only makes sense.  And a walk around before leaving the driveway is also becoming a regular practice for me.  You just never know what has rattled loose.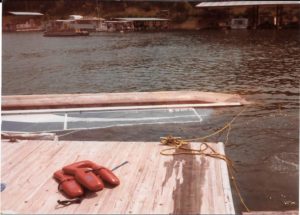 Flipping the boat back over that was on my head.  You have to go some to flip a pontoon!  And there is the 2 life jackets that saved my life.
And the bigger point, I should know better.  Wearing 2 life jackets saved my life, end of story.  I was trapped under an overturned pontoon boat when the floor came down and slammed me in the face, it could have easily been the end of me.  It happened in an instant, and it could happen to any of us any day.  And over a 10 year period when I was a paramedic we responded to multiple boat accidents, including folks who lost their lives, suffered horrific prop injuries, or almost died from hypothermia.  So if no other reason than love of family and friends wear a life jacket, it costs nothing and the dividend may be your life,
Coleto's spawn is about that time, with March into April,being the prime months, though a few years ago there were a few on the beds in January.  Last year with the water fluctuations there were bass on the beds as late as May.  You never know.  That is why I love fishing Coleto in January, that is the real pre-pre-spawn period when you have a chance to boat that real giant.  Gets my blood running even thinking about it, it is only a couple months away.  So thanks for your continued support and comments.
********************
I have several things to do today, of course tops being the Hogs versus LSU, a game I look forward to every year.  We seem to play a little better than we are whenever we play the Tigers, and here is to a good game today.  And as far as the Hogs coach, and Sumlin at A&M, the clock is ticking.  A&M is finding out that the Johnny Football period was an anomaly and the SEC is a lot tougher than they thought.  And the empty seats at both Arkansas and A&M last week were a pretty good indicator of how things currently stand with the respective fans.  So welcome to the middle of the pack A&M, get used to it, unfortunately we sure have.  All roads to anything go through LSU and Bama, end of story.
There are tons of other games on today, a good MMA card tonight, and also this evening a story on Peru and Machu Picchu, where we are headed this spring.  In fact, today the Boss and I will finalize those trip arrangements.  I have just heard from the company that is arranging my 2 day offshore trip and I will review that before the final decision on flights etc is made today.  I had no freakin' clue that there was an offshore fishery, much less a world record marlin from there.  And with a couple of days on the Amazon I should catch something.  In fact, this may sound funny to some of you fishing snobs, but the Amazon has some of the coolest catfish in the world and if I could boat one the trip will be a success.
And the other project today is packing for Florida.  We are headed there in a few days for a look around.  We have been going there for almost 30 years, and I have had some great fishing trips from Key West to Apalachicola in the pan handle .  Our main purpose is starting to really investigate whether we might want to fully retire there.  We are visiting 4 specific places, a couple on the coast and a couple inland.  (ie: Fresh or saltwater fishing.)  As I get older loading and unloading the boat gets just a little harder, and one thing we are looking at is dockage as an option with wherever we end up.  And though this is a "working trip",  (If staying in cool places and running around eating, drinking and making merry is work.) we are spending 4 nights on Sanibel Island, our favorite island, and where I have caught tons of snook and trout off the beach.  Then central Florida with access to some of the best bass fishing in the world.  One thing you can say about Florida, no matter where you are there is access to the coast within an hour in either direction and endless bass fishing opportunities.  So with visions of big snook crashing my topwater it is time to organize a little tackle box and my travel rods, I am really looking forward to this trip.
I will be fishing this week, definitely some salt and fresh, just weather dependent.  Other than that not much to say other than have a good weekend and be nice out threre.  So keep stopping in and thanks for reading my stuff.
Good Luck and Tight Lines