FISH CATCHING TRAVEL
Brought to you by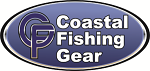 ** For a super deal use promo code FCT15 and get 15% off on your online order!** 
There is nothing bad to say about tomorrow's forcast.  Light winds along with a good tide and solunar times should combine for a pretty good day of fishing.   So the plan is off early to POC and in the water as close to daylight as I can get.  I haven't decided where I am fishing today, it will just have to wait until I turn left or right down the barge canal in the morning.
Weather
89/68  Sunshine   Wind ENE 5 – 10  (15mph and never slowed a bit.)  Chance of rain 10%
Tides    
High   4:33 AM     1.2     Low   1:39 PM     0.8
Solunar Times
Best     12:32A – 2:32A
             12:54P – 2:54P
Good     6:43A – 8:43A  (They bit on and off al morning and into the afternoon.)
Making Good Choices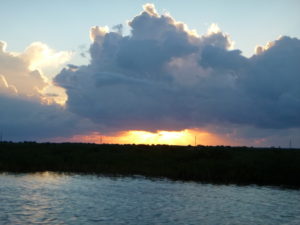 You know how the old folks would always harp on making good choices in life?  Well this morning I did.  On the way to Froggie's I could tell the wind was blowing, and it was not 5 – 10 by any means.  When I got to the ramp it was blowing right down the pike.  I was headed to the island to wade but when I got in open water it was clear it was blowing right on the island.  So I made a good choice and turned around.
It was blowing steadily right down the whole bay system, and it was fairly rough in open water.  So back to the Barroom Bay shoreline, which had wind on it, but not as bad, and the water was perfect.  That is a great redfish bank when the water is way up in the grass, and the fish did not disappoint.
It was a Knocker B morning.
First up I tossed the Chug Bug with that much wave action, and it did not produce a bite.  So next was the slow sinking twitch bait, and a funny thing happened, the wanted it on top.  I was missing them, but it seemed top was the way to go so I got out the Bagley Knocker B.  From then on it was steady.  I missed a ton, but had lots of bites.
This was a hoss!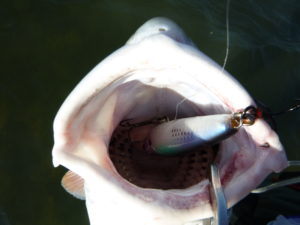 This one ate the Knocker B head first.  It always kills me how a redfish can get that thing head first all the way down their throat.
I stayed in a little over knee deep water throwing in to 6″ and out to 4′.  It was rougher than I like it for topwater, and normally do not throw it with that much wind, but they were hitting it.  If I stuck 1 out 5 bites on top that would probably be stretching it.  And though the trout were cooperative, they did not amount to much.  I probably caught a dozen anyway over the morning.  And just maybe 1 or 2 might have touched the line, if I stood on them.  But as usual I was not keeping fish so any trout on the end of the line is a good trout.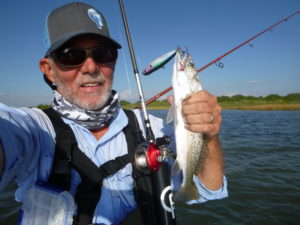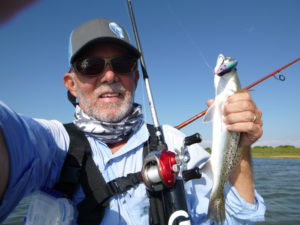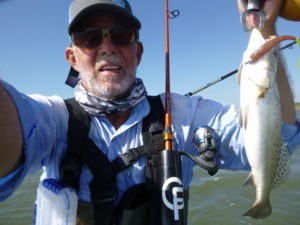 The size the trout today.  But they were sure biting.
After not getting any size to the trout I finally put down the topwater and picked up plastics.  The wind was blowing right along and by now there were white caps in Barroom.  The high bank was just enough to keep it to a dull roar on this side of Barroom.   I was throwing the 1/32 head and that VooDoo Shad by Nasty Baits,  (Brown/chartreuse tail.) and they were liking it.  One advantage to the straight tail on the VooDoo Shad is they are biting the paddle of other baits, making short work of a plastic.  And I do like how soft it is.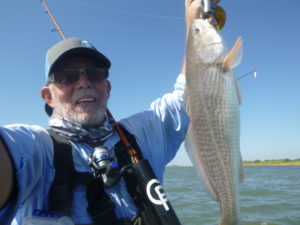 This one fought like crazy on the light spinning rod and 8lb test.
It was tough fishing that light plastic.  To get them to bite it had to be cast straight across the wind, then almost fished like you were in a big current.  Just sliding it along and I could barely feel them, and they got me way more than I got them.  I kept throwing to shallow and deep and you never knew where the bite would come.  Several were there when I lifted up and were gone before I got a hook in them with that big bow in my line.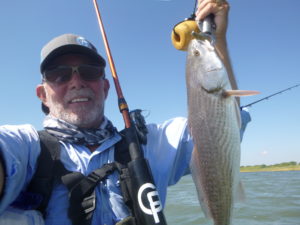 A great way to end the morning.
The reds never did move all that shallow, considering how much flooded grass there was.  As the morning topwater bite slowed the water was finally starting to get a little color to it.  Most of the fish were in 2 – 3 feet of water, and the trout were mixed in with the reds.  Keeping on the edge of the clear water, which was about 2 foot, and fishing both towards the bank and out produced strikes.  It was basically one of those keep yourself and a bait in the water, and you would get bit.
Finally I headed back to the boat for a cup of coffee and it was 12:30.  I had been in the water over 5 hours.  So with the wind whipping it up, and another spot a big run away, I called it a morning.  So it was a good choice to change plans midstream.  One of those times when knowing how a particular places will be relative to the tide and wind was the ticket.  No guess as to how many I caught, but it was a really good morning and the reds are really beginning to move.  Fall is coming and it is about to get ugly.
**********************
It was nice to get an improved update on the fishing at Fayette from Rusty, our Fayette fanatic.
Happy to report fishing has improved on Fayette. Fish have started to move out of the deep water back up to the 2-10′ depths. Caught some very nice fatties this past week. Fishing Bastrop next week, so I should have a report for you. I think the extra rain water and cooler nights have helped. Water temps two weeks ago was 95-97 degrees this week it was 85. Love fall fishing!
Tight lines,
Rusty
Amazing what a few cool nights with dropping water temperature will do.  When the Fayette fish are in that depth I can actually catch a couple.  Can't wait to toss that jerk bait!  So Bobby if you are reading this we need to get there sometime this fall.  Thanks Rusty, will be looking forward to hearing how it goes on Bastrop.
********************
I hope any of you that are bow hunters got one on the ground this weekend.  We love to get your hunting pictures so if you kill something cool drop me a comment and I will get my email address to you so you can send some pictures.
********************
I really am getting a case of saltwater fever.  The fishing is so much better than it was, or I am fishing better, but whatever, there is a good bite.  And with our temps moderating and the water temps slowly dropping, the fishing is only going to get better.  I intend to take full advantage of it.  It will be off to the Upper Laguna in 2 weeks, which I am getting pretty excited about.  And having some flexibility as to the specific days, maybe I can hit it just right.  But until then there are some places I want to fish way the hell and gone down the island.  Time to do a month search on the blog and see where I was catching them this time the last couple of years.  So keep stopping in and thanks for reading my stuff.
Good Luck and Tight Line