FISH CATCHING TRAVEL
Fresh or saltwater the Knocker B catches fish.
Bull Shoals Sunday May 1
(It is late and I am never going to get the saltwater report up tonight but we had a pretty fun day, and caught lots of fish.  Promise to get that up tomorrow after I get home from fishing.)
The last day of our Arkansas trip started out completely different from the first two. High skies and cooler temps- something that usually means tough fishing on upland reservoirs. We started out on the bank where we had fish come up the day before and we got out even earlier in the morning. 
It was very calm and clear and despite the rains on Saturday, most of the waters were clear and we could see the flukes easily making for some cool bites. We were getting a lot of small fish and a ton of green sunfish bites. Not too many fish came up, but Clyde  did catch one small largemouth that was chasing bait. 
We moved across lake too some of the areas in Sister Creek from the day before. Clyde was on them with the fluke. He switched from the Zoom super fluke to a Bass Assassin that had gold flake. He said it was a color Redfishlaw used to use when he was a fellow Arkie. It worked! I kept getting lots of small bites and sunfish and he was catching very nice bass. You can see the fluke in this pic.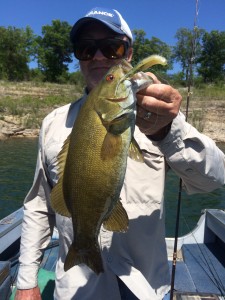 A nice Brownie. 
The bigger ones were really rolling up and eating it, there was no missing the good ones. He had me down 4 good fish to none so I thought I would switch it up a bit and go top water and see what was up. I had several blow ups on my super spook jr and nothing on the Whopper Plopper. I kept at it and had quite a bite- only the second time ever that I have caught 2 fish on one lure at the same time. Too bad it was 2 sunfish!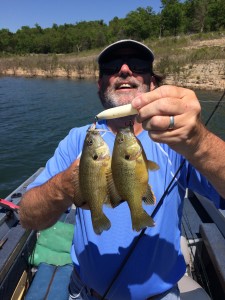 I guess they were hungry.
As it got later in the day, the top water bite improved. Clyde turned the boat on a gravel point sticking out on a long straight bank and gave me a shot with the Spook and boy did it pay off! 3 twitches and this big girl exploded on it. I have to put it in my top ten bites on top water. Was,our biggest bass of the trip.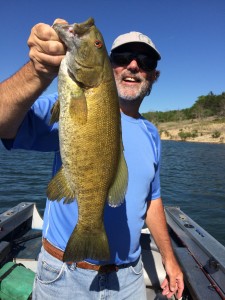 A really nice smallmouth.
We hit one last bank and Clyde had on a Rapala Skitterwalk in a sorta bluegill color. He caught this nice largemouth, the only keeper sizes one in over two days fishing. Strange. Again, we figure they must have been on the beds somewhere. Probably should have looked for them, I guess. 
The lone largemouth.
At the end of the day, I figure the top 5 fish Clyde had would have placed him pretty well in the previous weeks a Elite series tournament on Bull Shoals and Lake Norfork- at least compared to a lot of big time pros that weren't even catching 5 keepers.
All in all we had a great day. Not as many fish, but better size. With my kicker fish, we would have done ok in any tournament that day. Of course, if we were in a contest, we wouldn't have caught any fish! Ain't that the truth.
I almost stayed another day. It is hard to leave the area it is so beautiful and there are fish of so many species in all the lakes and rivers. Thanks again to Clyde and Maria for the incredible hospitality. Come on down to Texas soon and we can have some fun here too. I will leave with one more pic of a couple of the nice brownies Clyde was on. He can do some catch in'.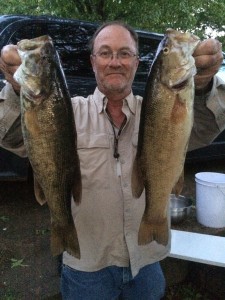 **************************
Thanks to Shoedog for his report and to the rest of you keep stopping in and thanks for reading my stuff.
Good Luck and Tight Lines