FISH CATCHING TRAVEL
 Makers of the best balsa baits on the market.
Lets get this out of the way right off the bat.  I fished like crap today.  Some days are tougher than others, and I am still learning this croaker thing, but I could have done a better job.  I had Aaron and his dad along today, and as hard as we tried we never did hit the mother load.  I have several thoughts about that, which we will get to.
Weather
80/99 Heat index 110 with heat warnings after noon. Wind SSW 15-25  10% chance of isolated showers.
Tide
11     High   8:27 AM     0.5
11      Low   7:07 PM     0.0
Solunar Times
Best      5:46A – 7:46     6:09P – 8:09P   Good     11:35A – 1:35P       (This was when we probably put half our keepers in the boat.
Aaron is a highly experienced all around fisherman, and his dad has been at it for all of his 87 years.  We picked up 36 croaker and headed out at daylight.  The tide was just reaching full up as we headed to Big Bayou.  That was my first mistake.  Why?  I should have hit the rigs at daylight when it was calm.
Our first stop was the drain where I caught a quick limit a week ago and we got off to a so/so start.  They were free lining their croaker with out a weight and I was using a 1/8 ounce weight.  Aaron put a nice flounder in the box, and I think we added one more keeper trout at the first stop.  From there we kept working drains and the other spots I normally fish and it turned into a one or two fish a spot day.  About half the places we caught a keeper, but just could not seem to nail it down.
Never having fished that way before we all had a lot to learn.  We easily missed as many fish as we caught, and it seemed like we would catch a keeper, and then they would shut off.  After fishing the drains we headed out to the rig, and of course the wind came up and by time we set up it was white capping and just to uncomfortable to fish.
From there we fished the old Coast Guard station without a bite so we headed into the Oil Cut and immediately put a another nice keeper in the boat and missed a few.  We hit a few other spots without success and at 1:00 they had somewhere to be so we called it a day.
For the morning it was 5 or 6 keeper trout, 4 which were good ones, and once nice flounder.  We easily caught more trout that did not measure than did.  Kind of surprising to me how a small trout were happy to eat a big croaker.  And we missed many more.  Of course we caught the usual assortment of hard heads and lady fish.  And all of us were still getting used to the bite, which is something different for someone like me who has not fished croaker before.
So as I continue to learn this deal a couple of things seemed to stick out now that I think about it.  First, I am not sure fishing out of the boat in shallow water is the way to go croaker fishing.  Wading would have been much more productive.  Second, keeping the bait cool with plenty O2 in the water kept them lively all morning in what turned out to be 100 degree heat so the bait tank I just made was doing the job.  Finally I ignored that little voice in my head that said go to the rig first and sack a few, but I ignored that for what I thought was the safe route.  Not all those little voices in your head are nuts.  Before it was over if I had fished the same water in a different order it would definitely been better.  And for some reason I never took any pictures, I think the heat had my brain on slow.
It was a tough day but as with all learning processes you have to keep after it.  Just because it is croakers does not mean you will automatically rip them.  So the next step will be to do some wading and see if I can improve on my technique.  It was great to fish with Aaron again, and it looks like we will fish together a few days down in Rockport in the next month.  And his dad was a great guy to fish with and we had a great time even with the slow fishing.
*****************
And Chad, who has been hard at it with his son, struggled a little last trip, but when it is tough it is often a matter of grinding it out.
A grind of a day yesterday, we went to poc left the dock before daylight hoping to get to fish some tide movement first stop greens. No bites on the first wade, ran a little further made a wade picked up 5 trout, then moved to a spot with tons of bait 4 trout there, with no water moving i knew it was gonna be one of those days that paitence and persistance would be the key so off to the next spot. After fishing the greens area we move to the hump. A big flat inbetween the lil jetties and big jetties on the right. It was full of bait with jacks blowing them up on the outer edges. So we bailed out there and made a wade. We had to just keep grinding but managed to pick up 6 trout there. With 15 trout in the box biggest being 22″ that my son taylor caught. We made a move to grass island after a 30 min wade with no trout we called it at 3:00 pm. Tough day for us, as far as catching. When we got to the dock tpwd fish measure guy was there so after he went through our fish and asked a few questions he said on a scale from 1-10 how satisfied were you? I said 10 ! Reason being we got back to the dock when we want too. Theres alot that can go wrong on a trip out on the water. Ive experienced alot of em over the years. Thanks chad
It really is get out early and fish hard.  Often the difference is just another fish or two and you guys ground it out today.  I really appreciate your reports, especially that you are sharing it with your son.  Sounds like he is going to be a great fisherman some day.  No better way to spend quality time with your son.  And I love your reports, they have actual information and knowledge that folks can use. Keep the reports coming.
*******************
I got this from Remmy on something I actually did today and it worked like a charm.
Freeze a 2 liter bottle or 2 and put them in the ice chest with the croaker, 1 is fine but i usually keep another on hand in case the first melts. Keeps the water cooler, the croaks croaking and a little friskier.
It got to 100 degrees before we quit yesterday and a frozen bottle kept my croakers frisky and we did not lose a man.  (Other than operator error when they were on the end of our lines.)  It kept them cool and they were lively to the last man.  So thanks for commenting and feel free to contact us anytime you want to add to the discussion.
*********************
And I heard from Joe Bass, a long time reader, on the flip phone thing.
Once you leave the dark side(flip fone) You will never go back. We're a small group but we must stick together. I still have one. Got it at walmart for $14.88, why because its small, fits in front pocket, when I drop in water, I'm not mad because I threw $300 into the water. My trip to Lake Travis I dropped into 30 ft of water, got to my underwear and dove in, didn't get it, but had to use the net and long pole to finally get it back. Wasn't worried about phone, just wanted all my contacts. Should not have to worry about Facebook, emails or live videos bothering you while fishing or outdoor activities. FLIP PHONES RULE !!!
A man after my own heart.  I agree completely on the distractions in the outdoors.  So the flip phone will be with me until it kicks the bucket.  But since it is built to basic military specs it just might be around a while, at least until it ends up in the lake where I can't get to it.  So thanks for standing up for those of us who are media challenged by choice.
*****************
And last Jay, who fishes stripers and big catfish, sent me a couple of pictures of his and some great information for those of you hard core live bait fisherman.
Doug,

The problem with a cooler bait tank is shad, herring and some other baits will swim in a corner, deplete the oxygen and die. Basically they commit suicide, too stupid to move a half inch to get oxygenated water…. I've no idea if croaker do that.

So that's the importance of round which is best. But oblong also works. Depends on how much boat space you have.

When the pump output is positioned correctly it creates a GENTLE counterclockwise swirl in the water. This allows the bait to hover, head into the swirl moving oxygenated water across their gills. Since they'd just swim themselves to death in the tank going in a little circle, as they do in the water, to get oxygen.

Here's the assembled one I was talking about from Striper soup with filtration. I am in no way advertising for them This is just the cheapest, best one I found that fit my boat with a good size. There are definitely others, Super bait tank ii, grayline, Cabelas has some. Crafty guys make them out of food grade barrels or trash cans, stock tanks, etc…

Those round insulated energy drink containers from convenience stores make great ones once you remove the legs and install the plumbing.

I personally would wrap it in that aluminum bubble wrap stuff from lowes or home depot. I used doubled sided carpet tape and packing tape on mine.

http://stripersoup.com/wpress/bait-tanks/#!/Striper-Soup-Moeller-M-26F/p/41253126/category=6630113

Jay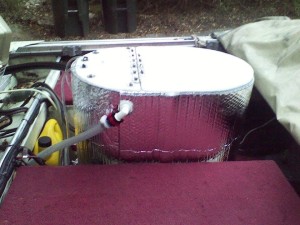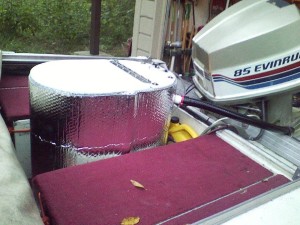 That folks is a bait tank!
Great stuff.  My needs are a lot simplier, but yours is an awesome tank.  From the last couple of days the croakers do gang up in the corners but it did not seem to hurt them a bit.  I think they are a little hardier than shad or herring.  And I am sure that insulating like you did really contributes to bait longevity.   And I have actually thought about using the cooler with minnows, who will hurt themselves.  I am going to cut the bottom out of a 5 gallon bucket, cut off the top so it sits down in the cooler with the lid closed, and drill plenty of holes for water circulation.  That should cover about all the bait fishing in my future. 
Of course it would be different if we had stripers in Coleto.  Now I have to confess something here about my feelings on using live bait.  I had a good run catching plenty of stripers on downriggers when there was not another striper guide.  As more guys did it they started getting up at 3 am to catch live shad.  That was it for me and I quit guiding for them after that.  Just lazy I guess.  So any of you looking to make a real bait tank here is everything you need to know.  Thanks a lot for your input and next time you catch a big striper, or a nice fat cat, drop us a line, would love to share your pictures.