FISH CATCHING TRAVEL
 Home of the Bang O Lure.
Memorial Day
I hope everyone had a safe and happy holiday.  While you are having a great time with family and friends, or on the front deck of the boat this weekend, never forget the reason for the holiday. To those who paid the ultimate sacrifice, you are not forgotten.  And to those currently serving, carry on, we know you are out there protecting us.  Those of us here, be careful out there this weekend, it will be busy.
*******************
No better description of my current situation.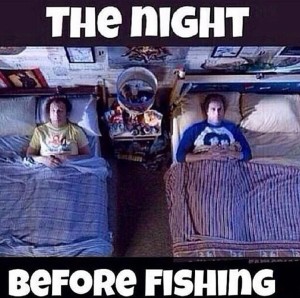 For me it is not only the night before, but the week or month before.  Getting ready for trips like this leave me dreaming of big fish.  I have been worthless but it won't be long now.
*****************
I got this kind comment from Jim.
A buddy of mine came into my office yesterday and promptly said "Hey what the heck is going on?" I told him I was fishing and showed him a picture of one of those nice Bass you catch. I was on your site and actually that is where I have been catching all my fish lately. Like going to church in you living room. Ya know it is pretty cheap fishing on your site and no church offering comes around in my living room. Good luck on your fishing trip.
Who knows, maybe I should pass the collection plate?  But seriously, when I get comments like this it helps keep my writing and centered.  So all of you come along on the Canada trip.  We will be burning the candle to the nub.  We will start fishing on Friday and I will try to post something every day.  Thanks for your kind comment.
******************
We applied for the Global Entry Passport so we could get around maybe just a little easier when we fly.  I sometimes have little faith in the services our government provides, but after filling out the online form with Customs we got an appointment within a week.  They basically do a background check and then you have a quick interview and are photographed and fingerprinted.  Our appointment was today, amazing they were working on a Sunday not to mention a holiday weekend.  The guy was great and we are set to go, maybe.  Amazing.
********************
Good News!
And you folks up in Austin I was in Cabela's the other day and I am happy to report that they finally have a good selection of the Bagley Knocker B topwater.  So whether salt or freshwater grab one of these great topwaters, they work.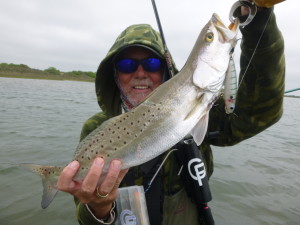 This is one of a bunch that smoked the Knocker B.
It really is a great topwater and already has the flash tied on the rear hook.  Click on their logo above to see all their fine products.   As the Cabela's in Austin had them they should be in most Cabela's so grab a couple, you won't be sorry.
*********************
Australia
Talk about getting excited about a trip.  I am currently chatting with a Captain in Cairns, home of the giant black marlin fishing.  We will be there in April next year, after the black bite, but during what hopefully will be a yellow fin and blue marlin bite.  Here I am up at 5 a.m. the day before I leave for Canada and I already can't sleep, God knows what I will be like leading up to that trip.  We will be doing the live aboard thing for 3 days of offshore and reef fishing on the Great Barrier Reef.  How cool is that!
*********************
Tackle is ready, food is bought, all sorts of rods and reels, rain suits, snow suits, boots, hats, camera stuff, 4 pairs of Cocoons for all conditions, it is all coming together.  It is always a big job to get ready to do a 2 week trip.  And up there it could be 30 degrees or it could be 80.  It might rain for 2 weeks,  be really cold and ugly, or it might be beautiful.  In fact, it is almost always all of those that and more over a couple of weeks, so under the old rule – You always take if off but you can not put it on if you do not have it. – you take it all.  All that is really left to do is tow a boat 30 hours, always an interesting proposition.  But when it is all said and done we will be fishing in one of the great places on the planet, worth every minute.
*********************
As you are all aware I have not hit the water in a few days, I am just ready to start this adventure.  It has been a dual diagnosis thing, both writer and fisherman's block.  I rarely have a case of both at the same time.  But change is on the way.  So bear with me for a few days and the reports will start flowing again.  Visions of lake trout, big smallies, muskies, and walleye consume my thoughts and there is only one way to excise them, go fishing.  So keep stopping in and thanks for reading my stuff.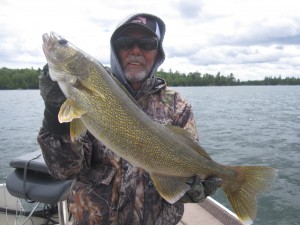 Good Luck and Tight Lines