FISH CATCHING TRAVEL
 Home of the all time great Bang O Lure!
If you love heat, and I mean freakin' hot, head to Big Bend National Park in Terlingua Texas.  As Ed used to ask Johnny – "How hot was it?"  The top for the trip was 111 degrees, and folks that is hot!
For my birthday the Boss kept asking where do you want to go?  It was easy, Terlingua, the old ghost town on the edge of the Park.  A town of about 60 – 70 people, give or take the weather, it is one crazy place to visit.  The Boss was all about it because she got to pick the place.  For me it was just being able to do some extensive backroad driving over some of the most interesting land on the face of the earth.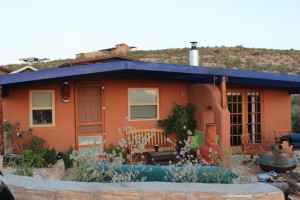 Made from recycled phone books and scavenged stuff.
We stayed in an eclectic house using solar power and water collection, basically what is called off the grid here.  Cynta, the owner, was so helpful with information and saved us from making a mistake or two.  One was rafting, the river was way to low so we passed on that.  Historian, archeologist, with years of river guiding and still hiking 100 miles a month, her knowledge of the park and the area is limitless and she tipped us to a couple of great off the beaten path sites.  It was nice to get her knowledge, she is the first person I ever met I would call a real desert rat.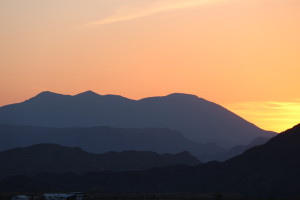 Sunrise from the porch.
A quick primer on Terlingua.  There ain't much, it is a ghost town.  But in true weird form there are 3 places to eat and most of them have music every night.  la kiva, the famous cave bar is finally reopened after the mysterious death of the owner.  The new folks have struggled to remodel and it is a mandatory stop.  The Starlight Theater is a good restaurant and they have music most nights.  There are a few places to stay depending on your wallet, and in some cases your need for your own bathroom, or maybe even a roof over your head.  Full of interesting folks, it is my kind of town.
(There will be several warnings along the way – Do not come to Terlingua if you want a Wal Mart, Hilton, or green grass.  This is a deserted desert mining town on the edge of nowhere.)
But the real reason for coming to Terlingua is Big Bend National Park.  Running along the Rio Grande for 188 miles it is the border between the US and Mexico.  The park is on the northern edge of the Chihuahuan desert.  It can get to freezing in the winter and 180 degrees on the surface in the summer.  (Warning:  This is the freakin' desert, rocks and stuff, got it?  It is not a "Park".  So be sure to do your research.)  Our warmest day topped 111, and it was a real 100 every day.  We made a half mile hike in the middle of the day and that was enough for that day.  (Warning – Hiking boots, water, walking stick, all that stuff.  Fall and break a leg and see how that works out for you.)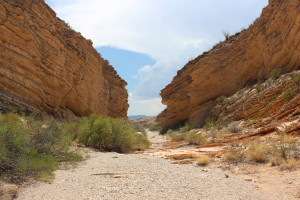 Walk down this trail to get to Ernst Tinaja and this cool hole.  Don't fall in.
This is as remote and unspoiled outdoors as you can find.  Rough, unforgiving, there is even a book detailing the stories of folks who have died in the park.  There are miles and miles of trails and rough off the grid roads available.  With 4 wheel and good sense you can take some great rides and see some great stuff.   (Warning – Good tires and spare, spare water, shovel, first aid kit – and then some.  This is no place to f' up.)  For me it is just driving so far off the grid you really know it.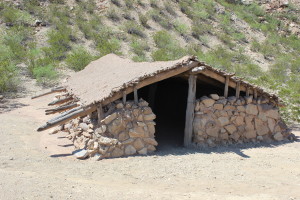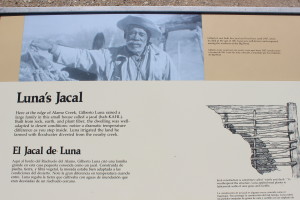 He lived to 108 , outlived several wives, and farmed this area to help feed the minors in the hey day of Terlingua mining before the quicksilver played out.
Giant mountains, mesas, the basin, huge canyons, washes, hot and cold springs, ruins, cliffs, the park has it all.  It can be beautiful, imposing, terrifying, lonely, alive – all in the same minute from the same view.  It looks barren, but it is alive.  The more I visit that area I realize you can not force yourself on the desert, you have to let it come to you.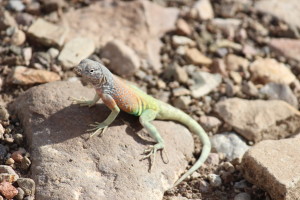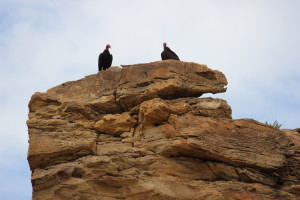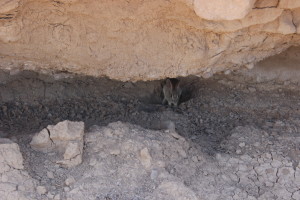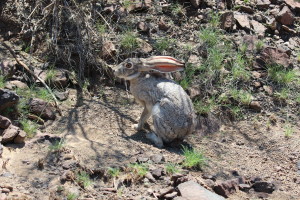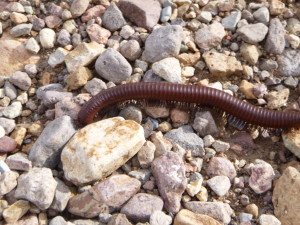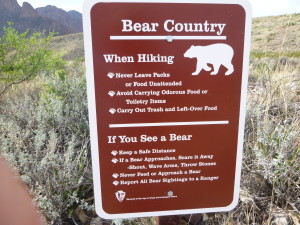 The desert is alive, you just have to slow down and take it all in.
The park has bears, mountain lions, (Check the park website, total monthly sightings are kept.) mule deer, coyotes, rattle snakes, rabbits, bugs, cactus, things that sting, bite, and are so pretty it is hard to describe.  We did not see near as many big animals this trip, but it was the middle of summer in the desert.  And as far as wildlife sightings we saw one that will always remain at the top of my list.
We were driving on the River Road East which is way out there.  To get off the River Road you either head off on to Glenn Springs Road and then to the black top 27 miles away (it took us almost 2 hours) or continue on the River Road for over 50 miles before you see civilization again, or anything else but the great outdoors for 6 hours.  I mean the sign says it all when you get on: It is hardly ever patrolled.  This is rough slow driving, and 4 wheel is mandatory.   (Warning –  This is rough, no place for crappy equipment.  Be prepared or try spending a couple of days in the desert at 100 degrees before just maybe someone comes along.)  That is what makes some of the drives there what they are, awesome out there.  But I digress.
As we came around a corner  at a roaring 10mph here comes 3 cows, none are supposed to be in the park, running for their lives.  Before we could even say what the hell, here comes 2 cowboys chasing them back towards Mexico.  Now folks these were not no cowboy hat wearing, King Ranch Ford driving, iPhone facebooking cowboys.  They were chiseled faced weathered Apaches, (learned that from Cynta) riding paint horses as they chased their cows in the middle of the desert.  All I could say was wow!  And then wow!  They were real Apaches who rode across the river to get their cows before they were caught by the park and sold.  Of course they are not to be there, but it is part of the border here, it is one of the things that works down here, and I love it.  We waved and so did they.  One of my great memories – When you grow up on westerns like I did it was as real as my memories.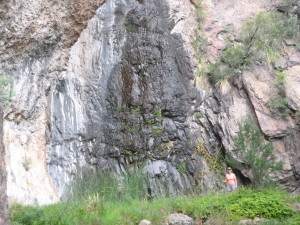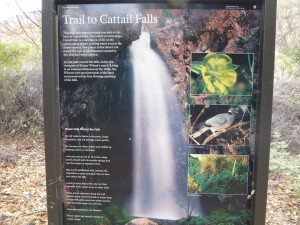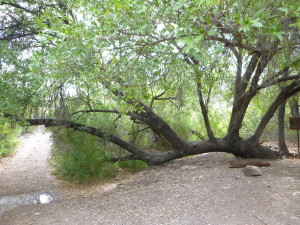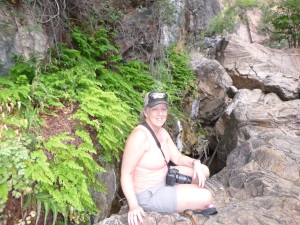 Cattail Falls – A secret oasis only a mile and a half straight up the mountain.
Unfortunately it is time to talk about the border.  Reading the local paper there was an article about a bill in the House that I thought must have been written by a deranged brain damaged crack head but I was mistaken, the bill was written by some politician we pay.  The end result proposes to add 3 new checkpoints with detention centers and build 200 miles of roads in the park to handle a completely nonexistent problem.  You see Border Patrol in the park and of course we need them in Texas.  But when I asked an official for an unofficial comment it was we have no comment.  (Except their real comment to me:  We do not want, nor need, that here.  It is a solution for a completely nonexistent problem.)
Speaking to Cynta at the house she said it best, there is no illegal immigration issue here.  She knows this desert, and the people here, like the back of her hand and her response – it is almost 100 miles of barren desert to get out.  This is not where that is happening.  And the thought of them building 200 miles of road in the park is terrible.  Another person told me their sheriff is not in favor of it.  And worst of all, the bill basically exempts them from any and all environmental regulations.  Nobody, and I mean nobody I spoke to there says this is needed. So hopefully nothing will happen, but I will be doing some reading in the next few days.  The Park should be sacred, we are not making any more of them.  It is a National Park for God's sake.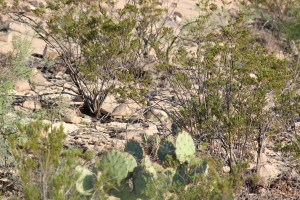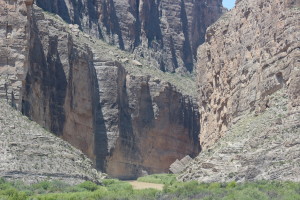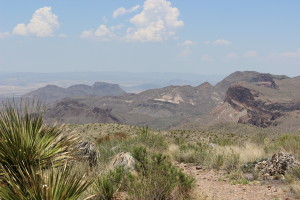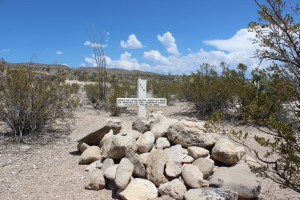 One beautiful part of the world.
I have nothing against the Border Patrol and this bill does not come from them.  The border on Big Bend is not what is portrayed in the media.  Of course there are problems at times, but so does every city in America.  The people down here on both sides of the border love and respect the park, and it has started to affect me the same way.  Whether hiking on a trail to see something spectacular, or driving over rough roads full of washes and rocks, everything is so cool.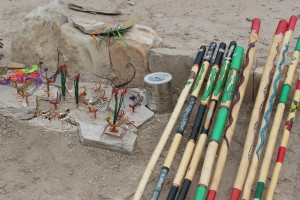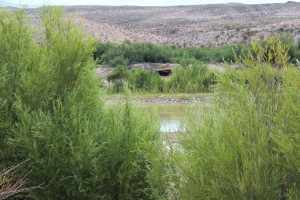 Illegal goods for sale in the park.  The shelter across the river with horse tracks leading back and forth across the river.
Sitting on the porch as the sun rises and then watching the brush reveals how alive the desert is.  Gophers, chipmonks, quail, rabbits, road runners, and lizards all moving on their morning business.  No TV, no cell phone in the park, little light besides the moon and stars, coyotes howling, the desert either gets you, or maybe you get it, or it does not.  So if you hate to many rocks, mind if the electric goes out occasionally, and need 200 channels this may not be the place for you.
Now I do not want my warnings to make you think about not coming.  They are actually a good thing, it should let you know what a wonderful place this is.  You can do the safe thing here, or you can really get after it.  This is the kind of place everyone should see once in their life.  Our world is shrinking and when you are there it is big as all outdoors, an experience that should be protected for our children and theirs.  This is our 4th trip to the area and will not be the last, this year.  What a place.
I did want to share this comment with you:
Sorry about the Hummingbird! I am looking forward to your post on West Texas. I recently purchased a Jeep Rubicon and am looking forward to a trip to West Texas. I have never been farther than Del Rio. That part of the state is beautiful!

Mowdy
This is the place to break in that jeep.   And it is only about 5 hours west of Del Rio.  Have a great trip and let me know how it goes!
So there is the quick story.  Tomorrow it is chores related to mundane tasks like the bank, clerk, and whatever else needs to be done.  Tuesday it will be up early and off to the coast.  Thanks for staying with me during this little fishing hiatus.  Keep stopping in and thanks for reading my stuff.
Good Luck and Tight Lines
(Search Big Bend National Park and Villa Terlingua for more information.)