FISH CATCHING TRAVEL
I do my usual preparation by getting the  weather, tides, and solunar times the day before, so it is done when I get back from fishing.  I am sorry but I am getting flat out sick of this high 90's crap.  It is hot, it has been hot, and it seems to want to keep hanging around.  The only thing about the numbers today is there is a good solunar period first thing, so it will be interesting to see how the bite goes.  I know one thing, the tides sure are not worth a dang, probably a better day to be bass fishing.  And we want to be back in time for the Cowboy game.
Weather
97/74 Partly Cloudy  10% chance of rain  Wind NW 5 – 10 mph  (I am SICK of 97 degrees)
Tide
Low   1:00 AM     0.8
High   5:46 AM     0.9   (Talk about a flat 2 tide day)
Low   1:08 PM     0.7
High   9:28 PM     1.0
Solunar Times
Best     12:11A – 2:11A
             12:38P – 2:38P
Good    6:25A – 8:25A   (Good and stayed good.)
I had a buddy going with me but when I got to his house he was not up.  I texted him, gave him 5 minutes and then hit the road.  That has been my habit for years, ready to go or not I am hitting the water.  To bad he did not make it.  It was hot, humid, and foggy on the way to the lake.  When I got there it was just daylight and there was only one truck at the ramp.  The first thing I noticed was that the lake has come down a foot or so.  With that I knew that up lake would have cleared some, which it did, and still have that good shallow cover, which there was.  The only thing I wondered about was the moon, which was basically full and out until around 9.  If that made a difference I sure could not tell, unless it made them bite better,
I was fishing by 7:15 and on my 3rd cast I put one in the boat.  From then on they bit consistently on shallow banks and on 4 different baits.  First up was pitching the Rage Craw to shallow cover, and I mean shallow.  Several bites today hit it before it sunk right on the bank in a foot of water.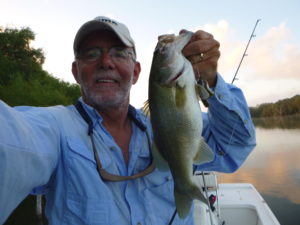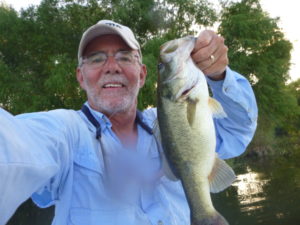 They liked that Rage Craw pitched to cover.
So after catching a few, and with them so shallow, it was time to break out the swim jig.  It did not take long and several more ate that just reeling at a moderate speed.  One bite was my favorite, is feeling a tic as you reel it and your line goes completely slack.  They are almost always good ones and that one was. Love that bite!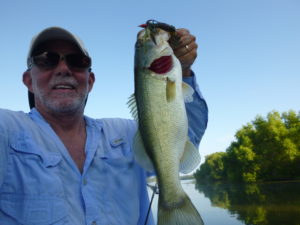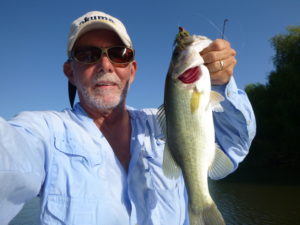 They liked that Strike King Swim jig in Bluegill with a Rage Craw trailer.
At this point they are biting right along.  I had not pitched the watermelon/red senko style bait so I pick that up and of course they liked that too.  It was getting on towards 10 and they were still biting right along.
It really does seem totally, super duper, counter intuitive that with the water falling over a foot and the temperature up 3 degrees they are biting.  And more importantly that they were shallow.  What is interesting about that?  They were shallow on the flattest banks up lake.  After catching the first couple I decided to keep count, and before it was over I boated 17 in 4 hours.  Some of them nice and husky.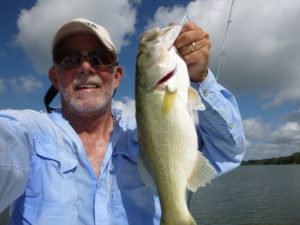 A couple nice ones.  One on the pitching the senko and one on buzzbait.
With everything working there was no way I was going to not throw a buzzbait.  I probably should have tried it earlier, but I still managed to catch a couple and miss one.  And if you look at the one above you can see how far down that buzzbait was.  That thing exploded on it, a great way to end the morning.
It is really hard to emphasis how shallow these thing were today.  I would guess the majority came on one hop or less.  Even the buzzbait fish were first crank.  I did lose a couple trying to get them over or out of wood.  And of course the day would not be complete without breaking my favorite swim jig rod.  The fish had me sideways on a log and I set the hook sideways, hit the console, and snapped the end off.  Oh well, have to see what kind of action it has when fixed.   How I manage to break 2 or 3 rods a year I will never know.
*******************
Way Off Topic – Football
I really enjoy college football, and watching it gives me time to work on my blog while wasting the day away, depending on the action.  First up it was Alabama and Ole Miss, both on the Hog's side of the SEC.  What a good game.  Ole Miss looks tougher than you might have thought with a great defense, and Alabama looked rough around the edges on both sides of the ball.  Saban was not happy but the Tide Rolls on.  They are still the team to beat.
The Hogs played Texas State in an ugly mismatch.  You need one of these on your schedule but who knows what they learned from beating them so bad.  But 3 – 0 is better than our usual start.  And the boys from San Marcos hung in there and played a good second half. But the better game was the Aggies vs. Auburn.  The SEC opener for both, the Aggies played a solid game, not counting 3rd down failures, and are 3 and 0.  So it sets up the Hogs and Aggies in Jerry's World.  It looks to be a good game.  And with LSU winning things are about to get interesting in the SEC West.
The Cowboy – Redskin game was a real dandy.  That they are playing this well with rookies at QB and running back, and 3 defensive players on drug suspension, is amazing.  We will be at the Thanksgiving day game in Dallas and I am excited about that and I sure did not want them to start 0 – 2.  So a big win.  If Prescott keeps playing like this it will be really interesting to see how it all shakes out when Tony comes back.  The Cowboys are always a trip, but hey, Jerry is from Arkansas.
***********************
Hope you liked that croaker how-to from Chad.  I sure learned something about fishing them, and also learned how effective they truly are when the weather is hot and the plastic bite is slow.  That will definitely be on next years agenda.  So thanks again Chad.  And the rest of you, it is not that hard to share something you know with the rest of us.  It does not require anything more than putting it down, I will fix it if it needs it.  You do not have to know how to spell, we don't care.  Hell, I don't even know what an adverb is!  But we can all learn something, so keep those reports and comments coming, it makes this blog what it is.
There is some fishing to do this week.  Some folks from Austin are down at POC and I hope to join them the next day or two.  That will not be the only fishing, when it this good on the bay and lake it keeps it interesting.  A trip to Keller Bay, or Fayette, may also be on the agenda.  And today did not hurt my fishing feelings any.  Anytime you can catch 17 in 4 hours, several of them good fish, the fishing is good.  So keep stopping in and thanks for reading my stuff.
Good Luck and Tight Lines