FISH CATCHING TRAVEL
 Brought to you by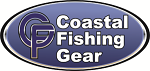 ** For a super deal use promo code FCT15 and get 15% off on your online  order!**
To all of you I know, and the thousands who I have not met, I wish you and your family a Happy Thanksgiving.  Eat some turkey and cheer on those Cowboys. 
Billy and I made plans to fish a day while he was off.  Initially we were going Tuesday but with a possible wind of 25 mph I decided to move it to Wednesday.  The wind forecast is a lot better, the tide and fishing forecast is much better, the only variable will be how and when it rains in the morning.  And there is a small "norther" coming in today and that could be????????   So with that it will be what it is, at last there is what should be pretty consistent water movement and a little rain never hurt anyone.
Weather
74/60  AM showers partly cloudy later.  80% chance   Wind NNW 10 – 15
Tides
High 2:20am   Low 10:36am  -0.7   High 3:03pm 0.9    Low 5:53  -0.7  Tidal movement is average.  Wednesday is rated a one fish day.  (Tuesday was a no fish day.)   A major High Activity period from 8:03 to 10:03am.   And an average activity period from 2:20 to 3:20pm.
FISH ON!
Well there is one thing to say about today, that there is lots of things to say about today.  We had some rain, we had some clouds, we had a big ass north wind when the front blew through, we wacked the snot out of them after the "norther" blew in, and it was one of those days for Billy.
Billy and I have chatted off and on via the blog and  Facebook, and this year he was kind enough to contact me and give me 2 of the original Bang-O-Lures which are impossible to find.  So we finally were able to fish together, and we had a great time.
First let me tell you about the tide.  While it was basically flat today but what it had in flat was more than made up with pretty steady movement all day.  When we got on the water it was moving out, then it kind of slacked, then it dropped some more when we moved, and the color was perfect.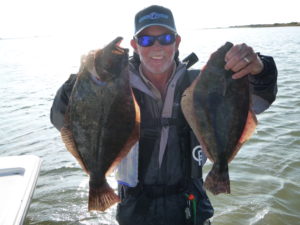 A couple of real nice flounder.
Our first stop was the flat near the Army Hole.  We worked the mouth of the drain, and the fish were there.  Billy is a committed topwater fisherman, and he got the bites, and some more bites, and for the amount of bites he had he was disappointed in the results.  They were just not hooking up.  I on the other hand was having one of those "Fish On' days when it seemed whatever I did put them on the end of the line. We fished there until 10:30 and caught fish on several plastics and topwater.  And I managed to land several flounder including the best in a while.  With our fall weather being so warm the flounder run is late and it looks like the good fishing is now.   And I have to plug my Wade Right belt.  With the fish hitting top and plastics the belt was the ticket.  No bait changing, wrong line or rod, no back to the boat.  It is so nice to be able to swap out so when you catch on one bait or the other you are able to toss a completely different bait and techniques to the same fish without moving.  Trust me it works.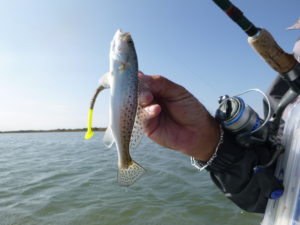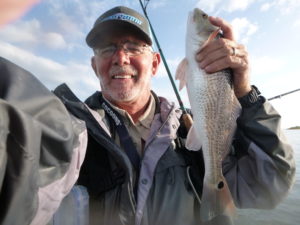 I did not know they grew them this small.   A rat red, one of four or five today.
It was at least 15 or so there, including the flounder.  The bigger flounder came when I was straight reeling near the surface for trout, and he smacked it.  It was one of those bites that you knew was a good fish the minute you set the hook.  The plan was to leave there after 11 or so when the tide was slack but I waited just a minute to long and here it came.  You could see it coming across the bay as the cold front hit.  The original plan after the first place was to head to Barroom which would be protected from the front.  So with almost 3 foot rollers we pounded across the bay.  It was cold and rough.  We finally hit the barge canal and I told him I am taking the long way around and then it will be Barroom.  He told me later he would have just put it on the trailer and called it a day, and at times I might have, but when we rounded Fisherman's Cut it was perfect.  Protected, it had a nice ripple, and the water color had that perfect little bit of milk to it.  Best of all the fish were there.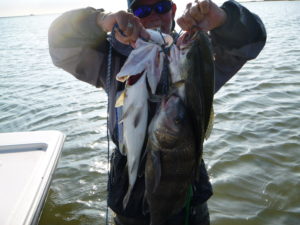 Does not do this stringer justice.  A trout limit and one big ugly. The trout on the left was a hoss.
With the tide low it was perfect as we stayed a little more than knee deep and casted to the break which is in 4 feet or so.  It is now around noon, we just got hit by a "norther", and it is clear as a bell.  Not what traditionally I would call great conditions, but it was.  Billy was still tossing his topwater, and dam if they were not hitting it.  A few finally managed to hook up after his little dry spell, and he added a couple to his stringer.  My flat out luck continued as I was catching them hopping and dropping plastic, reeling it slow, fast, or in between.  They were a little tough to feel, but any change resulted in a hook set, and dang if they weren't on there.  It was just one of those day when it seemed like every time I tried a little variation in retrieve, jig head size, color. length, it did not matter, they ate it.  I really do believe using 8lb fluoro makes a difference, at least it makes me more confident and that is important in fishing.
I needed to quit about 3 or so, lots to do before we hit the road early tomorrow for Jerry's world.  We had a real nice limit of trout and 2 flounder.  And one nice keeper drum had his lucky day and got released.  Any day I catch the slam and add a drum is a successful day as far as I am concerned.  We caught lots, and funny no big reds, which surprised me as well as the others were biting.  And it also said something about the putting on the big boy pants and dealing with the front.  We could have wussed out, but we made the right move and finished out the day with the fishing better than it was early.  Not much else to say but it is so nice how the average trout seems to be getting bigger and bigger.  And with the numbers in the bay right now, things are looking up.  So thanks for fishing with me Billy, I had a great time.  Now if we can keep the Austin Boys from bringer their usual "norther"  that trip has the potential to be epic.
************************
And we got the weekly report from the Mad Trout Fisherman, who has been having an epic run the last 4 months.
Matagorda island drians epic bite, this damage was done in the first 45 min of daylight.
Chad, all I have to say about the run you have been on is that it is freakin' crazy.  Some of those trout are the real thing, much less the numbers!  Like we had this morning, set up on the right drain, right time, and right tide and you are in business.  I really want to thank you for keeping us up to date, it is so appreciated.  Folks just one thing to say today – The Bite Is On!
************************
Good to hear from Rusty, our Fayette guru, nice to know you are still out there.
Happy Thanksgiving Doug!!!!
Just booked my Canada trip for 2017, already thinking about those big northern and walleye.
Tight lines
Happy Thanksgiving to you.  One thing I like about making reservations for trips like that is it gives us great daydreams and anticipation until D Day.  I won't make it this year, but can honestly say it will not be missed.  Why you say?   Because I will just be getting back from Australia!  Most of our trip is planned and tickets bought.  Right after the first of the year I will be planning what I hope is a day or two of river fishing trying to boat a Barramunda, and maybe see some of those huge saltwater crocs.  Next will be 2 days offshore chasing tuna and other crazy Barrier Reef fish.  It make me excited just typing this!  I hope you and your family have a great Thanksgiving.
********************
The only word to describe the bay fishing is gooooood.  Our fall got here just a little later, and the good fishing is finally coming with it.  The flounder run has been flat, but looks like they are on the chew.  The average trout is just plain bigger, and solid 18 – 24″ are so much more common than the last few years.  I love the 5 fish limit.  Not sure where I will fish next but it will involve the salt.  The time is now so get em" while the getting" is good.   But first it is "How about those Cowboys!"  Keep stopping in and thanks for reading my stuff.
Good Luck and Tight Lines