FISH CATCHING TRAVEL
 Brought to you by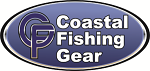 ** For a super deal use promo code FCT15 and get 15% off on your online  order!**
+++++ Order before Christmas and get free shipping!  15% off and free shipping, what a great deal!  Check out their fine products for a great present for any wade fisherman's Christmas!+++++
***********************
The weather looked pretty good for bass fishing Monday morning.  Cloudy, light drizzle, and no wind, perfect.  When I got to the lake it is clearly still easing up and it was fairly clear at the lower end.  I headed up lake to see if it was to off-color.  Once you make the big turn the water had a slightly milky look to it.  And since I am still without the Mako I could not get a good water temp, but since it looked ok I decided to give it a go.
To make a long couple of hours into a short version, I did not have a bite.  This is my regular stomping grounds, so not having even a touch was surprising.  And that was on swim jig and plastics on the same places I have been catching fish for several monthgs.  Now I may be slow, but I am not stupid, usually.  So I cranked it up and headed down  lake  and stopped on a point where the water was clear, and the bite started.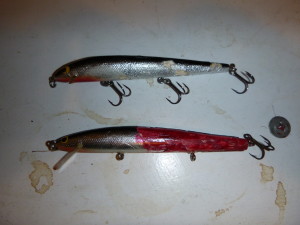 They have caught a fish or two.
On the way it finally sank in, throw the Bagley Bang-O-Lure.  While it is a little early for this pattern, the conditions were perfect.   I started twitching it along right on top, occasionally jerking it under, and I caught one.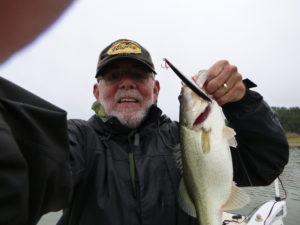 The First Bite
As I was fishing I realized that I have been throwing the Bang-O-Lure since the late 70's if memory serves me right.  I mean 40 years, crazy!  And while it will catch fish year round, this is one of my favorite times to throw the Bang-O-Lure.  Early, early, pre-spawn.   I think it is so effective this time of year because of how subtle it really is.  I actually refer to it as a finesse bait.  The bait is so perfect for twitching, the foil reflects tons of light, and in clear water they will come for it.  It is truly a trick them bait, you see lots of them, and making the perfect jerk often leads to big rewards.  And seeing a nice one roll up out of nowhere and eat it in clear water is of the great bites.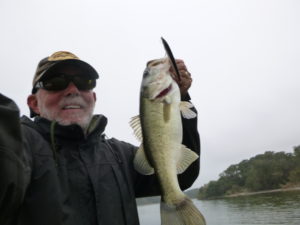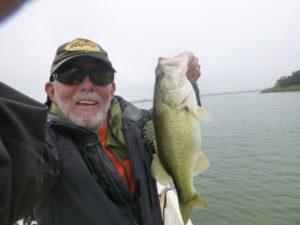 This technique has always been deadly for this size.
They started biting about noon, or I finally started throwing the right bait, and I caught them until I quit at 4:00.  It was not fast by any means, but a good point with deep water close by produced bites.  I found 2 different ways they wanted it, one better for the bigger fish, the other for the smaller ones.
The smaller fish wanted it just twitched right along on top, making a little wake and sounds like a shad splashing.  Most of the bites like that were fairly close to the bank.  The better fish hit it like they have for the last 40 years, under the water.  I can honestly say it is one of my favorite bites.  Twitch it along and occasionally jerk it under over a foot or so, and pay super close attention.  Several I saw either a boil behind it, or one would flash on it.  That is when it is critical to make it flash, no big jerk, just a little ripple as you pull it under a foot or so, and they will eat it as it floats up.  Do not jerk it hard like a jerk bait, just a nice pull makes it flash as it darts under.  Remember, you are imitating a dying shad to a cold fish.
And now a word from our sponsor – It is absolutely mandatory that you have good polaroid sunglasses.  I have multiple lens colors, and today it was the yellow, perfect for those cloudy days.  Having a pair of the yellow lens Cocoons was critical.  You have to be able to see under the bait.  Even if they do not eat it lets you know that fish are there, and ultimately how they want it by seeing them when they do eat it.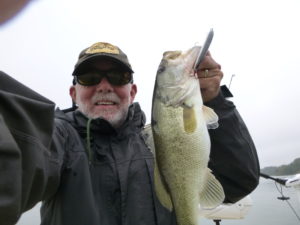 This big girl materialized out of nowhere and smoked it.
Before the afternoon was over I put a dozen or so in the boat, and missed several more.  I had one real whopper roll on it next to a stump, but I was not able to coax her to eat.  She rolled on it the next cast, but just did not eat.  Other than that most of the good ones would commit.  This pattern will hold now until around May, but the good time is the next 2 months as the big girls start coming up and staging in areas close to big spawning coves.
I have fished many brands of topwater minnows, and I can categorically say this, balsa is by far better, especially in clear water or colder conditions.  And that is what I am talking about when I refer to it as a finesse bait.  Subtle, the Bang-O-Lure, is hands down the best choice.  I can not even guess how many fish I have caught over the decades on the Bang-O-Lure, but I know one thing, it has been a constant for me since the day I picked it up. And I want to take this time to thank Billy, who was kind enough to give me 2 of the originals that are likely over 20 years old.  I almost hate to fish with them, but you can see the results.  So thanks Man!  Today was flat out fun!
*********************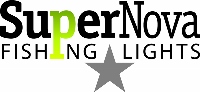 Let Dez handle all your lighting needs.
*********************
The Mad Trout Fisherman is still casting and blasting.  It is a great time to be hunting and fishing in Texas.
Day 2 of blast and cast after getting up 2 days in a row at 3 am.  And guess what, its 3 am and I'm writing this post trying to figure out the work schedule, and bids for the week, and of course my plans for fishing this week according to weather and tides. Oh back to the report, yesterday we had a four man crew planned.  When I arrived it was shortened to a two man as we had some sleepy heads.  So me and Eathon, my friend Jeramies son, headed to Charlie's to put the boat in.

A committed hunter, Eathon was ready to go.

Light winds made the trip short across to mattty island. The big wind out the se made access to back water marsh ponds in Contee lake a breeze. So we set up our spread and waited on shooting time. As daylight started to break the birds started moving. I love the sounds of ducks wings cutting through the air, sounds like little jets coming to the decoys. Shooting time arrives and the browning a5 starts rocking.  Pintails, teal, scalp, and the mighty redheads are folding out of the sky.

Wow I love it!!!!  We were limited by 8 am and while looking for birds all of a sudden I had an ocean of grief as we were looking for birds. I lost my lab on opening day of dove season to a heat stroke.

R.I.P.  Radar  9/1/16.

Sad day for our family. He was 2yrs old in his 3rd hunting season.  And a big ole case of I miss him hit me. Man tears just came pouring out and I decided it's time to get another and move on.  So as of now I am looking for a yellow or black lab with hunting parents.  A puppy.  Ok back to the hunt, we loaded up the deeks and headed to some drains to fish a strong outgoing tide. Throwing up current letting the down south sink and then letting the tide do all the work. We found the bite, trout after trout, all 1/2″ to short to box.  After a two-hour smack down on the little guys we headed to Pringle to find a nice trout. We did, we ended up boxing 3 before heading in at 2 pm. A great hunt, a good day fishing.

The Man Himself.

We had 3 trout from 18-20″ and one rat red. Thanks, and if anybody reading has pups on the ground let me know.  You can contact me through my business # 361-484-7689, Allseason's Fence. Thanks and god bless. Chad.
First let me say sorry for the loss of Radar.  We lost our Husky last year after almost 14 years, and it still makes me sad.  But you are right, time for another, maybe Radar 2, and all the good times that comes with having a puppy and watching as he grows into a hunter.  And again it is so cool how you take the young folks.  Trust me, you are doing a great thing that they will appreciate for the rest of their lives.  In fact they will be telling stories about the good old days when they sacked them up with Chad.  No better legacy as far as I am concerned.  Love your reports and pictures, keep them coming.
*********************
The next 2 days we are making a quick 2 day run to Oklahoma.  Need to keep seeing those grandbabies, Mia 6 and Wren 2, before they are driving.  They grow up real fast.  And thanks to the quick trip I should be back on the water before the week is out.  Now my fishing choice becomes easy for the next few months, perfect bass weather and I will be after them, good tide conditions it will be off to the bay.  A great time to live on the Texas coast.  Thanks for stopping in and thanks for reading my stuff.
Good Luck and Tight Lines