FISH CATCHING TRAVEL
                                           Brought to you by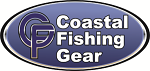 Click on the logo above to view all their fine products.
Welcome Coastal Fishing Gear and the Wade Right Wading Belt.
I am so pleased to announce our new partnership with Coastal Fishing Gear, LLC.  And when I term it a partnership it is truly a one sided partnership and I use the term lightly.  The owners, Tim Stamps and Jason Law, are committed saltwater wade fishermen.  They make and design the best wade fishing belt on the planet, the WADE RIGHT.  Why would I term it as a "one sided partnership"?  The 2 friends have done the heavy lifting in the design and continuing expansion of both their company and the product line.  My miniscule part in this "partnership" – I get the pleasure to use and test their fine products.  Kind of a marriage of convienance, I like what they do and they like what I do.  I am clearly the winner in this deal and I can not thank them enough.
While Tim may not remember meeting me, we met at the Houston Fishing Show at least 3 years ago.  I only bought a couple of things that day, and the Wade Right was my big purchase.  As I walked through the show I came across their booth where he and his wife were working and it was an instant sale.  There was no need to talk it up to me, the advantages of the belt were obvious and I was instantly on board.
The Extreme Combo
After using the belt for almost 4 years the advantages have clearly come into focus from on the water experience.  One thing I really like, the ability to keep my tackle box out of the water.  I use the small one that hangs high on my chest and love it.  (See above.)  Though small, I can get 3 hard baits and a dozen or more soft plastics in the box.  If I run out of stuff I have either limited, or took a whipping.  And if you saw last Mondays post, I actually stayed in the water over 6 hours and had plenty of stuff when the bite was really on.  On my other brand of wading belt everything in the box was always wet at the end of the day.  I used to come back and have to spray the waist tackle box, including contents, then letting it all dry.  Unless I step in a hole, or head for the chest deep water, my tackle box is usually dry at the end of the day.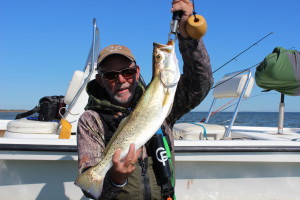 Big Trout and the Wade Right go Hand in Hand.
But the thing I really appreciate, the ability to carry 2 rods.  I need 2 rods.  I am a light line spinning gear guy for much of my trout fishing with plastics, often with the 1/32 jig head.  But for topwater, spinnerbait, and twitch baits, casting gear is the way to go. So carrying 2 rods is necessary in my case.  It just does not work to throw topwater on 8lb line, (If you want to keep your bait another day!) or 1/32 plastics on 20lb with the baitcaster.  Both have a time and place, and having 2 rods with me increases my chances of figuring it out by being able to throw completely different baits.  And the real practical result of carrying 2 rods, not having to go back to the boat to change tactics.  Then if you happen to get spooked 100 yards from the boat right after you get to the fish, you can keep fishing without having to trudge back to the boat and back to get another rod.  The amazing thing about carrying the spare rod in the holder on your back, unless I stand on my head it stays in the holder.
The rod holder on your chest is also a thing of beauty.  Whether using a net or boga, I prefer the boga, the ability to net or grab a fish and then put the rod in the holder while you unhook and string is great.  It really reduces the times you dunk your reel while messing with an unruly fish who just won't cooperate.  And anything that keeps the dunking to a minimum is worth every penny.   Dunks happen, I do not care how careful you are, it is going to happen if you spend many days in the water.  The belt more than pays for itself in reduced reel cleanings and bearings.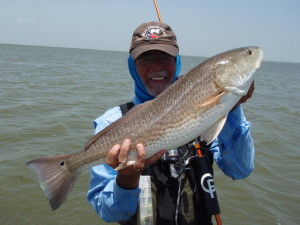 Notice the Carrot Stick in the rod holder and the reel right under the redfish?  Keeps the reel high and dry while wrasslin' with one of these.
When I met Tim at the show I was actually in the market for a new belt.  My first was purchased at Academy, the one most of us are familiar with.  The reason I was shopping was the other brand was a little over 2 years old and was already dry rotting.  When it started to go it went, fast.  Nothing worse than getting to the spot and finding out the seams on your belt are rotting.  So not dissing them, just letting you know that my Wade Right is as strong today as the day I bought it.  Of course I always wash it off after every use, but saltwater is tough on stuff no matter how well you take care of it.  The Wade Right has lasted in spite of me.
So there you have it.  Basically everything I have been saying about them since I first started using the Wade Right.  As you can tell I am pleased and excited about being associated with them.  Their belt is everything it is cracked up to be and I love it.  They also have some new products, with others coming out the first of next year, and I am really looking forward to testing them out and telling you all about it.  And the fact that they are a home grown business right here in Texas is a great thing.  So if you spend anytime in the water check out their quality products on the website.
Last, we all love getting some new fishing stuff, but you know what I am most excited about?  A free hat!  When I blogged about hats the other day some of it was tongue in cheek, some sarcasm, but I hope you got the real picture, I am just cheap.  So the real problem with hats is me, $20 is what they cost these days.  I guess I am still living in the 70's.  So let's hear it for the free hat.  Thanks guys!
Good Luck and Tight Lines