FISH CATCHING TRAVEL
Brought to you by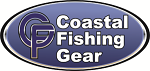 ** For a super deal use promo code FCT15 and get 15% off on your online order!** 
Doing a little running around today to get the Boss ready for her trip to Iowa.  Once that is done it will be off to Academy for some plastics.  Looking at tomorrow's (Wednesday) fishing forecast I am not going to make a guess as to how the fishing will be based on this information.  Looks like the tide will run pretty well, though there appear to be no sharp varations in the flow.  There is lots to learn about the effects of the tides on the fishing, and tomorrow should be interesting.  Chris is wanting to drift fish the back lakes for reds.  Looking at the second set of Solunar Tables we might get a little flow first thing in the morning, after that we will just have to wait and see.
Weather
91/68  Sunshine/clouds  stray rain possible  Wind SSE 10-15  Chance rain  20%
Tide
High 2:06 am 1.5    Low 2:28 pm  0.5    High tidal coefficient but fishing time is 4 – 6 am and pm, indicates slow day.  A confusing looking day.
Other Solunar Times
Best Times     1:53A – 3:53A
                         2:23P – 4:23P
Good Time     8:08A – 10:08A  (Interesting how 2 different references have little similarity.)
Chris said the plan was to start off in the Lagoon and drift for reds.  From there it would be back lakes all day, and we stuck to the plan.  It was just dawn as we turned right off the cut from Army Cut into the Lagoon, and we ran all the way  down the Lagoon until it was open to the bay.  The wind was blowing in at 10+ over the bar and there was plenty of bait.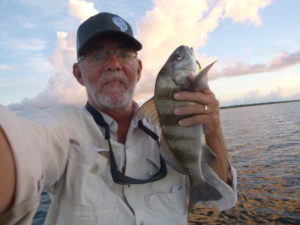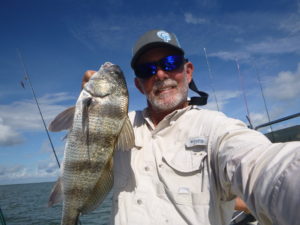 Fall = Drum Time.  Man they fight hard for their size.
We were just finding bait, then going up wind and drifting across any of the lakes we fished.  We started off mixing it up with topwaters, Chris threw the Wake bait some, and we both tossed an assortment of plastics during day.  We caught several reds, a drum, and some small trout.  That would be the way it went all day.  We made several drifts there and caught fish each time, and then it was off to Pringle.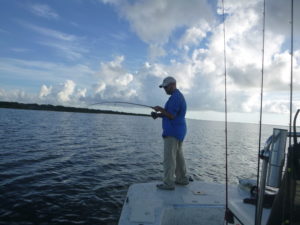 Chris boating one.  And this was about the size of the trout today.
One observation on the tide, by starting in the Laguna and then going to Pringle, Conte, a couple of small lakes off Conte, Fish Pond, and several places in between, then working back towards POC we managed to stay in moving water basically all day.  It was one of those high tide days, almost over the dock fingers at Froggie's, falling to what can only be called a "high" low.  So we were able to cruise a lot of the back lakes, and the fishing was consistent.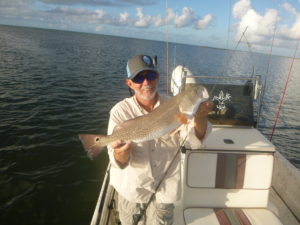 They hit topwater off and on until noon.
Now don't get me wrong, it was not gang busters by any means, but we caught fish everywhere we tried.  We would just find the bait, got up wind, then drifted through them.  We put plenty of small trout in the boat, but I doubt we had over 4 or 5 keepers. but since we were not keeping or measuring it would be hard to guess how many would have made the grade.  If I had to guess we caught a good 2o, but other than a few blowups we missed, the trout were on the small side.  But we were catching and would all the way up until we quit at 4.  And counting small rats it was an easy 10 on the reds, so not to bad.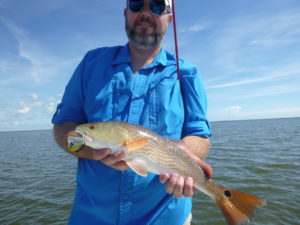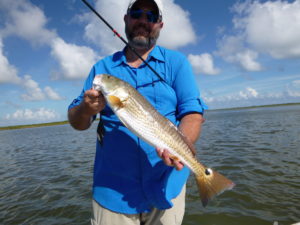 Chris with a couple of reds.
Pringle was probably the best of the back lakes.  (So Todd turn up the tunes, fill the cooler, grab some  stinking dead shrimp, and you will be in business.) We drifted in the south end of the lake, and whether it was plastics or topwater, if there was flipping bait, there were bites to be had.  The best results were by watching for flipping bait and then getting up wind and drifting through them.  It was probably as steady a topwater bite as long as I have seen it in a while, but we just never did get into the bigger trout.  My simple guess, it is to early (Read warm.) to draw the trout into the lakes heavy, but that is about to change.  And I was surprised at how late during the day they hit topwater.   It was easily after 2 or even later when the last one came on board on a topwater.  They hit the topwater on a steady retrieve, or on a stop and go, some of them right at the boat.  Lot of fun.
We were pretty sure we were ok with the tide as the grass was slowly coming with the tide most places we fished.  The last couple spots you really did need a weedless plastic as the grass was getting to be a hassle.  Chris was catching them with plastics on a weighted swim bait hook which allowed it to be fairly weedless.  I always enjoy fishing those areas with Chris.  His Dargel 17 runs super shallow, and with the "high" low, we fished lots of places  that will be a little tougher to get to as winter rolls in.  From the small lakes behind Conte, to exiting through Mule Slough to head back to POC, we were running and fishing shallow.
It was a fun way to fish, not my usual way, but I always like to fish those places with Chris.  He duck hunts with the airboat which has allowed him to maneuver through those lakes, and his experience allows him to get around in places that could be pretty tough.  We caught fish all day, saw some great territory, and it definitely got my blood flowing in anticipation on the fishing to come.
Today I will try to sneak out to the lake just a little this morning.  The front is on the way, and the wind may blow to 20 out of the north and there is a chance of rain.  Interesting to see how the fish react to this front.  It may slow it just a little in the short term, but with it will come the great fall/winter fishing, so no complaints from me on the weather.  Time to wrap this up, hook up the boat and head to the lake.  As Forest says, I love fall and that is all I am going to say about that.  So keep stopping in and thanks for reading my stuff.
Good Luck and Tight Lines