FISH CATCHING TRAVEL
Brought to you by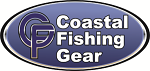 ** For a super deal on your Wade Right use promo code FCT15 and get 15% off on your online  order!**
After an all night flight we arrived in Sydney at 6:30am and by 7:30 we were on the road to Melbourne.  We wanted to make a drive to get it out of the way so we could enjoy the first part of the trip in an unhurried fashion.  The road from Sydney to Melbourne is 800km and is a great 4 lane highway, a good place to practice driving on the wrong side of the road.  It took a little getting used to of course, but I want to say this right now – Australian drivers are considerate and driving this trip was a pleasure, though somewhat scary at times.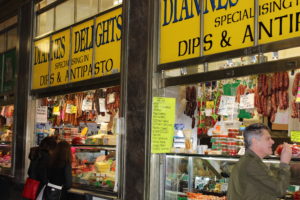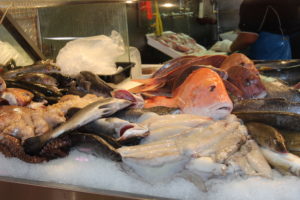 Fresh food at the open air market.
We passed farms and tons of sheep as we hit the state of Victoria, and our first 3 nights were in Melbourne.  A big city, it is cosmopolitan and a melting pot of folks from around the world.  We stayed in the downtown area in a boutique hotel, my wife's favorite accommodation, with no need to drive in the city.  And it was a great place to settle in after the big time change.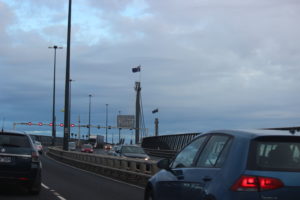 The Harbor Walk.                                             Headed out.
We explored the city, ate like pigs, and had a great time.  I can not over emphasize how safe Australia is.  No matter where we were on this trip it was the safest place we have ever been.  The people are great and helpful, and the 3 days gave us a chance to rest up and get ready for our big travels.  It was interesting how people would bring up the subject of Trump.  They did not know how to approach it, but were definitely interested.  Suffice to say they are not impressed.  But the people were polite and respectful and they live by the saying, "No worries Mate."
The Victoria region is so like South Africa, which make sense as it is basically on the same level as South Africa.  It is a heavily farming/ranching area with sheep being the main crop.  As we headed to our second stop we drove on the Great Ocean Road, which is one of the top 10 drives in the world.  And it was beautiful.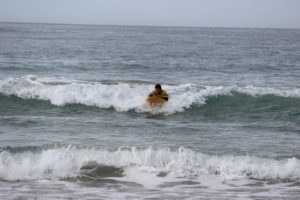 Australians love the water, camping, and all things outdoors.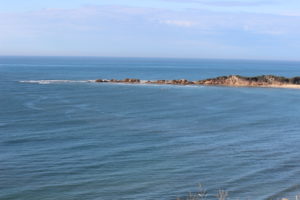 The coast line is stunning.
On the drive we stopped to watch a surfing contest, and saw the rescue guys who take the boats out to save folks.  The water was beautiful, and the beaches run for miles.  One thing that was different in this part of Australia from our Port Douglas adventure was the water was not quite as active as up north, in other words not as many sharks, or big crocs, or deadly jelly fish.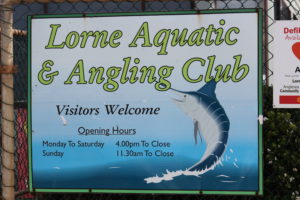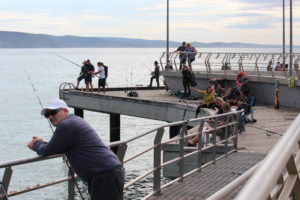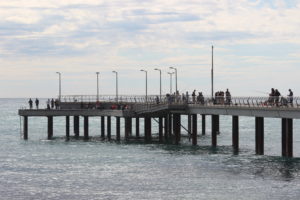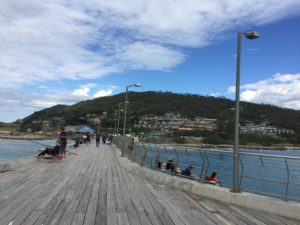 They catch all kinds of crazy stuff off the pier from big to small.
On the way we stopped at a fishing pier, which turned out to be a fishing club.  There are fishing clubs all over Australia.   While we were there we watched someone launch a boat from the beach and then work his way through big rocks to get out to the ocean.  Interesting how they got that done.  One trailer had a tractor attached, so launching there was no easy proposition.  With some many people living on the coast the country has a large fishing culture, along with camping and 4 wheeling, and you see people fishing everywhere.  It sure got my blood to pumping.  One thing I learned this trip, if you go take a break down rod and reel, there is plenty of stuff to catch and places to do it on the coast.  From there it was off to our second stop, Castlemaine.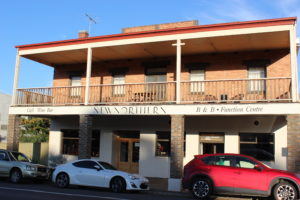 Our B&B, a cool converted barracks in a cool town.
We chose this as our driving portion of the trip as it was recommended by some Australians we met in Turkey.  This is the heart of the gold country.  When gold was discovered in the 1800's thousands of folks, including the Chinese, came to find gold.  Gold here is alluvial, in other words it is found on the ground, so while they dug conventional mines, much was recovered simply by walking.  They still come from all over the world to search with metal detectors and find gold today.  And the areas is dotted with forest and lakes which have trout and a few other odd fish in them.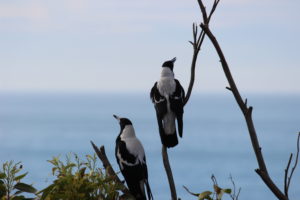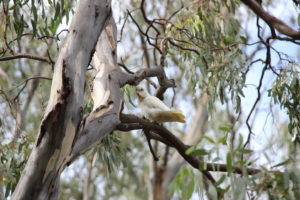 Magpies and Cockateels are everywhere.  They raise hell from dawn to dusk.
After a night there we continued on to our next destination, Beechworth.  Another mining town, it is now a tourist destination in the mountains.  We stayed in another B&B, which turned out to be the number one in the world a couple of years ago.  It was nice, but one of those places where I was constantly afraid I was going to break something.  We walked around town, and of course ate and drank, as I continued my beer tour of Australia.  No matter where you are in Australia Happy Hour is 5 – 7 pm everyday.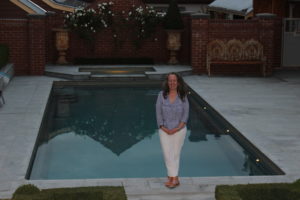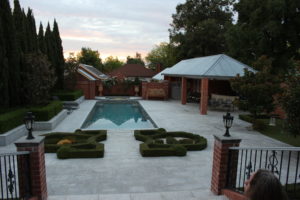 This place was fancy, but the owners were great and the town was fun.
From there it was off to Katumba, a town outside Sydney where we would hop on a plane the next morning for our flight to Port Douglas.  It was a great drive and we ended up in the Blue Mountains, which we did not have time to explore.  This is a big freakin' country, and figuring out what and where to go and see was hard.  There just was not enough time.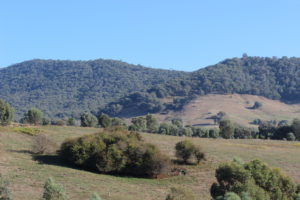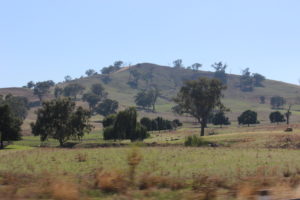 Rolling hills and sheep, and sheep, and more sheep.
It was interesting in that we saw few Kangaroos until we headed out of Beechworth back to Sidney.  Australia has a problem in some areas with deforestation, or loss of habitat.  As an example the owner of the B&B in Beechworth is a life long resident and he has never seen a koala in the wild.  And an artist we talked with in Castlemaine said there was a big reduction of wildlife in the last 30 years.  Like everywhere, the encroachment of man is never a good thing but they are taking active measures to replant and replace the original landscape.  But even with those problems it is a wonderful country that respects it wildlife.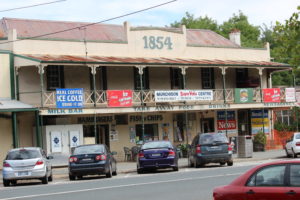 So nice to see these old buildings still in use as we went through the small older towns.
Once we got to Katumba it was traditional Aussie food in a cool pub, then off to the airport to fly to Cairns, pronounced Cans.  It is the home of big game fishing.  From a sleepy coastal town to one of the top destinations in the world, Cairns has drawn the pioneers of big game fishing for a shot at a grander.
I am finally getting a little more squared away after the big trip home and after catching up on stuff got a chance to finish this first report.  We went over pictures of the next part of the trip, the fishing, this morning and I am going to sit down and work on getting that posted by tonight.  Port Douglas was awesome, and I still say since it was named after me I should have been able to stay a couple of months.  So keep stopping in and thanks for reading my stuff.
Good Luck and Tight Lines
*********************

Get Inhaled!
******************