FISH CATCHING TRAVEL
Brought to you by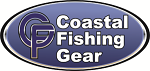 ** For a super deal on your Wade Right use promo code FCT15 and get 15% off on your online  order!**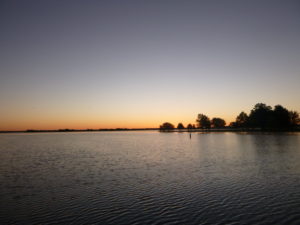 This is what time you are supposed to be there.

As I had a short day, have to get ready for a couple of days of Rainbow Trout fishing on Wednesday and Thursday, Coleto Monday was the obvious choice.  So I got up real early and was on the water as it was just cracking daylight.  First up it was a main lake cove close to the ramp and not a bite.
The next pocket was full of them.  They were eating the buzzbait reeled at a moderate speed and I had lots of bites.  No big ones, but they were mostly nice keepers.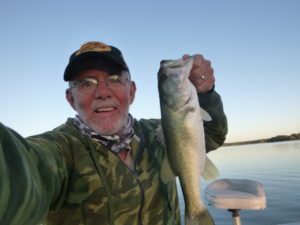 2 of the 4 on buzzbait out of the second cove.
I caught 4 and missed several, so I made another pass with the Bang O Lure and caught one and missed one, and then 1 more on a white swim jig.  One thing is becoming clear, they are still in the covers early, and fish the deeper side.  If it has grass, wood, or stick ups and it is on the deeper side, there are usually a couple there anyway.  And I have noticed that the best coves not only have cover but the tilapia spawned in them big time, may be a baby tilapia buffet.  So after that cove I hit a couple of more places without a bite on the buzzbait when I remembered a deeper bank with lots of cover in a cove near the plant so I headed there.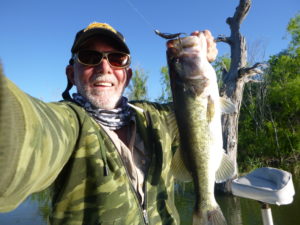 She thumped a pitched beaver plastic.  If I caught her a couple of months ago she would have been a freak.
I caught a nice one there the other day pitching the watermelon red beaver style plastic so time to do it again.  A couple of small ones cooperated when I had one just thump it and the fight was on.  It was a big fish, minus the weight she lost spawning.  They are definitely back up on the chew trying to recover, and they want it slow to medium with the buzzbait.  It would probably be a little better just pitching plastics, but when they are eating the buzzbait I am going to stick with it.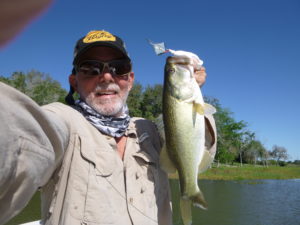 This size kept after the buzzbait until noon.
After leaving the plant arm I headed all the way up the other arm.  I kept with the buzzbait, and they kept cooperating.  I actually lost 2 big fish today, a little more than usual, but I was getting the hook in them.  Notice in the pics above and below that I have taken the skirt off the buzzbait and replaced it with a white plastic toad with the paddle legs.  At a medium speed it raises quite a ruckus.  Most came right on the bank but the one below smacked it over half way back.
Not sure why she was bleeding she was hooked in the jaw, but either way she was a nice fish.
With a ton of things to do to get ready to travel I called it a day at 1:30.  They really stopped biting at about noon, but I soldiered on for a while but the better fish called it a morning.  Before it was over it was probably 12 – 15, I really did lose count, but it was not fast by any means.  But when one would hit the buzzbait it was a good one.
For the next little bit they will stay on the buzzbait, but it is also time to get back to tossing the bluegill swim jig.  The perch and gills will be on the beds and the big fish will follow.  This is a little window that comes up in late spring on Coleto when that pattern will hold up for a while as long as there are shallow perch.  And if you see some beds be sure to remember where and fish them with the swim jig, some of the biggest bass I have caught on Coleto have been during this period.
*********************
And thanks to several folks who pointed out my error.  And probably nobody was more surprised that Miles Davis was the first choice in the draft than any surviving family.  Obviously it was Miles Garret, and as one of you pointed out Mr. Davis has been dead a while.  Hope you got a laugh out of it, I sure did.
********************
It looks like I will get to fish for rainbows 2 days this week in the mountains.  Should be fun.  Today was great.  I really have a case of loving that buzzbait, and this is the time.  I am sure that pitching, swim jig, and topwater will work just as well right now, so it is a good time to be on the lake.  And the Gulf reports keep rolling in, and as soon as I whip some of those Rainbows I will turn my attention to the Speckled variety.  So keep stopping in and thanks for reading my stuff.
Good Luck and Tight Lines