FISH CATCHING TRAVEL
Brought to you by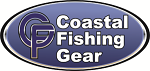 ** For a super deal use promo code FCT15 and get 15% off on your online  order!**
After a couple of days on the creek I did my usual Monday thing, fishing for bass on Coleto.  Doing the blog it is funny how at times I feel pressure to fish the bay, especially when it is as good as it is.  But when I got up Monday morning I wasn't feeling it.  So I wussed out and hitched up the skiff and headed to the lake.
Weather
80/58  Sunny  Wind 5 – 10 SW  Chance of rain 10%
Solunar Times
Best Times    9:51A – 11:51A
                       10:21P – 12:21A
Good Times  3:36A – 5:36A
Lake Level
Last Trip 95.58      Current  95.45  (Still on a slow steady decline. If we do not get some rain we may have the same ramp issues as 2 years ago.)
Today's post is slightly boring as far as the fishing went.  But all was not lost based on what I "learned", or sunk in, based on the Solunar projections.  Deciding to go to the lake was actually a pretty interesting decision.  As far as conditions go I should have gone to the bay.  Low wind, super high tide velocity, and a high activity day.  The conditions really affected the size of the fish on the lake today, but one thing about the projections was so right, super high activity.  I saw snakes, a ton of deer, pigs, and the alligators were out all over the lake and real active.   Paying attention to the critters it was apparent that the big full moon had things moving around.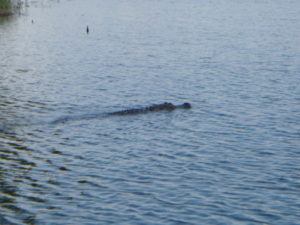 They were out all day long.
With no wind and high skies in the forecast I assumed the buzzbait bite would be nonexistent, and that turned out to be true.  On the other hand, find a piece of wood with some substance to it and there was a fish there, in fact on almost every one I tossed to.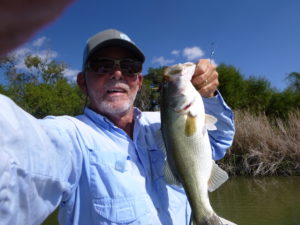 The best I could manage today.
So I started concentrating on the swim jig in areas with no cover and then picking up the 5″ senko style stick bait in watermelon red as I got to some cover.  While it was a slam dunk pattern, the big girls were just not having it.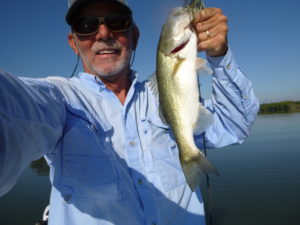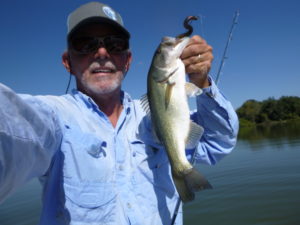 Every piece of wood had one of these on it.
I caught fish up lake, down lake, and in both arms.  Only one area did not produce a fish, the rest had at least a bite or two, with cover/wood being the necessary factor.  Note:  I am not fishing standing timber, they are on lay downs, brush, and other isolated wood.  So that about covers it as far as the fishing went.  Lots of bites, an easy 2o in the boat, but barely a limit of keepers.  The conditions were not the best for bass fishing, but it was a beautiful day that I really enjoyed and never worked to hard.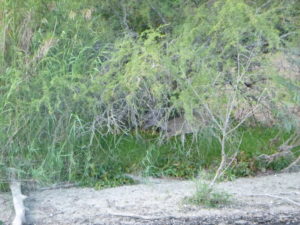 No telling how many deer I saw today.
But the real thing I liked about today, and took away from it, was the high level of activity on the lake.  As fall turns to winter you always see lots of gators out, today was one of those days.  They were out all over and very active.  I saw a couple of blow ups by the bank, always an awesome sight as they eat, or try to eat, anything that swims.  To go along with that the deer were out all day, and I saw a nice buck.  As unconcerned as they were the hunting pressure must not be that prevalent around the lake.  I saw another big snake, not all that common on Coleto.  And the (small) fish were really active considering the adverse conditions.
Reading the tide and solunar times for Monday revealed one of the higher activity days I have seen since I started following them.  Seeing everything on the move really drove home that there are days that can be identified as good days to hunt and fish, today was one of those days.  To bad there was not a little wind and clouds, it would have been ugly.
That really is the size of it for today.  Pretty "normal" day on the lake.  Can I say it enough, we need some cold weather to drop this water temperature.  Fortunately the fishing is still heading towards the full on fall bite, so who knows, it may actually extend our good fall fishing.  Next for me is definitely back to the bay.  I did not have a case of the serious on Monday, but after seeing a couple og pictures with big trout that will change.  And my buddy Jeffish will have his son this weekend so we will probably hit the creek and let him catch some trout.  So keep stopping in and thanks for reading my stuff.
Good Luck and Tight Lines