These is nothing that makes me feel any more alive than getting to the ramp on time.  The sliver of daylight on the horizon, the water flat, and not a soul in sight.  Easing the throttle forward, setting the trim just perfect, shad dimpling as birds work the shoreline, it does not get any better than this.  So here we go, traveling to Coleto Creek to do some fishing, and hopefully a little catching.
Does it get any better than this?  I live for these moments!
I do want to say one thing first.   Sorry for the way some of the pictures look, it is hard when you are by yourself, but I have them on here so that you can see some of the fish.  But most of all I want you to see the exact baits I caught them on.  I try to show you just enough fish pictures to get a sample of how it went.  The idea is that a real report will help you catch a few more when you do have a chance to get out.
I started on a large grass mat with a channel running along side.  It was only a few feet deep at the edge of the mat, with grass coming out to about 6 foot where it dropped to over 10.  Last time I went to Coleto it was dead calm, and I caught a few but it was tough.  As it was dead calm this morning I decided to start frog fishing.  It turned out to be a good choice.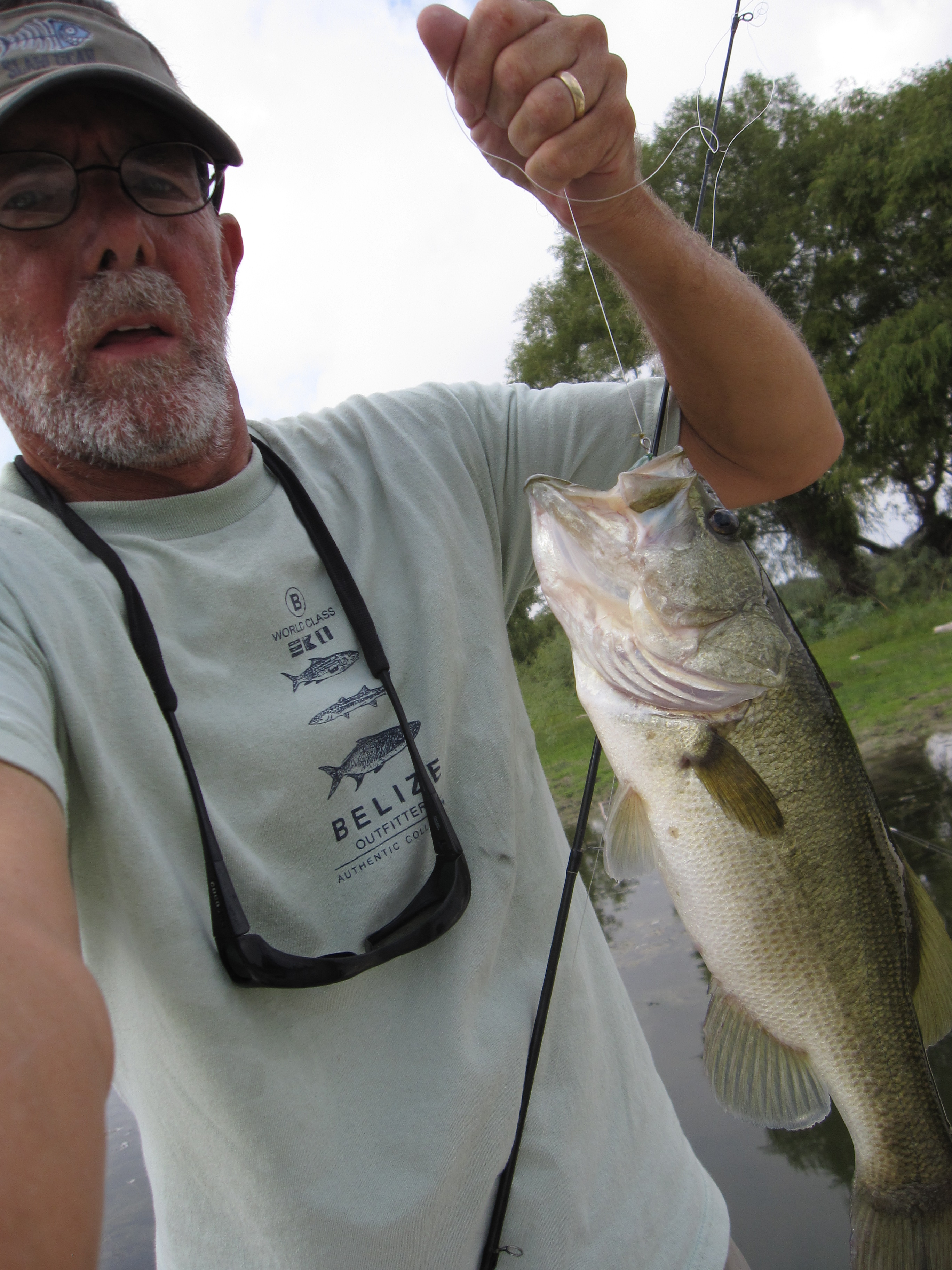 This is one of the dozen I caught on Frog.  Frog you say, where is it?
This next picture will show you the exact frog, and where most of them ended up.  But first, how I caught them.  Always remember the way a real frog swims.  He basically does the breast stroke, so his head goes down as he pushes, then pops up when he stops.  That is the same way to use a platic frog.  For me it seems that the most consitent way they like it is to let it set a minute, then jerk it 5 times, letting the head come forward then up.  So it is basically jerk, jerk, jerk, jerk, jerk, then rest.  I usually let it rest for a 2 to 6 counts.  Then do it again.  Make it look like a real frog.  It takes a little getting used to but on the strike, do not jerk immediately, I actually reel the slack out and then set the hook.  The frog is soft enough that they will hold on to it long enough to quickly get the slack out and stick em.
Here is another one.  And where is the frog you say, the same place most of them ended up this morning, down in their throat.
 So from 7 this morning until about 11 it was consistent.  Not fast by any means, but I actually just left the trolling motor in the water and kept on going.  They seemed to be scattered here and there so I just kept throwing it and they kept hitting it.  I ended up catching a good dozen, nothing big, but easily a nice limit if I was keeping them or fishing a tournament.
A few last words on frog fishing.  Most of the soft frogs on the market will start to tear a little after awhile.  So be sure every few casts to squeeze him and blow the water out his back side.  If the frog is not floating high, he probably has some water in it.  Color seems to be a matter of preference.  I actually like white the best but I did not throw it today.  I tend to try not to look a gift horse in the mouth, as long as they kept hitting the green one I will keep throwing it.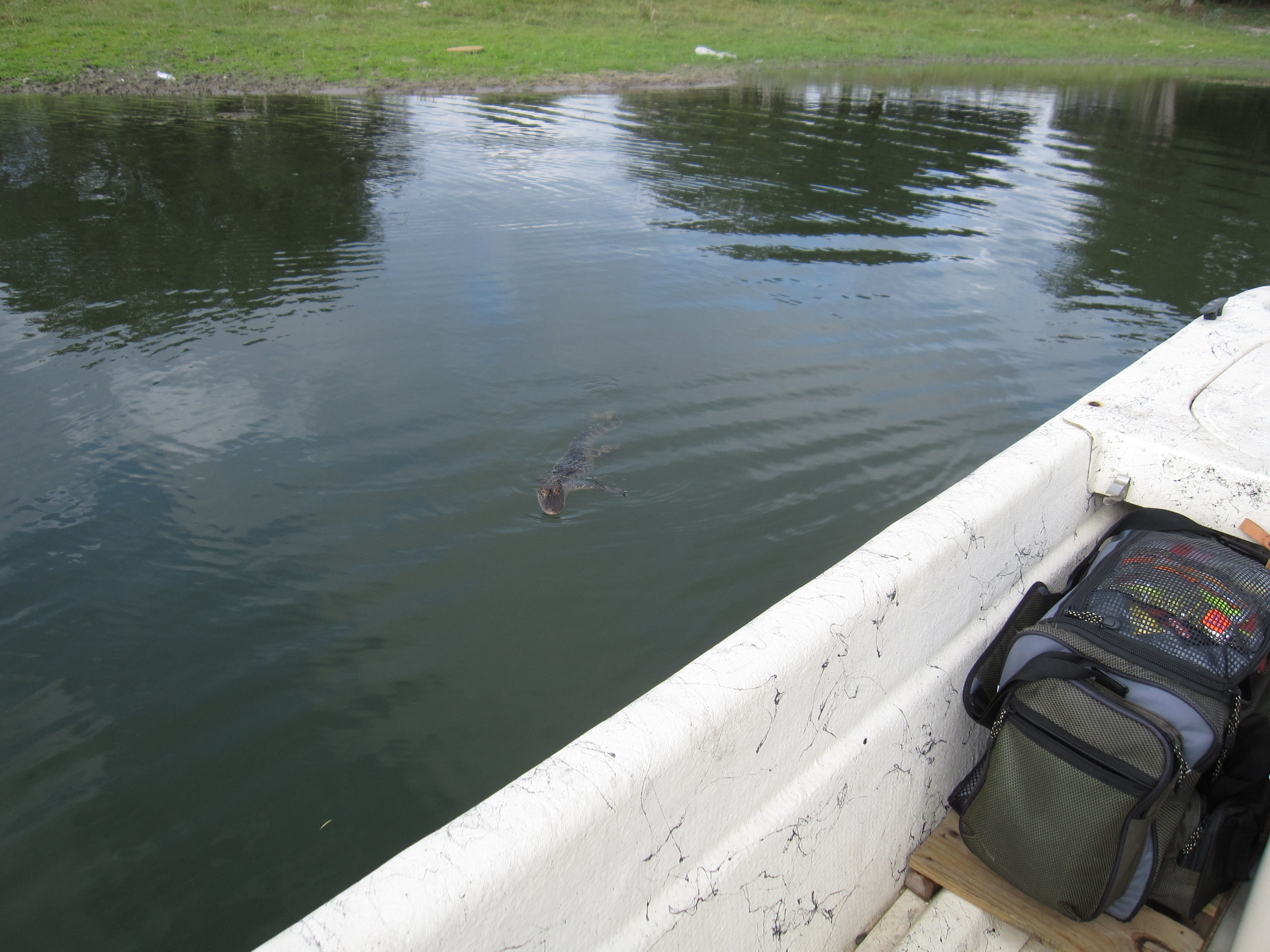 Alligators love frogs.  Amazing how many times they come running.  This little guy thought he was all that.  So in the last couple months I have had a bite from a gator and a saltwater crocodile.  Is it safe to get in the water?
 After 11 there were a few stray clouds and a light breeze, so it must be buzzbait time!  As I have said before nothing beats a Lunker Lure.  It first reared its' head in the early 70's.  I think it was Rick Clunn, but I am not sure, who won a BASS tourney on Chicamaugwa Lake and it was with this "new" bait.  I had a little tackle store then, so when I read about it I immediately ordered some, went out and caught 8 the first trip and have been hooked on fishing the Lunker Lure ever since.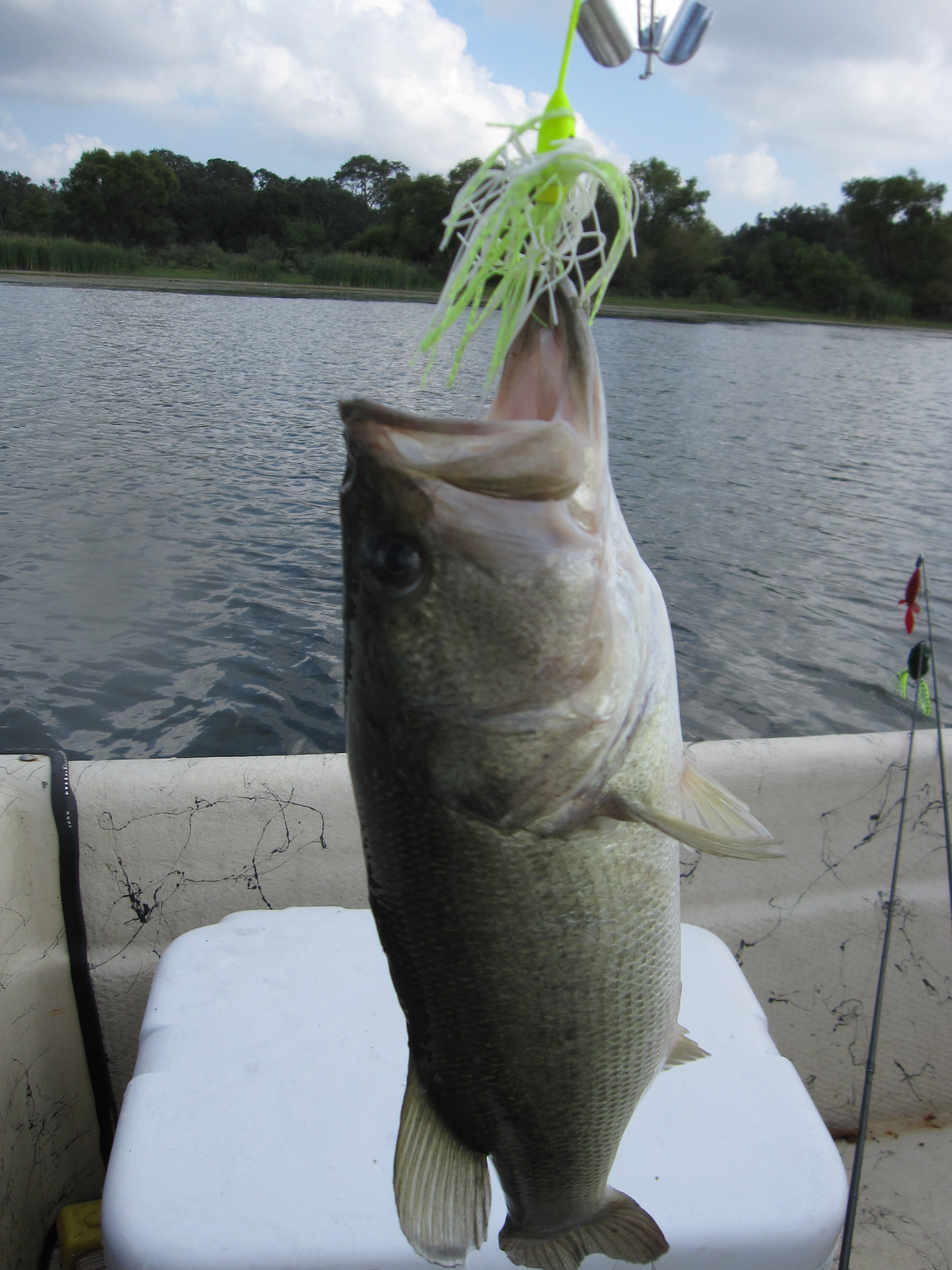 Here is another nice one.
It was game on for about an hour or so as it stayed just cloudy enough with a light ripple to keep them hitting it.  I guess I caught about 10 or so before I quit.  Notice the background in the above picture.  That is how far I stayed off the bank.  The perfect spot seemed to be sitting in 8 foot, with grass and mats under the water all the way out.  I did very little fishing with it near the bank, in fact I often could not even reach anywhere near it.  The retrieve today was nice and steady, not fast, but plopping right along.  You never want to give up on a buzzbait when you have that set of structure and conditions.   Today some hit it near visible grass on the first crank, but most were off quite a bit, stationed around underwater grass clumps.  And best of all they were blasting it, and I do mean smoking it.
A couple of points on buzzbait fishing.  It works year round if conditions are right, but fall is buzzbait time.  The bait in the lake has grown up, there are lots of critters moving about, and the fish are getting hungry.  Just be sure to have it moving when it hits the water as they will often smoke it on the first couple of cranks.  And when you start cranking, try to keep the pace of the bait steady, but increase the reel speed so that you can drop the rod and get the rod pointed at the bait as quickly as possible.  If your rod tip is high, and it is easier to work it that way, but it is also not as easy to set the hook.  Nothing like pointed straight at them, plopping along, and then having them blast it!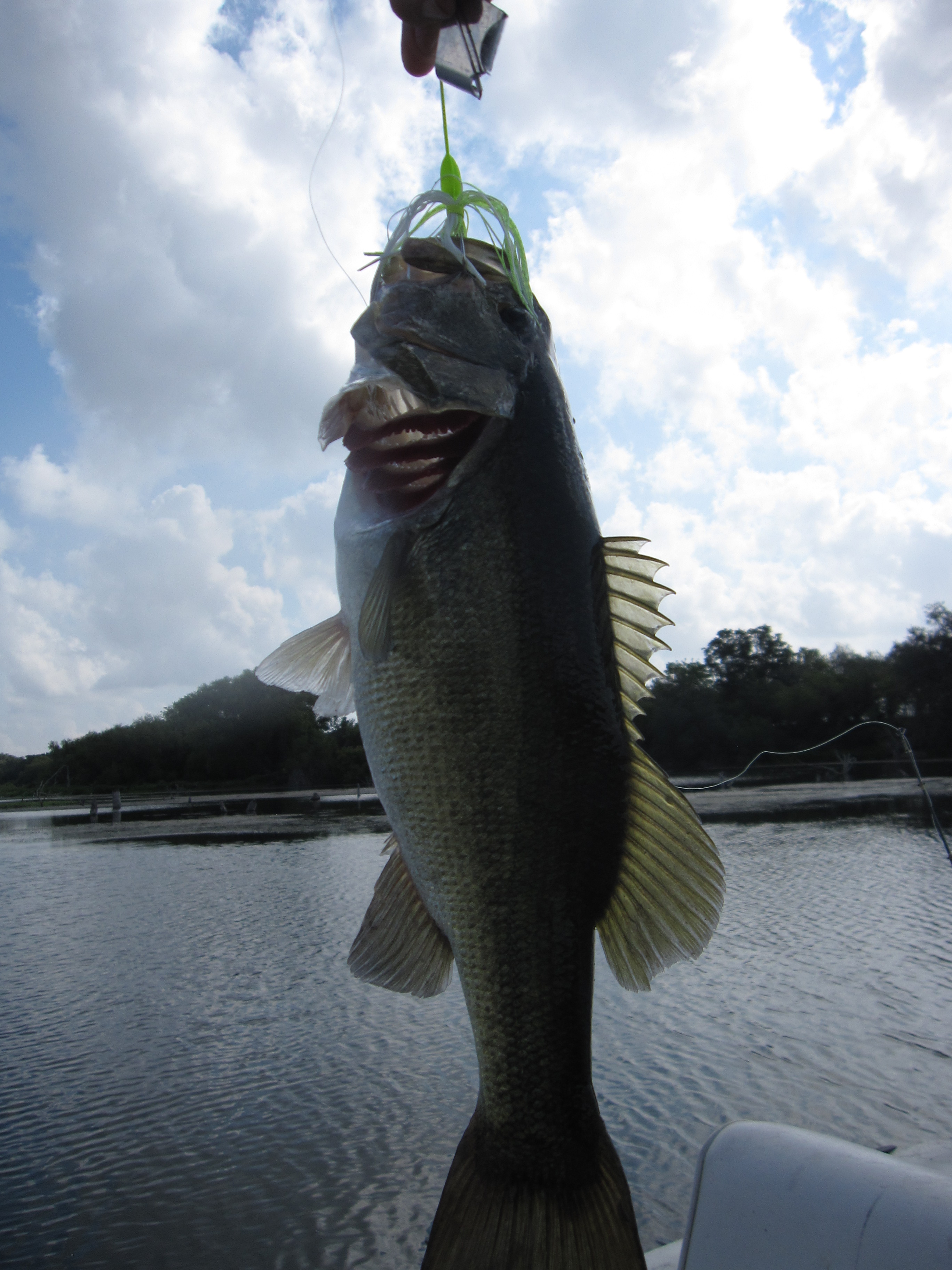 A good representative of size for the day!
Wrapping it all up for today.  The grass was obviously the key, and it seemed like areas where it extended out into 6+ feet was the best.  I did notice that fish seemed to be staging around the mouths of some of the grass filled pockets which had deep water in front of them.  And if there was a nice point with grass on both sides, and grass blocking the pocket it was perfect.  The frog bite was steady and seemed to be about anywhere I tried.  The buzzbait on the other hand was over the deeper flooded, and I use that term loosely right now, grass.  I would guess my top 5 weighed about 15lbs. give or take.  The bigger fish are still on plastics but I do not care, nothing beats a topwater bite!
Beautiful morning, bass slurping the frog and smashing the buzzbait, gators attacking the boat, what more could you want.  I love all of it and am so gratefull that I am able to do this.   It was a good Fish Catching Travel day,  and a good day to be me.
Tight lines and Good Luck!