Have a friend of my wife and I here for the week.  She loves her fishing so off to POC we went.  On the way down it looked like rain.  We had about a 1/2″ at the house in the morning so it was a very pleasant surprise that more might be coming.
We put in at Clark's and headed out the cut to Barroom Bay just right around the corner to stay close in case it came.  Heading to the east bank, which has a few cuts, oysters and grass, I stopped the boat and there were some reds crawling around.  The tide was already falling fast, it was around 1:30, so we were a little late.
Immediately I threw topwater and Waker at them with no luck.  I saw a small bunch and flipped the old paddle tail to them and caught this small one right off  the bat.  I then caught another small one about 5 minutes later.  Unfortunately Joyce could not get her mojo working.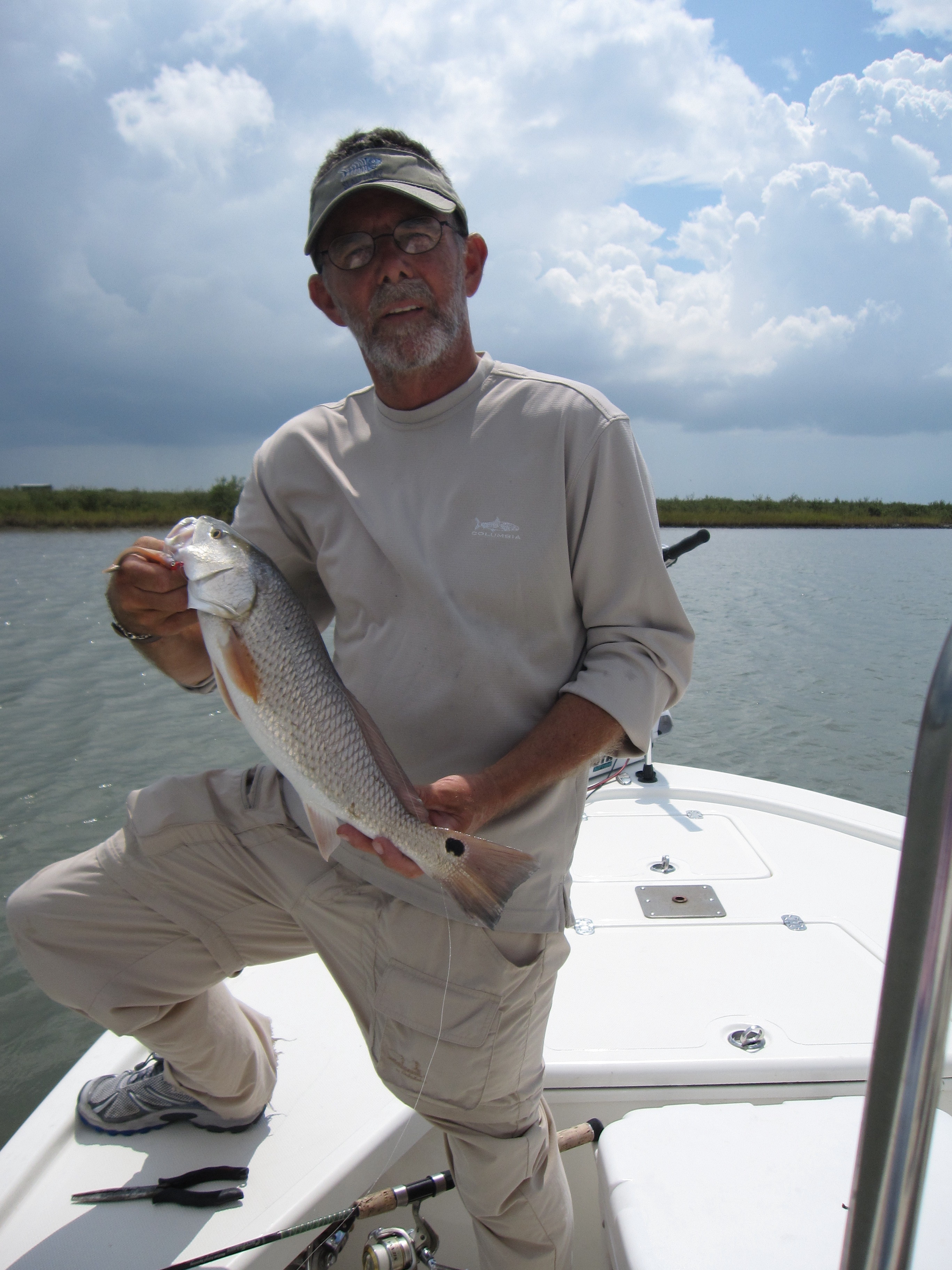 Just small enough to not have a bad day, at least for him!
We were watching out to the island as the clouds moved in, but should have been looking the other way.  Of course I heard it coming, and it was one of those deals you could see the line of rain moving like a shear wall.  On with the rain coats and back to Clark's we went.  Wet would not describe our condition.  I just got back from ATT, my phone got dunked and bit the bullet.
We waited it out for about an hour, and I have never been so glad to be missing the prime fishing time.  Our bays, lakes, and rivers need it.  The ranchers and farmers in this area are suffering.  I know it probably wasn't enough to help, but maybe it was a sign of things to come.
We got back out and I could tell immediately the tide had fallen out to far for this area so we moved around to the back side and worked some of the deeper banks.  We pretty much stuck with popping cork and scented shrimp, I alternated with the paddle tail.   I picked up a fish here and there, nothing to hot, just enough to not go home.  I did catch a couple of flounder on the edge of deep grass, so those are headed back to Arkansas.
I read an article a few years ago, I believe in Gulf Coast Fisherman, that has really improved my flounder success.  The writer was doing research and as part of that did some diving.  He found that on steeper banks with grass that as soon as the water started falling out of the grass the flounders would position on the edge of the grass fairly shallow.  That pattern has worked for me for awhile.  Look for 3+ feet of water with grass on the edge of a fairly sharp drop.  Once you catch one you can usually go over it and catch a few more.  I either slow drag/hop the paddle tail, or use the popping cork with Gulp or some scented shrimp.  Just remember with a popping cork you can not get in a hurry to set the hook.  You will often see it stop, so nice and easy as you almost "lead" them on, then set the hook.  It does seem the bigger ones just pull it under nice and steady, nothing like a red or trout.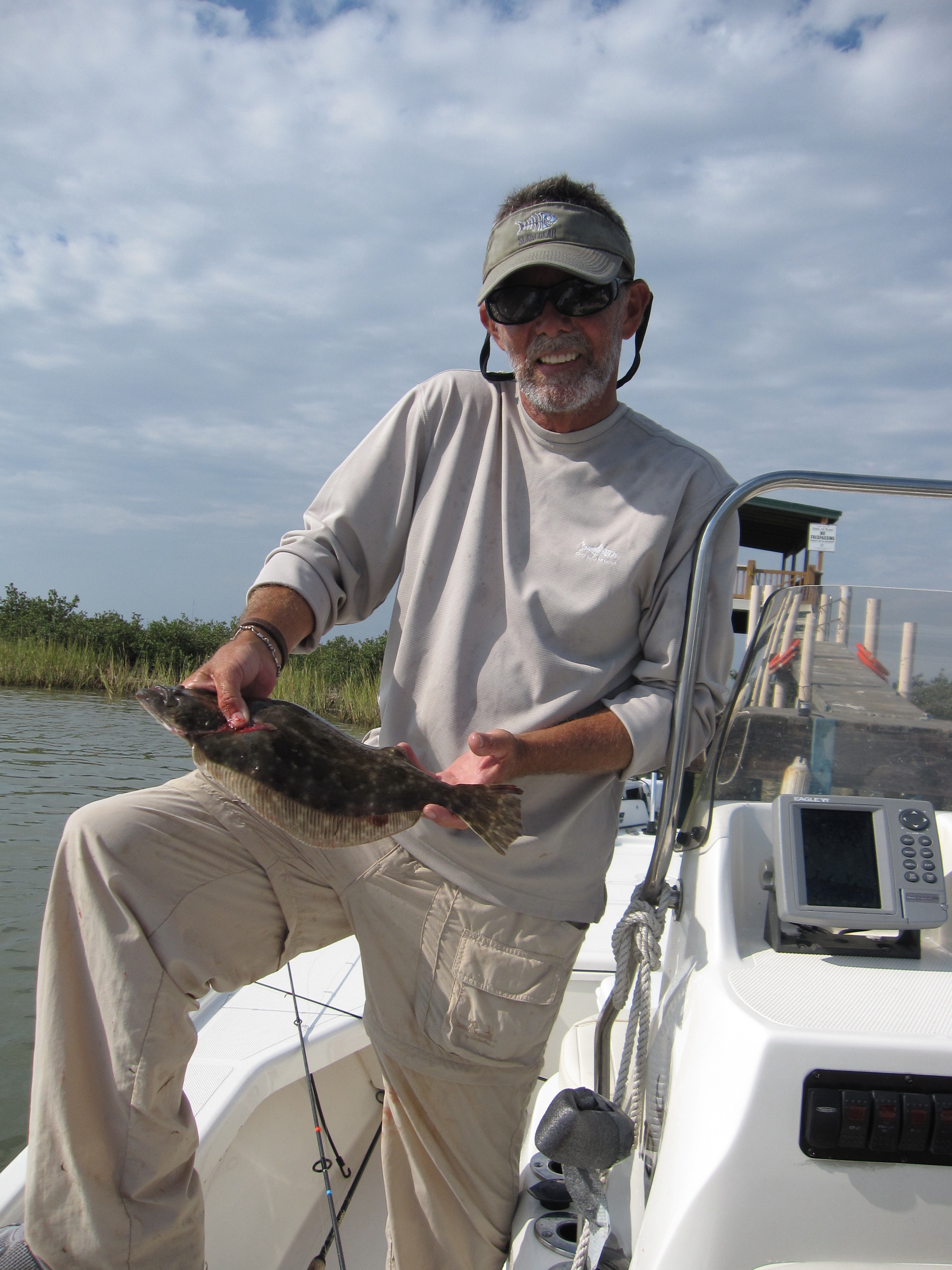 15″ of Supper!
I wish I could say "we" would catch one here and there, but it was just me.  I caught 4 reds, 2 flounder, and 4 or 5 trout just picking one up here or there.  Joyce did manage to catch 2 humongous hard heads that would probably measure almost 9″ laid head to tail.  She missed a few, and as we all know, sometimes it is just not  your day.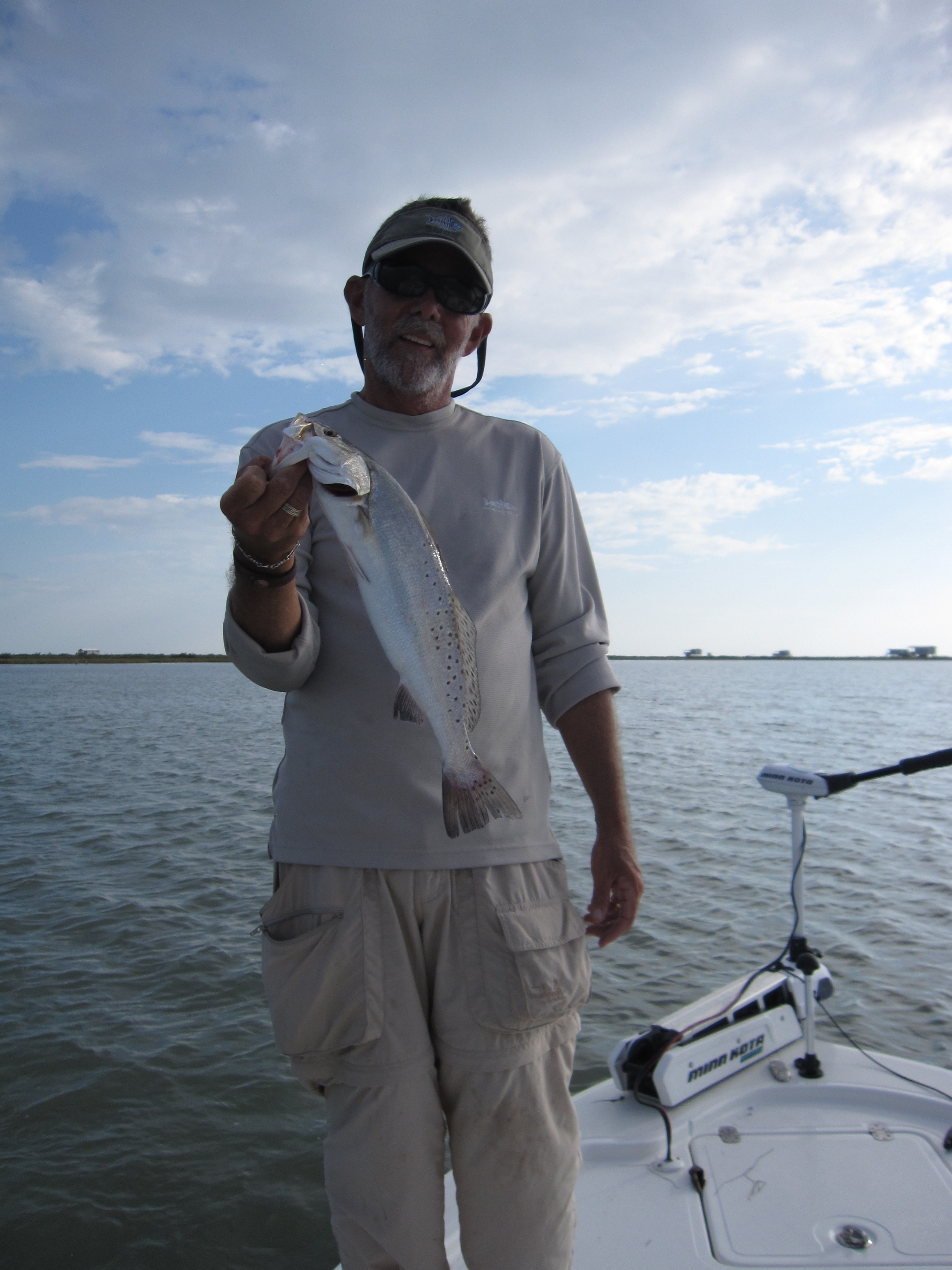 And there was a trout here and there
One thing we all need to remember is fishing, and the things we take for granted, is just what we do.  For other folks who do not have a boat, and access like the rest of us, it can be an adventure for them.  Zipping across the water, dolphins crashing bait, and Blue Herons squaking as we scare them, may be common occurrances for us, but for the ones we take along they make the day.  So take someone who never gets to go, it will make their day, and yours.
Since it was her fishing trip, I gave her the option, keep on fishing or head to Bubba's.  That was unfair on my part as the woman has a serious shrimp problem!  Though we had only fished a couple hours she took the bait and off we went.  Bubba's Boiling Pot in Sea Drift is a short ride down the road from POC.   Now I don't know Bubba so this is not a commercial.  But I do know shrimp boils after hanging with a bunch of crazy Cajuns, and Bubba not only does it right, but if you leave there hungry you just don't know how to order.  If you have never been there put it on your schedule.  A pound of shrimp, a couple of pieces of corn, tators and sausage will hit the spot.  I like the medium but if you are brave enough order it hot.  He also has adult beverages available, the servers are great, and it is on the way home.  A great way to end a fishing trip!
Tight lines and good luck!