Fish Catching Travel
Indianola Trout
Had a chance to slip out for a couple of hours Monday so I headed to Indianola and the Powerderhorn.  After my trip to Keller Bay a couple of days ago, I wanted to see if the trout were in there like they were in Keller.  They were, maybe not as big an average size, but they were there, and biting once the tide started to move.  As usual this time of year, you do not have to get in a hurry in the morning, the best bite is often in the afternoon as the day warms.
The tide was pretty low when I launched.  The Powderhorn has a shallow oyster reef on your right as you enter, lined with stakes to guide you in.  There is a grass reef running on your left.  If you are not familiar with the area do not get in a hurry.  You drove an hour to get there, a few more minutes idling and being careful is worth every minute.
http://fishcatchingtravel.com/belize-catching-fish-in-belize-june-2011/indianola-texas-access-to-the-powderhorn-lake-and-lavaca-bay/
I started off with a drift from the small pocket just inside the Powderhorn.  I drifted most of the the way across the bay to the end of the stakes lining the channel and reef.  As I was about to pull up and move back to drift again, when I got a bite.  To be honest I thought I was hung up, and then it began to swim.  With a long light rod, and 8 pound Trilene XL, there was no way to put any real pressure  on that fish.  I knew it was big, but was just not sure how big.  It turned out to be a huge Black Drum, easily beating the one I caught this summer that was over 30.  45 minutes later, and with care and finesse, I had him to the boat.
He was so big that with that long light rod I could barely lift his head up.  I knelt down on the deck, grabbed the lip gaff, and eased him to me.  That light rod would just not let me get him close enough.  So in a moment of brain fart I grabbed the line to ease him the last couple inches, and of course it broke.  So much for visions of 40 pounds plus on the scale with pictures.  Just goes to show you, relax one second with a real big fish and it is over.  Oh well.
One last word on Black Drum, there  are lots in the Powderhorn, and in the pass at the Indianola Marina right now, and I see them all the time in the bay.  So if you ever wanted to catch one, that is the place.  But back to the trout fishing.
I drifted the south shore across from the ramp a couple times with just a bite or two.  The water started running about 1:30 and the bite was on.  As the wind was blowing from the SE, I drifted across the bay, starting near a duck blind on the south bank.  The fish bit for the next hour and a half when I had to leave.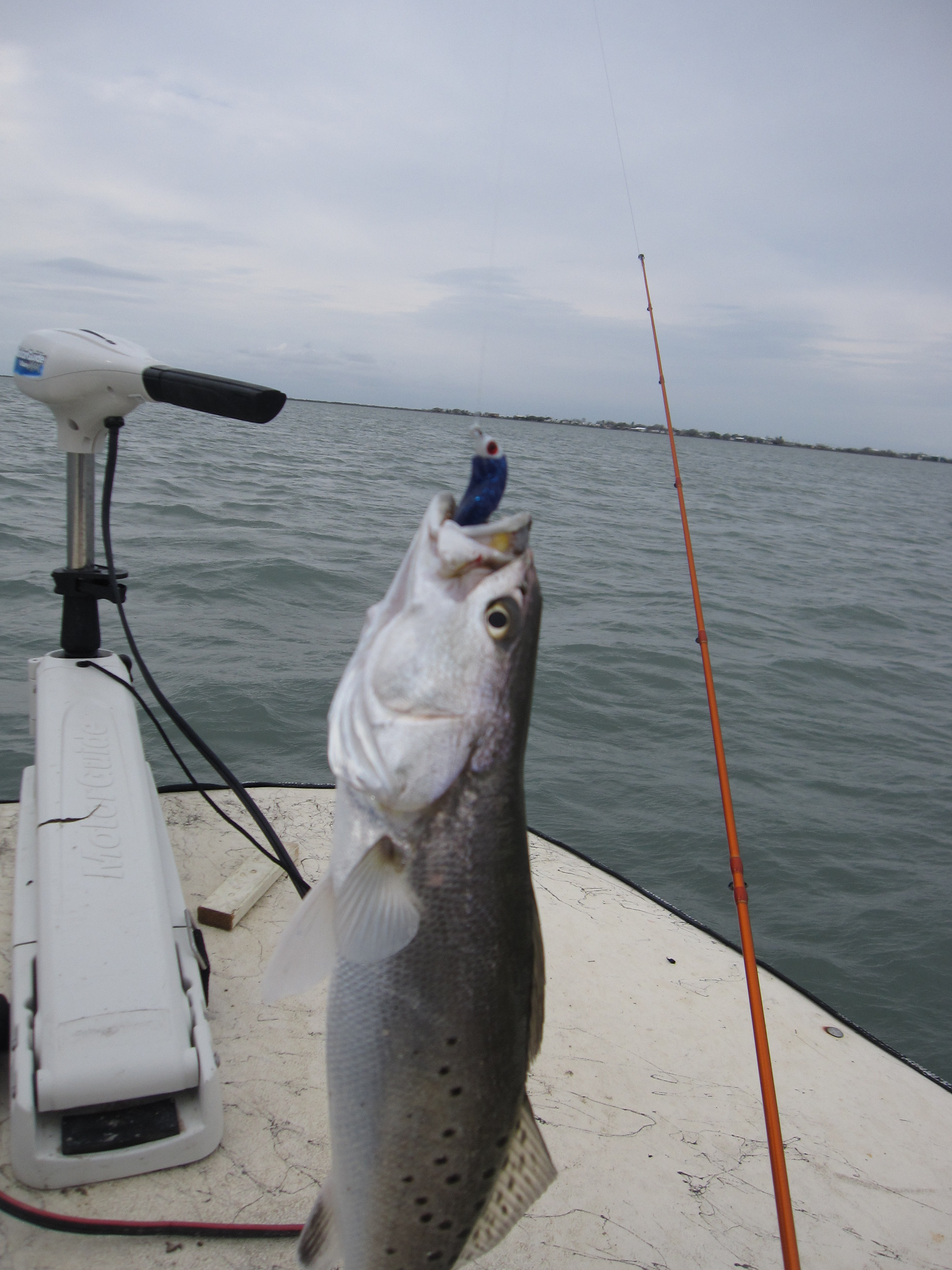 A nice Powderhorn keeper.
I am showing you this picture for 2 reasons.  One, since I kept a few the other day I was not keeping any today.  This was a good representative of the trout I caught, which ended up totaling over 20.  The second, and most important reason, is the color of the bait.  Now it is clearly a plastic bite right now.  As I blogged earlier, I have caught them on a Zoom Gobi, paddle tails, fluke styles, and in this case a sand eel.  One thing that has been consistent the last few trips is that purple, or purple flake, or some combination of that color, has been the ticket.  I have thrown other colors, and they work when the bite is on, but if I am searching for fish, purple has been the winner.
So now is a great time to drift local bays.  The trout bite is on, and once you find them it is easy to catch a mess.  One trick I use at times, especially in the Powderhorn, comes from my deep jigging days.  I keep a floating marker handy and when I catch a couple I toss it out.  When you are drifting, often fast due to the winter winds, there is no better way to mark the area, especially in a big open water expanse like the Powderhorn.  Once you have it marked you can concentrate on getting them dialed in.  It is much easier to get right back on them that way.  So get out when you can, the fish are biting and our winter weather has been fine.
The San Antonio Boat Show  Sunday January 28th.
My wife and I decided to take a drive to San Antonio to the boat show.  It was a beautiful day, and of course I will take any excuse to look at boats.  One can never have enough boats.  And of course you never can tell what kinds of tackle deal you might find.
The highlights for me at the show, besides speaking with folks, and we will get to that, is the boats.  I was particularly impressed with 2 boats I saw.  One was the Stiffy Xisle skiff.  I wish I could tell you more about it, but I stood there for 5 minutes and no one spoke with me, so I gave up.  It looks like a great little skiff.
The other boat was an Everglades offshore boat.  It was a beautiful boat, solid, well made, and the salesman from Gulf Coast Marine in Corpus was very knowledgable and informative.  An offshore boat is in my future, when I finally retire to a canal on the east coast of Florida.  So when that time comes, the Everglades will definitely be at the top of the list.
I spoke with several other folks and want to thank them for their knowledge and kindness.  First was J. C. Gwynne, known as "The Amistad Man".  From a family who has guided on Amistad since it was impounded, he was helpful with a place to stay, and with fishing information.  He was very personable and willing to answer any questions whether you were looking to book a trip or not.  If  you are thinking of hiring a quide on Amistad, you can not go wrong.  Hiring a guide is not all about the fishing, I know the fishing matters,  but after guiding for over 20 years I also know it is about spending the day with someone you like, and who makes it entertaining and informative.
The other person I met was Brian Dietert from BAAD Marine Supply.  I was looking over the baits they were selling and saw they had the new TTF Gundog Dummy in the 4 3/8″, which I have been wanting to try since reading about it.  Brian was helpful and after checking colors, and listening to him, I selected the Bone.  I really like the looks of the bait, and I can not wait for a warm day with no wind to throw a topwater.  The Dummy is the smaller size and I like the weight, it should cast a mile, which is necessary for winter time big trout fishing.  He even said he would give me my money back if it did not catch fish.  Thanks for the offer Brian, but if it works as good as it looks that won't be necessary.
 So all in all it has been a good week, boat show on Sunday, good bunch of trout on Monday, and if the wind doesn't blow to hard, a trip to POC in the next day or two.  So thanks for reading my stuff.  This is our 5th full month and our readership is growing rapidly.  Keep those cards and letters coming.  Thanks.
Tight Lines and Good Luck!