Fish Catching Travel
Catfish Camp out.
As I said when I blogged last time, we were headed to a camp out for a night on Coleto.  With family, and a few kids, it was not going to be a big trip, just set out a few jugs and lines hoping to catch a couple of blue cats.
Of course things did not go exactly as planned.  We ended up only having 12 jugs and 1 trotline, so it wasn't going to be a big deal, just bait up, come back the next day and gather them up.
Bait turned out to be the problem.  My friend's casting net was a little one, with little weight.  I of course thought about bringing some worms to catch brim, but didn't, so we settled for netting 1 tilapia and 4 bream.  It was enough to bait the jugs, so we decided to bait up, forget the line, and head back to camp to hang out with family and friends.
We had a good time as his folks, his sister's family, and the rest of us were all there.  It was steaks on the grill, a few cold ones, and a nice evening sitting around the fire telling those fire kinda stories.  It wasn't to cold and the company was good.
We woke up at daylight, and Jeff, I, and his son Corbin, headed out to run the jugs.  The first couple were empty.  And then the percentages picked up.  First we caught a big soft shell turtle, so back he went, then a bass about 4 pounds and back he went.  The next jug was empty, then a nice 8 1/2 blue in the boat.  We kept cruising the shoreline and we caught another one about 7 1/2.  We found one line in the trees that was broke, looks like he tangled and finally wore it through.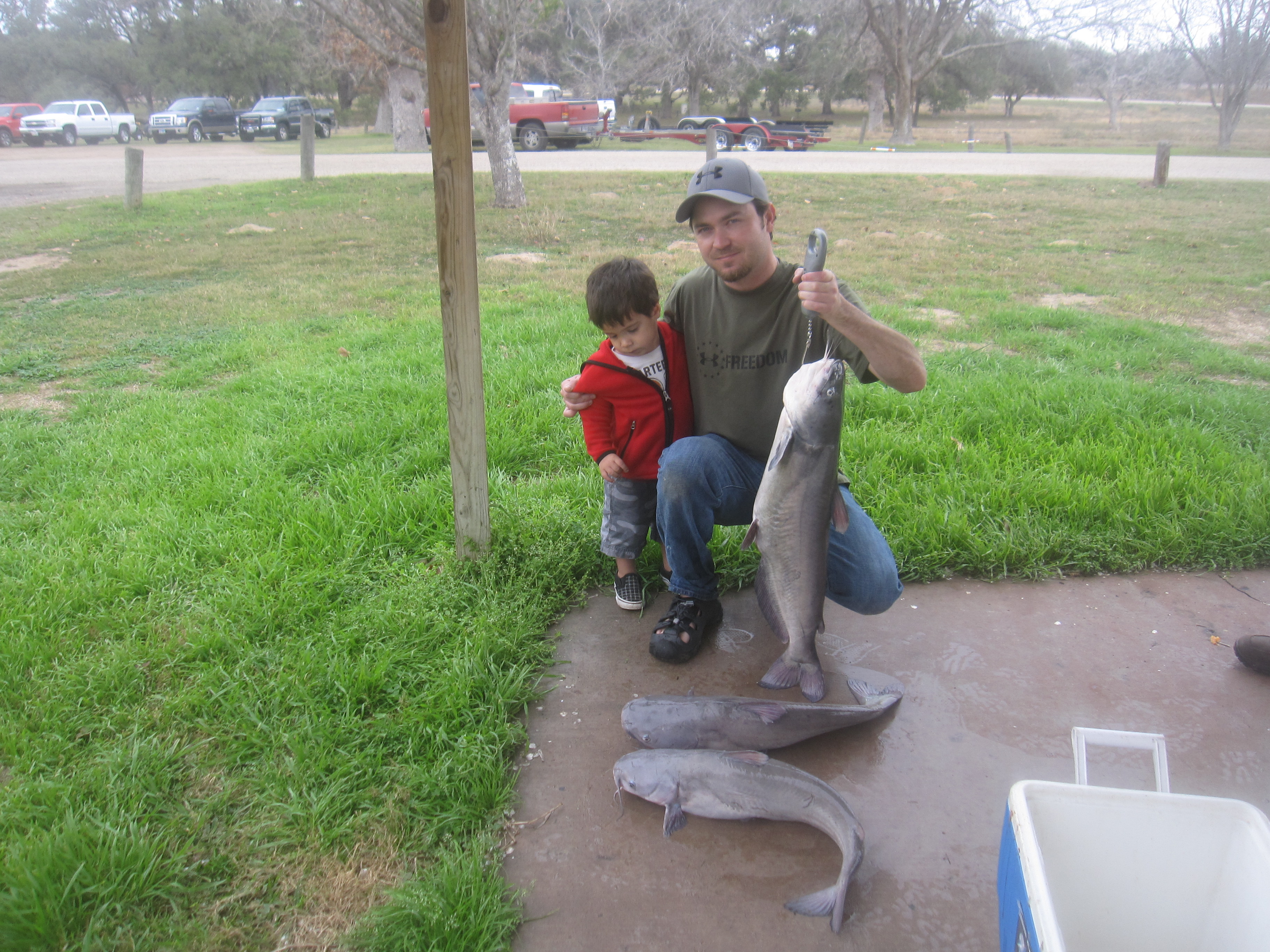 Jeff and Corbin with 3 nice Coleto Blues.  (And of course, Corbin has the common look of a 2 year old told to look at the camera, or maybe he just isn't that impressed with our fishing prowess.)
Then in the same tree area we had a jug moving, so we caught it, and there was a 13 1/2.  Now Corbin was somewhat interested in the smaller ones but the biggest one kinda scared him.  As you can see above, he was indifferent to the rest of it, other than sitting in the driver's seat of the boat.
We could see one more jug in the same trees, and when Jeff lifted up on it there was a big one on the line.  The fish was not only tangled in a tree, but I had to cut an old rotten trotline as he had also all wrapped the jug in it multiple times.  We finally got him lose, and then he broke the line.  Oh well.
So actually a good time was had by all, especially later at the table.  It was real apparent that the blues really liked that chunked tilapia.  We just steaked the tilapia and put it on circle hooks.  It was very interesting that all the fish on the jugs headed the same way and the biggest ones went into the standing timber.  Not sure if that says anything about locating them, or if it was a fight or flight response and they responded by heading for cover.
If we had more bait and set out the line we might have really caught them.  I have been catching some nice blues out of one particular cove on Coleto, on lures.  So that place must be loaded with them.  That will be another weekend, and there will be another weekend.
Good Luck and Tight Lines!