Fish Catching Travel
We just could not quit  –  if you love topwater Coleto is out of it's mind!
After a pretty good day fishing in Port O'Connor, my brother Jeff who is here, decided he wanted to catch some bass so off to Coleto Creek we went.  Folks, I have been planning on doing a little Fish Catching Travel to Falcon and Amistad, both great lakes, but there is one problem, the topwater bite going on at Coleto.  Now if you read my stuff you know I have been catching them that way for the last few weeks.  How good, 50 last time, but today was just plain out of this world.  I mean flat ugly, so ugly that I am not even going to tell you our total, because it was flat ridiculous.  Just know this, we kinda got confused at a count of 40 by noon, so we started again, and then we finally gave up trying to keep track.  It was one of those days I was just glad to have had a fishing rod in my hand, and that I was able to share it with my brother.
We were out at daylight and it was cold this morning.  The wind was blowing, and there was a forecast of rain.  I was a little concerned that the fish would not be shallow right off,  I was so wrong.  So lets tell the story a little different today.  It will be the first, the last, and somewhere in between.
The First
We started in one of the bigger coves in the left hand arm that was fairly calm.  By time we left it we easily caught 10.  I can not emphasize enough how we are using the topwater Rapala.  We are throwing it out and just twitching it.  Twitch, twitch, letting it pop up, twitch, twitch.  Being sure to let it pop up.  We were trying to make that little dimple, splash, that one you see bait fish make.  And they are just jumping all over it.  One word of advice, watch it like a hawk.  The better fish are usually grabbing it right below the surface and Polaroids are mandatory.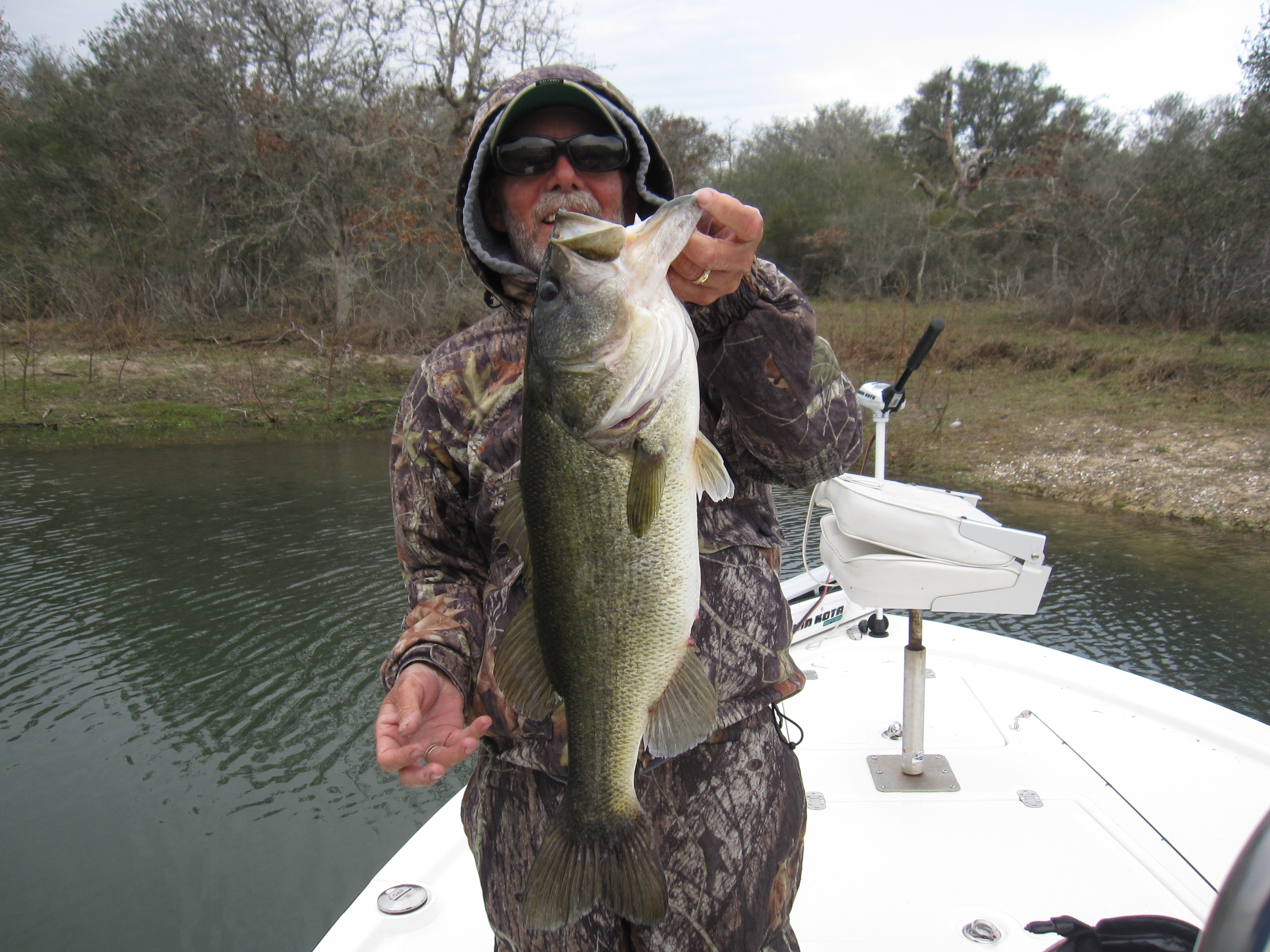 The first cove  –  to bad I let the other like this jump off!
We just kept going along, fishing those coves with little wind, and we just kept catching them.  It looked like the day had promise, and it did.
The Last  
So getting to the last part of the day.  About 4 it started to rain, drizzle at first, then rain.  We were way up the creek past the bridge in the right hand arm when we decided to call it a day, except for the proverbial one more spot.  Ever notice how it is one last cast, one last spot?  It was just so good that we fished until it was almost dark.  The wind was laying down, so on the way in we hit a cove near the damn as the rain started to really come down. We caught at least another 10 out of that cove alone in about a half hour.  4 came throwing to the very back of it, right down the middle.  Of course by then there was no one out.
Jeff with a good one.  I wanted you to see that Rapala shallow running Shad Rap.  He was twitching it most of the day like a topwater, and it produced all day long.
That is the color of topwater we have been using.  Silver foil sides with a black back.  I was using one of my last Bagley Bang-O-Lures, but by 10 in the morning they had literally knocked half the foil off it, and it was half bare balsa.  That one will get a paint job in an effort to save it.  I really believe that using a minnow bait made out of balsa, like the Bagley and the Rapala, is important.  It is light, and flips just like a shad.  We were not making big splash, just twitching it along.
Somehwere in between. 
So what happened in between the first and last cove?  This along with a bunch of other things.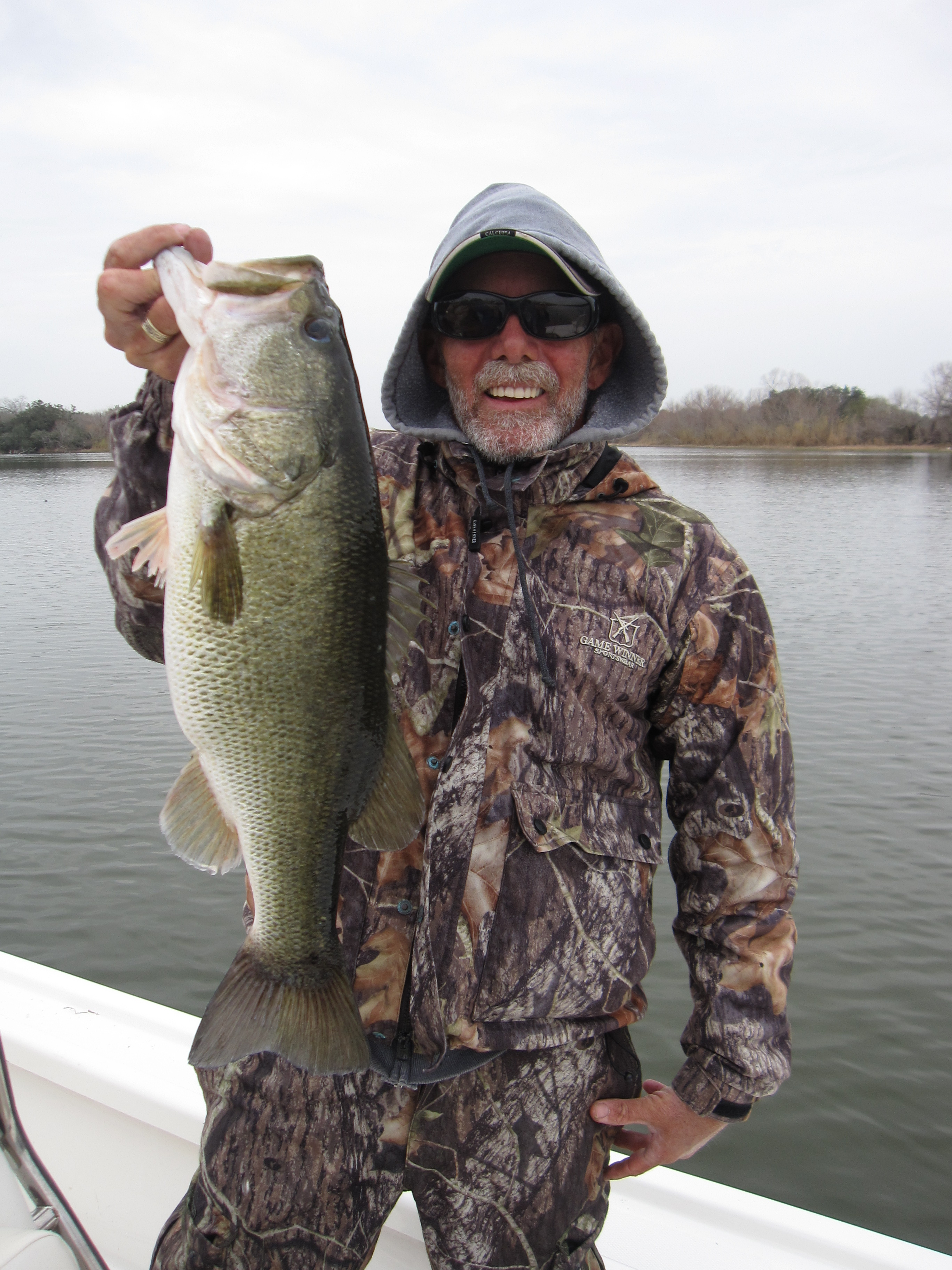 This was one of the few good fish that actually blew up on it, and I mean exploded!  What a bite!
So in between the first and last cove, it was game on.  Now usually there is at least some pattern to catching bass.  Today there was only one, cast it to a shallow bank, twitch it, and hold on.  And I not trying to keep you in the dark about where, because it was almost anywhere.
We caught them on the lower end of the lake, and we caught them way above the bridge.  We caught them in the backs of coves, the sides of coves, the points, and the main lake flats.  One thing that was a little different to day was that many of those we were catching in the back of the pockets were actually tight to the wood.  I think the cold front, and the weather that was coming, had them tight to cover.   But if you laid it right next to some brush, or a good log, you got a bite.  We caught them from in sight of the damn, to miles above the bridge.  We did not stop anywhere and not catch some, and I mean 5 – 15 everywhere we went.
Now I would love to take credit for establishing some great secret pattern.  There was one all right, throw it out and twitch it on those shallow places.  I will take credit for the method, and I have it down, but it was one of those days.  Cloud cover, 77 degree water temp, almost no fishing pressure, and another front on the way, put them on a serious feed that did not stop all day.  So will it continue, who knows.  But I do know that they are up and having at it.
We fished from daylight until dark.  Yesterday we fought the wind and had to get up at 4:30 to be at Froggie's at daylight.  My back is killing me, my hands are literally torn up from taking all those trebles out, and I am happy as can be.   But I am tired.  It is time to take a couple of days off and catch up with life.  But what a couple of weeks it has been.
So again, and I really mean it, thanks for reading my stuff.  And though I  can not answer all your emails, I do try, and I read every comment you send.  Fish Catching Travel is going to double this month, and it is all because of you.  So if you have a fishing buddy, or family, send them my link.  I love to know you are stopping in.  And thanks to those of you who have sent me some stories, I love them and invite all of you who want to, send me something, and I will share it with all my fishing buddies.  So have a great day!
Good Luck and Tight Lines!