Fish Catching Travel
A Norther at POC.
My brother Jeff was down from College Station for a couple of days of fishing, and of course there was a cold front.  When we arrived at the ramp at Froggie's in POC at 7:00 this morning I thought I had slipped into the Twightlight Zone, there were no cars at the ramp.  Now I fish many days when others do not, my wife works lots of holidays, and that is actually a good thing as I have many places basically to myself on those days.  But this was just plain weird, maybe that has happened a time or two before, but I just can't remember when.
A fair assumption is that the coming Norther kept the folks down.  The weatherman had forecast a cold front, high in the low 60's with a north wind at 25 mph.  Well he was right on the button.  Over the last few years when those exact conditions have occurred I have found a pattern which works, and it did today.
We started in the boat lane in Barroom Bay and caught one small trout.  My brother of course started with his Skitter Walk topwater, me throwing  Texas Tackle Factory purple paddle tail with a chartreuse tail.  Now as you all know I have been throwing some variation of purple in may last 3 trips to Keller, the Powderhorn, and Baffin, and it did not let me down.
With the north wind basically blowing a straight line out of the north we headed for the islands in Barroom.  There are several that when a Norther comes, the fish seem to stack up along the deep side, which is great as it gives you somewhere to hide.  Now I am not saying it was calm behind them, it just made if fishable.
So before we started trout fishing exclusively, he wanted to throw spinnerbait for reds.  There were clearly not on the shallow banks, the water temp was about 2 – 3 degrees colder than the protected side.  He did manage to catch 2 nice 20″+ on an exposed shell bank, while I continued to throw the plastics.  We picked up a few small ones here and there when we got to a bank, protected somewhat from the wind, where I caught a keeper.  Then a couple of small ones, and then another keeper.  And it was game on.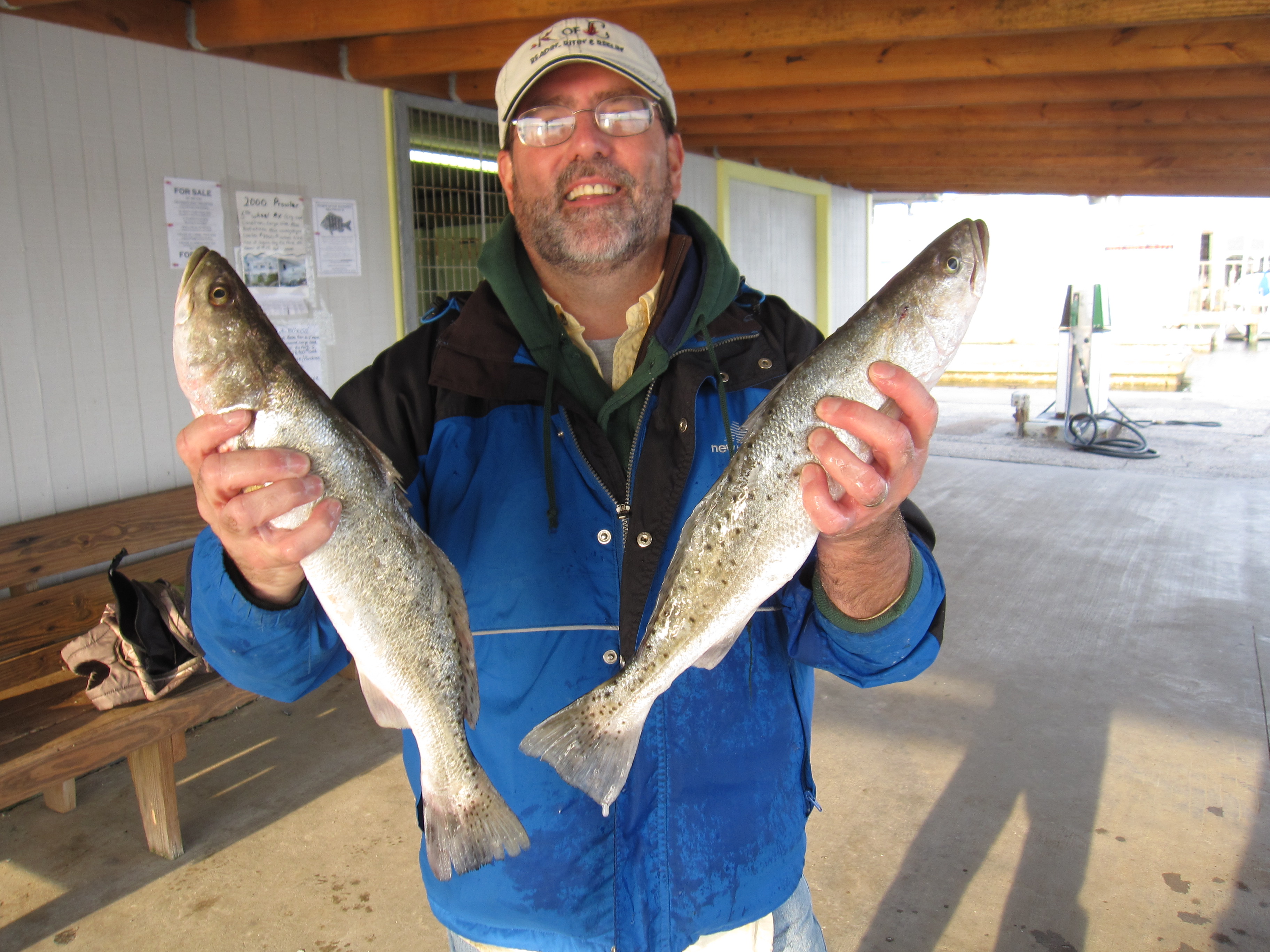 Even a blind hog…………..
Now in this situation we use the trolling motor and it reminds me of grub fishing winter channel banks for bass.  The bank that was holding them was 5 – 6  foot deep with the wind blowing over the island in our face.  For the next couple of hours we fished up and down the bank.  We caught them in bunches, 3 on 4 casts and lots of doubles, you get the picture.  There were mullet there seeking shelter from the wind in a little calm stretch.  The bank we were fishing was lined with grass, had a couple of docks on it with a small shelf, and then a straight drop into the channel.
We were basically flipping the bait onto  the edge of the grass and then hopping it up and letting it fall over the edge of the shelf and they would literally pound it. Now the ratio of small fish to keepers was about 4 to 1.  Which is fine with me.  Since we ended up with 16 trout, you can guess how many we caught.
One thing that is interesting on that bank, is that there are flounders there, and we catch them year round.  The tide was flat low with no water moving while the big bite was on.  You can always tell on that bank when the water is starting to move.  Even before you feel or see it you will catch a flounder, the reds show, and you know the water is starting to move.
So a good day for a couple of yahoos.  We ended up keeping 16 trout, 4 reds, and 2 flounder.  Most of the trout were in the 16″ range, but we did have 3 topping 20″ and several 19″.  I added another of the reds on spinnerbait, the Redfish Magic, which we throw a lot.  The reds never did move on the grass, I think it was to cold for them if the wind was blowing on it as there was that 2 – 3 degree difference.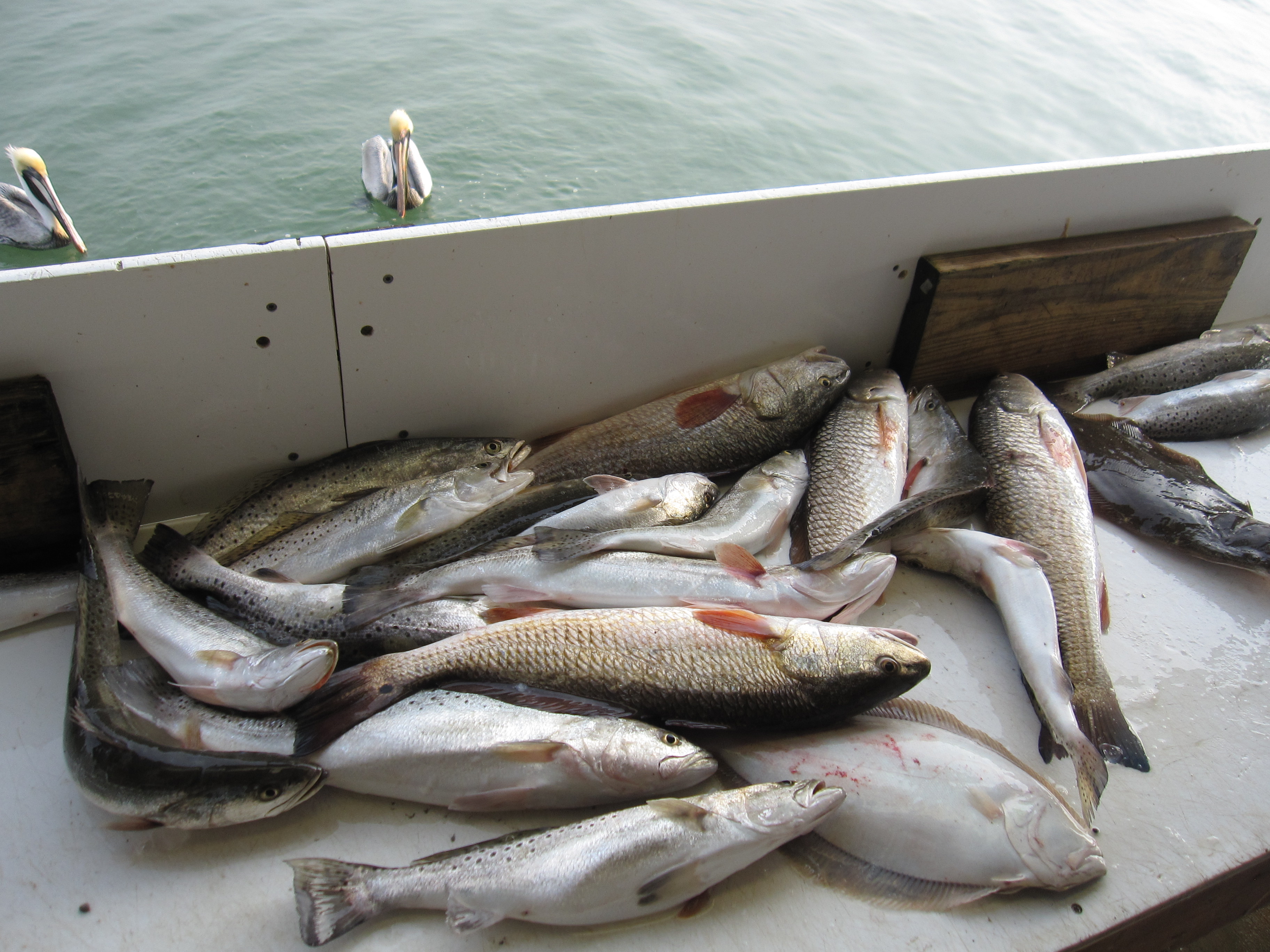 A future College Station fish fry.
And just a side note, while I am throwing that paddle tail, he loves the Tsunami jerk shad.  He caught on a brown body chartreuse tail, and while I probably caught the most fish, the bigger ones clearly preferred that little bigger bait.  Just for a change we did throw the Catch 2000 and the Rapala twitch bait, catching about 4 on it.  But we did not experiment much.  When they are just absolutely jumping it it is hard to change baits.  Of course the best time to experiment with other baits is when they are biting to beat the  band.
We ended up quiting about 3:45 and heading to the dock.  For a winter cold front condition with 25 mph winds, not a bad way to finish.  The trout fishing the last few weeeks has been good.  As usual in the winter it is just a matter of going, and if the wind is blowing figuring out a way to make the best of it.  So if you have a chance go.  Just remember this time of year if you catch a couple give it some time, they are stacked up.
Good Luck and Tight Lines!