Fish Catching Travel
Catching Fish On Coleto Creek.
 10/27/11.  Coleto Creek before the front.
If you keep up with my blog you know things have been a little thin here lately.  Sorry, had a honey-do list with one thing on it, paint the house.  After 6 days of hard work, I am getting a little old for projects that size, or maybe just lazy, it was time to hit the lake.  It has been over 2 weeks since I was last there and there were some differences.
First, the lake has come up.  I couldn't quote exact figures, but it looks like at least a foot to me.  So what it has done is re-invigorate the grass along the shoreline.  Where it was butting up against the bank, the main grass line is now off the bank a ways.  I think that has the fish a little confused.  I caught fish on deep banks, shallow banks, and over grass.  So today was a good day considering I really did not have a clue when I started.
I left the ramp with high hopes.  There is supposed to be a big front coming with high winds.  I figured, out first thing and catch the arrival of the front, always a good thing for a bass fisherman.  I headed way up the lake to fish the grass beds that sit way out in the middle of the lake.  I started with a buzz bait and to my surprise I did not have a bite until almost 8:30.  It stayed steady the rest of the time I fished, which was until 2:30.  I caught a few smaller ones then this one smashed it.
It will do, and notice the raincoat, it rained just long enough to get the stuff on and get hot.
I kept working large grass  beds catching one here and there.  I do think the rising water has them a little confused.  And the catching seemed to bear that out.  I started working my way back down lake and catching one here and one there.  The only thing consistent was a point.  It did not matter, a rock point, a main lake point, a grass point, they all seemed to hold a fish or two.  None seemed to be holding lots of fish.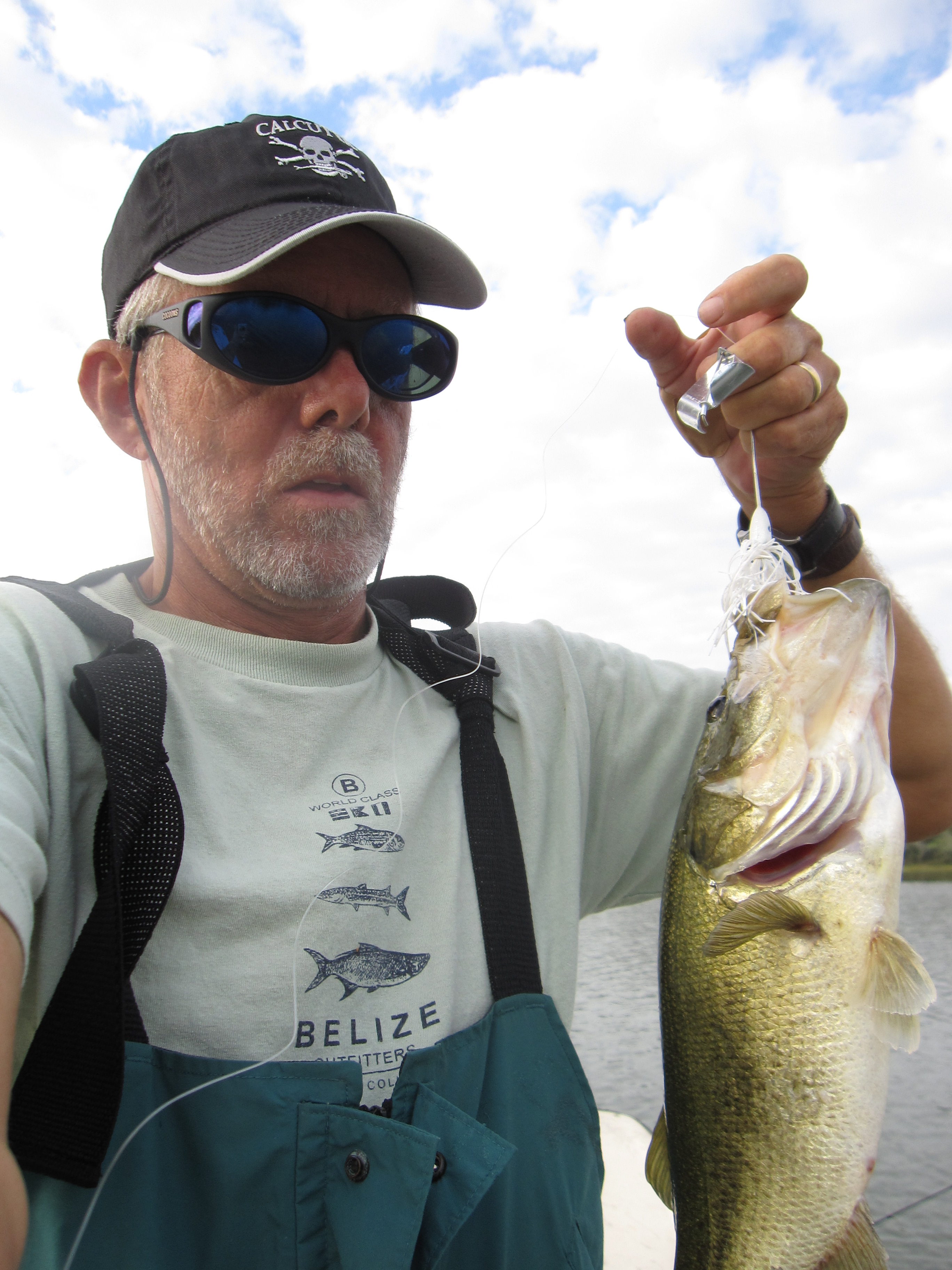 This is a good representation of what I caught today, it was just one here and one there.
I kept trying different places.  I did notice that if I caught one near a point with a cove, I would get another one or a bite or two in the adjacent cove.  Some were right in the back.  Hopefully a good sign the fall bite is about to get going.  I ended up at the main lake area by the damn and kept throwing the buzzbait.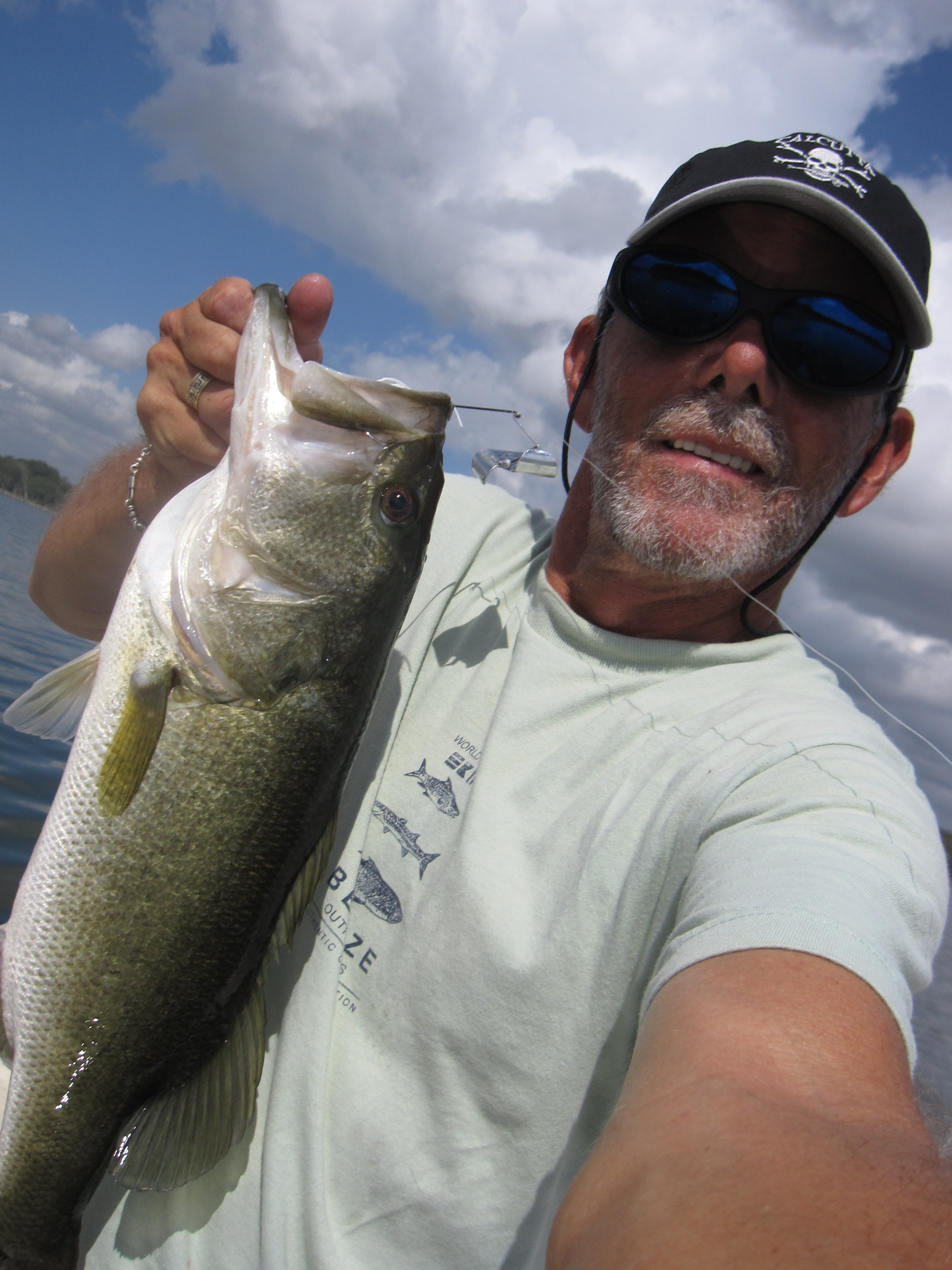 The last good one of the day.
The front just never showed.  The wind would try to get going, then die, and just when it would sprinkle, it would stop.  The big bite I was hoping for is probably taking place while I sit here and type this, but after 6 days of painting, my old body said it was time to quit.  All in all I caught over 15 with a nice limit, probably in the 18 lb. range.  Now that is not good enough to win on this lake, but it was good enough for me.
I did learn a few things today.  Points, points, and did I say points.  It did not matter if it was a point in the grass bed in the middle of the channel, a main lake point leading in to a cove, or a deep point on a long deep bank.  But it was never fast and furious, more of a grind it out day.  I did catch a couple on Red Eye Shad and a couple on Zoom Swimmin Super Fluke reeled on top.  But the buzzbait was the constant.  I will say that it would have been a better plastics day, I just can not put that buzzbait down when they are hitting it.
So tomorrow is a new day, and depending on the weather, I hope to give it another go.  I was tired when I quit, and of course now I wish I was still out there.  So do a little Fish Catching Travel.   Take someone with you, make their day.
Good Luck and Tight Lines!