Fish Catching Travel returns to the Lavaca River.
November 30, 2011.
It was so good the other day I had to fish the Lavaca River again.  My brother  came down from College Station and we met at the ramp.  We left the ramp at 9 and headed down river.  We stopped on a bank where I caught some the other day and Jeff started right off with a good one, who got a little CPR to live and fight another day.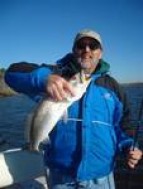 A good first bite! 
Nice trout in that river.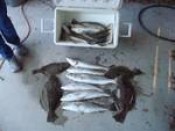 A nice limit of trout with 4 flounder.
The fishing stayed very consistent until we quit at 3:30.  We caught on a variety of baits, Jeff on assorted Sunami, me alternating between the Gobie Bait I used the other day, and Bass Assassins in pearl with an 1/8 oz. jig head.  The better fish came on the little bigger baits.  I had no luck on the Corky, but fished it little, and my brother caught 2 on a Rattle Trap.
One of the rewards was that we caught 7 or 8 flounder.  We ended up with 4, a couple of them real nice ones.  They came off shallower mud bottom areas.  The trout seemed to be in areas with either a drop in the 2 – 4 foot depth, and then any point or current break was the preferred areas.  We were simply hopping and dropping it along the bottom.  We did catch a few jerking the assassin back to the boat.  All in all a good day.  We had little wind, and there was plenty of room for all to fish.
I met a nice guy at the ramp who fishes there and other places in the area.  He said he and his wife were catching good trout and flounder using a popping cork and Gulp.  That combination, popping cork and Gulp 3″ New Penny Shrimp, is my go to bait if I want to catch a flounder.  I have either gotten better at catching them, or there are more of them, but either way that is the way I have caught most of them this year.  Makes me think I should have fished it some on the river.
Coleto Creek  December 1, 2011.
I did get to Coleto Creek for a few hours this afternoon.  Since they have quit generating, and the water has come up, I have had a tougher time than at any point this year.  Either the fish are confused, or I am, and it may take me a while to figure it out.
The best bait today was the Rapala crankbait.  It runs about 6 foot and when then hit it they whacked it.  I had 4 on it and lost the only big fish I had on today.  Red worm accounted for 3, and I caught 2 on a buzzbait.  Clearly the buzzbait fishing is done until spring.  My thoughts are if they are not discharging warm water, and we have a cold winter, the situation may be more like Arkansas in the late fall.  We will just have to see.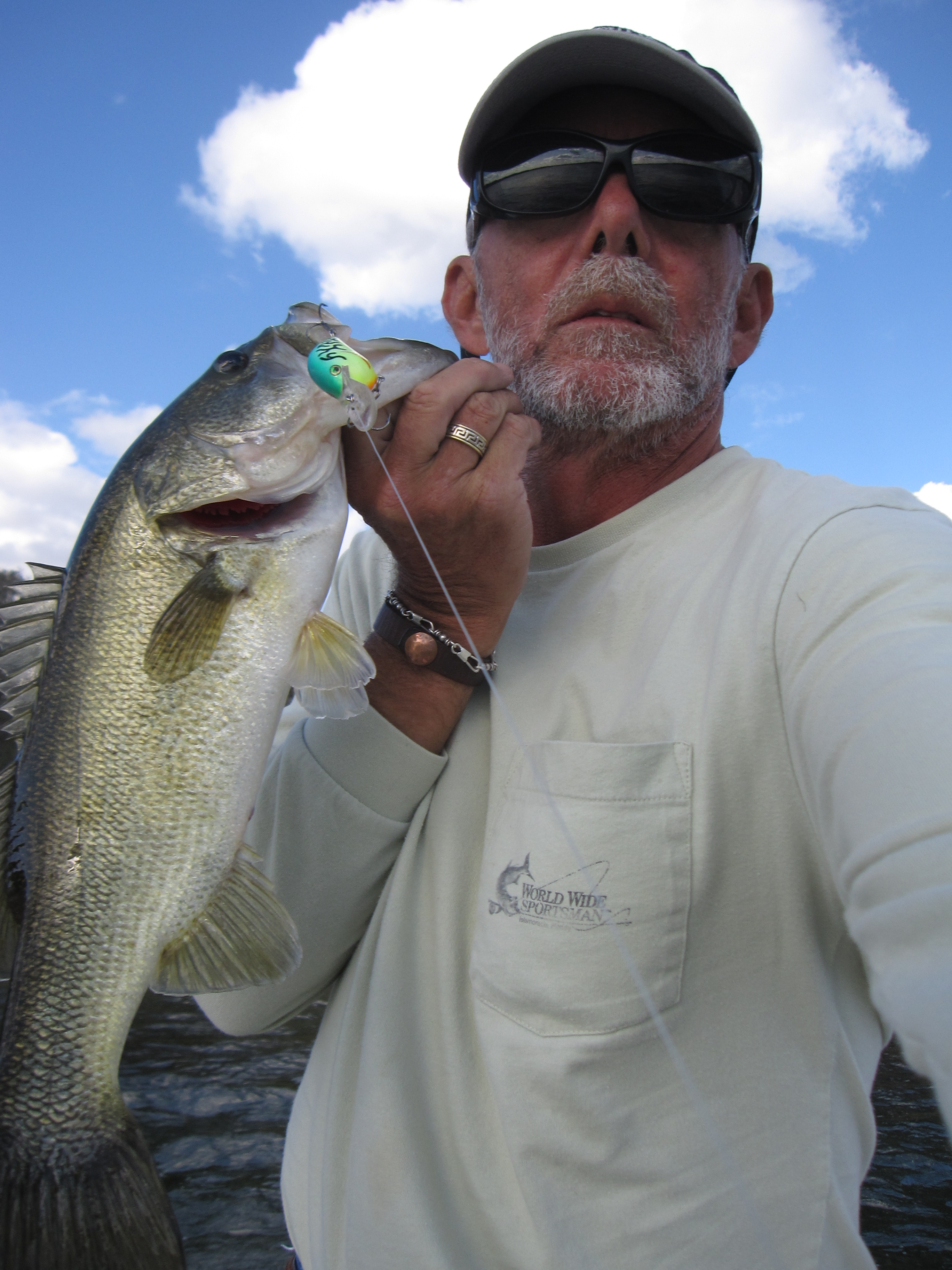 Just wanted you to see the crankbait I was using.
We are seeing lots of alligators.  They hunt at night all summer and then when the cool fronts come they are out much more in the daytime.  Find a nice sunny bank, out of the wind and you are likely to see a big gator.  For some reason they fascinate me.  Maybe it is a real base fear of them.  When it comes down to it they have no soul, they live to eat, and they would be happy to eat us when given the chance.  Here is a real big one lazing in the sun today.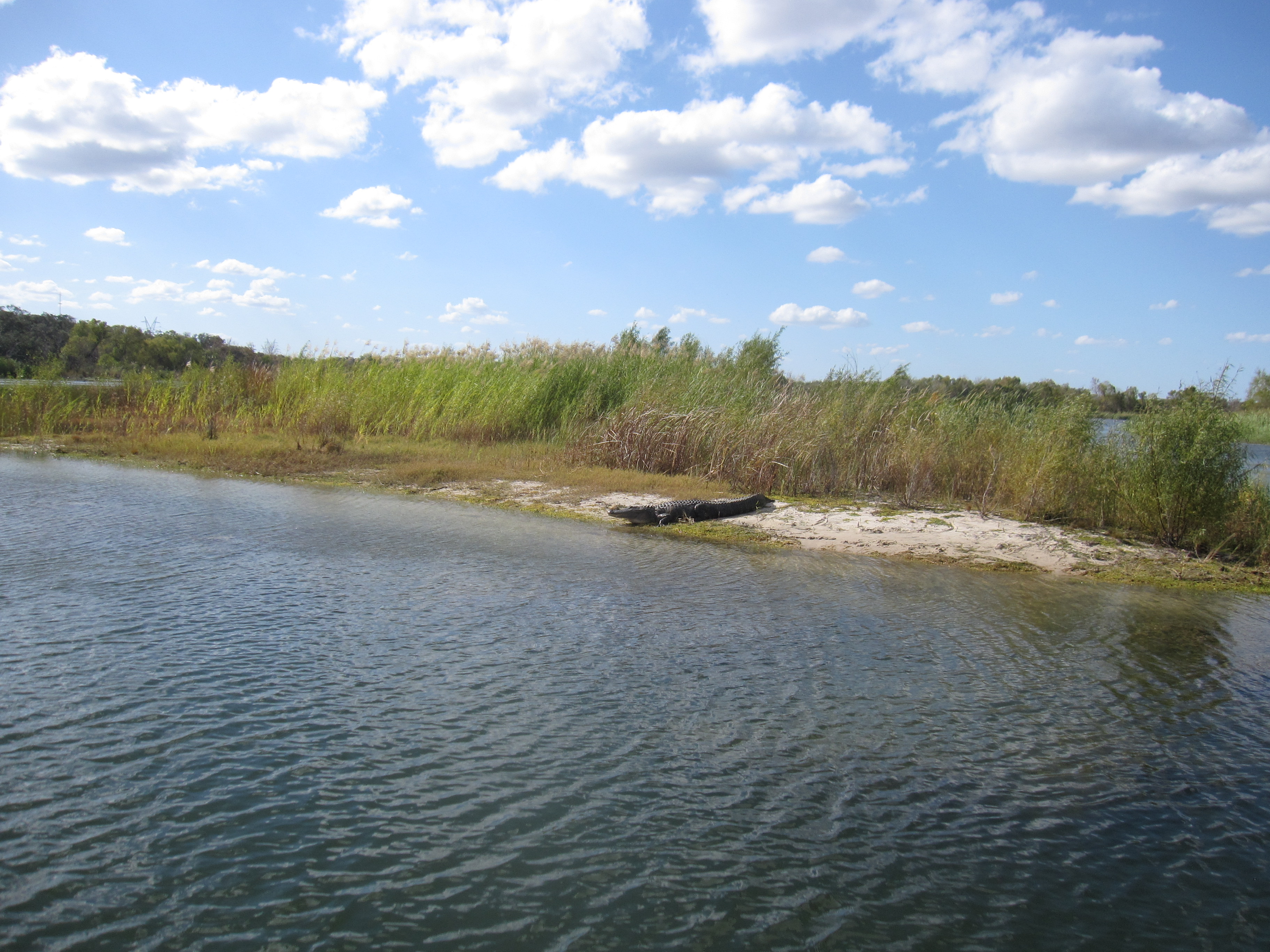 Believe me this picture does not do him justice.  That was one big ass gator!
 It has been a great few days this week.  Nothing like getting to fish 3 days and catching them, having nice weather, and spending time with my brother.  As my wife often says, "These are the times of our lives."  She is right.  Be sure to take some time to take someone fishing, they will appreciate it and you will too.
Tight Lines and Good Luck!