Fish Catching Travel
December 29, 2011
I traveled to fish Fayette County Lake with my brother and we had it all to ourselves…NOT!  Of course, any of you who fish Fayette know how crowded it can be.  When we got to the ramp at daylight there were at least 10 trucks there already, and there were 6 waiting in line behind me to pay the $4 fee.  So off we went up lake to the large cove with the boat ramp and park in the back of it.  We started on a bank with reeds on the shore, with grass out in about 4 foot of water.
Now I had read the reports of fish being caught deep, and there were lots of folks fishing offshore.  If you read my stuff you know that I am a crank and reel kinda guy, so for me it was a shallow running Rapala Shad Rap in blk/silver.  My brother Jeff decided to throw a jerk bait.  So he gets out a Rogue Jr. he got at Gander Mountain for .99 in the discount pile.
He immediately catches one, then another, and I catch one on the Shad Rap.  In the picture below you will see the color.  It is a bone base with brown stripes.  He did not have the box so I can not tell you what it was, but boy did it work.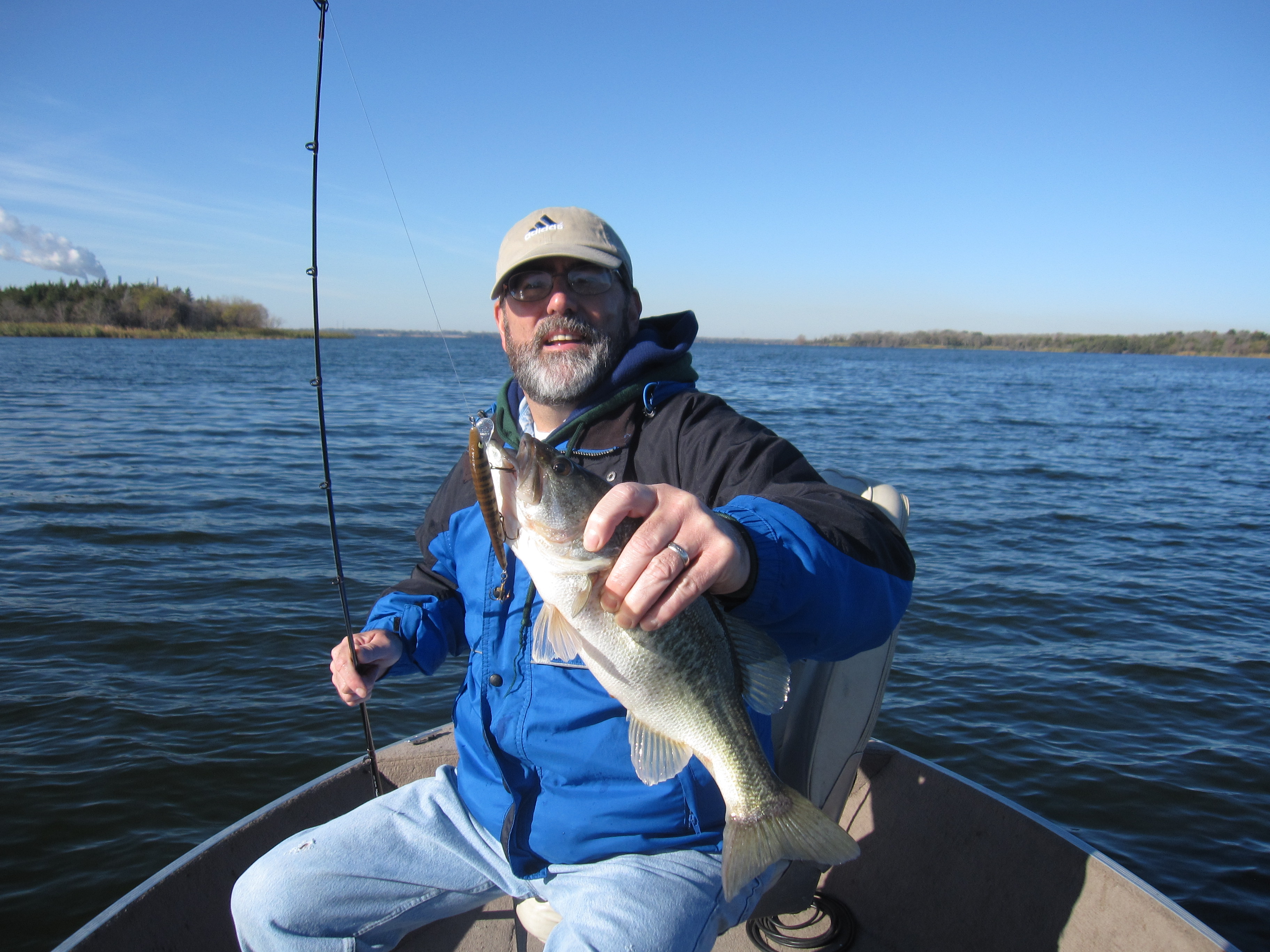 There is the bait, wish I had taken a close up for you but oh well.
Now this was not a big one, in fact we caught nothing over 4 pounds.  But we did catch fish, 22 to be exact, and missed and lost several.  What made it so interesting is that he caught 17 of them.  I caught on regular Rogue Jr. in bl/silver, and then threw the rest of the box.  During the day I tried assorted crankbaits and jerk baits looking for something that would match his production, with no success.
Basically we set in about 7 foot throwing over the submerged grass.  At least half of them stopped it like a freight train.  A few tried to jerk the rod out of our hands, the rest were just there.  It did slow up at mid day, and then got going again after 3.  They were getting pounded, but we just stuck with it.  We ended up fishing that whole side of the lake to the dam.  But I can not emphasise enough how much a difference that bait made.  Of course there are times when one works better than others, but this was something.  He was just jerk, stop, jerk-jerk, stop, working it fairly slowly to the boat.  Few were on the bank, a few hit it next to the boat, most were half way back near the grass.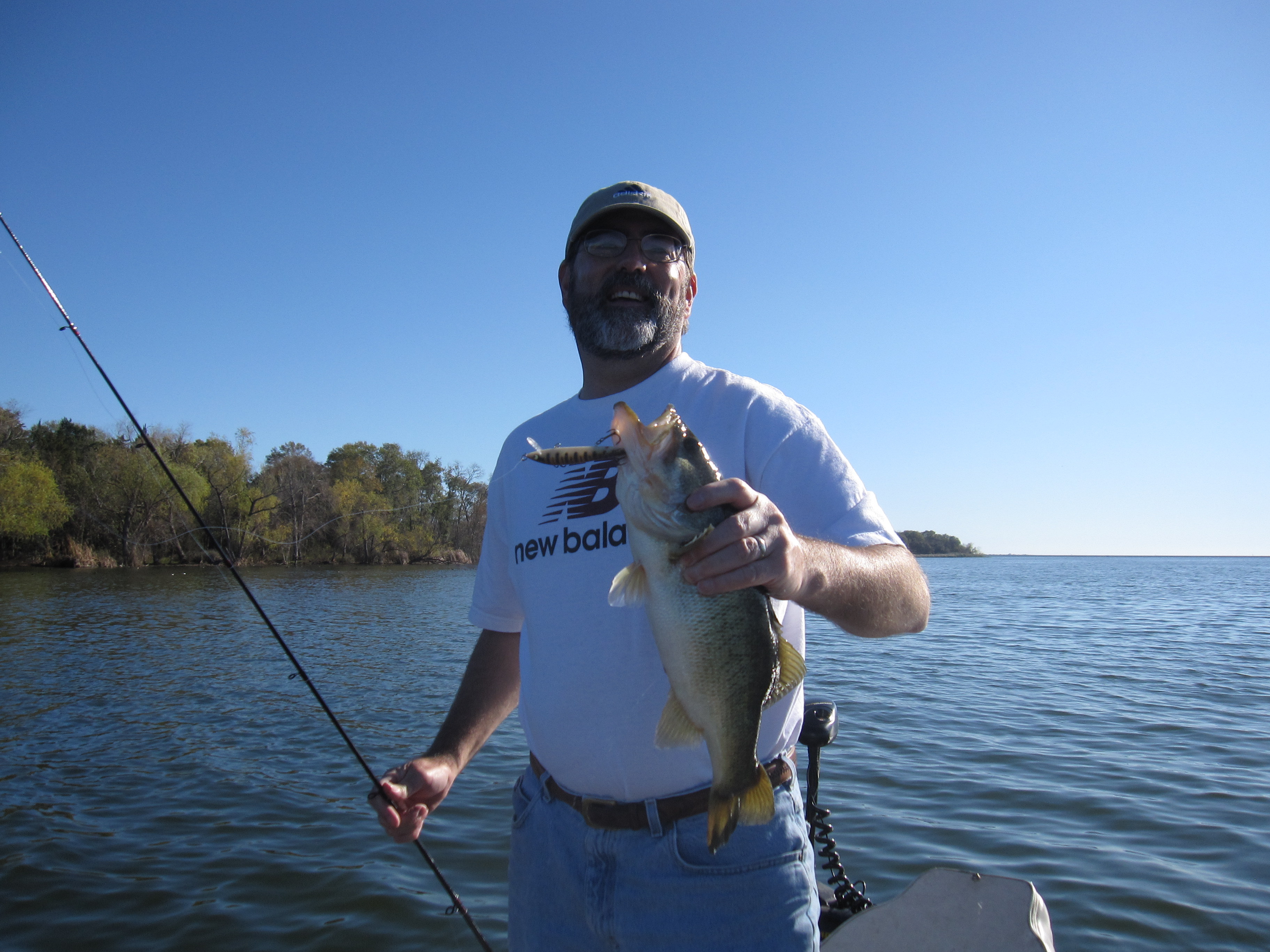 Another look at the color.  This was a real representative of the size we caught.  Man they liked that color.
We learned the following, the best fishing was half way back in the coves, and anywhere there was reeds with grass in front of it held fish.  We had very little luck on the points, which kind of surprised me.  There were a lot of people fishing way off, and I am sure that the big bunches are still there.  The fish we caught were the first shallow movers.  So it looks like Fayette is about to get humping.  Lets see what the weather brings.
So there you are, a really fun day fishing.  We are big jerk bait fans after fishing them for years in the highland lakes of Arkansas.  There is something about feeling them whack it when it is dead still.  Though we could have possibly caught more doing something else, we were just fine with the result.  So I will be looking forward to fishing there again soon, but will try to hit a day with bad weather, maybe keep the crowd down a little.  Fayette is a great little lake.
I am off to Missouri for another family get together.  That will end my family responsibilities for the year.  And then it starts, both a new fishing year with great adventures in the future, and a new day for Fish Catching Travel.
So thank you, I appreciate every reader who comes here.  I love your comments, of which I am getting 20 or more a day.  So got something to say?  Have a fishing trip you want to tell someone about?  Whatever…………Have a happy New Year!