Fish Catching Travel
Another day of 25 – 30mph winds.  I mean it is blowing!  So after my day at the Powderhorn I decided to hit Coleto.  When the wind is really blowing you can always catch some on spinnerbait on Coleto.  Keeps you from having to fight the wind to fish plastics, you can just let the wind blow you down the bank and keep on casting.
When I got to the lake, about 2:30, I was happy to see how much it had come up.  A little while ago the water barely hit the piers, this time when I tied the boat up after off loading the deck was almost level with the pier deck.  So it has come up a bunch over the last month.  And the thing I like about it is that it has kept coming up over the top of the emerging grass, making it easier to fish right now.
So I headed up lake  and just started on a long bank with the wind blowing down it and just rode it for over a mile.  The wind was howling and I could barely get a cast in every 50 feet, but that is what makes the spinnerbait the ticket.  Big willow blades run, or "buzzed", right below the surface triggers a reaction strike, and with the top of the grass submerged, it was perfect.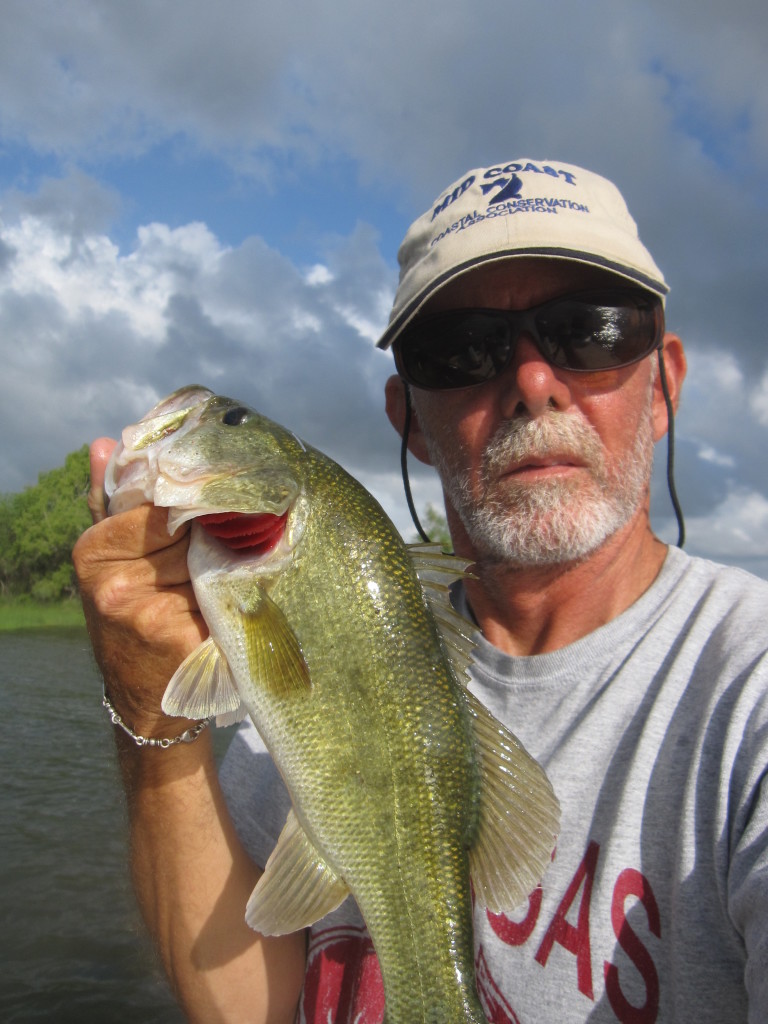 This was the first one I caught.  I ended up catching over 20 today.
Over the next hour I put about 5 or so in the boat, nothing big, just some ok fish.  So at that point I decided to put on the video camera.  Of course I got a few on tape, but as soon as I ran out of battery it got better.
The fish were scattered and the only place I had more than a couple of hits was either near a point, or near some Lily pads.  They wanted it fast, and I did catch a couple stopping it for an instant on the way back.  For the most part the ones that wanted it, ate it.  I wish I could tell you I was fishing some specific places, but that was not the case nor was it possible.  I just started way up wind and went with the flow.  I did re-fish the Lily pad bank once as the fish were definitely there, right on the far outside edge.  So remember that little tip, if the wind is blowing you fast and you can not adequately work an area, just keep going up wind and fishing down.  It is easier to do than try to go against it and hold, and since you do not cover the bank several passes do not seem to bother the fish.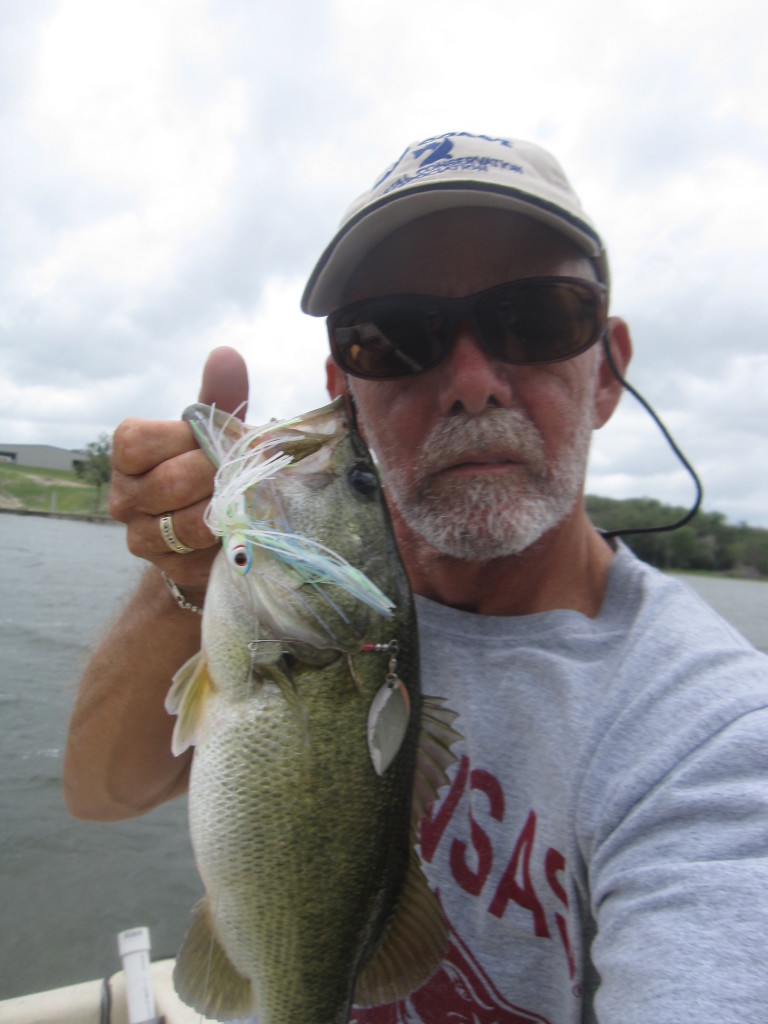 A nice fatty.  I was still using the nickle blades.
As I was fishing I got to thinking about my old friend Dick Lane from Arkansas.  I met Dick in 1974 around the time of the spinnerbait revolution.  He is gone now, but he was one of the best spinnerbait fisherman alive.  We would buzz that all white tandem spinnerbait full blast and those fish would really blow up on it.  Of course it was new then, kinda like me.  So I switched to the all white with a big willow blade and the fish came a little quicker, and a little better.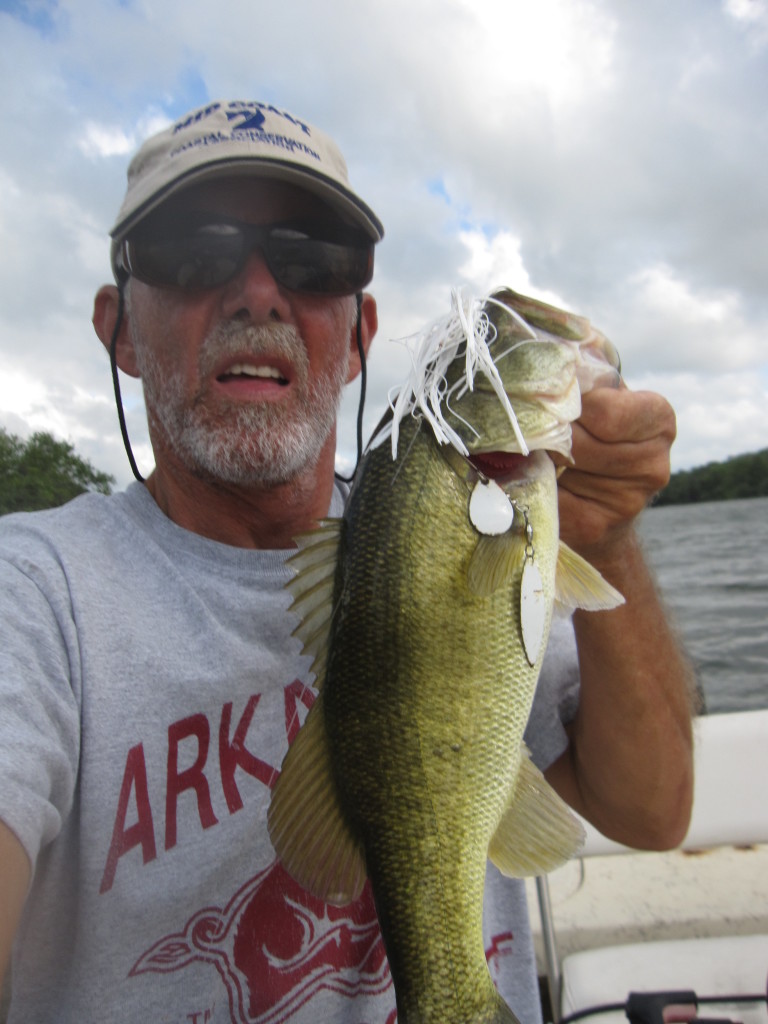 A little more like it.  I managed a couple more like this before I quit.
I ended up fishing until about 6:30 and caught fish consistently the whole time I was out.  They were getting bigger as the afternoon wore on, and I probably should have stayed until dark.  But as hard as the wind was howling I did not want to be way the heck up the lake and have a problem of some sort, it would have been a long night!
So it was a good way to handle the wind.  I would have preferred to fish the Gulf, in fact Shoedog was going to come yesterday but the wind scared him off.  Being able to adjust is often the key when fishing, not only with lures, but with places and techniques.   Where I just would not  have gone to the Gulf, I was able to have a pretty fun afternoon on the lake by knowing what to throw in high wind.  So next time you are out there and the wind is blowing, throw a spinnerbait and crank it fast right below the surface, you might be surprised.
Thanks for reading my stuff.  I have got a lot of nice comments lately, helps keep my motivation up knowing you are out there.  The president of Team Nancy is off a few days and wants some sun, so she will get it off the back of the boat somewhere warm and nice, and I will get to catch a few more fish.  Tomorrow is a fish hard day.  Where?  Only the wind will tell.
Good Luck and Tight Lines