I have a great wife who indulges my fishing habit but rarely partakes.  Imagine my surprise when she said, "Lets go to the Jetties."  While I traveled there a time or two on boat rides, or fishing close by,  jetty fishing is not my thing, nor is live bait.  I am still more of a flats/lure kinda guy.  But when the wife says lets go fishing, we're going fishing.
We stopped at Froggies Thursday afternoon and bought a few dozen croakers.  Now you can put what I know about both croaker fishing and the jetties in a thimble.  Basically all I know is croakers are a little fish, and apparently everything eats them, including Cajuns.  So off we went.
We get out there and the tide is moving pretty good, so unsure how to approach it, I rig them on heavier rod and reels with 20-30lb test and 35lb Fluorocarbon leader and circle hooks.  We pick a spot and begin to drift.  Nancy had the first bite and the fight was on.  After about 5 minutes it finally broke the line.  After reeling it in the line was frayed for a 3 feet stretch above the break.  What was it, who knows, maybe a big shark.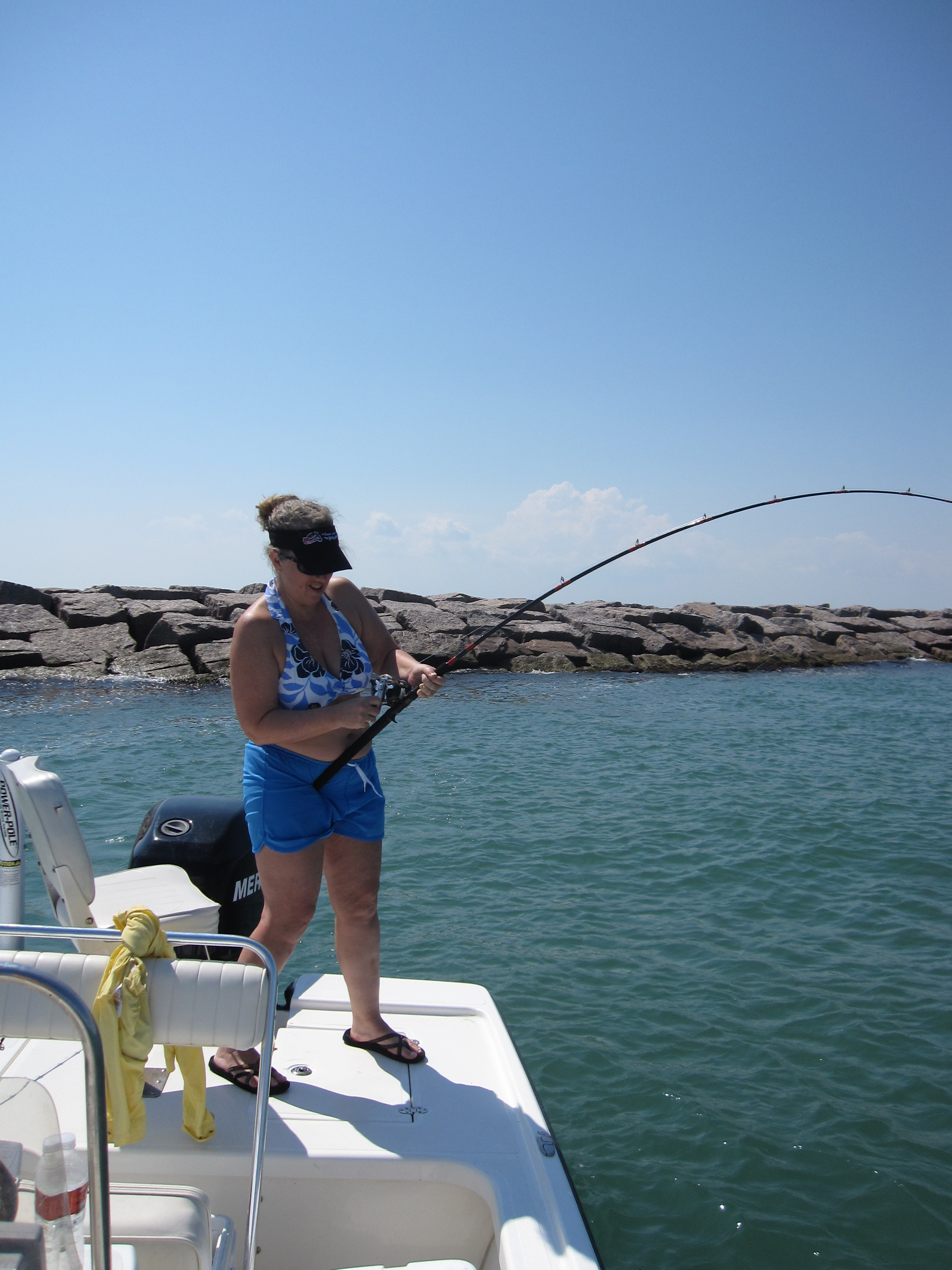 She was huffing and puffing  .. and really PO'd when this one broke off!
A while later I felt a nice thump and managed to boat a 26″ red, good enough, but not what we came for.  That turned out to be the only fish I boated that afternoon.  I did manage to miss a couple more, but it was slow for me.  Nancy on the other hand had another big bite, and after a fight resembling the first one, it too broke off above the leader.  And like fish number one, the leader line was frayed for several feet above the break.
She was getting serious now so out came the heavy stuff, actually my offshore jigging rod and reel with 80lb braid.  I made a 50lb leader, grabbed the biggest croaker in the box and we started to drift again.  The next  bite she had was an epic struggle, including her asking for the fighting belt.  After about 15 minutes she landed her first big jack.   While she has caught a few small ones in Florida, this was her first good one.  All they do for me is make me tired as I seem to have a knack for hooking them on light tackle on the flats.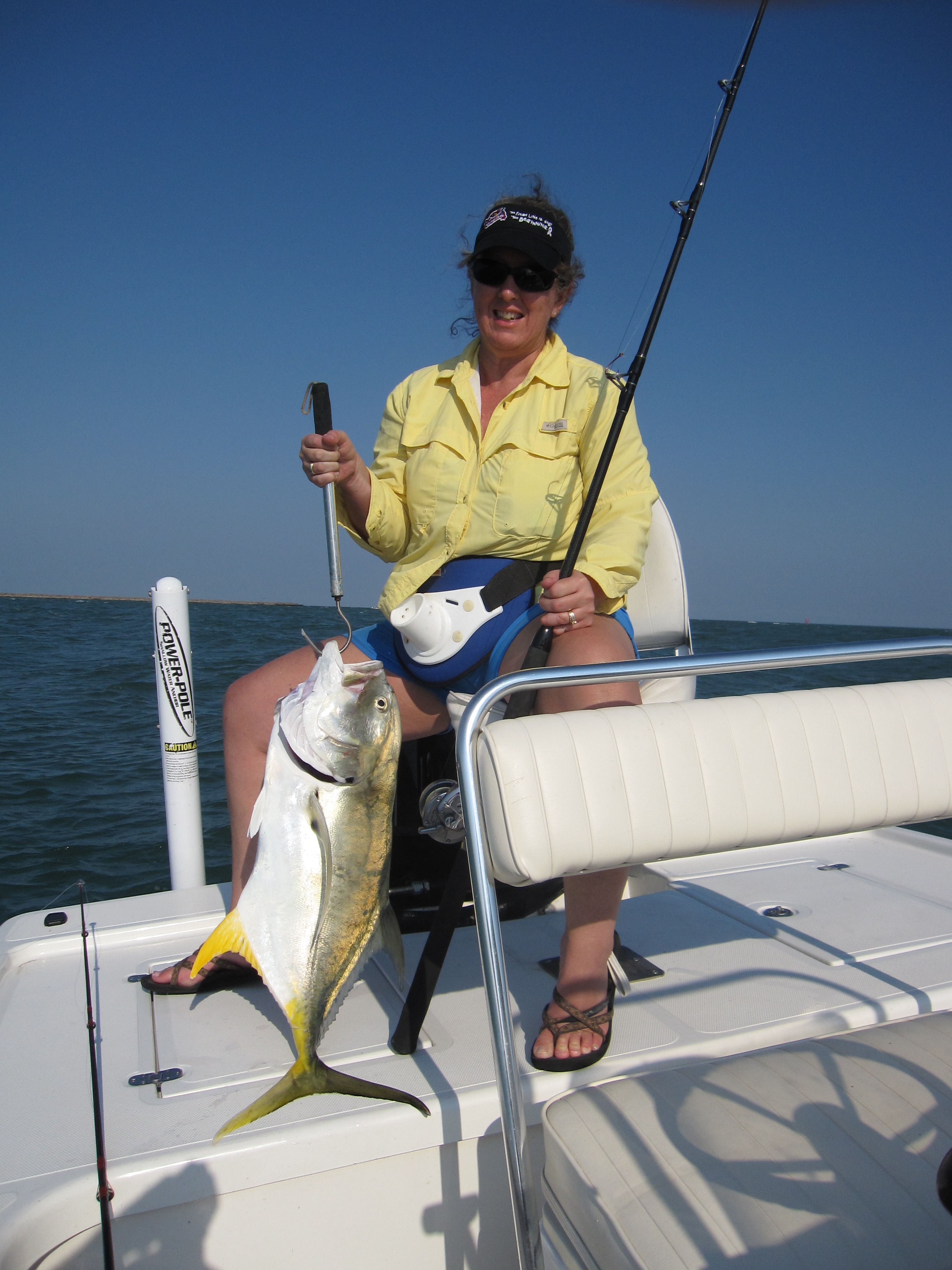 Nancy's First Big Jack.
So what did I learn from my first live bait episode at the Jetties?  Well for one I have a long way to go live bait fishing.  And I guess I also needed to anchor as opposed to drifting.  And last but not least, like all techniques, it takes some practice and getting used to.  Oh well, looks like I will be stuck with having to go out there and try it till I get it right.
_______________________________________________________________
So of course what happens the following morning, she gets this text from her friend Susan.  (On the left in the picture below.)  They were out to the jetties with a guide on Friday and their experience was just a tiny bit different from ours.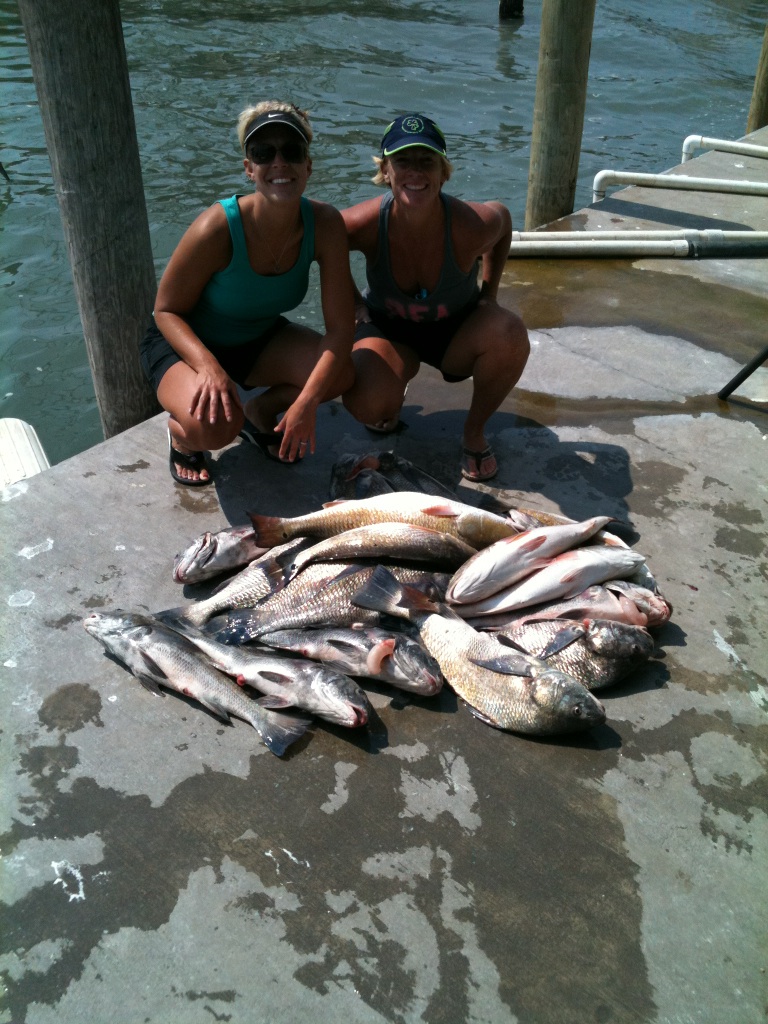 Cute girls and nice pile of fish, does it get any better than that at POC?
She reports that they were anchored using live shrimp on the bottom.  Initially they were in 5 foot of water with little success and then moved out a little deeper.   After the move, she said they often threw the shrimp out and before it even hit bottom they had one on.  They also landed a tarpon estimated at 12lbs.  Sounds like a great day at the POC jetties!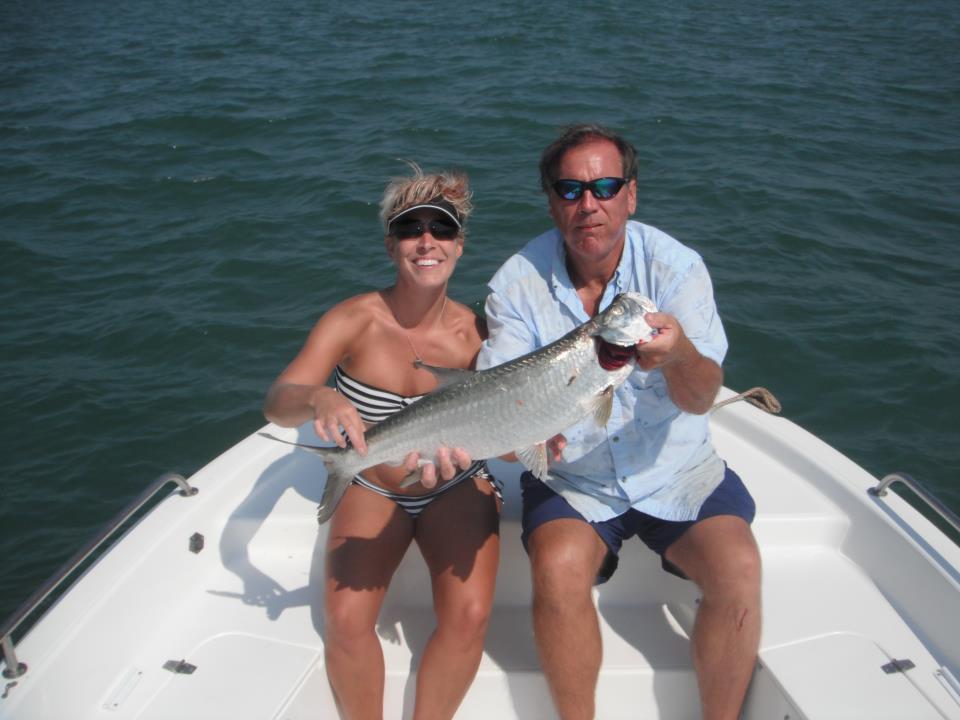 _______________________________________________________________
A Few Random Notes. 
Did you know that bleach works great on a white boat?  We rented an offshore boat in the Keys one year and when they delivered it they also brought bleach with it.  They said just add a cup to the 5 gallon bucket when you clean up the boat.  Well folks, it works.  My flats boat is now all white and every few trips I go ahead and brush it down and boy does it seem to make a difference.   And it has not seemed to damage the seats or anything else and the boat sure looks whiter after I do it.
_______________________________________________________________
Have you thought about your boat trailer lately?  Have you checked your bearings in the last couple years, greased the hubs, checked the air in the spare tire?  Do you have a good jack, a heavy board to set it on, and a good tire tool to get the lugs off?  And if you happen to take the lugs off, spray them with Corrosion X.  That stuff works great and the next time you are laying beside the road at night trying to get the nuts off you will be real happy you used it.
Also,  if you have bunks, crawl under there and look at the lag screws holding the bunks on.  Are they all there, are the holes starting to rot out?  There is no time like the present to fix them.  It is a real hassle when you back the boat off and head to park the truck and the bunk falls off.  (Not that that has ever happened to me!)  Do you at least have a crescent wrench, a hammer, a couple of screw drivers, and maybe a vise grip?  A little preperation and you can at least get it home if something comes up.   A few minutes to check the trailer over can avoid timely, and costly, repairs.  Most of us have to little fishing time as it is so why waste it by the side of the road.
_______________________________________________________________
This is my favorite time of year!  Why?  Because hunting season starts.  Now don't get me wrong, I will probably shoot a few doves this year and I might even try a little  duck hunting.  But that is not the reason I love this time of year?   I love it cause you all like to hunt, and you hit the woods, which leaves the ramps, the bays, and lakes less congested. On some fall days I feel like I have the water all to myself.  Remember to respect each other, there is room enough for us all.
Tight lines and good luck!
_______________________________________________________________