Fish Catching Travel
11/1/11  Port O'Connor – Shoalwater Bay.
My brother, who works entirely to hard, took a couple of days off to fish on his birthday.  We planned a day on the gulf and a day at Coleto Creek.
The day broke cool with little wind and we were on the water shortly after daylight.  The morning tide was high and was falling throughout the day.  With the cool nights we have been having I decided it was time to check in on a winter pattern.  Now I know it is not full on winter obviously, but the trout love to hit the large bays as it cools off, so I decided we would start in Shoalwater.
We entered the bay and as the wind was blowing about 10 mph out of the southeast, what a shock, we headed for the gut on the right and set up a drift across the bay.  I caught a small trout on my first cast with a dark paddle tail.  My brother was throwing a topwater, a Skitterwalk, his favorite, with little success.  I caught 6 or 7 on the first drift, with 2 being small keepers.  Jeff meanwhile had a few small blow ups but no takers.
We continued to drift, running back across and letting the wind take us, and continued to catch fish, though many were small.  About noon the fish began to seriously hit topwater.  Our best area were the points on the left side near the mouth of Shoalwater.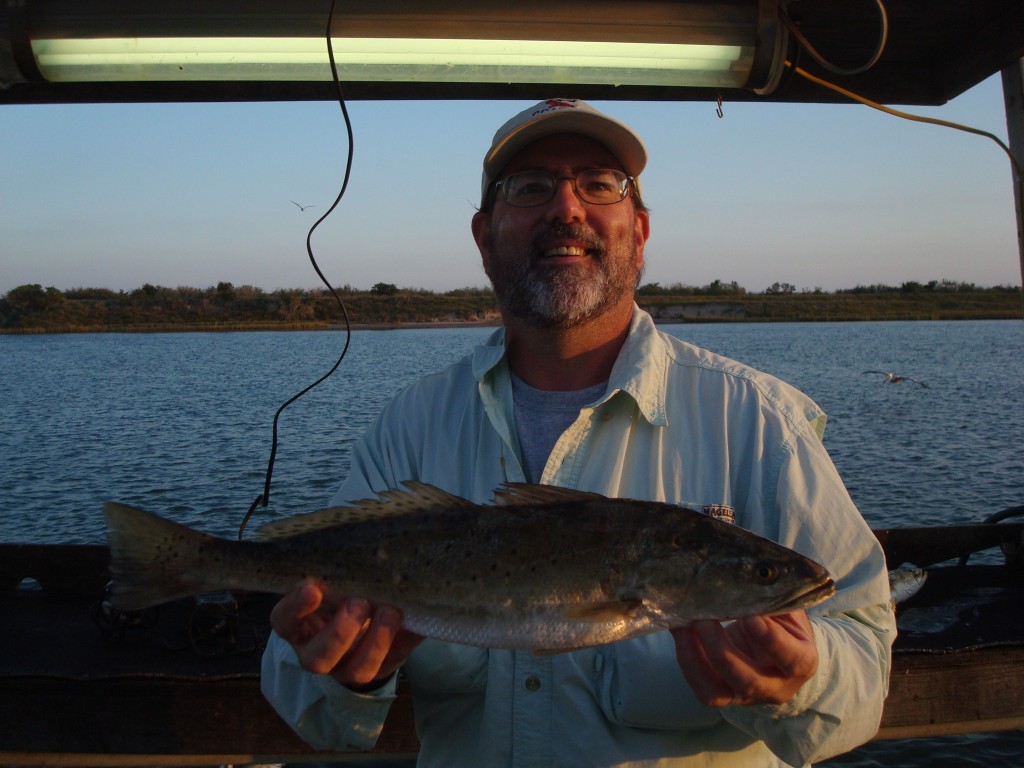 Jeffs' Birthday Trout  –  20″ on a topwater.
While the fish bit all day, the best bite for the better fish was around noon until around 2.  The best we could estimate we caught around 40 trout with many in the barely miss/make it range.  Plastics far out did topwater, but the topwater was clearly best for the better trout.  When they were biting best, they were right on the points with some wind, and it was shallow enough to have to raise the motor to drift over the point.
We also caught a couple of flounder on paddle tails, not to mention the usual hand full of lizard fish, Pinfish, and other stuff.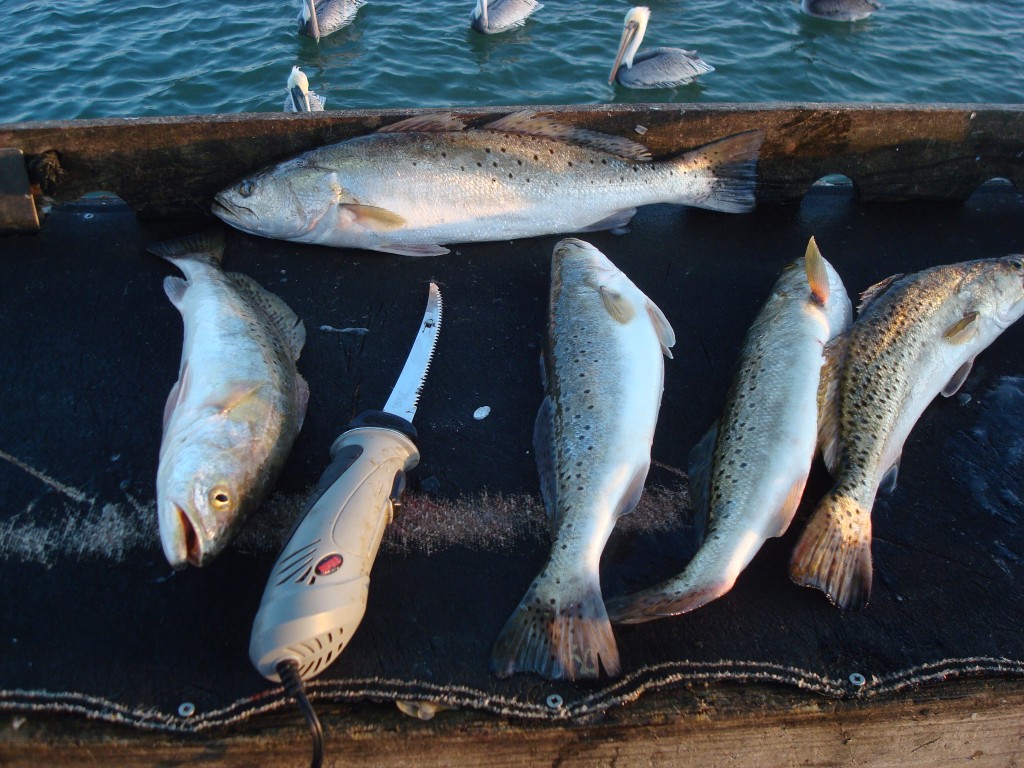 In a matter of an hour from fish to fish fry!
Our final tally for the day was 12 keeper trout and one flounder.  Any dark paddle tail seemed to work, with the majority of the fish being caught on anything dark with a chartreuse tail, a mardi gra, or an orange.  Topwater was clearly the Skitterwalk in silver and black or a bone color.  We did catch 4 or 5 reds but none were keepers.
The wind blew about 10 -15 most of the day, but of course when we quit and headed back to Charlies' it started to really blow, leading to one of those rough ass rides.  When we got back to the ramp at Charlie's we met a nice couple who had a good string of fish, looked like a dozen trout and 5 or 6 reds.  They caught all their fish on plastic in South Pass.  So it sounds like we are inching towards our winter time pattern. With the cool front this week it should only get better.
Good Luck and Tight Lines!