Today was one of those days where it only goes right.  In fact as I will let you know here in a second, it was a good day when the only bad thing that happened was a good thing.
Part of what I am trying to do here is really Fish Catching Travel.  To pick a place, one I have not been, and see if I could actually catch some fish without any help.  Over the years my wife has given me a hard time when we are traveling and I do not hire a guide.  But for me it is in the doing, no matter how it comes out.  So I decided to fish the Lavaca River today.
As cold fronts begin to push through, trout that have access to a deeper river move in as winter comes on.  They are also following the bait, which also is seeking the consistent water temperature that depth can provide this time of year.  And the final piece of the puzzle that helps bring trout into the river is very little fresh water.  Our drought has just about cut the flow of the river to nothing, consequently the salinity level is high, and the trout are moving way up the river.
The Lavaca River empties into Lavaca Bay northeast of Port Lavaca.  The two nearest towns are Vanderbilt and Lolita on County Road 616.  From Victoria you simply take 59N to the El Toro exit, head south on 234 to Vanderbilt and then take 616 east about 5 miles to the ramp.  It is a one lane ramp, but good, and there is some parking.  There were about a dozen trucks at the ramp and the lot could have held several more.  I did learn from a gentleman at the ramp that parking and traffic are a real issue on the weekend, but now to the fishing.
I headed down river and started just looking for a likely place.  As we had a major cold front last night, and there was a slight cold breeze, I decided to start on the first flatter looking bank with no wind and the sun shining on it.  And first one I stopped at had baitfish dimpling right on the surface.  I started throwing a paddle tail in red and yellow and missed and caught a couple of nice ones.  The boat was sitting in about 6 foot and I was throwing to the bank.  Most seemed to be about 2 – 3 foot deep.
When I was at Cabelas last week I picked up a pack of Zoom Gobies in the bargain cave.  All that I know about them is that they live in the Great Lakes and smallmouth like them.  I bought one bag of a blue with metal flake in it.  I figured it might look like a small catfish, and I was in a river, so why not?  Turned out to be a good choice.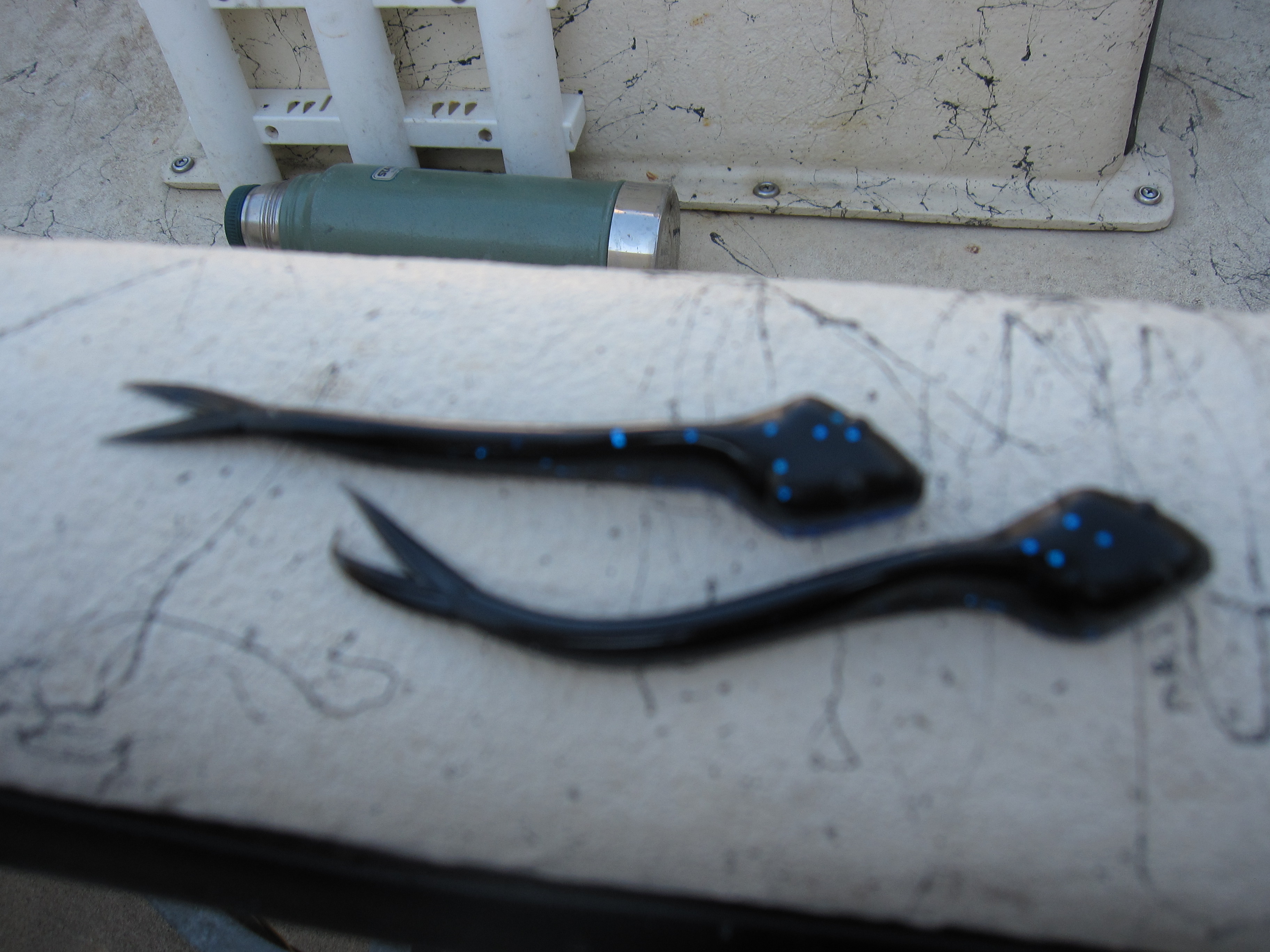 Zoom Gobie.
I rigged it with a 1/8 oz. jig head and used 10 lb. line.  They really liked that thing.  About half of what I caught I did not feel until I lifted up.  You had a half second to set the hook or they would spit it.  A little shake and they were gone.  Hope I get back to Cabelas soon, the trout like those Gobies.
I continued to drift down river just throwing at the bank.  At this point I was simply floating along and fishing what was in front of me.  I was hopping it twice, and letting it fall.  My biggest was about 20″, the rest just nice 16 – 18′.  I caught my limit in what I thought was 2 1/2 hours, and I can live with that any day.  When I quit later, and got in the truck, I noticed it was an hour earlier than my watch.  I had not had that watch on in a while, and had not adjusted it to the time change.  So not only did I catch my limit in under 2 hours, but forgetting to reset my watch got me home earlier.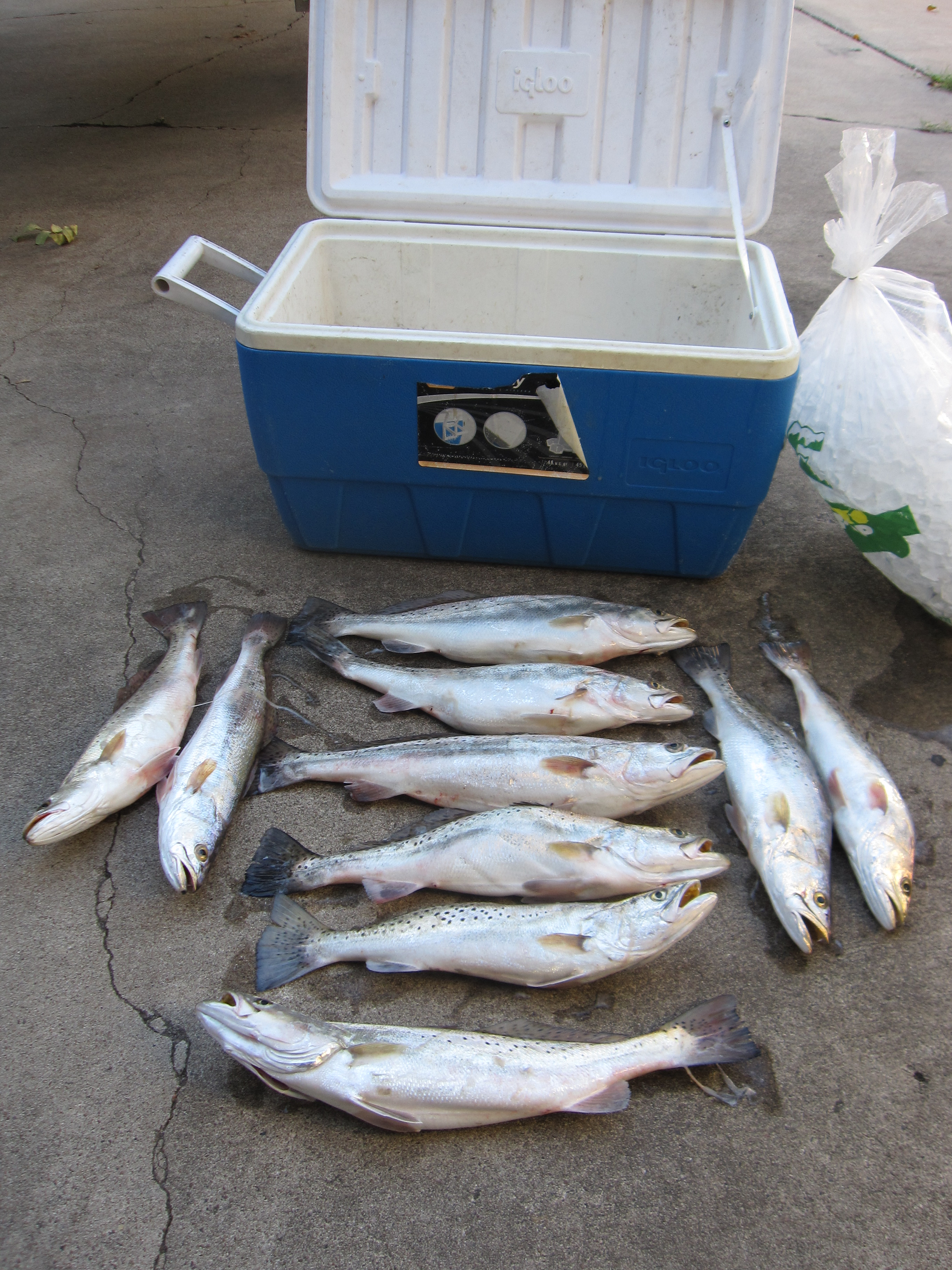 A nice limit – and a great fish fry!
Several times I noticed  lots of activity on the locator.  And if I was seeing stuff, I was catching fish.  I easily caught 20, and threw several back that would have measured.  All in all, a good day.
I did learn one other thing that I will work on next trip.  When I filleted them, several had fairly big mullet in them.  And I mean exactly the same size as a Corky, 3 – 4″.   There were also some shad about 3″, so they are definitely feeding on big bait.  So if you are a Corky fisherman, or think you are, (and I know I am not,) then now might be the time to whack them on it.
I know I have not written as much of late.  But like all of you, family, the holidays, and everything that goes with that, takes a lot of time.  I hope to catch up some, keep fishing and letting you know how to maybe put a few more on the end of your line.  So keep stopping in, I really appreciate it.  Fish Catching Travel is about doing it yourself.
Good Luck and Tight Lines!