Fish Catching Travel
Quepos Fishing Adventures
Quepos Costa Rica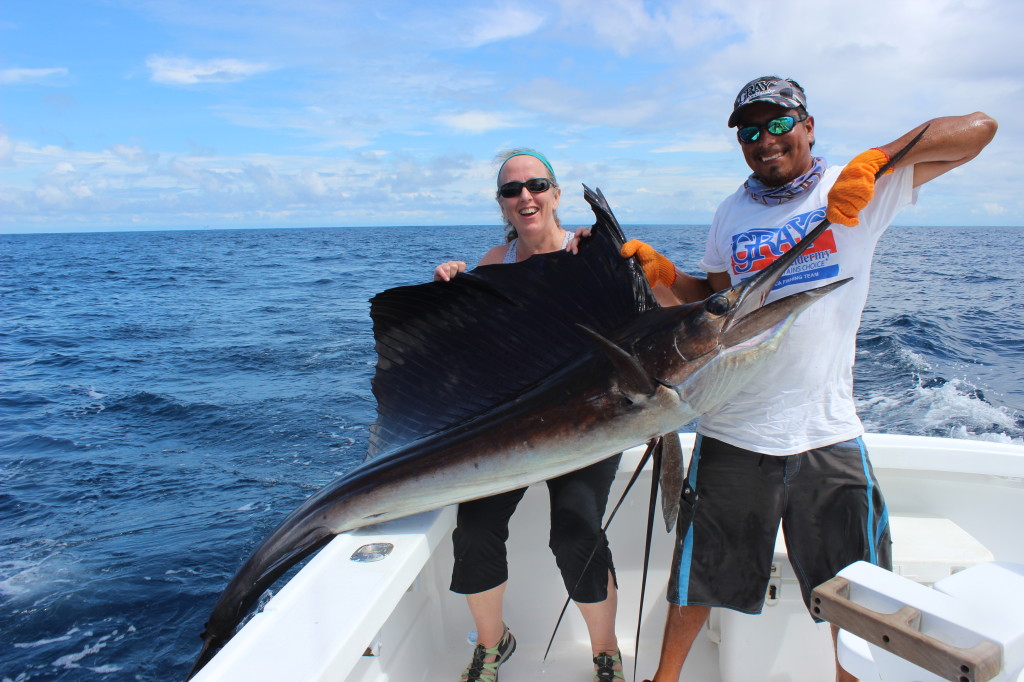 World Class Fishing at it's finest!
There are few places on this earth with as good a fishing as Quepos, Costa Rica.  And headquartered there is one of the best bangs for your buck in offshore fishing.  How good?  As folks say – Google it.  The cost of offshore fishing has sky rocketed the last few years, with prices rising to well over $3500 a day in some places.  Well guess what?  I found a gem, a place where for the same money you can buy your airline ticket, pay for your motel, and fish for 3 days.  It almost sounded to good to be true, but it wasn't.
The Stress Reliever – Quepos Fishing Adventures
A true hardcore fishing machine – and the crew to go with it.
Quepos Fishing Adventures is owned by John, an expat living in Quepos, born of all places in Victoria, Texas.  He now has a 3 boat fleet offering assorted packages with both inshore and offshore options.  Sailfish, Marlin, huge Mahi Mahi, Roosterfish, and tons of reef fish are all available.  But it is the sailfish that brings most of the fisherman to Quepos.  They are world class and the potential to break 120lbs is out there at any second.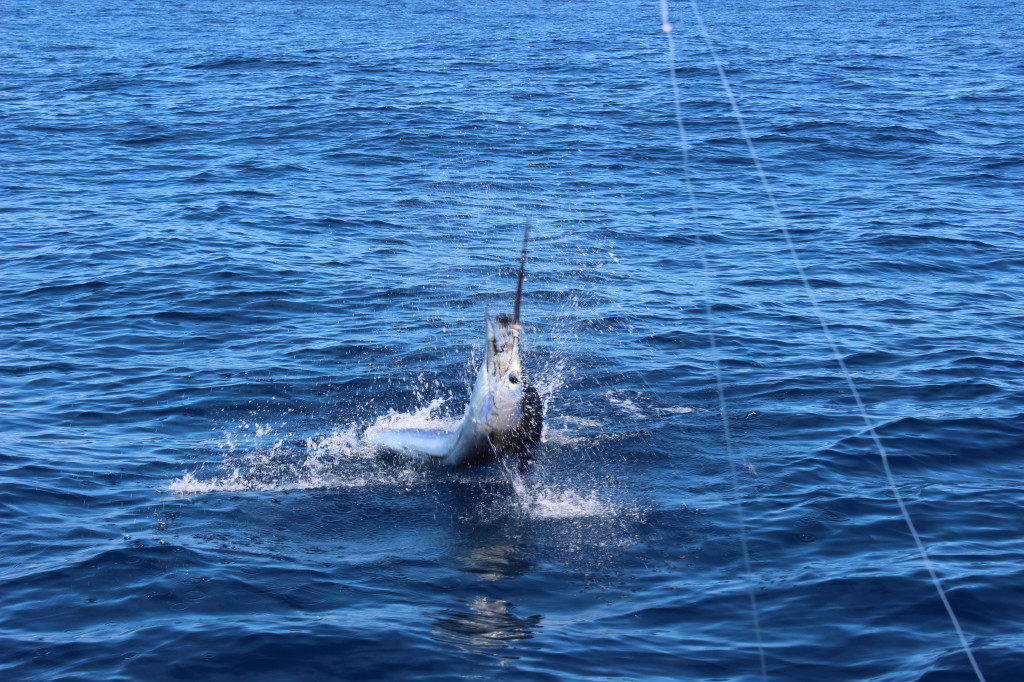 If this does not make your heart thump you are not a fisherman!
My wife and I were fortunate to fish 2 days offshore with Capt. John and his first mate Alex.  Alex will forever be known as Alex Reel Reel, because that is what you will hear from him all day, reel – reel!  And reel reel I did.  On the second day it was 10 Mahi Mahi without a break.  You want to catch fish, this is the place and these are the guys.  If you want air conditioning, a salon, and to be pampered (They feed you and put you on fish, which is the real pamering.), this is not the boat for you.  If you want to catch fish – This is the crew!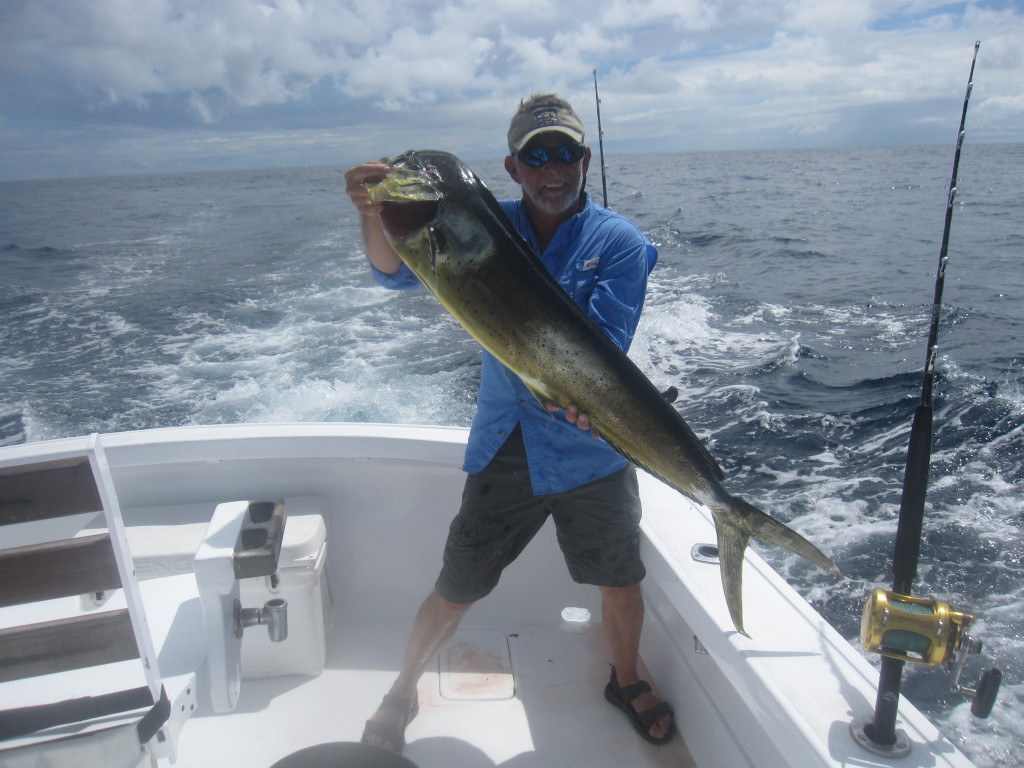 After 10 of these in a row you will sure have had your monies worth.
I can not say enough about Capt. John of the Stress  Reliever.  An American expat his story is one that is dear to my heart.  Knowing it was time for a change in his life he left Colorado towing an 16′ Lund aluminum boat and over 6 months fished from Mexico to Quepos.  Now that is my kind of guy!  He has been a full time captain now for 11 years, and is one of the top producers of big sailfish on the Pacific Coast.  His instructions, nobody get hurt and lets have a fun day.  He definitely produced in a big way.
Alex "Reel Reel" is a native Costa Rican who started working the long line boats at 16 and has spent his last 11 years on the water.  His ability to handle multiple rods, multiple fish, and multiple fishermen, is amazing.  A day spent with these guys is one of the great fishing days any fisherman could have.  Capable, competent, and they really care about making your fishing day a memory that will live forever.  And you will learn a lot no matter how experienced you are.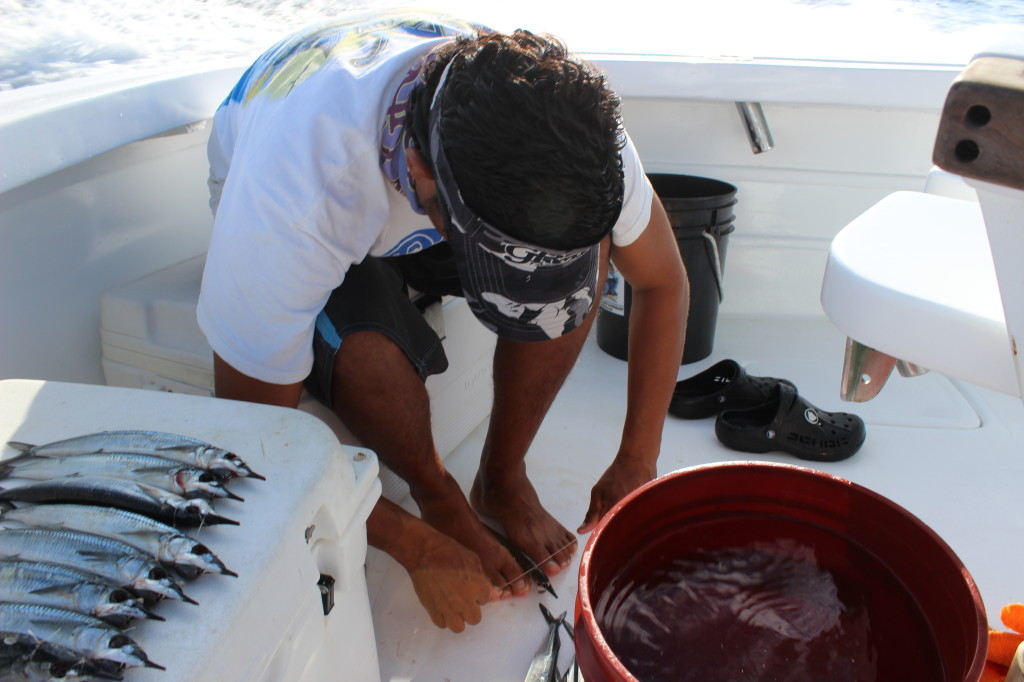 Alex rigs fresh ballyhoo.  No fear of a fresh bait shortage.
The fishing itself is basically high speed trolling with a basic bait and switch technique.  On our trip 3 teasers were employed with 4 flat lines trolling chin rigged ballyhoo.  While the sails and Mahi did hit the flatlines, often it was  sails in the spread and you could see them tracking the teaser.  The captain would jerk the teaser away, Alex would take the closest flatline, reel to the fish, and then drop the bait, and with any luck, which was often, the fish would eat.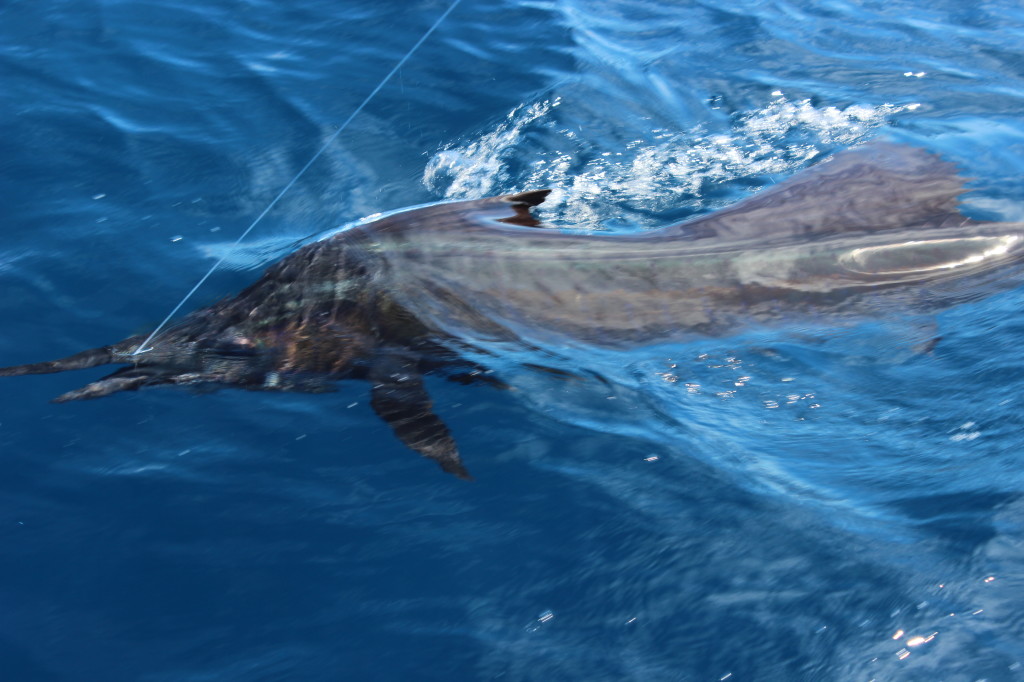 A beautiful thing!
It is an awesome sight to see a wolfpack of sailfish in the spread, slashing teasers, as the Captain and Mate did their thing so professionally.  We were lucky enough to experience a couple of doubles to go along with a quad on Mahi that continued until we had hooked an easy dozen.  It was a real pleasure to see a professional crew do their thing.  I can not imagine any better crew on the coast.
When To Go
One of the great things about Quepos is if the question is when should I go – the answer is easy, anytime!  Of course some times are somewhat better for different fish, but sailfish and marlin are available year round.    As an example Capt. John said they averaged 15 sailfish a day in January 2013.  He did mention some specific times that are better than others.
Dorado and Marlin– November and December,  Sailfish – January and February.
As to how far out you have to fish he catches them as close as 6 miles off, and as far off as 40 miles.  Now 40 may seem like a long way off, but the boat is fast and the sea is usually calm.  In fact, Capt. John has only had to return to port one time due to sea conditions.  It is one of the few places you can schedule your trip far in advance with little fear that weather will ruin your trip.  Keep in mind to expect rain, so bring your rainsuit, but it is always warm so it is no big deal.
Getting There
There are direct flights from many major US airports, it is only 4 hours from Houston.  You will land in San Jose and from there you can take a shuttle to Quepos.  If you schedule it right you can fly in in the morning and be at your motel in time for supper and fishing the next morning.  Same on the return, a morning shuttle ride then an afternoon flight.  Often you can arrange the in country travel through the hotel, or than can steer you to the provider.  Good planning can have you in one day, fishing 3, and home the next day.  The cost of this trip makes it a real value for the bucks.
There are several motels recommended on their site, or you can stay about 15 minutes away in the town of Manuel Antonio, which has a little more upscale accomadations.  We stayed at the Falls Resort and it was only a little more than $100 a night.  With breakfast provided, and lunch on the boat, you are only left buying supper, keeping the cost of the trip down.  The Falls has a good restaurant and there are plenty others within reasonable walking distance.  And taxis are cheap and you can take it to the marina and the hotels are happy to arrange it all for you.
This trip is well within the price of many of us, and if you split it with another person or two the cost of fishing goes down dramatically.  And with the sheer numbers of fish you will have plenty of shots on a three day trip.  My wife and I fished 2 days offshore and boated 9 sailfish and 11 mahi mahi, a successful trip by any standard.
So take a look at their site and start dreaming now.  It really can be a fishing dream come true.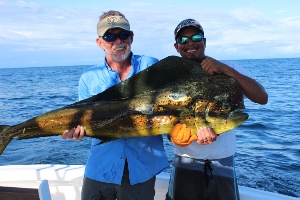 http://queposfishadventure.com/
Good Luck and Tight Lines