Grand Isle.  A  fish catching paradise.
(page under construction but thought you would like the pics)
Grand Isle, Louisiana, is at the end of the road.  Do you like to catch fish?  Do you like to travel on do-it yourself trips?  Do you just plain like to catch  fish, and I mean lots of them?  Grand Isle is one of the few places that I have ever been that you can load up the boat, haul it down there, and catch fish in almost any conditions.
Grand Isle is at the end of the line.  To get there, you exit off I49 to Highway 1 at the town of Raceland, Louisiana, and head south.  You immediately begin to see canals.  As you get further south, you come to Golden Meadow and still have at least a half hour to go.  When you go through Golden Meadow do not speed.  Countless online posts and anecdotal evidence suggests it is a speed trap so beware.  Golden Meadow is your last shot at civilization, a Wal-Mart.  Be advised there is a new bridge in place, I was there last year and you have to stop and pay a toll.  When you see the sign, stop and pay the machine as there is no toll booth.
And then it starts, a fisherman's wildest dream.  Marsh, channels, Inter-coastal, and huge bays.  As far as you can see.   It is enough to warm the heart of any fisherman.  As you come over the bridge you are there.  Notice when you enter the island the old bridge which burned.  It has been fixed and is a great fishing pier.  A small island, with around 1700 residents, Grand Isle takes about 10 minutes to drive from one end to the other, even in a traffic jam.  There is a grocery store, several gas stations, and a few good restaurants.
As far as accommodations, there are many different options.  There are what in Louisiana is called a camp, and it may be a small house on stilts, a trailer, or a 6 bedroom house that looks like it belongs in Miami.  There are multiple cabin options, from cheap to expensive.  When there we stay at Bridgeside Marine.  Buggy Vegas, seriously, and his wife own the marina.  They have motel rooms, camps, an RV park, and several really nice houses right on the beach.  I try not to gush to much, but these folks are the best.
The marina has slips, bait, food, beer, tackle, ice, and on and on.  You can also get your fishing licence there.  And they have one thing that beats it all.  And that would be Bozo.  Bounty hunting, bait getting, customer serving, right hand man, he is a tale teller extraordinary.  No trip there is complete without an early morning chat with them.  The whole crew is wonderful and will take care of your every fishing need.
THE FISHING
Before I start I wanted to mention one thing.  There are only pictures of offshore fish in this article.  Why?  Well the fishing says it all.
This is a trip the traveling fisherman can take with a little preparation and no prior knowledge.  Our first trip there was in late April.  Not knowing anything I found a ramp on the local map.  Port Fouchon is a still smaller town about 10 miles from Grand Isle.  The ramp is very nice with plenty of parking.  If you look on the map you can see it is all marsh.  It appears to be about 5 x 5 miles of nothing but channels, pot holes, and big shallow bays.  It is great if you get a windy day.
A first time visitor can literally put the boat in and start redfishing.  Some of the bays are very shallow in the marsh, but there is ample water in several main channels to move around.  From there, trolling motor down and off you go.  We have caught fish there on Redfish Magic spinner baits, Skitter Walks, Mann Waker, and popping corks with Gulp.  The marsh is full of redfish, but few trout, but if you like getting your arm  broke just slow roll that spinner bait along the banks just like bass fishing.   Fishing 6 days our last trip there we all limited.  Nothing like a possession limit of 40 reds, 10 each.  And I had to keep the guys on the first trip from keeping the smaller ones.  As long as you keep after them you will catch them.
The trout are another thing.  In the early spring season they are up around Golden Meadows in an area called the Sulphur Mines.  Channels, lakes, ponds, and old mines litter the area.  A GPS is a good thing here but we did it the fist 2 times without it.  There are several ramps in the Golden Meadow area.  As the water warms the trout move down to the big bays and ocean.
Ou last trip there, in May 2010, we put in at the boat dock, went under the bridge, and fished the back islands.  We had our best success on top waters, though caught many on gulp.  The last day this year a friend and I were on the backside of an island within site of the bridge.  As it was cracking daylight we began chunking top waters and catching a few.  Hearing something behind us we turned and there they were.  Not some, not hundreds but thousands of trout chasing bait.  An hour later we decided to go back to the island as that is where we were catching the bigger trout.  How many did we catch, your guess is as good as mine, but it was two at a time again and again.  So why are there no inshore pictures, cause no one will stop fishing.  The 4 of us took are legal possession limit of 50 trout and 10 reds home.  Fish fry for everyone.  The fishing is that good.
Not being a bait fisherman I can only tell you what I saw.  Most of the local guides during this time are back at the dock by 10a.m. with a limit, and that may be 75 or 100 fish.  And it is like that in May and June.  The trout fishing is phenomenal.  There is a large reef in the bay, if nothing else, look for the boats.  Get a bunch of shrimp and hold on.  Nothing like knocking off a limit and back for lunch.
If you are a bass fisherman, the redfishing in Grand Isle is for you.  It is not so extensive that you can not explore and still catch fish.  Just use discretion as some is as shallow as it looks, and more.  A jon boat, a trolling motor and you are in business.
If you want to take a trip where you can do it, to where the fishing is fine, I have not been anywhere that is any better.  But inshore is not the only option.
OFFSHORE
One of the great things about Grand Isle is the rigs. Hundreds of them line the coast and they are fish magnets.  Grand Isle has some that are as close as 3 miles from the beach.  On calm days you can reach the rigs with a good bay boat.  The ones close have redfish, spanish mackeral, sheepshead, jacks, sharks and a host of others.  We had success on live bait, jigging spoons, and trolling.  And while the close ones are loaded, the ones offshore, some 60 and 70 miles out are almost scary.  We were fortunate enough to get to take a trip offshore with Buggy and a couple of friends of his.  And let me tell you, if you want to catch some big fish, it is money well spent to hire someone to go offshore.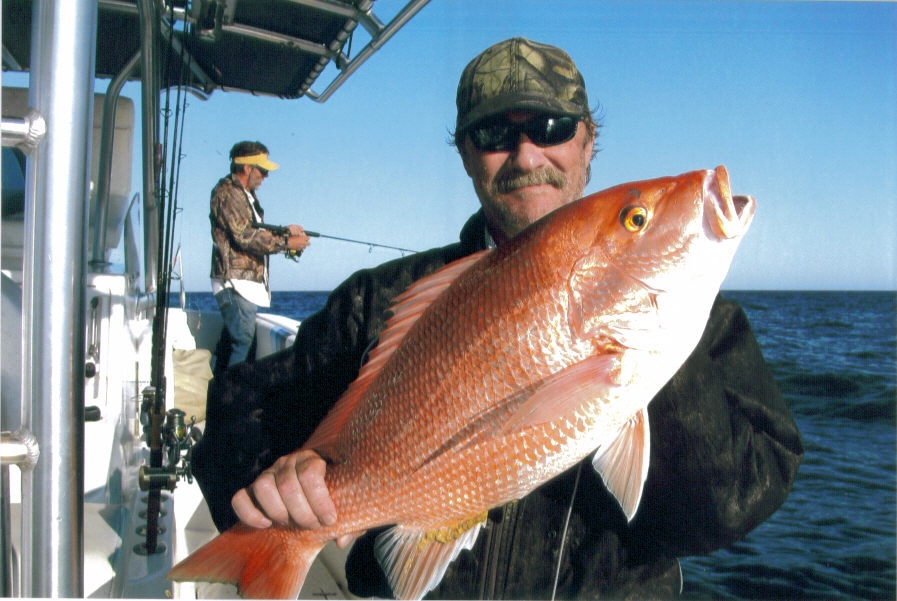 Clyde Burchard with a big red snapper caught on a jigging spoon
We a started our day with a short run to a closer rig to catch bait.  Sabiki rigs cast and jigged produced what locals call hardtails.  We then went on to our first rig about 30 miles out.  The Captain proceeded to back the twin cat right up to the rig.  Using a big offshore rig we dropped the hardtail right next to the rig.  The bites were immediate from the amberjacks.  They hit like a ton of bricks, the captain slammed the boat in forward, and the fight was on.  The first one nearly pulled me in, I could not believe the power.  We proceeded to hit several rigs and most held fish.  We easily caught our 1 fish limit, and let many more go.  I can honestly say that is the fist time in my fishing life I actually put the pole down and said no more.  Of course 10 minutes later I'm fishing.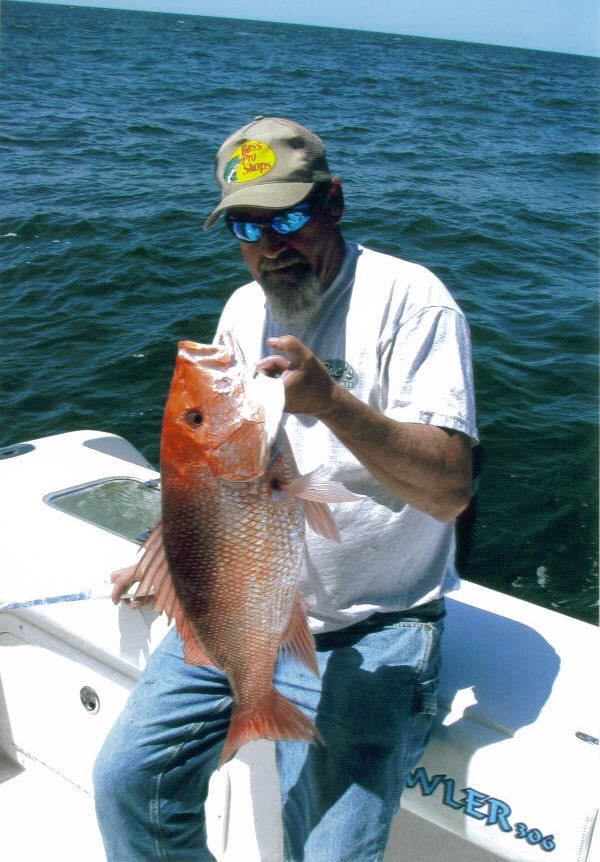 Jim Rose and nice red snapper, to bad the season was closed.
We also used jigging spoons on Shimano jigging rods.  Short, lite, and strong as steel, those spinning rods were amazing.  We would let the spoon out, count to 50 – 60- whatever seemed to be the depth and begin to jig and reel with a high speed reel.  You could not out reel them.  It was like catching a car.  That went on all day.  We caught Snapper, Grouper, Amberjack, and a host of other fish.  While I was exhausted, it was an experience I will repeat next year.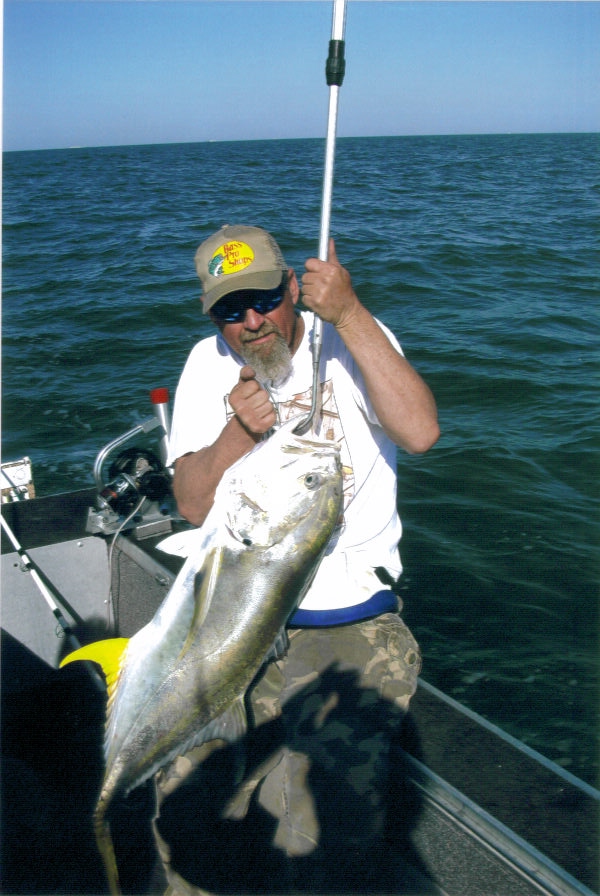 Jim Rose with a big jack.  Nothing fights like a big jack.
A limit of Amberjacks.
Grand Isle is easily done if you do a little research and prepare.  Nothing like being there in the late spring when the crawdads are cheap and the shrimp are cheaper.  $2 a pound for giant crawdads is the norm.  And the locals complain when shrimp as big asyour head get over $4 a pound.  To be sitting on the porch at your camp, drinking a cool one, and have the coon ass in the camp next to you come over  with a boil of shrimp, crawdads and potatoes is a thing of beauty.  So get off your butt, hook up the boat, and tell Buggy I sent you.
The best web site for Grand Isle                  http://www.grand-isle.com/
The Marina – tell Buggy I said hi.                http://www.bridgesidecabinsandmarina.net/