Falcon Lake  –  Want to catch your personal best?
A nice 8lb. 13oz. Falcon lake fatty.
If you are willing to travel, and you love to catch bass, Falcon Lake in south Texas is well worth the trip for a traveling angler.  Sitting on the border of Mexico and Texas, Falcon Lake stretches over 50 miles with 83,000 surface acres along the Rio Grande River.  Impounded in 1954 Falcon Lake has become one of the premier destinations in the country to catch huge largemouth bass.
Situated between Brownsville and Laredo Texas, it is 50 miles off Interstate I35.  The main jumping off point for most fishermen is the town of Zapata.   Zapata is a small town of approximately 15,000.  Zapata has a fair selection of restaurants, accommodations, and anything else the traveling angler would need.
Falcon Lake also boasts some of the best guides in the country.  Helping their customers to big fish, with many over 10, a day with one of them can be the trip of a lifetime.  And of course no trip there would be complete without a stop at Falcon Lake Tackle, a great resource for both what they are hitting on and the type of places you need to fish.
THE LAKE
I have made 3 trips there in the last year or so.  I can without reservation say that if you are a bass fisherman, and want a realistic chance at not only catching your personal best, but one over 10lbs., this is the place to be.
After a long period of drought and extreme low water, the lake filled.  When it did it covered thousands of acres of buck brush, mesquite, and scrub.  To say this lake has cover would be an understatement.  Idling into the back of a creek you will begin to see the tops of brush sticking out of the water, and it may be 20 ft. deep.  And then for acres there is brush.  Senderos, or old roads, crisscross the brush allowing you to penetrate deep into the maze.
The lake is also littered with long points, both deep and flat.  Many hold the legendary rock piles and drops that at certain times of the years hold schools of bass most bass fisherman only dream about.  It can be a little daunting at first, it is big.  But with a little planning, and trip to Falcon Lake Tackle for the lowdown, you can be catching fish.
Sitting on the Rio Grande River, Falcon Lake splits the U.S. and Mexico.  There are markers going down the middle of the lake as the old river bed is the line between them.  Being a large lake it can get rough at times, and north winds bring the big waves.  Luckily there are enough places to get out of the wind that there are very few days where the weather will keep you off the water.
While Falcon Lake has received some bad press recently due to the ongoing drug wars in south Texas, I have found a simple solution, fish only on the U.S. side.  Though you need a fishing license for Mexico, there is no need to go there. There is enough water to keep the visiting angler busy for weeks without straying into Mexico.
THE FISHING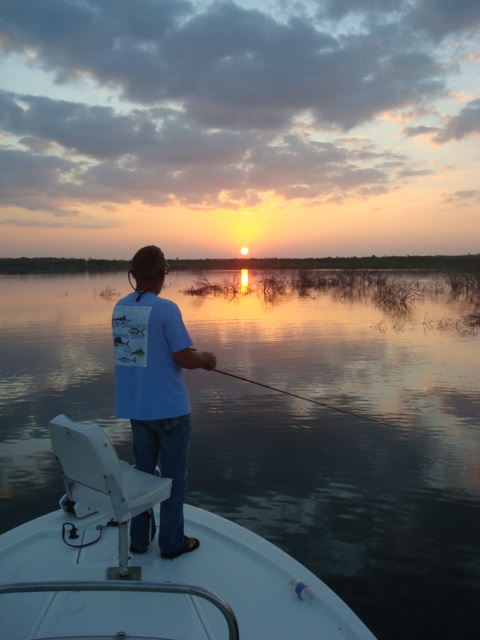 SUNRISE  –  THE ANTICIPATION IS KILLING ME!
First let me state I am not an expert on Falcon Lake by any stretch of the imagination.  I am simply a guy who is willing to load the boat, drive my butt off, and put in the time and research to go where the fish are biting.
Falcon Lake is known for big fish.  There are tournaments most weekends but it is big enough that there is room for all.  During the week the pressure here would not even come close to that experienced in most northern lakes, or those close to large populations.  But what is truly unique is the weight it takes to win even club tournaments.  A 5 fish limit that does not top 30lbs rarely gets you in the money, 35 or 40 will be closer.  Big fish, better have an 8+, but she will usually lose to a couple over 10.  The numbers here are staggering.  In fact this year there has been at least 1 over 16 weighed and fish over 10lbs. are regularly caught.  Don't believe me?  Visit Falcon Lake Tackle's website below, it is absolutely amazing!
So what is your favorite bait?  If spinnerbait is your thing you can throw it year round here.  Crankin make you happy, crank away.  Probably more big fish are caught here on plastics than anything else.  Large flukes, 10″ worms, and heavy jigs do the job.  This is where Falcon Lake Tackle comes in.  Just stop there and ask, they will be happy to fill you in on what is working.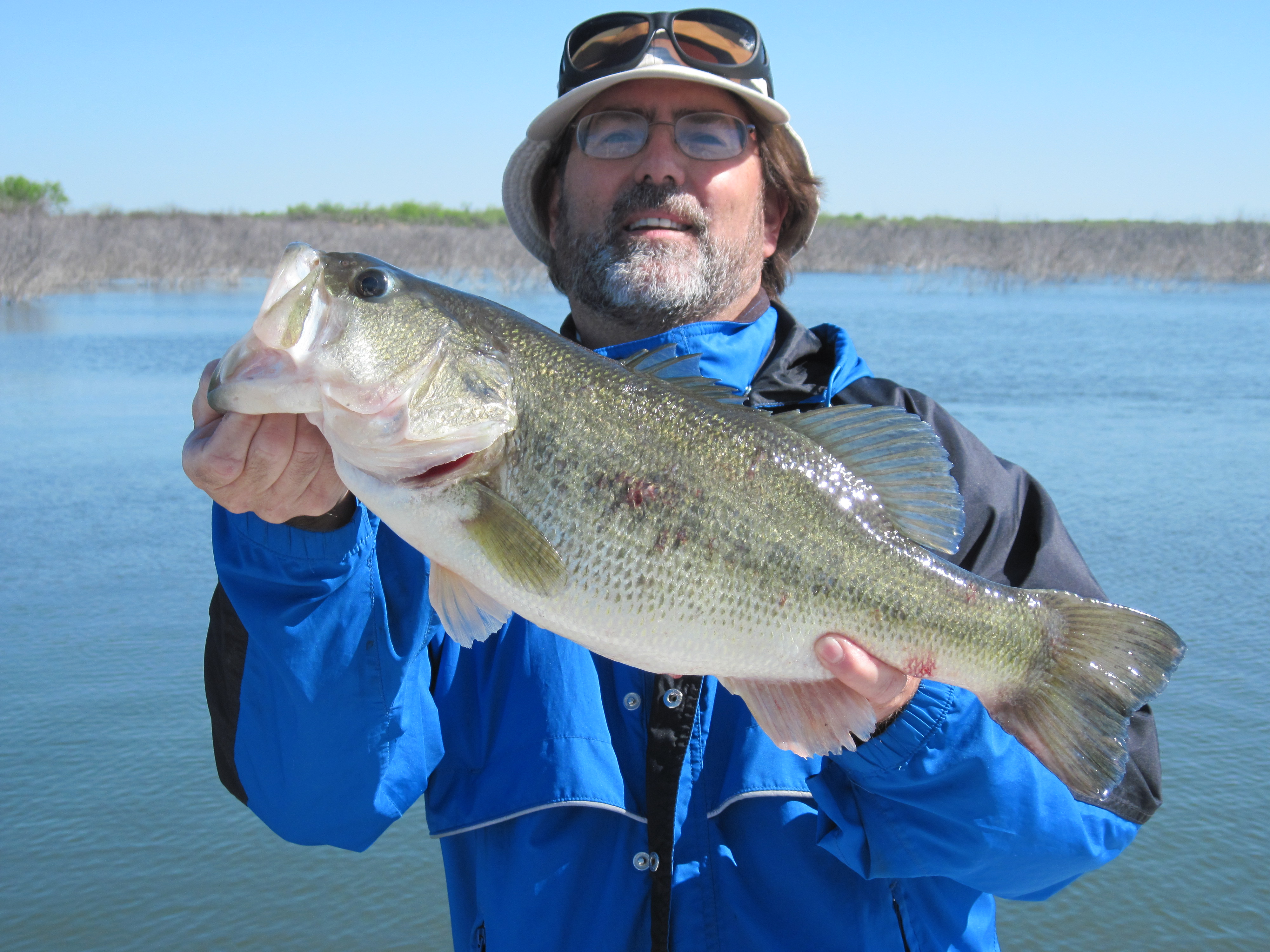 My Brother Jeff  –  Can you believe this is what the locals would call "just" another good one on Falcon Lake?
The structure on Falcon Lake offers any bass fisherman the option to use whatever he should, wants, or is proficient at.  For a lake this far south the bass here seem to stay at accessible depths year round.  At the time of this writing they are catching fish from 1ft. deep out to 20ft. of water.  Crankbaits, both deep diving and square bill are working.  Spinnerbaits seem to work all year, and jigs off the deeper points are catching the real pigs right now.  Lake Fork is also a flippin paradise.  It was great to watch an old guy haul a 10 out of a brush pile last trip.   Of course each bait has a time and a place, but I am more comfortable with a spinnerbait so that is where I always start.  What a lake, pick your poison and go to throwing.
A word about tackle.  This is not the place for your medium rods, the nice spinning rod you use for drop shotting, or 10lb. line.  This is heavy tackle country.  When you are trying to pull a bigfish out of a maze of brush heavy rods and stout line are the order of the day.  I have met several guys there who use flippin sticks, or something in that range, for casting here.  So be forewarned, this is not your momma's pond.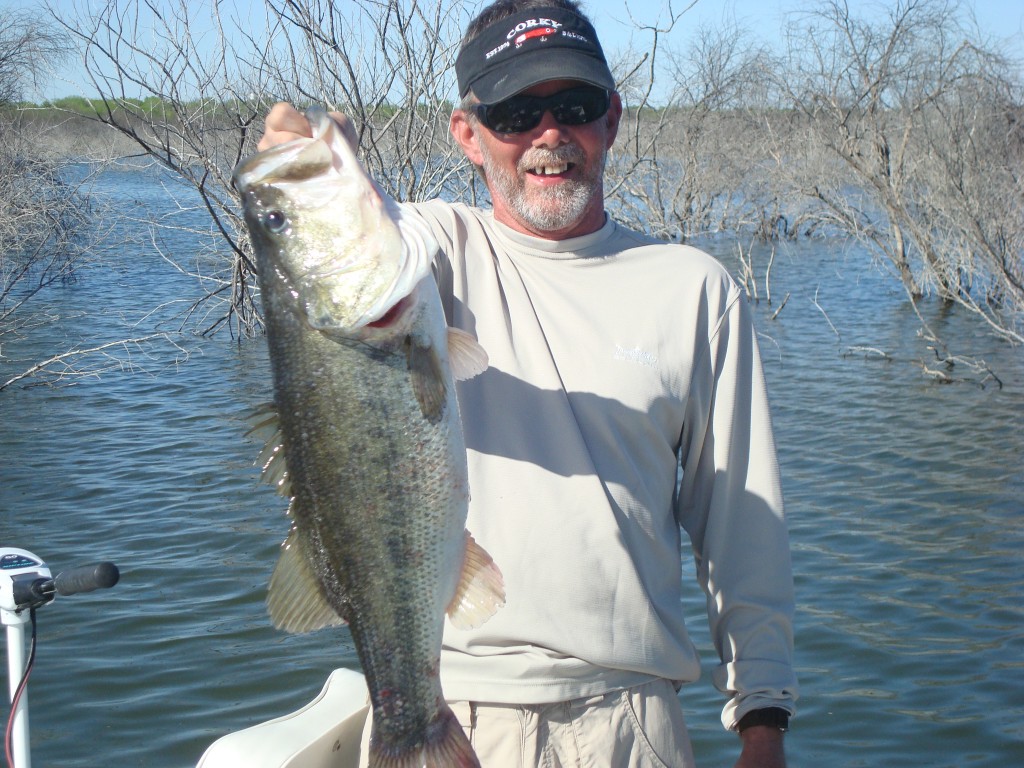 One Happy Fisherman  –  My first bass over 9lbs.
So how to start?  Get a map and look it over.  Find an area that you are comfortable with and make a plan for the day.  Of course it all could change in one bank or one cast, but stick to it while you learn the lake.  For us it is always easier to fish up the lake and I usually look for an area with several large coves and a creek nearby.  It gives you varied structure which can lead to a pattern, which can lead to the biggest fish of your life.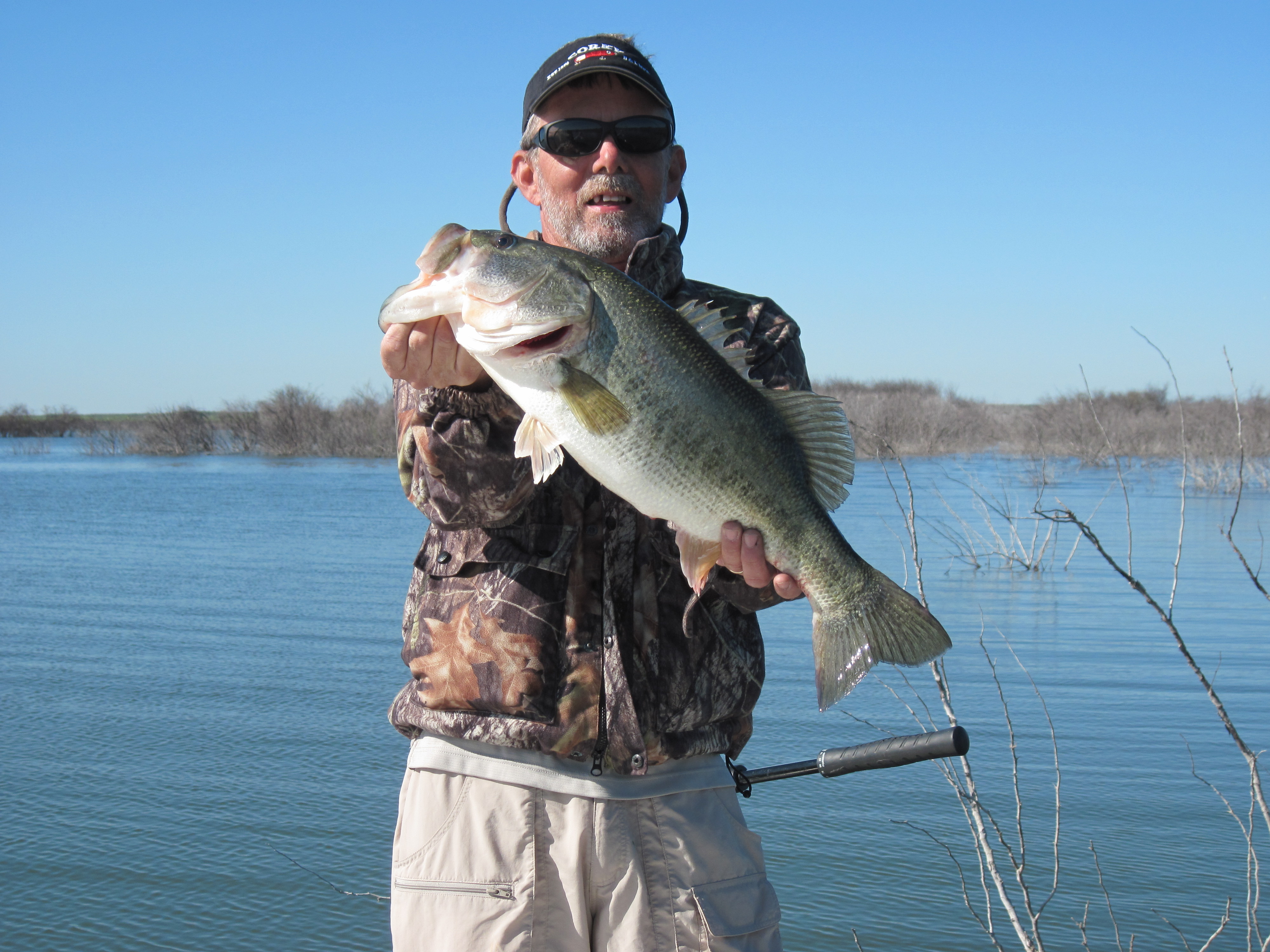 Just a baby  –  6lb. 13ozs.
I have been fortunate in my 3 trips to Falcon Lake.  While never catching great numbers on most trips, I have caught 1 over 9, 3 over 8, and enough 5 and 6lbers. to keep any fisherman happy.   We have caught them deep and shallow, in every imaginable piece of structure you can think of.  We have only scratched the surface and I can not wait for my next trip which will be in a month or so.
General Information
There are several places to stay in Zapata, most of course are very familiar with fisherman and do their best to accommodate them.  Very few places have ramps, in fact there are only 2 public ramps on the lake, one in the town of Zapata, and one at the south end of the lake at the state park.  So when you are researching your trip be sure to ask the place you choose to stay if they have a ramp and what the parking situation is.  You want to be sure there is plenty of room and no issue with charging the boat.
If you have never been to Falcon, and you love to  bass fish, it has to be on your bucket list.  It should be at the top, because once you go you will be hooked  Falcon Lake is fish catching travel!
RESOURCES YOU CAN USE
The local Chamber                                         http://zapatachamber.com/CWT/External/WCPages/
Texas Parks and Wildlife   http://www.tpwd.state.tx.us/fishboat/fish/recreational/lakes/falcon/access.phtml
The Best Resource on the Lake – Falcon Lake Tackle  http://www.tackleandrods.com/lake/flash.htm