Fishing and Traveling in Belize – June 2011                  
 BELIZE  –  June 2011
Belize is a small country in Central America.  It offers many opportunities to the traveling fisherman.  There is great tarpon, bonefish, permit, snook and reef fishing.  A short 2 hour flight from Houston, you can leave in the morning and be sitting on the beach drinking a cold one before 3 p.m.
Our destination was Caye (Key) Caulker.  A small island 20 miles from Belize city we choose it for the lack of cars, small town feel, and friendly people.  One of the things we really enjoyed was the lack of pressure panhandling or selling.  There are other more famous islands there, but if you want a small island, laid back experience, you can not beat it.
One word on clothes, Caye Caulker is laid back, and I can not over emphasize that.  Shorts, sandals, bathing suits, and cover-ups will definitely be all you need.  Good sun screen, a camera, bug spray and you are good to go.
What you need to know about  traveling to Belize.
Belize is a former British Protectorate.  English is the main language, though you may hear Spanish, Creole, and a host of other languages.  The money is directly tied to the U.S. dollar which keeps it simple, a straight 2 Belize for 1 U.S., though they are happy to take either one.
You do not need a visa, just an updated passport.  No vaccinations are required.   Once you land in Belize City you can get to Caye Caulker one of two ways, either by plane or by water taxi.  If you choose the plane you simply grab the next one to the island and 20 minutes later you are there.  There are plenty of guys in golf carts happy to take you to your destination on the island for a very reasonable fee.
Should you choose to go by water taxi, it is about an hour ride.  While reasonable, they are not always on schedule and it appears capacity is about as many people as can fit on the boat.  The taxi driver will know when the next boat is and take you right there from the airport.  We did it both ways for the experience, but the hundred bucks for the plane back was worth it.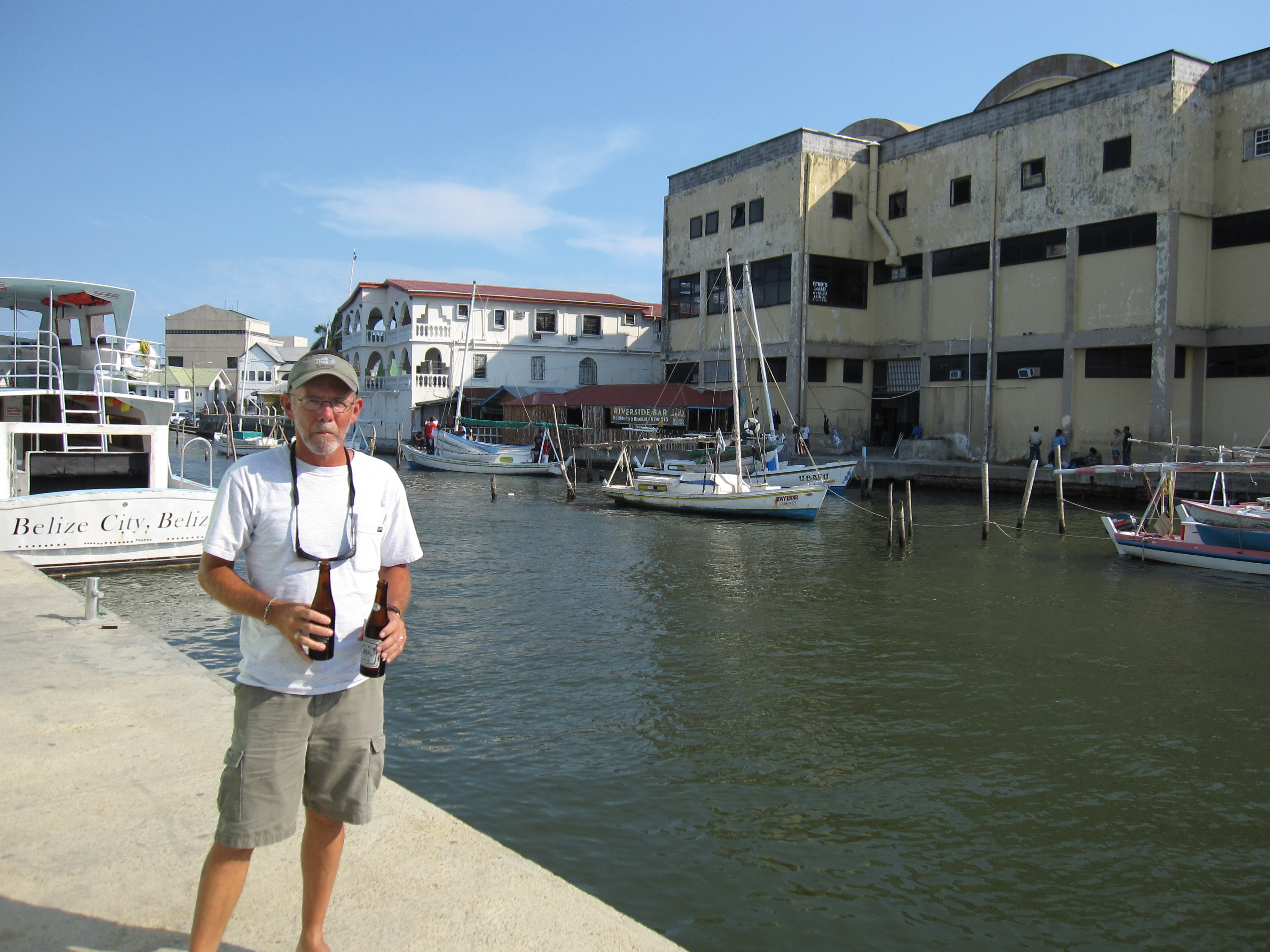 Waiting on the water taxi, I wasn't to thirsty.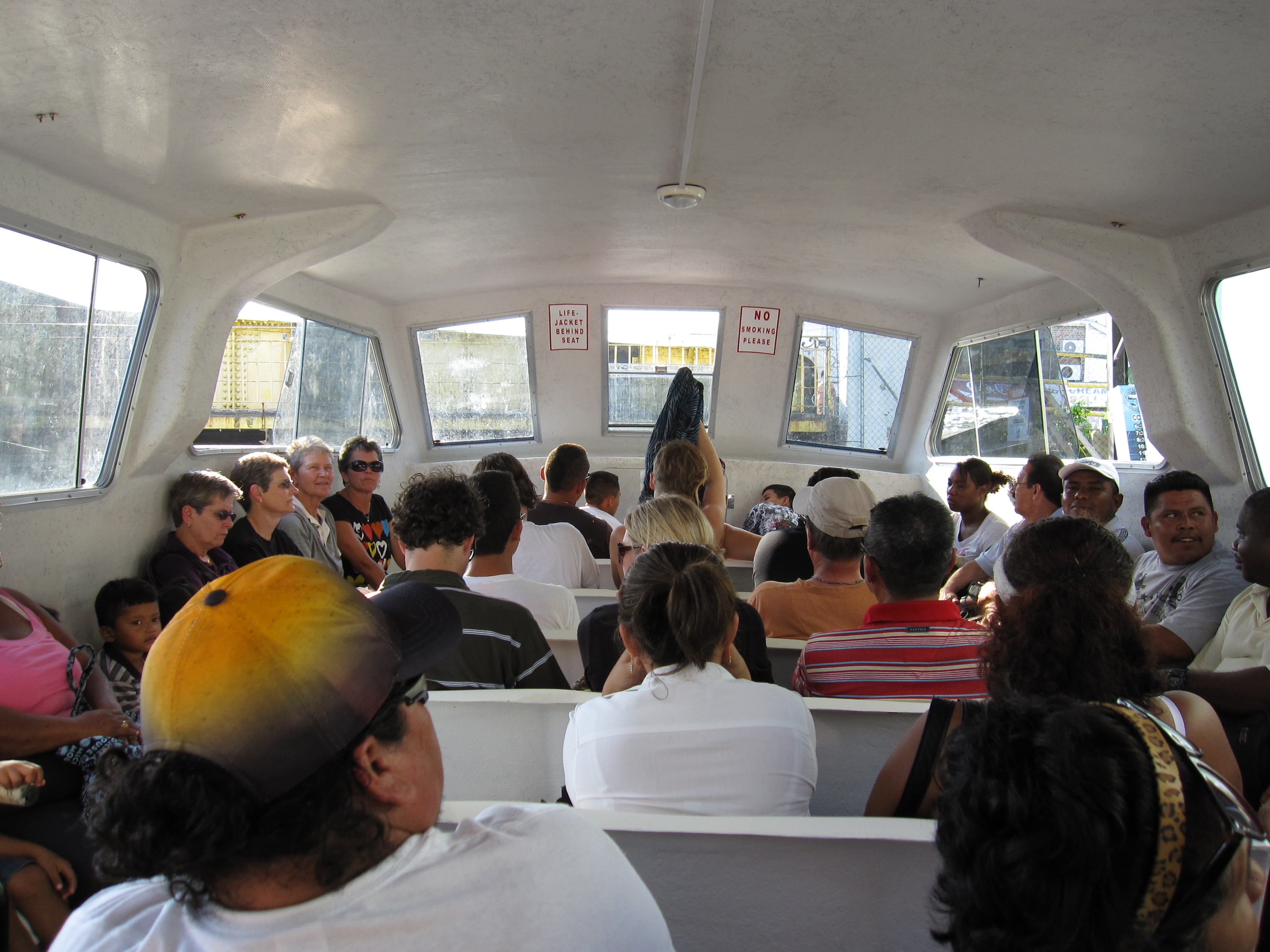 Throw on your bags, grab a seat by the door for fresh air, and off you go.
Caye Caulker and Sea Dreams.
After looking online we chose Sea Dreams Hotel which is at the tip of the island next to the 2 places that will play a role in your day should you go, the Lazy Lizard and the split.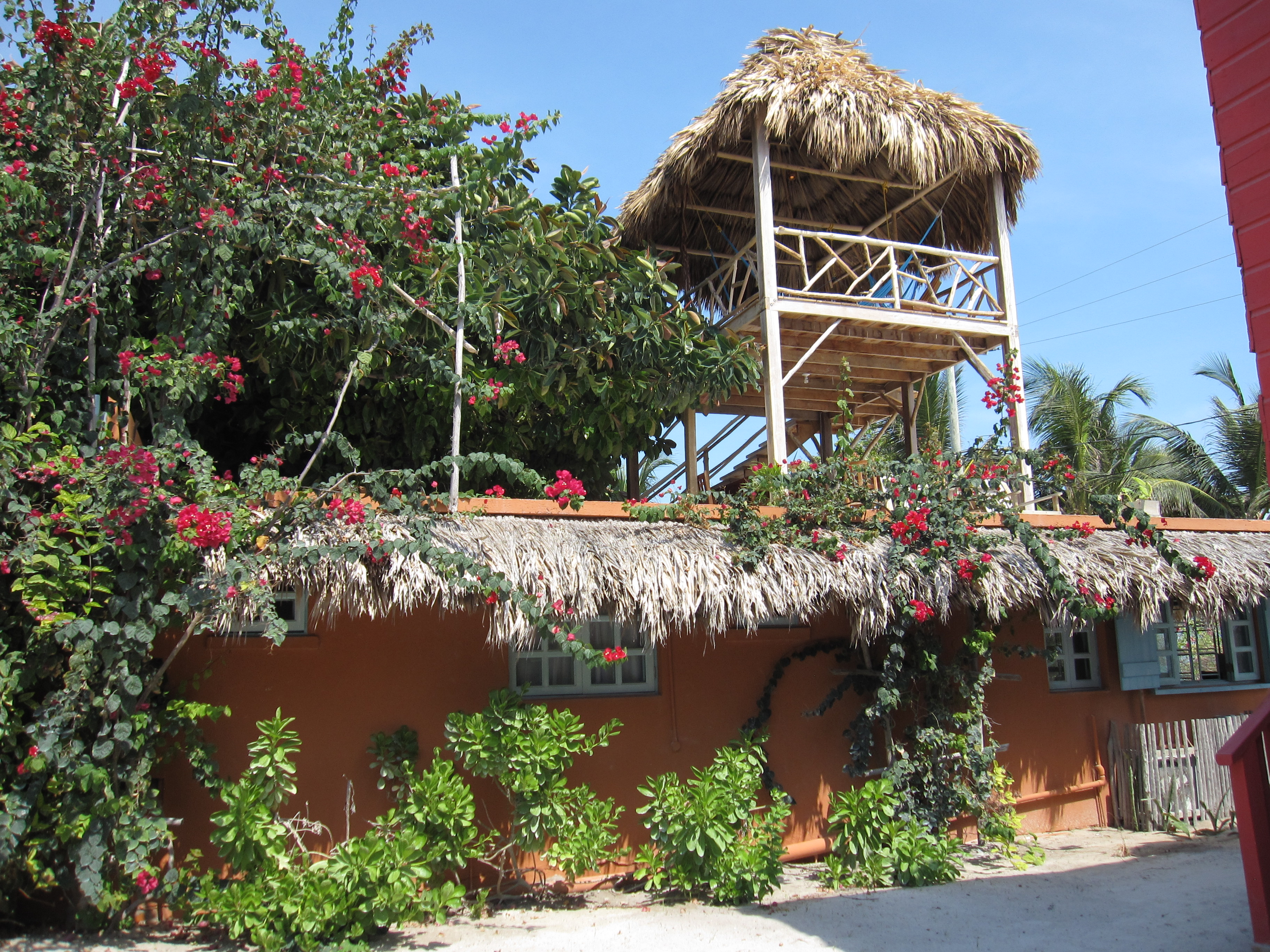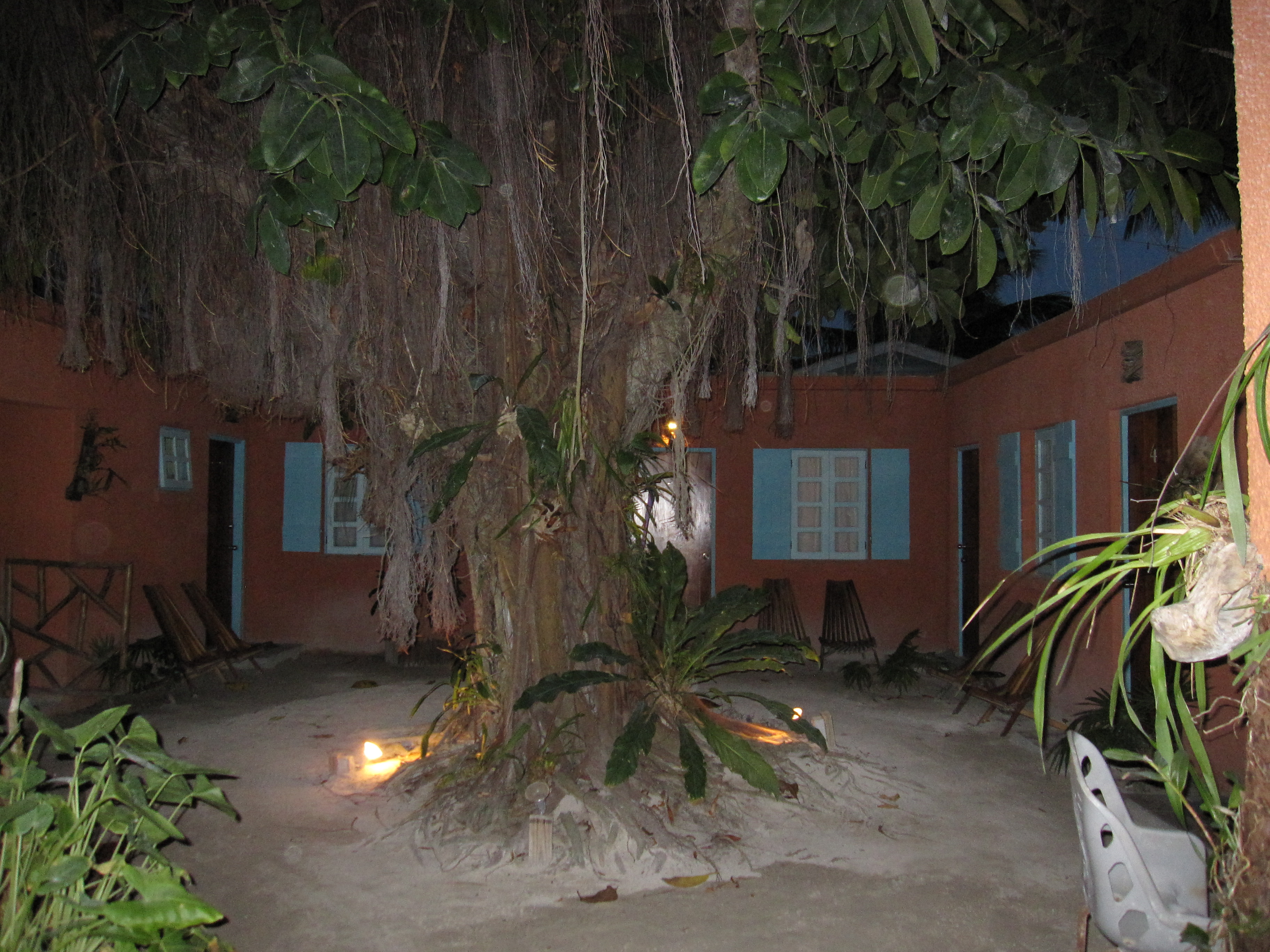 A great reasonably priced place, it is owned by expats Haywood and Heidi Curry from Austin.  Anna is their trusty assistant who is not only helpful with daily questions, but also incredibly nice.  Not only is Sea Dreams steps from the split and the Lazy Lizard,  you can catch bonefish wading only a block from the door.  A great breakfast is included, fresh fruit, pastries, and a different breakfast item served every morning.
They have bikes you can use at anytime, simply peddle away, but be sure to remember where you parked it.  It was great that when you rode somewhere you did not have to lock the bike.  The whole island is easy to traverse with a bike.  Should you be more of a couch potato rent a golf cart.  Additionally, they have 2 canoes that you can use and there is a world of water to paddle in.  Paddle a short distance down the island and feed the tarpon.  Go ahead, hold the bait in the water, I dare you.  And if you want to snorkel, just walk about a block down the street and rent the equipment.  The daily fee was dirt cheap.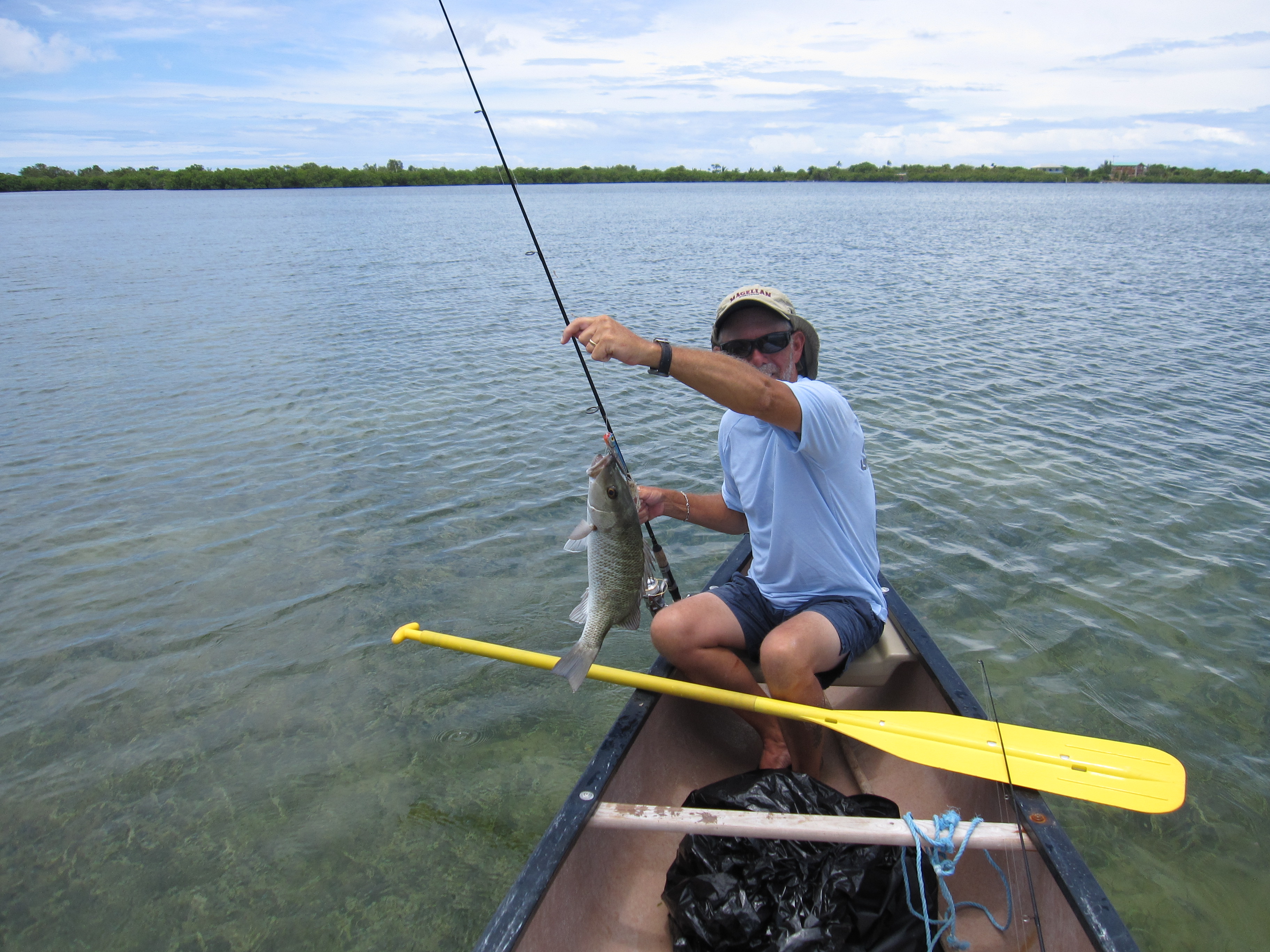 One of several snappers caught just yards from the dock.  This one ended up on the grill at Wish Willies.  Just stop by there, it is only a block from Sea Dreams, drop it off and let him do his magic.  He will cook you a meal you will never forget.  And I mean that for seveal reasons, one of the great things about the island.  Also I was able to paddle to a flat across the split and catch bonefish.
Want a great swim, a cool drink while watching the sun set?  Sea Dreams dock is a perfect hangout.  Do not expect a huge beach, but there is a small nice one only a block away at the Lazy Lizard.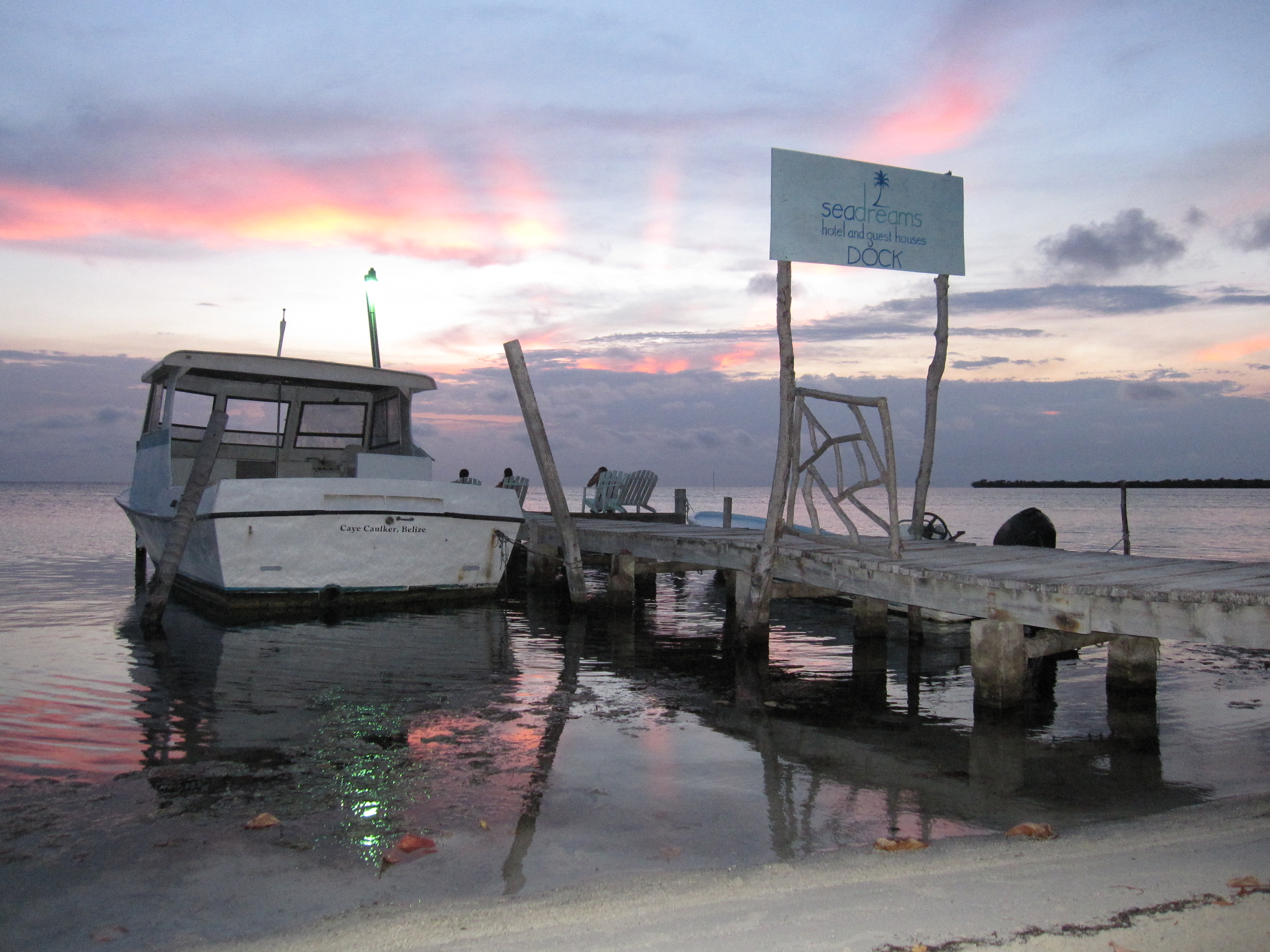 Haywood, who owns Sea Dreams, also has a fly shop.   He is an accomplished fly fisherman who won the biggest tournament in Belize. While I am not a fly fisherman, he has the basics you will need.  Please check out his website, it has a great permit video.  One word to the wise, if you think you need it, take it, tackle is limited there.
Also there are plans in the works for a potential tournament sometime next year.  If you are a fly fisherman it is one of the great destinations in the world.  Watch their site, hopefully it will happen.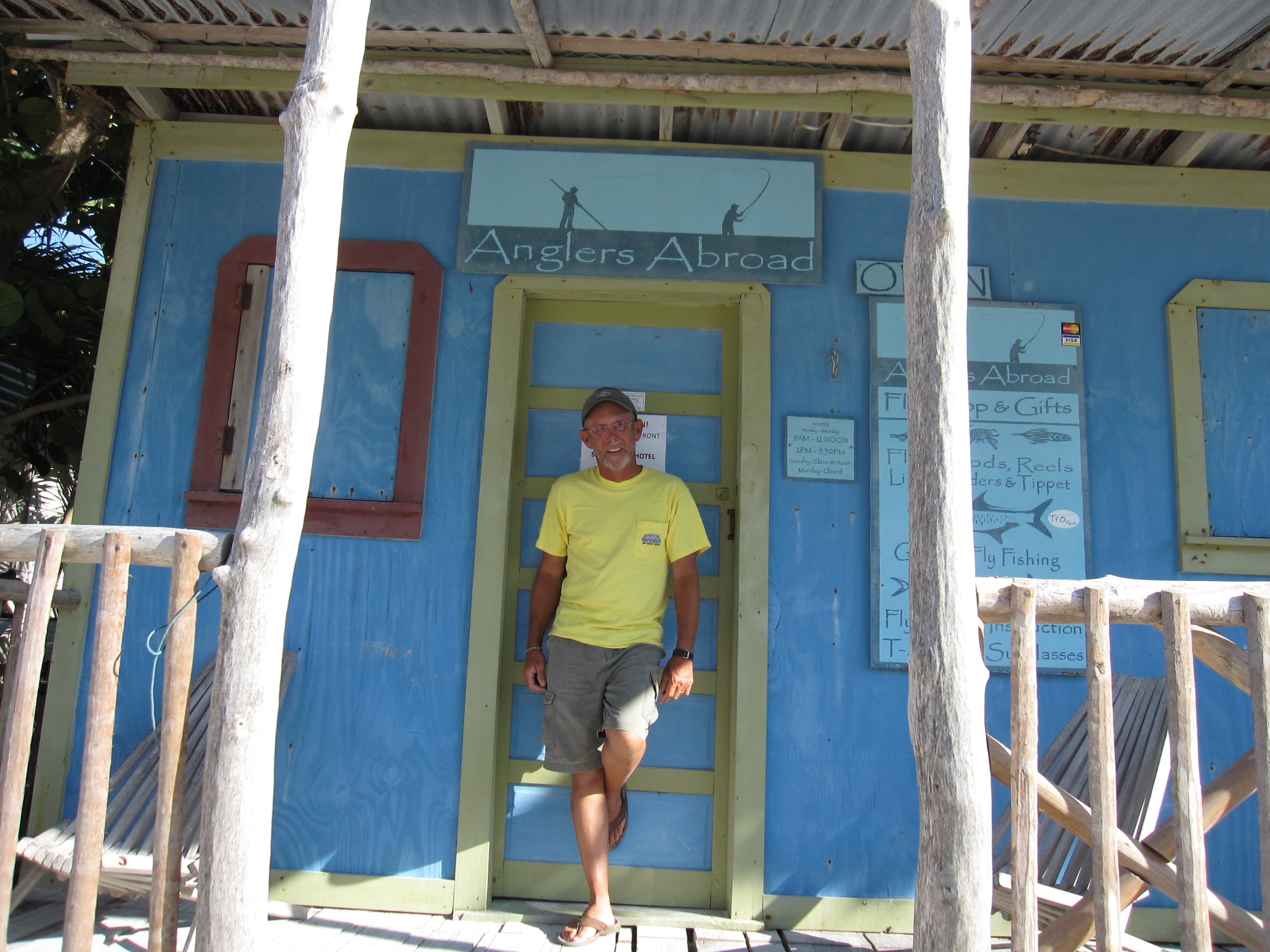 Caye Caulker is about a mile wide and 4 miles long.  It takes a little time to bike from one end to the other.  Whether shopping, eating, or just sampling the local life, it is a real pleasure to be able to get around at a leisurely pace.
The Fishing
Haywood can arrange a guide for you.  They are very good at working with folks so that your level of skill can be taken into account.  The daily fees is under $350 at the time of this post and believe me it is worth every penny.  If you contemplate going there, search other destinations, the cost of a do it yourself trip here is well worth the effort.
I fished a couple days with Capt. Raf.  A very personable and accommodating guide, he did his best to put me on fish.  One of the things he does that can include anyone, even the kids, is live bait fishing for tarpon.  Just ask him  for the evening trip and he will do his best to put you on them.  Here is a few of our evening trip with him.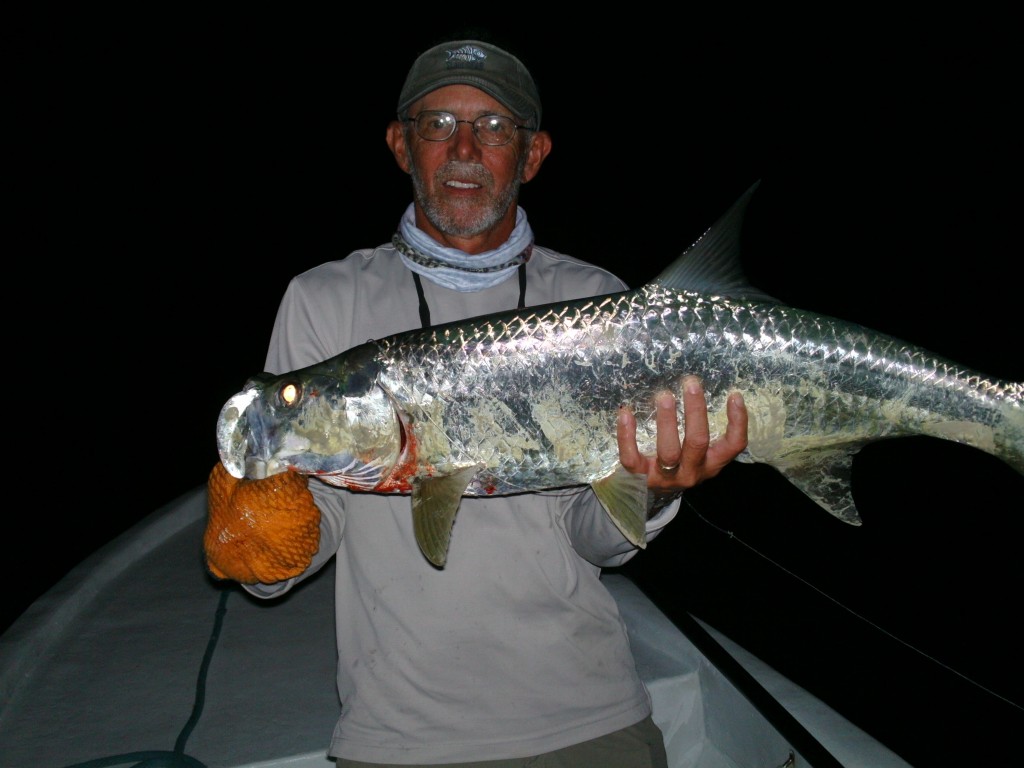 Jumped 6 and landed 2, a great evening.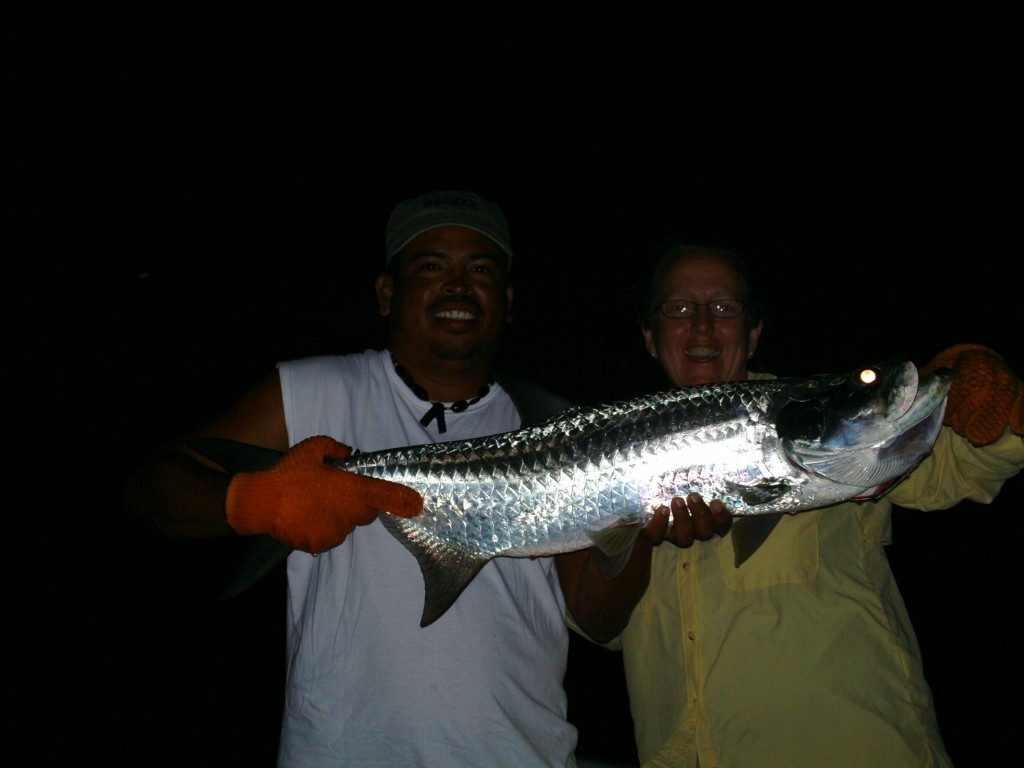 My wife Nancy with her first, of course she jumped 4 and I jumped 2.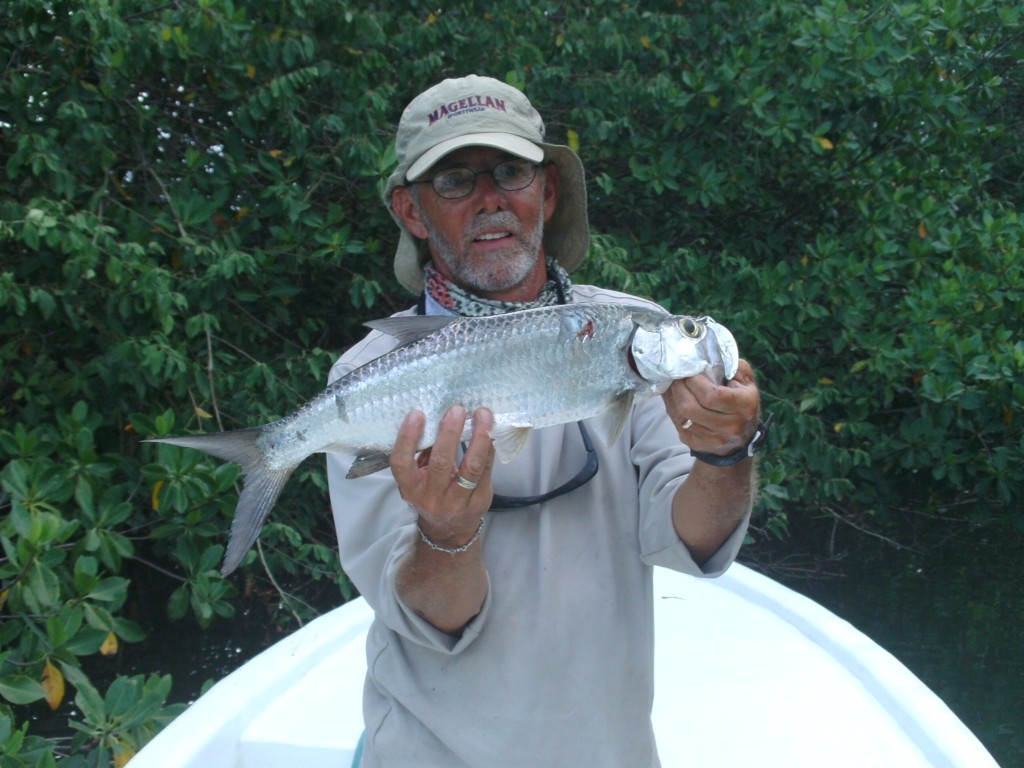 My baby on a top water, just as much fun as the big ones.
Fishing with Capt. Raf I caught two tarpon, not to mention snappers and barracuda. I should have caught several snook, had a great bite from a saltwater crocodile, and got to experience the great flats around Caye Caulker.  I want to thank him now for his hard work, he went above and beyond and when I get back, not if, we will be fishing together.
One of the tricks I learned was how to catch tarpon at night in the split.  The split is a channel in the island next to the Lazy Lizard and only a block from Sea Dreams.  I simply used a sabiki rig to catch what is locally called sardines, then free lined them from the end of the old pier at the Lazy Lizard.  I was able to catch at least 1 every night and had as many as four.  If you go, drop me a line, I will be happy to detail that further.  It was great to be able to walk a block, fish an hour or two, and watch those tarpon exploding in the lights of the Lazy Lizard.  As soon as the music quits at the Lazy Lizard, catch some bait and free line them in the split, it is awesome.
I also caught 6 bonefish wading with absolutely no experience.  It should have been a few more, but with my superior skill I managed to mess a few up.  Just walk down the block to the flat at the end of the road and wade right in.  There were fish all along the flat around the first couple of docks.  I got up at daylight and waded, watched, and threw.  It was really as simple as that.
Lets take time to talk equipment.  After traveling by plane to many locations with a rod tube I have finally got it down.  Buy 2 piece rods.  This enables you to keep the tube to a manageable length.  Here you need 2 types of rods, one a light action 7 foot spinning rod with 10lb fluorocarbon line to throw light jigs.  I found the bonefish liked the 1/8th best in a brown shrimp pattern.  For live baiting the tarpon a heavy 7 foot spinning rod, 20lb test with a 50lb leader.  It took awhile to get used to using the circle hooks but the hookup ratio was awesome.  If you want to keep it simple, this is the place.
So You Have The Kids Along

There are many activities available on the island.  We took a private sailing evening cruise.  There are multiple services to take you on anything from a short snorkeling trip to a full day expedition.  You can see the famous Blue Hole, dive the reefs, or just go for a boat ride.  If it involves water there is someone to take you there.  Everything was reasonably priced and Sea Dreams will help you arrange, or find, whatever you wish to do with the family.  Next time we will be sure to tour the Mayan ruins.
One of the great things is that the bonefishing was best at daylight.  So a short walk to the beach and you are fishing.  The tarpon bite was at night usually after 10p.m.  I burned the candle at both ends, but if you have the kids, do the bonefish early and the tarpon late and the rest of the day is for the family.

There are one or two high priced restaurants, but just ask around, we found the meals to be absolutely wonderful and the price was great.  One of the things that works on Caye Caulker is you can keep costs to a minimum, eat great, catch awesome fish and enjoy the laid back lifestyle of the island.
A Few Sites To Start Your Search
Caye Caulker Belize                            http://www.gocayecaulker.com/serv.html
Sea Dreams Hotel                               http://www.seadreamsbelize.com/
Anglers Abroad                                    http://www.anglersabroad.com/
General Belize Information               http://www.lonelyplanet.com/belize