Sanibel  Island
A great place to travel with the family and catch fish, whether boating or shore bound.
My aunt Nancy, a true southern lady living in Florida, always said, "Marco Island is where the rich go who want you to know they are rich, Sanibel Island is where the rich go who do not want you to know."  Sanibel Island is a beautiful island on the west coast of Florida that offers the traveling angler some of the finest fishing opportunities anywhere.  Along with some of the greatest beaches in the world, Sanibel is a fish catching destination that also offers fun for the whole family.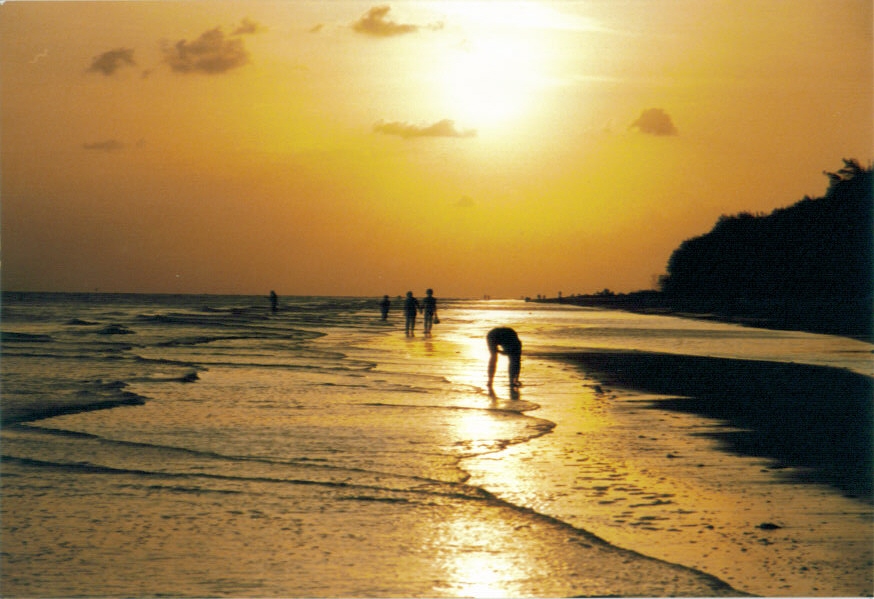 Sanibel Island sits on Pine Island Sound, a short drive from the Fort Myers International Airport and the city of Fort Myers.  It is connected to land by a bridge and a causeway.  Be advised, the bridge has a daily $6 toll to get on the island, but they are more than happy to let you leave for nothing.
Prime time of course is the winter  season, and Sanibel would not be classed as cheap.  But one of the advantages when traveling there is that summer brings lower prices and many less travelers.  There are multiple lodging options whether it is you, or the whole crew.  There are many condos, resorts, and private homes.  The options are unlimited, and with a little research, you can easily find a place that is right for you.  Additionally, by traveling outside prime time, accommodations can be found at moderate  prices.
The Fishing on Sanibel
Sanibel Island offers a broad range of fishing.  One of the great things about Sanibel is the beach.  It stretches the length of Sanibel on the Gulf side and you can actually catch sea trout, snook, and even an occasional tarpon from the beach.  I have been lucky enough to even catch a cobia along with several sharks.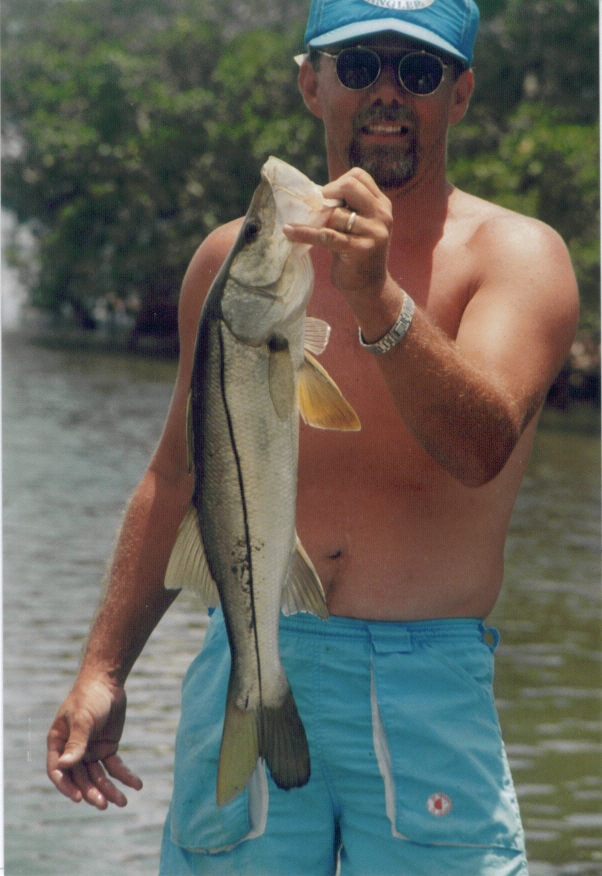 A nice snook from a mangrove shoreline on Zara Spook.
Over approximately 10+ trips to Sanibel I have consistently caught fish on a Zara Spook.   Whether it was snook, trout, or the occasional tarpon, the walking the dog action as the sun rises or sets, elicits some fantastic strikes.  Nothing beats a morning wade down the beach.  Additionally, I have had steady success with the Yozuri Crystal Minnow in the silver with a black back.  It will catch anything that swims near the island.  Just use it very erratically, jerking it under and then very erratically.  Whether you fish evening or morning, it will get the job done.  I would not fish there without it and the Zara Spook.  Plastics like a Zoom Fluke, Berkley Gulp Mullet, and others also offer a reliable alternative and a handful of white and chartreuse will be all the traveling fisherman will need.
A nice speckled trout on a Zara Spook wading the beach at Sanibel.
Sanibel offers the fisherman who is with his family the option of getting up early, and walking the beach before the rest of the family is up.  Look for guts in the first bar where water is flowing or rolling.  Always be alert for baitfish jumping, or birds diving.  As in all fishing, where the bait is, so are the fish.   Early and late a topwater can bring explosive strikes from snook, and if you have never  caught one you, once you do you will be hooked.  A beautiful fish, they often display gill rattling jumps as they fight.  Sanibel offers the family man a chance to wade early, or fish the bridge or causeway, and then still spend the day with the kids and wife.
The causeway leading to the island offers many different fishing opportunities.  Snook and tarpon can be caught around the bridges, trout while wading the grass flats and shorelines.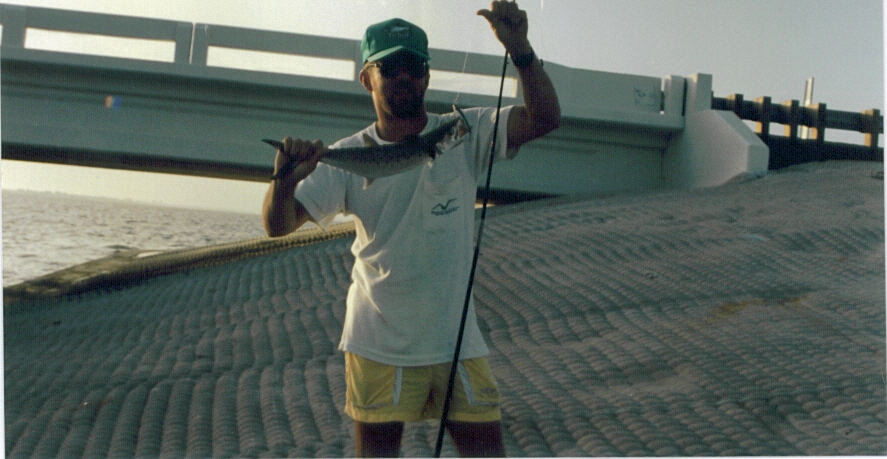 A small spanish mackeral, one of the many varieties caught from the shore along the causeway and bridges leading to Sanibel Island.
There is a small tackle store as you come on to the island which has a good selection of tackle and live bait.  Shrimp are usually available but ask about the live bait situation, crabs at times have to be reserved should you want to drift them for Tarpon.  Off the island there is a Wal-Mart close by that also offers a good selection.
A few years ago they started fees for both beach parking and parking at the public ramp as you come on to the island from the causeway.  There are several other ramps, including at 'Tween Waters Island Resort on Captiva Island, with a use fee.   Should you trailer a boat, keep in mind that you should always contact the place you are staying and determine the trailer parking situation.  And there are a few condo associations that do not even allow pickup trucks, though that is downright un-american.  There are several marinas on the island with stall rental, and again check with them to be sure what their rules are for parking the trailer.  Sanibel and Captiva are not the most boat friendly places in the world, but with a little research, and by asking a few questions, you can get it done.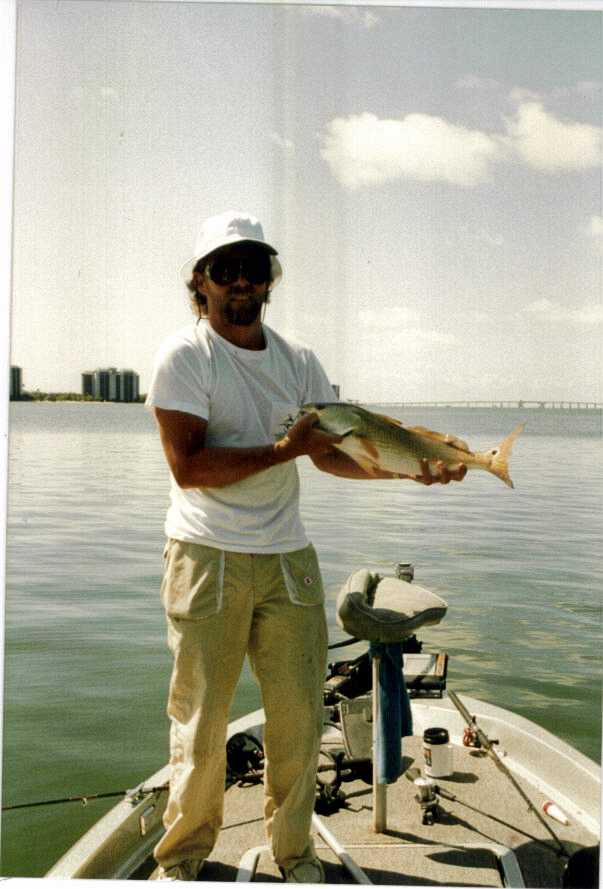 A redfish on my second trip to Sanibel.  Notice the bass boat, and if you look in the background you will see the old bridge to Sanibel Island that has been replaced, and  the condos on Punta Rassa.
My first trip to the island I actually took the bass boat.  It worked but there are some things you need to know before you do that.  Always after fishing saltwater completely wash any boat and trailer.  The salt will not only eat your trailer, it will corrode everything in site.  And it is quite a shock, if you use a trolling motor like I do, when you plug it in to charge and the salt lets the whole boat conduct electricity, so rinse the boat thoroughly and flush the motor after each use.
There are ample guides available in the area.  Only 20 miles away by boat is Boca Grande Pass, the gathering place for thousands of tarpon every spring and early summer.  It is a short ride away for the adventuresome angler with a boat.  The sight of dozens of boats drifting the pass, many hooked up to jumping tarpon, is a zoo you will never forget.  Should you choose to do this by yourself, do the research and read everything you can as this is a special place with tons of rules, written and un-written.  Hauling a tarpon out of 40 foot of water surrounded by dozens of boats, is not like jumping one on the flats!  So if you can afford it, hire a guide, you will easily learn enough on one trip to add to the confusion.
Family fun when traveling to Sanibel Island.
Sanibel Island is know for the beach.  There are several nice parks and access points.  Do be aware that parking now runs $2 per hour at the access points.  There are restrooms at all the public accesses.  I have always liked Bowman's Beach.  Not only for relaxing, I have had great success wading and catching fish there.
Also, as you come on to the island along the causeway you will see plenty of sand with free access and parking.  Whether spending your day swimming with the kids, or wading the grass flats that line the causeway for trout or fishing the bridge for snook,  the causeway is a great place to spend the day.
Have the kids along?  Then bring your hat, a scoop, and bucket because Sanibel has some of the greatest shelling in the world.  Sanibel runs east and west and its beaches are exposed to the open Gulf.  Combine a beautiful sunrise with a low tide and the whole family can have a great time digging shells.  We have been placing ours in a large glass jar for years.  Just remember, place any live shells back, it is not only the law, but it will save this wonderful resource for generations to come.
Another great trip is to take a canoe into the "Ding Darling" Wildlife Refugee.  There are several companies on the island who rent equipment or even arrange tours.  I can not tell you how awesome it is to glide along and see a manatee, dolphin, or even an alligator.  The refugee is a wonderful place, but do not forget the bug spray, at certain times of the year the mosquitoes are the size of small birds!  But whether you drive, hike or bike, "Ding Darling" should be on any travelers list of things to do while traveling on the island.
Sanibel has miles and miles of bike trails with plenty of companies renting bikes by the day or week.  Tennis or golf?  The island had many activities for the non-fisherman.
Eating is not a problem on Sanibel.  Fast food is not available here and prices in the local restaurants range from reasonable to ridiculous.  Our favorite is Doc Ford's Sanibel Rum Bar & Grille.  I am drinking out his souvenir coffee cup as I write this.  Off island there is the standard restaurants found anywhere.  A must do is a short trip to Fort Myers Beach, a cool beach front town with some great eating spots and the standard tourist shopping fare.
Sanibel has a small grocery, medical clinic, gas stations, and other amenities to allow you to stay on the island during your visit.  It is a beautiful place, the fishing is great, and there are many things to occupy the traveling fisherman whether he has the family along or not.
Sanibel Island Information  – a great resource.       http://www.sanibelisland.com/
Sanibel/Captiva Resource                         http://www.sanibel-captiva.org/islands/index.asp
Our Favorite Place to Stay                 http://jensen-captiva.com/
(Please check them out if you plan to trailer a boat.)