Fish Catching Travel
Duck Hunting  1/17/2012
Riding home from Bass Pro in Katy Tuesday, my wife and I saw tons of geese in the rice fields near Wharton.  It made me want to shoot one.  As my wife and I chatted about my one big duck hunting trip, the phone rang.  On the other end was Chris, asking if I wanted to go again tomorrow, and of course the answer was an immediate yes.
We launched his Gheenoe in Sea Drift and headed  to the Mission Lake area.  I was impressed with the speed of that little boat, it hauled butt.  He picked a nice quiet pocket with the wind in our face, and we set out a small spread of decoys along with the mandatory Blue Heron decoy.
The ducks started flying right at shooting time.  Now it was not hot and heavy, but the ones that did come to the spread, came in like an airliner on approach, straight in, exactly where we were decoying them to land.  They came in consistently enough to lead to some good shooting.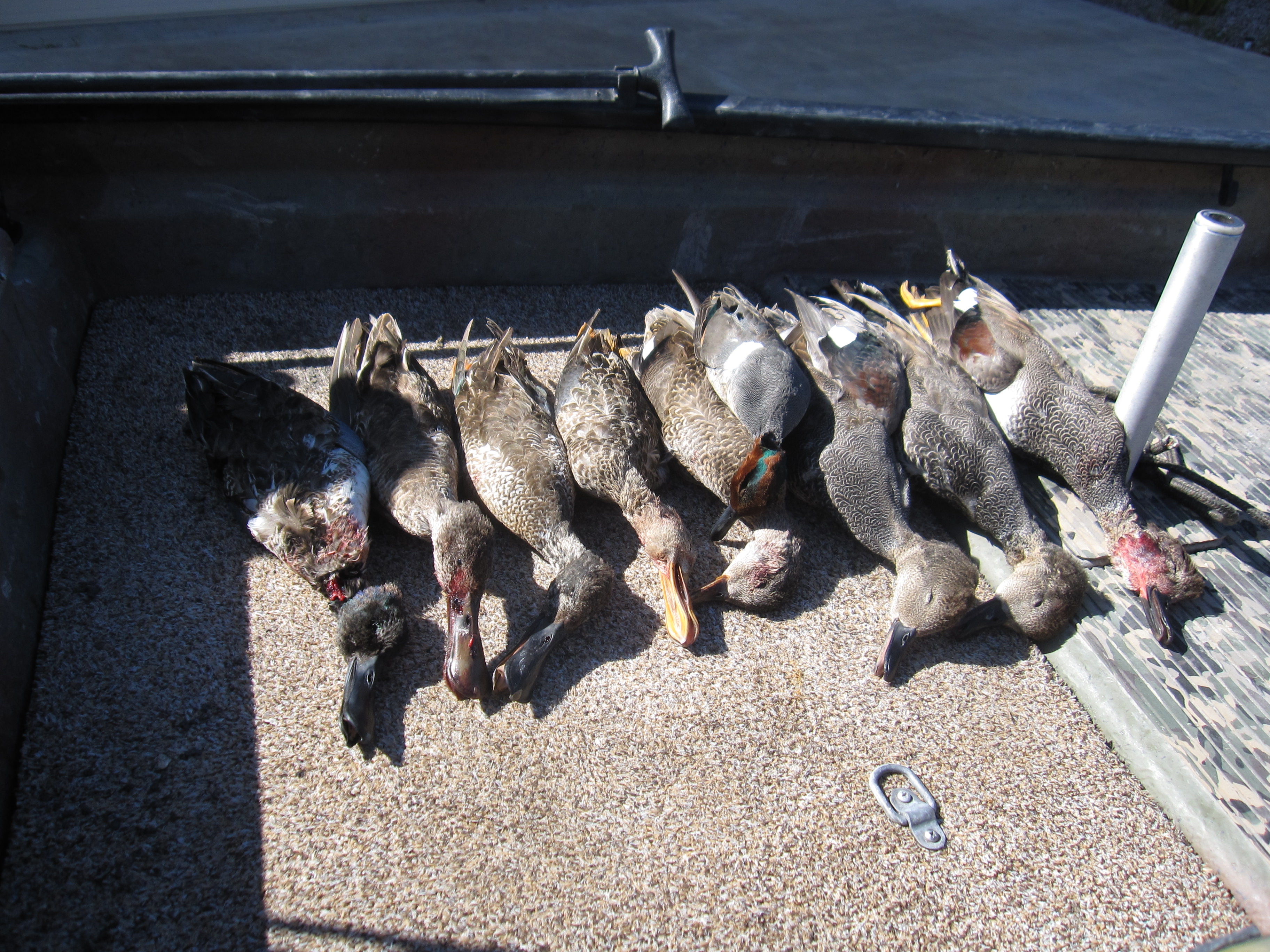 9 ducks headed for the oven!
I did manage to shoot twice without a shell in the chamber.  I must have forgot to cycle the pump after I killed one.  I guess I am still surprised when I actually hit one.  Having been over 10 years since I hunted, it is great when one actually falls from the sky like he is supposed to.
So here it goes, I have always treated duck hunting like turkey hunting, knowing if I started, it might become a hobby, something that could potentially cut into the fishing time.  And duck hunting is getting that look about it.  You can still put everything I know about it in a thimble.  I do believe I will have to buy a few decoys, do the reading and research, and prepare to kill a few ducks next winter.  And the great thing is, they hang around the gulf, so cast and blasts are in my future.
And with the endless miles of coastline in Texas, it is not like trying to find a place to hunt, which has not happened for me yet as far as a place to deer and hog hunt.  It is as simple as having a boat and the desire to get up at 3 in the morning.  Nothing like a reason to go earlier and stay longer.
So thanks Chris, it was a great day.
1/24/12.
Now I really am mad.  As you know if you stop in and read my stuff, I have been on a couple of duck hunting trips.  And I enjoyed both the hunting, and the company.  So today, off Chris and I go.  There is nothing like getting up at 3 in the morning, but as with a lot of great outdoor stuff, it comes with the territory.  So I guess I will spend the summer learning my ducks, buying all that cool duck stuff, and then scouting in the fall.  So why am I mad?  I may have a new hobby that cuts into fishing time, though cast and blast will be in my dreams until next year.
We left from the Seadrift ramp and headed back to the Mission Lake area.  Chris wanted to hunt more on the main lake where we saw some Pintails and Redheads on the way back in last time.  Interesting enough, I received a response to one of the stories I wrote on our duck trips, and he (a 2Cooler), suggested that to kill more of these kinds of ducks we needed to stay on big water.  That is exactly what Chris had in mind.
We set up in the dark with a breeze and it stayed cloudy and dark well past shooting time.  The wind was not quite right, it was blowing across our spread, but the ducks came just like Chris said they would.
Right off the bat we both missed a couple, then Chris started whacking them.  I finally managed to kill 2 with Chris killing his limit.  There was quite a bit of difference in shooting them coming right at me like last time, and hitting them in a high cross wind.
As my late friend Tad Shaw used to say, "Here is what 2 grown men did all day." 
We had Blue Bills, Redheads, and Pintails.  Some came in singles, others in small tight flights, many from almost behind us, which made it interesting.  Some would set wing and land, others just were not having it.  All in all it was a great time watching Chris work a few with the call, seeing some of them drop to the spread like a rock out of the sky, and just enjoying something different.
By time we called it a day it was blowing about 20 right in to Mission Bay.  We cut across the bay and headed in via the barge canal.  As we rounded the corner heading to the ramp it was rolling pretty good.  I must say that Gheenoe handled that rough water great, of course we got a nice saltwater bath, but it got us back just fine.  And just a reminder, wear your life jacket.   We all need to do that more than we do, so give your family members a break, even if you won't give yourself one.
In my couple of trips in that Gheenoe I have come to appreciate how functional that boat is.  I can see slipping into back lakes and ponds where others fail to tread, it would be a real advantageous multiple use boat in our coastal area.  So somebody call my wife and let her know that I really need one.
We are lucky here in Texas, where the great outdoors is exactly that.  To be able to leave the house and in less than an hour be fishing the Gulf, or shooting a few ducks, maybe catching some bass, catfish, crappie, kill a deer…..well you get the picture.  The old saying that time fishing is not subtracted from your life is a little to exclusive.  It should be time in the outdoors, no matter how you enjoy it, is not subtracted from you life.  I know how hard it is to make time for the outdoors, and I am fortunate enough to have the time.  But no matter what time you have, remember to spend some time with family and friends in the great outdoors.
Good Luck and Tight Lines!