Fish Catching Travel
Ducks – Bass – Trout - Reds
Sorry I have not written in a few days, but it has been a hectic week.  Tuesday I went on my first duck hunting trip, Wednesday we fished the Gulf, and Thursday we fished Coleto Creek.
I was fortunate enough to get invited by a friend of my wife to go duck hunting.  The first, last, and only duck I ever shot, was a Wood Duck, and that was about 30 years ago.  In fact, I have not fired a gun at anything but a target in 12, maybe 15 years.  So off to the Texas Parks and Wildlife office to get my stamps.  $96 later I was out the door with license, stamps, and a permit for public land hunting.
The hunt included Mike and Chris, both dedicated duck hunters, and me.  As we were hunting public land, where sites are first come first serve, we were there in line at 4:00 a.m.  It surprised me we were 6th in line, obviously this duck hunting thing requires you to sleep little.  As the area only allowed you in 2 hours prior to daylight, we sat in the truck until the line started to move.  When they decided on the numbered area we would hunt we parked, and it was another wait.  Then out of the truck we piled with a light rain falling.
Now I have lots of stuff for fishing, but this duck thing takes all kinds of "duck stuff".  You got your waders, camo, decoys, guns, packs, mojo, heron, and a little sled to pull it all in.  So down the path we go, carrying about a zillion pounds of "duck stuff" in the pitch black night.  It was about a half mile to the marker leading to the marsh and our spot.  Now I knew we were going to be wading, and Mike said there would be some mud, and guess what, he wasn't kidding.  In we went thigh deep in water and muck.  I was lucky enough to make it all of 20 feet before I fell down, but luckily only got a little bit wet, very similar to a little bit pregnant.
They finally settled on a spot in the marsh and now we had to set up all that "duck stuff".  We had dozens of decoys, and they all have a place in the spread.  I had no clue exactly what we were doing, but we were doing it and I was helping.  Finally we have dozens of decoys just right, mojo spinning, and plastic duck butts bobbing up and down as if they are feeding.  I thought the whole thing was pretty cool.  So we settled down to wait the half hour for legal shooting time.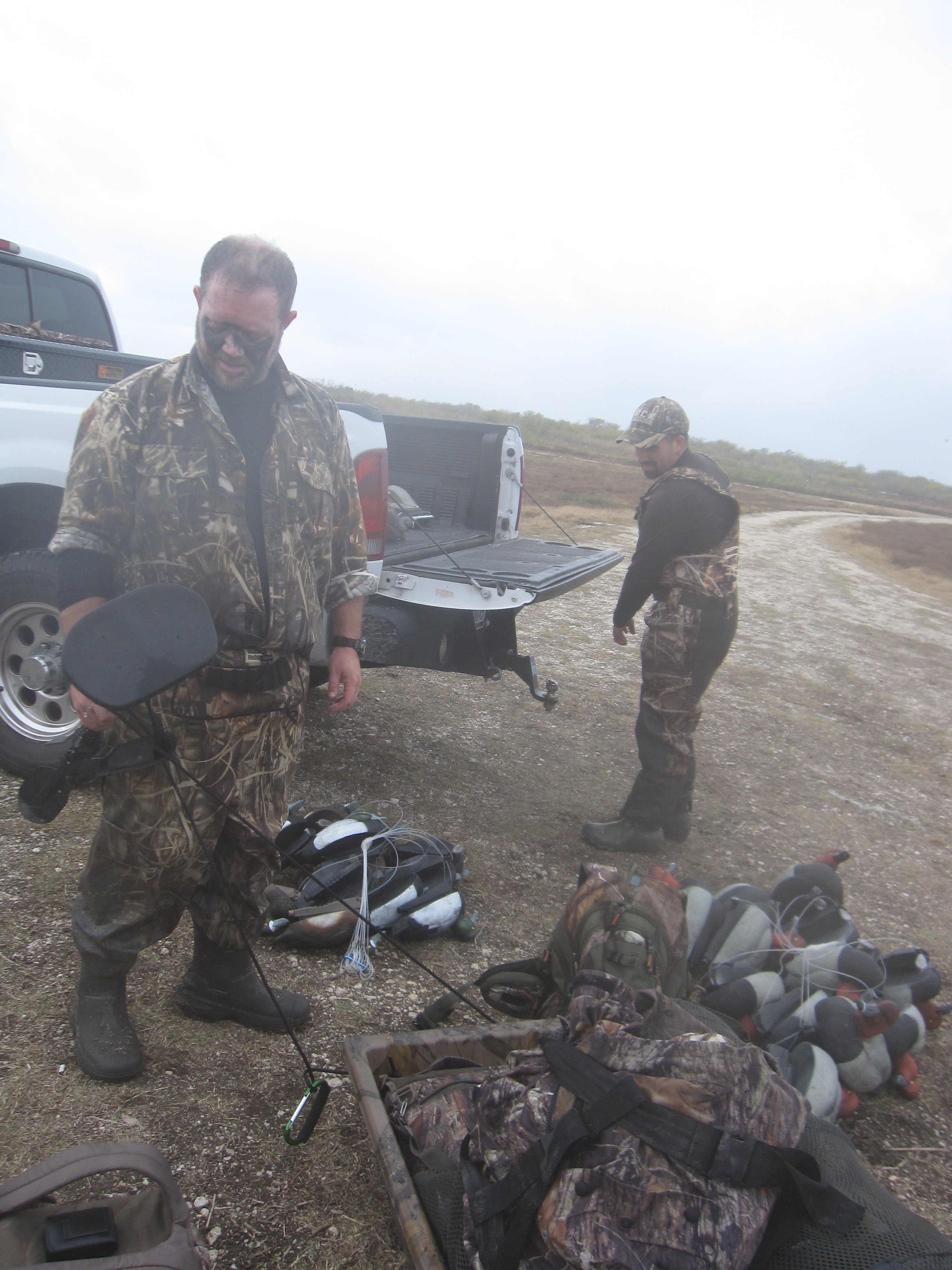 Cool "Duck Stuff"
One of the guys, who shall remain nameless, had a cool piece of "duck stuff", a watch that goes off at legal shooting time.  We did hear a couple of shots earlier than legal time but we waited it out.  Now imagine my feelings, I am at least knee deep in muck and hiding in the reeds.  It is overcast, light rain, and there are these things flying around.
I am scared I am going to mess up, like shoot a eagle or something aweful, and forever be "that guy" in their story of taking me hunting.  Then Chris shot one of those flying things, and it finally dawned on me, those are the things we are supposed to shoot, the ducks.  So here comes some more, I shoot and miss, and it knocks me on my butt in the marsh.  My pride is hurt but my enthusiasm knows no bounds.
Then a couple more fly in, I shoot, and to my surprise out of the sky he falls.  My God, I actually killed one!   Now this is cool.
For the next three hours they came, some in like dive bombers right in the spread, some fly overhead, and some are just plain not interested.  I miss another one, then bang, I kill duck number 2.   And I think it is way cool when it falls it falls right near Mike, who  is picking up one he just shot.  Of course at this point I am damn near the Duck Commander!  Of course what follows is only logical, I never hit another one all morning.  I end up shooting a half box of Mikes' shells.  Such is life.
As quitting time approached and it was time to leave, and then the work really started.  All that "duck stuff" has to be put back in the little sled, and out of the march we trudge.  Then over land back the to the truck.  I thought it was only a half mile in, but it was like 10 miles back to the truck.   This duck thing is work.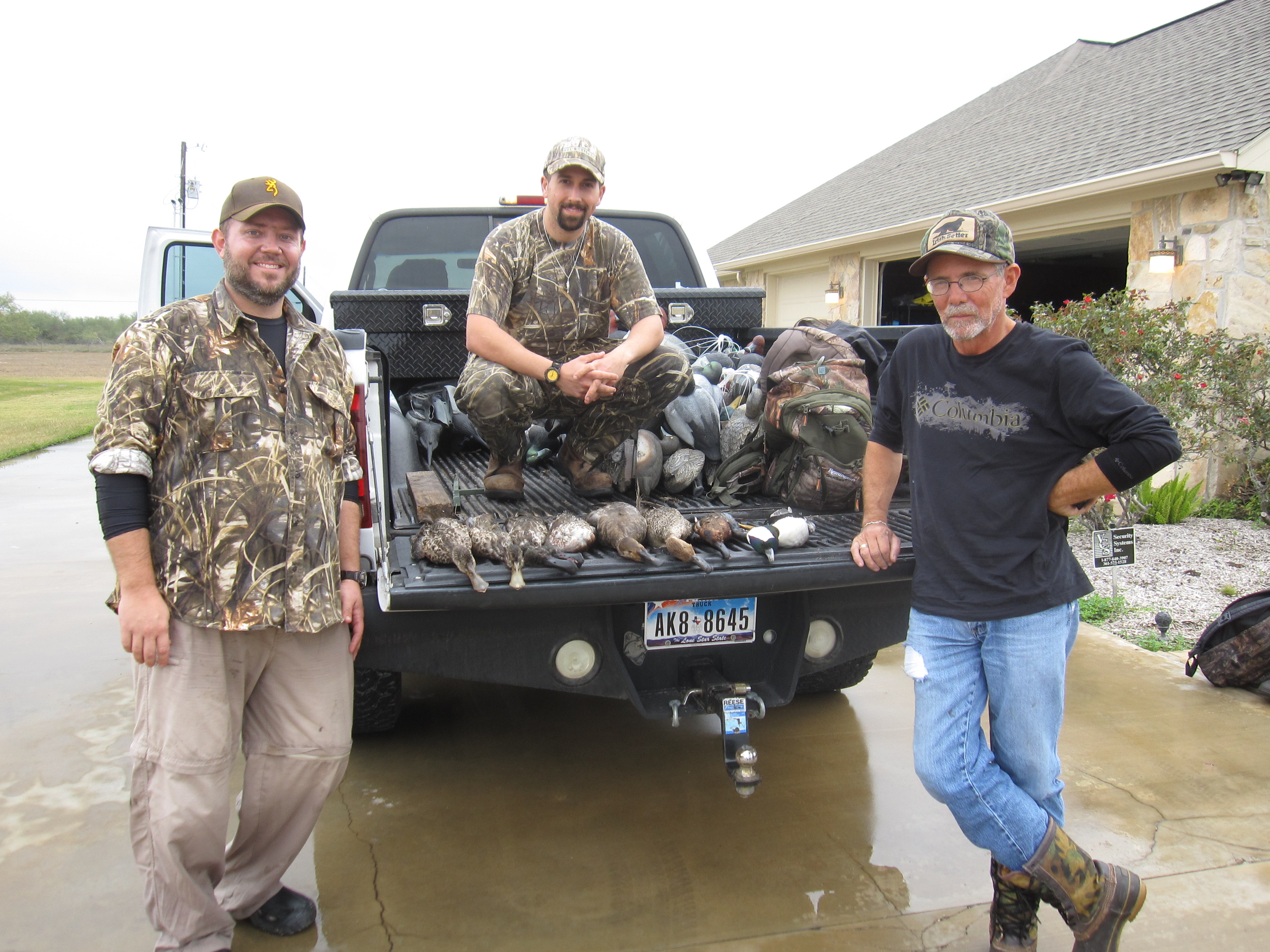 2 Real Duck Hunters and Me. 
Chris, Mike, and me.
As you can see we killed some, but in my inexperience, I could not tell you exactly what each one was.   I do know one ended up at the taxidermist.  While I think they were a little disappointed in the final results, I do not know any better either way.   I just know we had dead ducks, and that was the plan.
In my case, I had a great time and a great adventure.  I am really looking forward to doing it again, and with all the available places on the Texas Coast to hunt, maybe it will be something I will add to my outdoor hobbies.  Of course it requires lots of cool "duck stuff", something I understand from having lots of cool "fishing stuff".  And I am sure my wife will be thrilled if I add a knew hobby that requires lots of way cool stuff.   So Mike and Chris, thanks a lot, the whole thing was an awesome trip and thanks for sharing it with me.
_____________________________________________________________
I will get the story on the Gulf and Coleto Creek published as soon as I can.  The trout fishing was ok, as was  the bass fishing.  I was happy to have someone catch their first red with me, and he turned out to be a great fishing partner and a good guy.  So it was a week of meeting and sharing the outdoors with new friends.
And I will do a story on Mike in the future.  He hand makes topwater lures, and my wife got one for the tree.  Since we are out of town for a couple of Christmas things we have no tree this year.  So it is hanging off the Marlin.
I am the luckiest guy on earth.  A great adventure on my first duck hunt, a great Gulf trip, and then a day of bass fishing.  How lucky can a guy get!
Good Luck and Tight Lines!