FISH CATCHING TRAVEL
Brought to you by
Fishing Season is coming so get the best wading belt on the planet.
**For a super deal on your Wade Right use promo code FCT15 and get 15% off on your online order!**
Weather
63/57.  Cloudy.  Wind 10 – 20 NE.  50% chance of rain later.  (The wind was 20+ for the first hour and settled in around 10 -15mph the rest of the day.)
Solunar Period
Best 3:03 to 5:03 pm.  Good  8:51 to 10:51 am.
Lake Level
Today  96.72 msl   5 days ago 96.78 msl.  (It is still on a slow decline which is not helping any.)
*******************

*******************
I could not decide where to go today so I waited until I got up early and stepped outside.  The wind was blowing pretty good so I put the bass stuff in the boat and headed to the lake.  It was not all that cold, but the wind was straight out of the north but the ride up lake was not to bad.  And a good thing – the water temp was up 2 -3 degrees, in the 60's over most of the the main lake.
So up first was the Bagley Sunny B, and besides they are still hitting it right along, a couple of things happened that are really good news.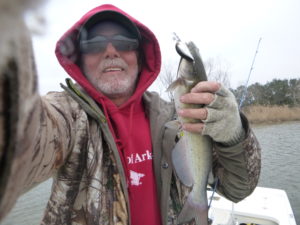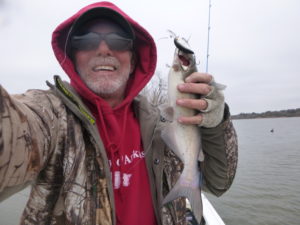 The second one did not have a gill plate on that side.
There is no more consistent sign on Coleto that the water is starting to warm, catching catfish on crankbait.  As soon as the water gets above 60 I always catch a few every spring and they are shallow and aggressive and I almost always guess right as their bite is so distinctive.  They also eat the swim jig and almost always knock the crap out of it.  And then I snagged the first tilapia of the year.
A bit of bad news?  The bill on my Sunny B finally broke.  What a piece of junk.  It only caught somewhere around 50 white bass, 30 or 40 largemouth, and a few other things.  I mean, it spent 3 days with me intentionally grinding the bill off.  So it is far from a piece of junk, in fact if every bait I bought caught that many fish I would be thrilled.  That thing survived some serious fish, and even when the bill cracked, it was still catching fish until I quit cranking.  That thing really does catch fish.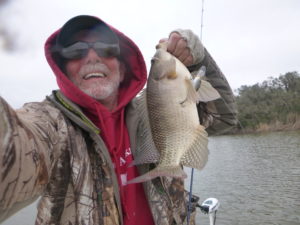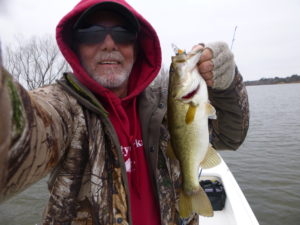 The crankbait is still the bait of choice up lake.
So here is the punch line, some of the back ends of coves are in the middle 60's, not only did I see the first big bunch of tilapia, one cove had 4 beds in the back end.  And that means it is about to improve, though none came from the back ends.  But if that is the case why is the fishing no better?  (Funny when catching around 18 is not good enough.)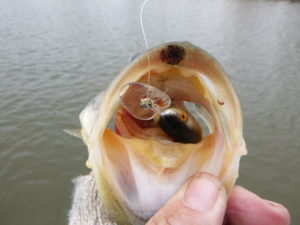 Can you say eating it.  My first spinnerbait bass of the spring, Yahoo!
I only stayed up lake until about noon, catching a good 10 on the Sunny B, then headed back down lake.  They were still biting when I left.  But I was determined to catch fish "down lake" and not just on crankbait.  It just had to be spinnerbait time with the water temp in the low 60's over most of the lake.  It has always been one of my favorite ways to fish so I gave it a serious go the rest of the afternoon.  I ended up catching 4 on spinnerbait on windy places, running it right on top, and they were smoking it.  I just could not find "the place".  Additionally 4 jumped the Bang O Lure on banks where it was out of the wind.  The problem?  They were all small, in fact I did not have a big bite all day.  Of course moving back down from where I am catching them had something to do with that, but no matter what the fishing is about to get good.
******************
Getting old is hell, or at least has some periods of "heck".  Hard to believe I actually wrote the last post the other day and then failed to hit post.  In the past I have posted a couple before I was done, but this is the first time I just did not finish.  "Old Timers" rears it's head on occasion.  Oh well, it was a great day cranking the other day, and there is tons of fishing to come.
*******************
Looks like we are about to have a couple of days of rain, maybe 4 out the next 6, and boy do we need it.  I just hope when it comes it is a warm rain, which will improve the fishing.  Plus it just might get the water back in the shoreline cover.  Looking at the forecast Thursday looks like a good day for some serious wading.  And if it does not rain to hard I will obviously get out before that.  The time is now, and I am still waiting for that early spring big bass killing.  Heck, it might be a really early spring.  It really surprised me to see spawning beds today but with the water temp in some coves there will be more as it continues to warm.  So keep stopping in and thanks for reading my stuff.
Good Luck and Tight Lines