FISH CATCHING TRAVEL
Brought to you by
Fishing Season is coming so get the best wading belt on the planet.
**For a super deal on your Wade Right use promo code FCT15 and get 15% off on your online order!**
Before I get to anything look at this freak.  I have no scale, and don't generally weigh or even measure fish, but this thing is in my top 5 lifetime, and that is only because the others did get weighed and it would only be a guess on this one.  But who cares, look at the freakin' body on that girl.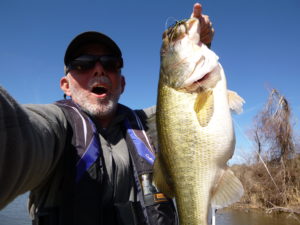 I wasn't to excited!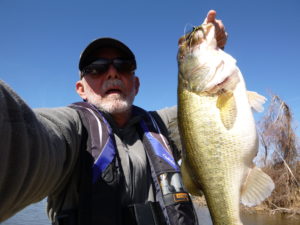 This girl was just shy of 23″ and almost that big around!
****************

*******************
Back to the firing thing.  I ended up working a couple of days this week and then I got the axe.  For some reason he hired a guy with a clue, who is half my age, and has 2 years experience.  What kind of best friend is that?   (Just kidding!)  But seriously I was happily back on the water and then landed one of my biggest bass ever.
The original plan this week was to head to Falcon, but my buddy Jeffish still needed some help so I filled in and did not fish until today.  The weather forecast was perfect, the kind of January day with a good chance of catching a big one.  So no Falcon, but saved myself a 5 hour drive and still managed to catch the big one you drive to Falcon for.  But no matter what after a slow couple of weeks it was good to be back on the water.
I waited until 8:30 before I headed out, it was sunny with a brisk 10mph wind straight out of the north.  (It slowly turned around to a slight SE, which can only help things.)  The lake is clearing some, so it was up lake and the swim jig.  On days like today I look for the calmest bank I can find with the sun beating down on it, that has historically been a good pattern this time of year no matter where you are.  Even though the skiff has no temp gauge, this time of year it is a no brainer when the day is brisk and cool.  I prefer rock but mud will do as long as that sun beating down on it with little wind, and keep a sharp eye out for shad flipping, a major tell.
Over the first couple of hours with the swim jig I went 3 for 7 on bites.  They were nipping at it, eating at the claws, just not taking it.  The best areas were flats with cuts leading into them and a couple came from shallow indentations on deeper banks.   None were worth a hoot but getting bites I kept at it and then luck and experience came together.
The swim jig sank to the bottom while I was getting a small backlash out and when I hopped it up and started reeling one smacked it.  Huh, maybe I should try that some more. After an hour fishing it that way, I went maybe 2 for 5, I changed as the rod I was using was to light as was the swim jig.  So out came the jig rod and a 1/2 ounce br/bl/ch round head jig with a green Zoom craw.  After catching a couple more by hopping and dropping it, they still were not amounting to much size wise.  Then I tossed it by a bush, hopped it twice, and she smoked it.  You can usually tell when one like that hits it if the minute it reaches the top of the hop, the line jumps to total slack.  I didn't mess it up, lipped her, quick pics, and the watched her swim away.
The day ended as I worked my way to the ramp around 4:00 catching 1 or 2 more on the way.  I still missed more than I caught as the afternoon ended.    If I had to guess and I will, it was an easy 9 or 1o, not fast by any means.  I definitely missed way more than I caught, but I will fix that tomorrow.  But guess what, I caught a freak today, love it when that happens.
*********************
 And Joe sent along this question.
Have you figured out who these fishermen or biologists are, in the trout kill photo taken in Pringle Lake?
Not a clue, though the picture is making the rounds on social media.  One comment I thought was right on was, "Why are they smiling?"  So true, seeing the picture in a bigger format than I had was sad.  That was a pile of big breeders, it can't help but have some effect.  Appreciate you commenting.
*********************
There are several things to take away from today.  Slow, then slower.  Find the warmest water possible.  And I think a smaller jig and trailer might result in a higher hook up percentage.  So tomorrow I will downsize just a touch and keep fishing those areas that are close to the best spawning areas.  Look for some to start making their way into some of the bigger coves, using whatever channel they can to get there.  Spring is coming and the fish are not that far away, early pre-spawn is here, and with it a great time to boat a big one.  And after today I did not bother to unhitch the boat, and with the Boss headed to the north country it will be fish until you drop the next few days.  Let the spring fishing begin.  So keep stopping in and thanks for reading my stuff.
Good Luck and Tight Lines