FISH CATCHING TRAVEL
Brought to you by
Check them out – the only way to wade!
**For a super deal on your Wade Right use promo code FCT15 and get 15% off on your online order!**
Time to take one more run to POC before the boys get here and the wind kicks up.  The wind is supposed to be straight out of the south so we shall see how that works out, but looks like there will be good water movement during the day so there is potential.  Either way I am gone first thing in the morning to be in the water at daylight.  Fall is coming and I intend to take full advantage of it.
Weather
88/77  Partly Cloudy 105 chance of rain.  Wind S 10 – 15 mph.
Tides
High   1:46 AM     1.4   
Low    2:42 PM     0.6
Solunar Times
Good  8:22 to 10:22 am   Best  2:36 to 4:36 pm
***********************

********************
Topwater, Topwater, and more Topwater.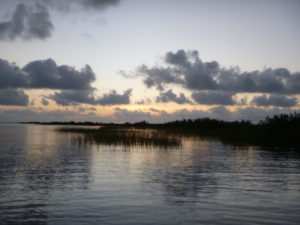 What a way to start the day, and it only got better from there.
It was just cracking daylight as I headed out the cut towards the island.  The wind was blowing around 10 -15 out of the south, it stayed that way all day, and the water temp was 82.  The tide was completely over the fingers at Froggie's, it might have been a little higher than Friday.   First up it was farther down the bank from where they were last trip.  I slid over the side and caught one on my second cast on a Controlled Descent plastic.  There was tons of bait flipping so I gave a topwater a toss and wham, fish on.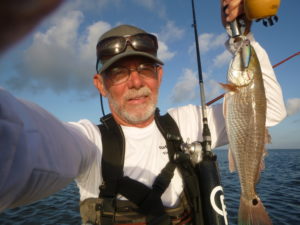 Not sure how many reds I caught but it was several.
Basically making a long story short I kept throwing the topwater until I quit at 3:00.  I tried several and then went back to my old standby, the Bagley Knocker B.  If you have read this stuff before you know it catches fish, end of story.  If they will hit a topwater they will eat the Knocker B.  The thing I like about it, besides the fish like it, is it makes a lighter flip when you walk the dog, better replicating the small bait fish.  In fact a couple of trout today puked up baitfish that were just a few inches long.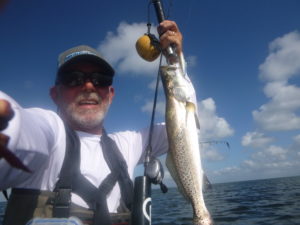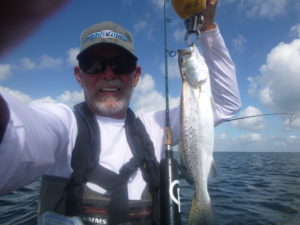 It was a fun day of fishing.
The tide was dropping slowly, basically clearing the water up and that was when the bite was really on.  And once it started dropping around noon and really cleared my favorite trout pattern happened, they positioned on the edges of sand pot holes in grassy areas.  The perfect cast over the tips and along the edges got a bite.  It was real anticipation waiting for the bite, and it always amazes me how many you miss even when you are ready.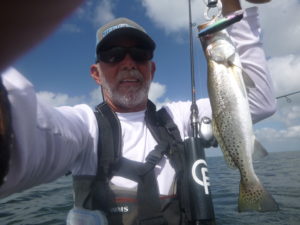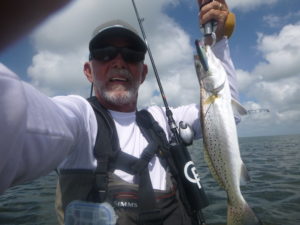 It was nice to catch this size off and on all day.
And what good bites they were.  It wasn't so much that blowing up on it and missing it thing, it was more like they were wallowing on it, often head out.  Some got it first go, some would follow and hit it on the stop, and a couple hit it right in front of me.  And with them bunched up on the potholes if you missed one you could throw back and often get several bites right there.  Though I did not land a big one I had my shot.  She came half out of the water to eat and just pulled off.  Other than that little hitch in the git' along it was basically 7 hours of topwater bites.
The best position was exactly waist deep, where I could almost hit the grass, and still cast out towards deeper water.  They bit better out in a couple of feet but it was still worth it to cast to the grass.  And while I was not interested in redfish, I could see the moving about fairly regularly and they were catchable.  The trout wanted the Knocker B just flipped along and occasionally a red would jump on, but it was mostly trout.  I made 3 moves and fished 4 places along the island.
The only strike out was the area of Conte and Long Lake, where the water color was just not right.  The reason I stopped there was the pelicans were diving, but not a one bit, so I headed back to where I left off and caught another 5 or 6 before I called it a day.  It has been a while since I caught them all day on topwater, and all I have to say about that is, I love it when that happens!
*********************
Billy dropped this comment on the nice limit of trout he caught on topwater last week.
The best topwater bite for trout there is, super shallow water.  It seems like when they are that shallow the only way they can hit it is to blow up on it.  I am still waiting to hit a good topwater bite, but it is coming.  (I wrote this yesterday, good guess.)  Good to hear from you.
**********************
A quick word on this weekends football.  I didn't watch but a little of the A&M game and apparently they made a showing after getting spanked early.  My Hogs played like some, they are in total disarray, if the coach's buyout was not so big he might be looking for a job today.  I did watch quite a bit of the Texas game and they are starting to look pretty good, the freshman quarterback looks like the real deal, look for them to get back to the glory days.  The Cowboy/Packer game was everything you want in a game, to bad the Boys left Aaron Rogers with over a minute, always a bad idea.
********************
Our big trip plan for next year has changed.  Instead of New Zealand we are headed to Peru to see Machu Piccu, then a stretch on the Amazon, some white water rafting, and maybe some marlin fishing off the coast or roosterfish, which is still on my bucket list.  Plans will continue to develop but it has real potential. We had actually planned that trip a few years ago and it looks like the timing is right with the weather.
*******************
That is the most fun fishing the bay I have had in a while.  It was consistent, the bites were awesome, and the wind was just right.  The 6 pictures I posted today are very representative of the day, and I won't bore you with the other 15 or so.  (And that does not include a bunch of small ones.)  6 is enough to get the idea.  I give the day an A, it was fun.  Of course being an old shallow water guy I would rather catch half as many as long as it is on top.  Next up will be the Austin Boys and as freakin' usual they are bringing a cold front.  Not sure how they get that done, but they sure are good at it.  So lots of fishing to come.  Keep stopping in and thanks for reading my stuff.
Good Luck and Tight Lines