FISH CATCHING TRAVEL
Brought to you by
** For a super deal on your Wade Right use promo code FCT15 and get 15% off on your online order!**
After a couple of days struggling on the lake it is time to start the serious fall bay fishing.  With a 3 day trip coming with the boys next week, then another in 6 weeks, not to mention my usual fishing, time to see if I can get a few figured out.  And after seeing Billy's nice mess on topwater the other day it got my blood running.  Fall brings on what at times is an all day topwater bite, and for an old shallow water bass fisherman nothing warms my heart more than a big blow up.  The tides aren't all that hot but the rest of it looks good so nothing more to do than go fishing.
Weather
85/72  Sunny with occasional clouds.  Wind ENE 10 -15 mph.  10% chance of rain.
Tides
High   4:27 AM     1.1  
Low   12:30 PM     0.8
High   9:54 PM
Solunar Times
Best  11:12 am to 1:12 pm   Good  5:25 am to 7:25 am  (Both right on.)
********************

********************
The wind was blowing 15 mph right down the bay as I unloaded at Froggie's.  The tide was so high that it was over the fingers and on the dock and the water had some color to it.  It was still dark as I eased out and headed to the island with visions of a gator trying to drag me under!  The ride was a little choppy but I was feeling good.  Time to see it they were biting, and they were.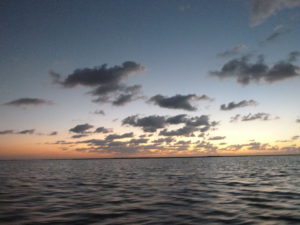 A great morning to be alive!
With the tide so high I decided to not fish a drain.  Instead as I motored down Pringle shoreline, the water was so high that it was past the grass, and there were openings making little coves and pockets.  So I stopped there where I could fish the little points, which had a good breeze right across them.  The tide was so high it was waist deep in front of the grass.  But guess what?  They were there.  While the reds were not all that big they sure were willing.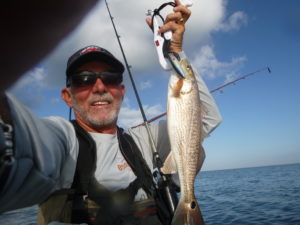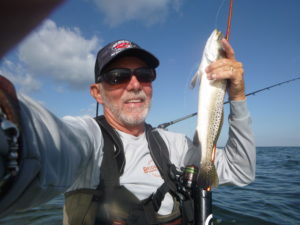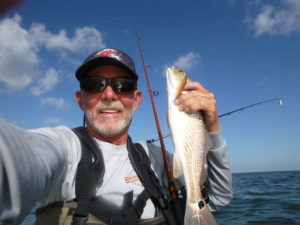 You get the idea.  This size cooperated all morning.
For the next 3 hours I just eased down the grass tossing plastics and topwater, catching mostly reds and the occasional small trout.  They were very active.  The fish tended to be right in front of the grass, which again was why I think they wanted a smaller bait that did not sink to much as there was about a foot of water. Unfortunately there was tons of floating grass, but a few during the morning jumped on the topwater, with the Bagley Knocker B preferred.  As far as plastics go it was small again.  I do not know if it is me or the fish, but again there was tons of small bait on the shoreline.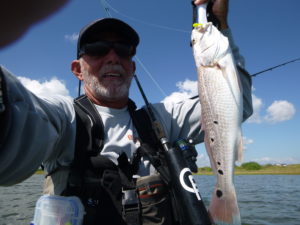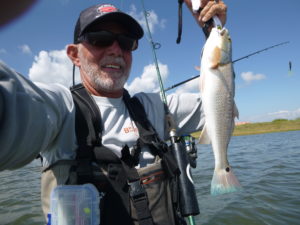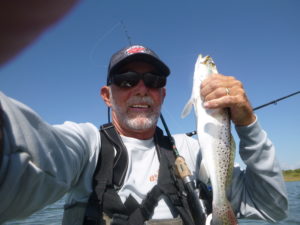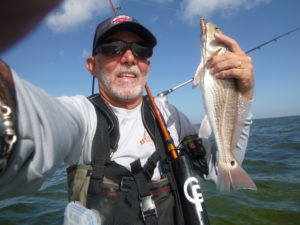 Not big today but it was lots like these guys on the second place.
As the wind got up a little it was time to head to Barroom.  It was a little more protected, and I hoped to catch some better trout.  While that did not happen, they were biting just as good there as on the island.  And again they were shallow in front of the grass.  I caught very few over 2 foot deep, which might be because that is where the bites were coming so I threw very few deeper.  And the more I throw that super light jig head on 8lb fluorocarbon the more convinced it is a flat killer in real shallow water.  Besides a slower fall, it is easier to keep out of the grass, you can fish it fast or slow, and when combined with 8 and 10lb fluorocarbon it is really effective on super shallow fish.
They basically bit from dark thirty until about 1:30 when the water fell just a little and seemed to just sit there.  Until then it was very consistent, with lots of bites and lots of fish.  Unfortunately I am not on real good fish, but after the last couple of days at the lake I could have cared less.  It was nice to be in the water and catching fish the whole trip.  There is just something so intimate catching fish while wading  Just you and the fish, cool.  The redfish were super active both places, and I caught quite a few on the first place, including a bunch of really small ones.  Then the second place also gave some up, it was just a good bite.  Though the small reds can be a pain at times, it is a great sign of things to come.  So I will be back after them this week, and once the boys are here for 3 long days we should have them surrounded.
********************
It was good to hear from Rusty, one of the long time regulars here.
That is exactly what they are so I looked them up.  They are migratory but common to North and South America.  They are water creature eaters and run and live in flocks.  So thanks for the answer, looking it up was interesting.  They have one big beak.  And good luck on Toledo Bend.  How I have never fished it I do not know.  Thanks for the comment and let us know how the Toledo Bend trip goes.
*********************
And Nelson dropped me this answer and he is right.  It was my intial guess just looking at their bill.  Thanks for commenting Nelson, it is always great to hear from first timers.
And speaking of those birds I got this question from SAJoe.
The birds you are talking about are actually Cormorants, which are federally protected, and I have taken to calling shad eaters, among other names.  And yes a good roost tree over the water that they use constantly are known catfish hot spots.  They are common but if you want to see a couple, oops, I mean a bazillion, be on Falcon Lake at daylight as the flocks come over.  It seems to last an hour as flock after flock flies over.  There are literally hundreds of thousands there and some folks are not that happy about it as they eat almost anything with scales.  A couple of years ago a couple of fish farmers killed some that were raiding their ponds.  If memory serves me it cost them a ton of $$$$.  As you know from reading above the ones pictures were wood storks.  Good to hear from you.
********************
Additionally Dan sent along these comments.
Thanks Dan, I took the license to shorten some of the rest of your comments.  I will definitely be fishing POC a day or two this week coming up and if I do I will holler at you.  Sounds like you guys have one great annual trip.
********************** 
I would give the day a B+.  As I continue to get back in the groove my keeper production will start to rise.  But I prefer to not look a gift horse in the mouth, and when they are biting I am happy to be catching.  Must mean it is time to maybe fish Keller, or Indianola.  The Powderhorn Ranch shoreline should have some good fish on it right now.  So with that in mind I am already thinking about where next.  And to those of you who have commented for the first time, thanks, it means a lot to me.  We all appreciate what you have to say.  It will be a while before I have made up for the lost summer, but I am going to do my best to get it done.  So keep stopping in and thanks for reading my stuff.
Good Luck and Tight Lines