FISH CATCHING TRAVEL
Brought to you by
** For a super deal on your Wade Right use promo code FCT15 and get 15% off on your online order!**
I started a little later this morning, around 8:00 and unfortunately I should have stayed home.  I have had a slow day or two on Coleto, but the last 2 trips have been past rough.  I was able to catch some small ones, but inactive would be the best I could give the fishing right now.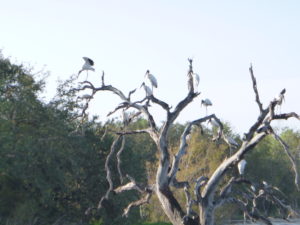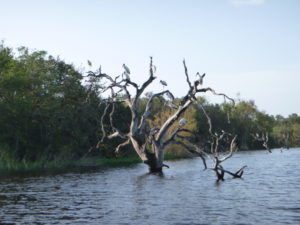 Not sure what these were but I do no see them very often.
Just like last trip I fished it all, working shallow to mid depth, fast and slow, but it was still one here, one there, and none of them worth a hoot.  Uplake, downlake, and somewhere in between, and the results were the same.  Plastics, buzzbait, swim jig, topwater, crankbait, it just never got going.  One thing is really clear, they are not chasing crap.  (See Joe's report below.)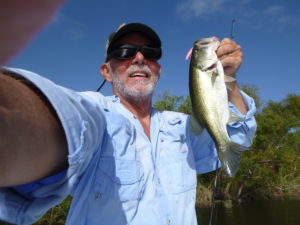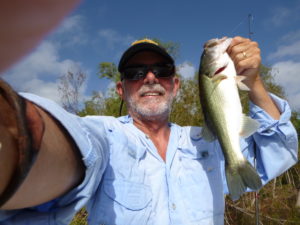 The pink trick worm accounted for most today.
So this is not a report, this is simply me whining.  It was clear that you had to slow down, and then slow down again.  I am not sure what is going on, but it has me stumped.  I guess it is a deep bite somewhere, not my specialty by any stretch.  The only thing I could get them to consistently hit was a pink trick worm worked super slow, and that was over by 10:00.  And probably the best indicator of how slow they want it if I had 2 bites on a swim jig, even working it super slow, and one was mister whiskers.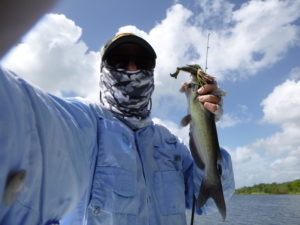 But my wacky fish catching continues on the swim jig.
So if you are looking for help on Coleto I am clearly not the guy right now.  But as with all reports there really is something to be gleaned even from a bad report.  Slow down, fish deeper, use lighter line and weights, then slow down some more.  If I had to guess Carolina Riggin' on deeper structure is probably the way to go.  Low and slow.   So time to hit the bay and give the lake a little rest.
It was good to hear from Joe again, and his experience is exactly what I am finding right now.
Hell I did not need to write a report, you found exactly what I have been finding.  Coleto is just plain tough right now.  Not sure if it is an oxygen problem, a PH problem, a half ass turn over, I just do not have an educated guess right now.  But hey, you were fishing.  But in my case I am going to lay off the lake for a week or two and hope things change.  But thanks for the report and as usual I appreciate your participation.
***********************
Today was just a bad decision.  Guess I thought the other day was just an aberration, unfortunately it wasn't.  Guess when you get to the ramp and there is only one boat left out, and I only say 1 boat all day, that is probably a pretty good indicator of just how slow the fishing is.  I am not a happy camper by any definition.
So the next couple of weeks will be dedicated to the bay.  The fishing there is picking up daily so time to switch gears.  Hope a gator don't get me!  Keep stopping in and thanks for reading my stuff.
Good Luck and Tight Lines