FISH CATCHING TRAVEL
Brought to you by
** For a super deal on your Wade Right use promo code FCT15 and get 15% off on your online order!**
Since I just got back from Louisiana fishing the salt, and the skiff has only been out of the garage twice in about 4 months, I decided to go ahead and hit the lake and give the skiff a run.  Ultimately the worst thing for a boat is sitting, the carbureted models definitely need to be run on occasion.  If it clouds up it should be pretty good as the day goes on, maybe extend the bite, but the only way to find out is to actually go.  So here is the stats and it will be launching at daylight trying to bust a big girl.
Weather
90/75    Increasing clouds during day with chance of a stray shower.  20% chance of rain.  Wind 10 – 15 out of East.
Lake Level
Today  98.15 msl     9/19  98.18 msl
Solunar Times
Best Time   7:48 – 9:48 am.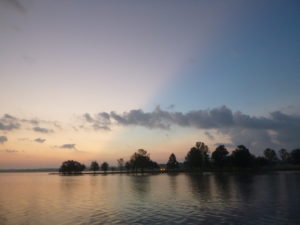 At Least the Day Started off Beautiful.
********************

********************
Today started off with high hopes.  The weather wasn't to bad and the prime period was mid morning so it should have been good.  To bad it started slow, and then proceeded to get slower, if that was possible.  There are days on the water when things do not work out even close to what you expect, and my expectations were high.  The water temp was in the low 80's and it still has the tannic looking tint to it.  It is not dirty, just off color.  And once I got up lake the owls were hooting, which got a few turkeys going and it was music to my ears.
One thing that was on the plate today was fishing that crazy prop buzzbait.  So I threw it, and threw it, and after a couple of hours, and 5 small ones, I went to everything else in the box.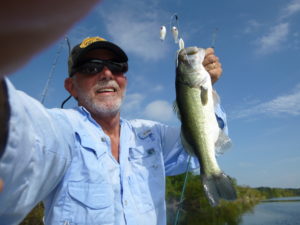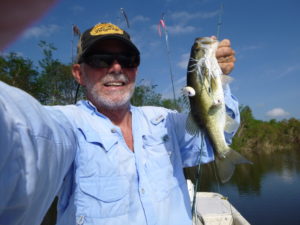 Not all that big but I sure learned something about the prop buzzbait.
The thing that makes the prop bait so unusual for a buzzbait is it floats.  I had several bites that came when I let it sit after the cast, then moved it a little, then buzzed it, stopped, just using it very erratically.  I missed several, some over halfway back when I stopped it.  There is definitely a time for it and only more experience with it will reveal the right time and place, but it has potential.  And it is fun anyway.  Though the bite was slow, this kept me entertained for a couple of hours until the sun was up and I switched.  I kept expecting the big bite that never came.
I was sure the swim jig would catch fish so it was next up.  I made the perfect cast right down the side, and right off the tip, of a nice willow hanging over the water.  And then the thump, that swim jig bite you hope for.  I set the hook and first thought, huge bass, second thought big cat, third thought – are you kidding me.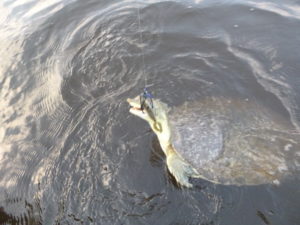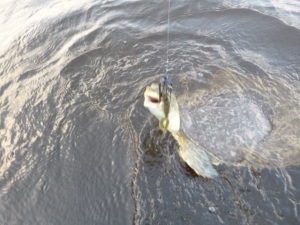 Crazy Killer Turtle!
I have caught lots of different things over the years but this is the first time a turtle actually bit.  A real hard thump, and hooked right in the jaw.  It was quite a tussle, in fact one of the better fights in a while.  Once I got it to boatside I was real careful and finally got him off, he was hissing and snorting the whole time.  Just have to chalk this up to one of those crazy things that happen when you are fishing.
Nothing else was interested in the swim jig so I started pitching a creature bait and was able to catch a few, all small.  I did catch 3 out of 1 tree pitching but they were small enough to move on and not work it over any more.  As the morning went on I tried some topwater, spinnerbait, senko, and a few other things that produced exactly zip.  I kept waiting for the bite to start, and it didn't.  Uplake, downlake, mainlake, coves, channel banks, grass, it did not matter.  This is one of those days where it was not right place, wrong time, they just were not biting shallow.  My last bite was probably around 11:00. Looking back on it pitching was probably the way to go today, as usual hindsight is 20/20.
So at 2:00 I called it a day.  I had plans for this evening with my buddy so instead of waiting the fish out I just went home.  Every day is an adventure, and the turtle saved the day.  Crazy.
*********************
I got this text from Ed who is heading to POC next week.
Thanks.  Not sure what the plan is at POC other than fishing from dawn to dusk, but you can always find us at the cleaning table at Froggie's around dark.  And the Louisiana trip is definitely one of the great places to catch fish and is well worth the drive.  So thanks for commenting and maybe we will run across each other next week.
*********************
The only redeeming thing today was the skiff ran great.  Funny how when it has not been run in a while you forget how fast that little thing is with that 50hp.  A real flat bottom it scoots right along, and today it did not miss a lick.  Touch the key and it started, so the last tune up right before I got sick must have done the job.  But I did manage to break a tail light backing the boat in when I got to close to the dock, you would think I never backed a trailer before.  It really looked bad wrapped in bungy cords holding it on the way home, but it still worked.  A job for tomorrow.
Next it will be the bay, weather dependent.  We have a pretty good chance of some weather the next couple of days so will just have to see how it plays out.  And if there is a little window if it is raining to fish an evening stretch I will slip out for a few hours on Coleto.  It can not be any slower than it was, and maybe it is an evening bite.
And I love your comments and reports, keep them coming.  Really appreciate hearing from each and every one of you.   So keep stopping in and thanks for reading my stuff.
Good Luck and Tight Lines