FISH CATCHING TRAVEL
Brought to you by
** For a super deal on your Wade Right use promo code FCT15 and get 15% off on your online order!**
HAPPY BIRTHDAY KELLY
First a big Happy Birthday to my little brother Kelly, holding down the fort in Fayetteville AR.  And how about those Hogs yesterday?  Hope you have a great day.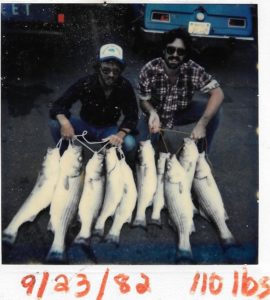 Kelly and I 35 years ago.  Those were the days.
******************
Here is the real story right out of the man's mouth on the gator bite at Lighthouse Cove out of POC last week.  All I have to say is wow.  Having had one ease my way last year in Barroom it does give you pause.  This guy is lucky to be alive.  Thanks for the share Faye.
http://2coolfishing.com/forum/showthread.php?t=2398322
(Note:  I quit posting my reports on this site, which like some others, basically want to charge me to put a link so folks can read a full report on the blog.  Since I do not do this for money, though if anyone wants to send along a couple of thousand help yourself, I have just quit going to this site.  I give this out basically free and I am sure not going to pay any more bucks to post.  But their rules, their site.)
******************
I got this from Elaine, which I believe is her first comment, and we always like to hear from new folks.
First thanks for commenting, no matter what the visiting numbers say, nothing confirms that there are actually real folks out there who read the blog than when I hear from you.  I can not thank you enough.  I will say something about South Louisiana, there is always something to catch and the folks are great, and once you visit it is hard not to return.  And who does not like gorging on fresh shrimp or crawdads?  So have a good trip and let us know if you do any fishing.  Heck, I woke up this morning thinking about how in the hell I can get back there as soon as possible.  And to the rest of you any comments, questions, bitching, or reports are appreciated.  Your participation makes this a better place.
*********************

********************
Several things I forgot to mention about fishing out of Bridge Side Marina is first, they have a great fishing pier.  A couple of folks from Arkansas were there fishing off the bridge Tuesday night and caught hundreds of trout under the lights with 40 keepers.  And there are lots of nice reds, including some big bulls this time of year, caught off that pier not to mention the other usual suspects.  Second, there are also bank fishing opportunities that includes several bridges and pools along highway 1 just down the road from Bridge Side.  And I am not even going to start on using a kayak.  The only thing to say about that is if you are a kayaker and like catching reds there are hundreds of miles of protected marsh easily accessible from the road.
******************
One thing that usually happens when the Austin Boys, or some sorry configuration of that bunch show up, is the tides are wrong and the weather just collapses at the very thought of them getting the perfect weekend.  Well it sure looks like this trip is setting up to be perfect in all respects.  The weather is good, the tides are right with some good water flow, and the wind is not going to blow.  Of course this is all subjected to the fishing gods not deciding to change their mind.  So in a week and a half let the fishing begin, it is always a great time.
******************
Truck detailed, boat gone over, air in tires including spare, bearing grease checked, lights gone over, all necessary after a trip. Also had a little under the console time getting batteries changed and organized after a complete battery failure on the trolling motor.  Funny, but not sure I have ever had a battery just quit, over and done without warning.  It takes just a little more effort to make sure all goes well in that department before, during, and after a trip.  Attention to detail can keep you from sitting beside the road waiting for help.  Knock on wood.
*****************
The Cowboys are about to kick off, at least they played a little better last week.  And the Hogs beat the snot out of someone they should have, so not sure that meant much.
I am fishing in the morning, just not sure where, but that is one of the joys of living here.  A little bay fishing, right down the road.  Some bass or crappie, how about Coleto?  And finally having all my tackle completely and totally separated it is just a matter of grabbing that stuff and exchanging it for that other stuff.  But just like having 2 boats it takes twice the time and money making sure things are ready.  But it is a labor of love and I thank my lucky stars everyday that my life has worked out this way.
And I am still making up for this summer and the fishing is going on full steam ahead.  I am constantly looking at the Corpus weather for the Baffin trip which is coming when the time is right.  And there will be a trip to Falcon or Amistad this fall, along with 2 trips with the Austin Boys and a little beach fishing in Florida in November.  And those are just the things that will happen no matter what.  And interspersed with those trips it will be fishing, fishing, and more fishing.  So keep stopping in and thanks for reading my stuff.
Good Luck and Tight Lines