FISH CATCHING TRAVEL
Brought to you by
** For a super deal on your Wade Right use promo code FCT15 and get 15% off on your online order!**
I Freakin' Love This Place!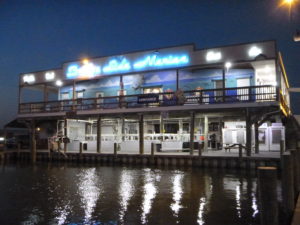 It has been to long and now I remember why I like this place so much.  The last time I was here was actually the day oil from the Event Horizon came ashore and they closed fishing to 35 miles out for weeks.  Really a tough time for Buggy and the Folks at Bridge Side.  But in true Cajun fashion they shrugged it off and kept on rolling.  So the people here, from the fishermen, to the help at Artie's Sports Bar and Bridge Side, are great easy goin' folks and it just adds to the trip.  And with the marsh there is always reds to catch on spinnerbait, which may be my favorite way to fish.
Two things were readily apparent today.  First, the tide was absolutely critical and the redfish responded just like redfish are supposed to.  Second, remembering those banks with stretches of scattered oyster was the ticket.  So with that in mind I was out at daylight though the tide was not going to move until late morning.  And just like clockwork it all came together.  I just love the feel of them thumping a spinnerbait, what a bite.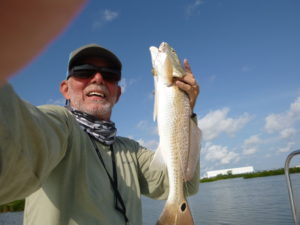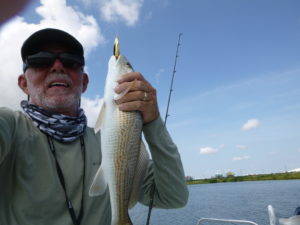 We are having fun now!
I Love It When A Plan Comes Together
As soon as the water began to fall I fished 3 places with oysters and they were biting on all of them.  Once they started biting they kept getting a little bigger as the tide dropped.  The place that they were tailing yesterday did not disappoint.  They were tails up and moving water when I got there.  I should have caught more but who gives a flip.  It was perfect in every respect as several bunches moved up and down the bank in a couple of inches of water.  A classic redfish bite.  And it was one of those times when the Power Pole was critical.  Putting it down the minute you hooked up kept you in place, which was important in that shallow water.  The fish had their backs out and I was a long cast away in less than a foot.  Being that super shallow they were spooky and it was just plain cool.
*******************

********************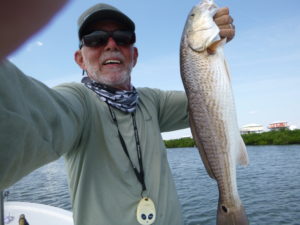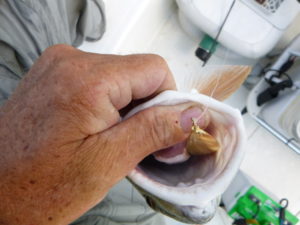 He ate it!
One thing fishermen have a tendency to do is experiment when they aren't catching fish, when in reality the best time to experiment is when you have them down pat.  So with that in mind you can count the number of redfish I have caught on a gold spoon, including my first one in Florida over 20 years ago, on one hand.  Today I doubled that.  And to top it off I tossed the Waker some more, and while the spinnerbait was king, I love it when they slurp that crankbait off the top.  This was pure hard core industrial fishing, crank and wind, cover the miles.  But once you located them slowing down was the ticket.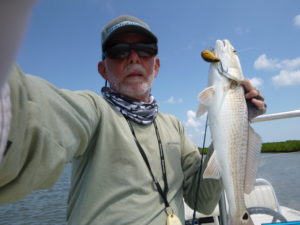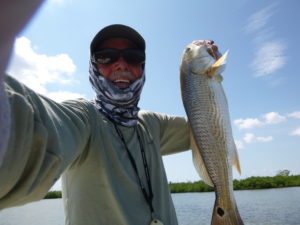 A face full of Waker.  The hits just kept on coming.
They bit from about 11 until I quit at 3:30, and they were still biting when I put it on the trailer.  But with the drive, and getting my crap together, it was time to call it a trip.  Today was an easy 20 with a couple of small trout.  The marsh is not the place for trout, or driving like a lunatic.  It reminded me why when the fish are biting here you can take your possession limit of 10 reds and 50 trout to the house.  The trout may not average as big as ours, but I have never noticed any significant taste difference when they are done frying in the pan.  But this trip was purely recreational, and recreational it was, so none in the box.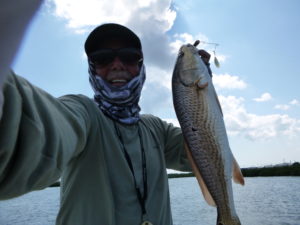 Time to put it on the trailer, so sad.
So as far as trips go I give this one an A.  The weather was hot with little wind, which was great.  Shrimp baskets, cold ones, good folks, and consistent fishing, does it get any better than that?  As I type this I am at the dock watching the sun set, just plain awesome.  This is one of the cool places to fish and hang out, and as soon as the summer is over the crowd is gone, the fishing is still good, and it is not hard to get a table when it is time to eat.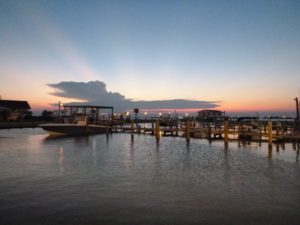 Turn out the lights the parties over.  A cold one and a sunset over the bay, the conclusion of a great trip.
If you ever want to visit May is a great time before the holiday and the season start, and September after the holiday, is the same.  The fishing is still good and it is like having the place to yourself.  And one comment on fishing the marsh, leave your big ass bay boat behind if that is the plan.  (Note:  There were less islands in the marsh like in the bay, really worrisome whatever the cause.  Time to do some reading.)  It is fine for the bay, and the rigs are close enough if it is calm you can get to the rigs in your bay boat like the guys I met the other day who were catching kingfish out of a 19′.  But if the marsh and reds are the plan a 16′ jon boat with a 10hp and trolling motor would be ideal.  There are thousands of acres of super shallow water and I can only imagine the redfish that are rarely molested.  I saw 3 boats fishing the 2 days I fished the marsh.  I wish I had taken the skiff this time, and will next time, but wanting to fish the beach I took the Mako.  So take a look at the Bridge Side website, a full service marina with cabins, bait, and most everything else you might need.  It is nothing fancy, and not particularly cheap, but it has everything you could need and is in a great location.  It is a fishing marina, not the Hyatt.  It is all about the fishing.  And if you go tell em' I sent you.
http://www.bridgesidecabinsandmarina.net/
********************
It was good to hear from Colby, our accomplished writer friend.
Thanks for the update.  It only takes a second and your world can change.  And speaking of the dangers of wet wading we had a really horrible case of  vibro this week.  A stick from a stingray can go hand in hand with vibro.  So if you wet wade at least wear some shin guards and wading boots.  Better safe than sorry.  Good to hear from you and I intend to fish until I drop this fall.
*******************
And my buddy Clyde sent this comment on the last couple of reports.
It really was a good trip with a great finish.  Buggy and Bozo are still hard at it and when combined with the weather and the fishing it was all good.  I will be headed back soon, it is just a red catching, shrimp eating, good time.
*********************
I just got home from the 9 hour drive.  I can not help but comment on a couple of road issues.  Congratulations Louisiana, you have some of the worst roads around, and Hwy 90 is a rough piece of work that will shake your teeth loose in some stretches.  And whoever did the signage from Grand Isle to I10 could use a little help figuring out where and what signs to put up, pretty confusing.  And I would be remiss if I did not compliment the pinheads at TexDot.  You must have been awesome at 3rd grade math.  You figured out that if you added the width of 2 semis, then put an inch on one side, an inch on another, then an inch between them, you could space those concrete construction barriers just right.  And since it takes years to get stuff done, can you say I35 north of Fort Worth, it makes the drive so pleasant.  Now if you were only that efficient with our money things would be all good.  Trailering from Canada to Florida can really be stressful and you learn to appreciate great roads when towing a boat and fortunate enough to be driving on one.
So time to put stuff away and call it a trip.  There is just something about Grand Isle that I have always liked beside the great fishing.  Of course I am already planning my return.  Buggy was telling me one of his customers has been knocking the crap out of nice trout, which would be 25 big ones, at the  jetties in January and February, so sign me up.  Next weekend I get to introduce a couple of young men to the joy of Coleto bass fishing, then a long weekend at POC with the Austin Boys.  I love fishing with them, no drama and no whining like a baby about this and that, just good friends having a good time.  I on the other hand will be back at it in a day or two.  And still waiting for the perfect weather for the Baffin trip.  So keep stopping in and thanks for reading my stuff.
Good Luck and Tight Lines