FISH CATCHING TRAVEL
Brought to you by
** For a super deal on your Wade Right use promo code FCT15 and get 15% off on your online order!**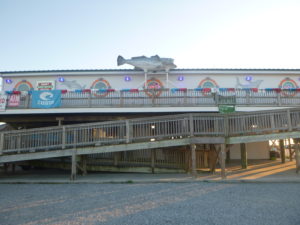 Bridgeside.  It is all about the fishing.
What a day.  I fished what I call the Fouchon marsh.  It has a main channel and tons of flats/pockets/channels tons of which are a couple of foot deep, as long as there is some tide.  This is why I come here.  A good day of spinnerbaiting was just what the doctor ordered.  There was one problem, one of my trolling motor batteries flat failed, so when you see the pictures below I managed this with almost no juice.  So without further addo here it is.  Then on with the story.  (Note:  As I type this a guy in a pickup just went by on the way to the cleaning table with a couple of big ass yellowfin sticking out of the bucket, and the guy next to me caught some big kings off the second rig, which he went to in his bay boat.  Plenty of rigs are close if the wind holds, and it has.  It is all about the fish here.)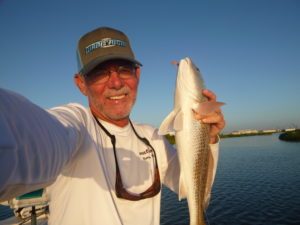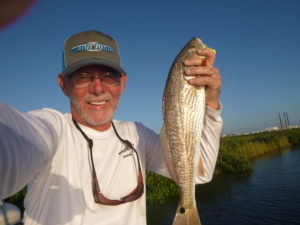 It started off with a bang and stayed that way.  All sizes were biting.
The plan was to spinnerbait, and other than tossing a gold spoon and a Mann's Waker when I was in a bunch it was simple, idle into a pocket/cove, the best places were only 2 foot at most.  Luckily the wind was right and I was able to keep after them until 1:00 when the whole thing quit and I had to go find a battery after I diagnosed the problem.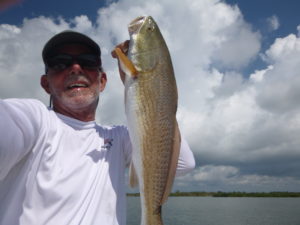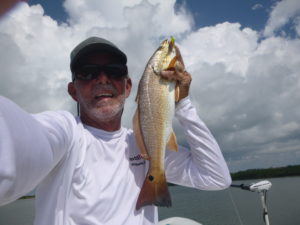 All shapes and sizes.
I have never had dolphins follow the boat and dive under it and jump in front.  Very cool and one of those things that makes the great outdoors what it is.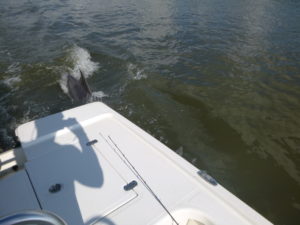 That was awesome, must have been the bait I was driving through.
As the morning wore on the tide started to drop and I found some tailers, a good cast and you were hooked up.  I ended up fishing that bank twice so I could toss the gold spoon and Mann's Waker just for shits and giggles and they both caught a fish.  But with the spinnerbait bite so good I just stuck with it.  Perfect for shallow water.  And as the water really started to drop they positioned on the outside of exposed oyster beds.  From nice to small they just kept knocking the crap out of the spinnerbait.  Guess all those years of bass fishing were not wasted.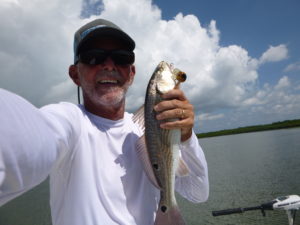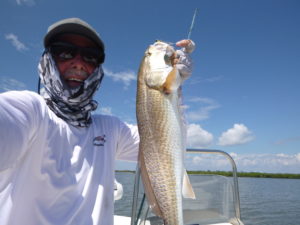 Mann's Waker and gold spoon fish.
I boated lots of smalls, but was thankful for each one.  Not having a real trolling motor I made due and had to quit early.  Tomorrow that will not be the case, last day fish until you drop.  So far other than the battery thing it has been a good trip and tomorrow I intend to finish with a bang.  There is just something about fishing a shallow marsh which is the breeding rearing grounds for redfish, which definitely accounts for the range of sizes.
I am tired so that is it for today.  I was going to put up more pics but you get the point.  Tomorrow could be epic!  All I know is this is one fishy place.
************************
Got this timely comment from Rick.
Thanks, and this trip just reinforced how much I love to just go somewhere and let the chips fall where they may.  And when it works out there is nothing better.  And for a saltwater fisherman this place is the bomb.  Thanks for keeping in touch.
*************************
And finally I got his from Richard, which is worrisome!  In other words WTF!
The amount of these type encounters seem to be growing.  Just last year I was wading in Barroom using a topwater when I saw about a 6'+ coming towards my bait.  I quit fishing and eased off the other way, but it was way to close for me.  Just another reason to be cautious.  Hope this is not a becoming a common theme.  As long as the harvest is restricted expect more.  Thanks for the heads up, will read it when I get back.
**********************
I can not tell you how nice it is to be feeling well and catching fish.  And one final word on Buggy and Bridgeside.  As I work on this I am close to the office where the wireless is good.  Both nights they have closed and folks show up before they can get off the deck and they smile and open back up and help them out.  That is the kind of folks they are.  And one last word on the fishing.  There are some folks from Arkansas here and they caught 300 trout off the fishing pier last night.  Like I said this is a freakin' fishy place!  So keep stopping in and thanks for reading my stuff.
Good Luck and Tight Lines